The late 60's Omega Geneve line featured simple dials and cases powered by high quality movements at an entry level price. Despite this, some Geneves like the 162.0010 square case bucked the trend and offered unique and interesting designs, impressive finishing and even 18K solid gold cases.
A Great Quality Entry-level Automatic Tank
The Omega Geneve line of the late 1960's is characterised by minimally finished basic cases and dials, still fitted with the same high quality movements used by Seamasters and De Villes.  The 162.0010 is markedly different in that the case actually has a decent amount of complexity, compound curves, surfaces and angles to it.  Coupled with that are dials with attractive applied dial furniture, elegant finishing, and even a solid 18K gold variant, which is typically seen on higher end watches than an entry-level Geneve.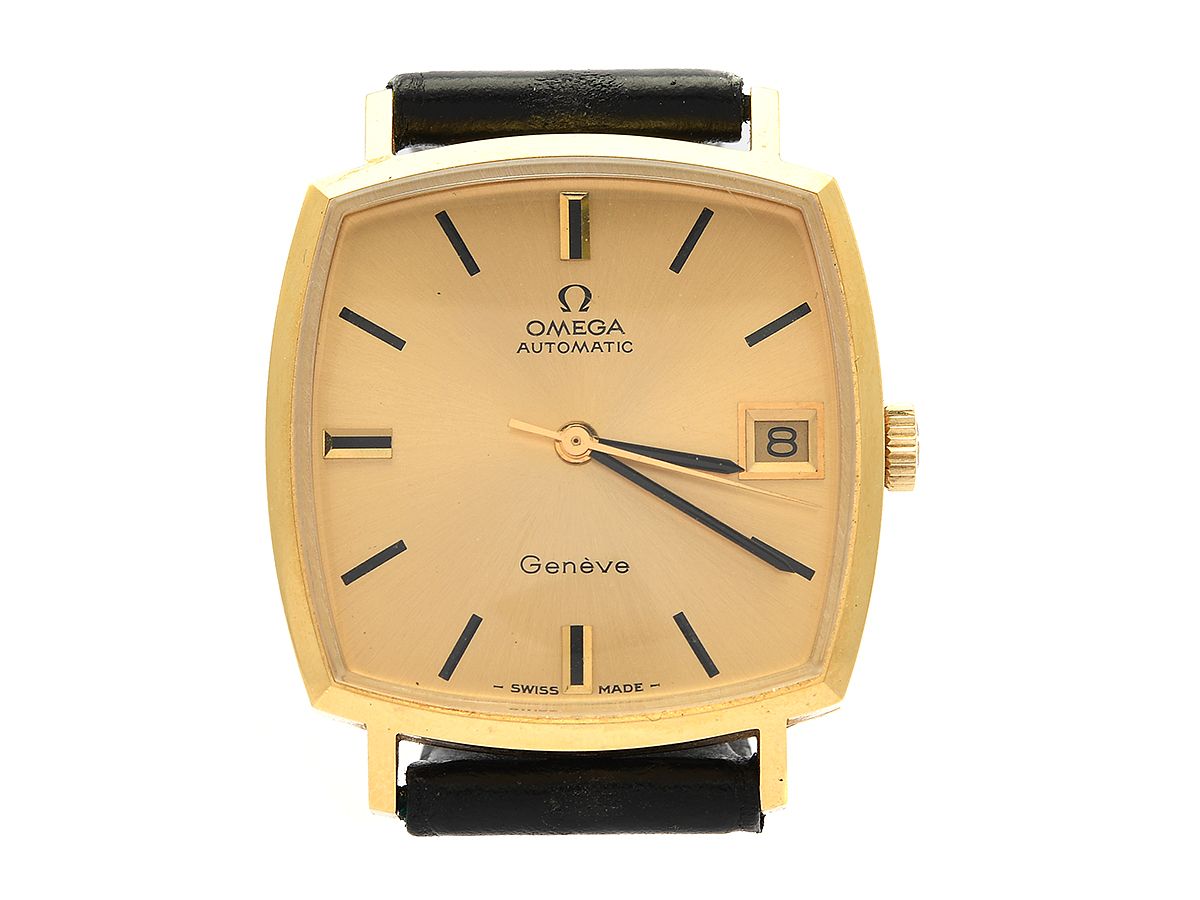 Omega produced quite a few different square case watches in this era, from the manual-wind Cosmic triple-date moonphase, to the compressor case Seamasters, to the Constellation tanks.  Many of these watches do suffer from condition issues frequently and good examples carry a quite high price tag.  The unique sell of the 162.0010 is that it offers a top quality automatic movement, typically good condition dials, and all in a package that costs a fraction of these other models.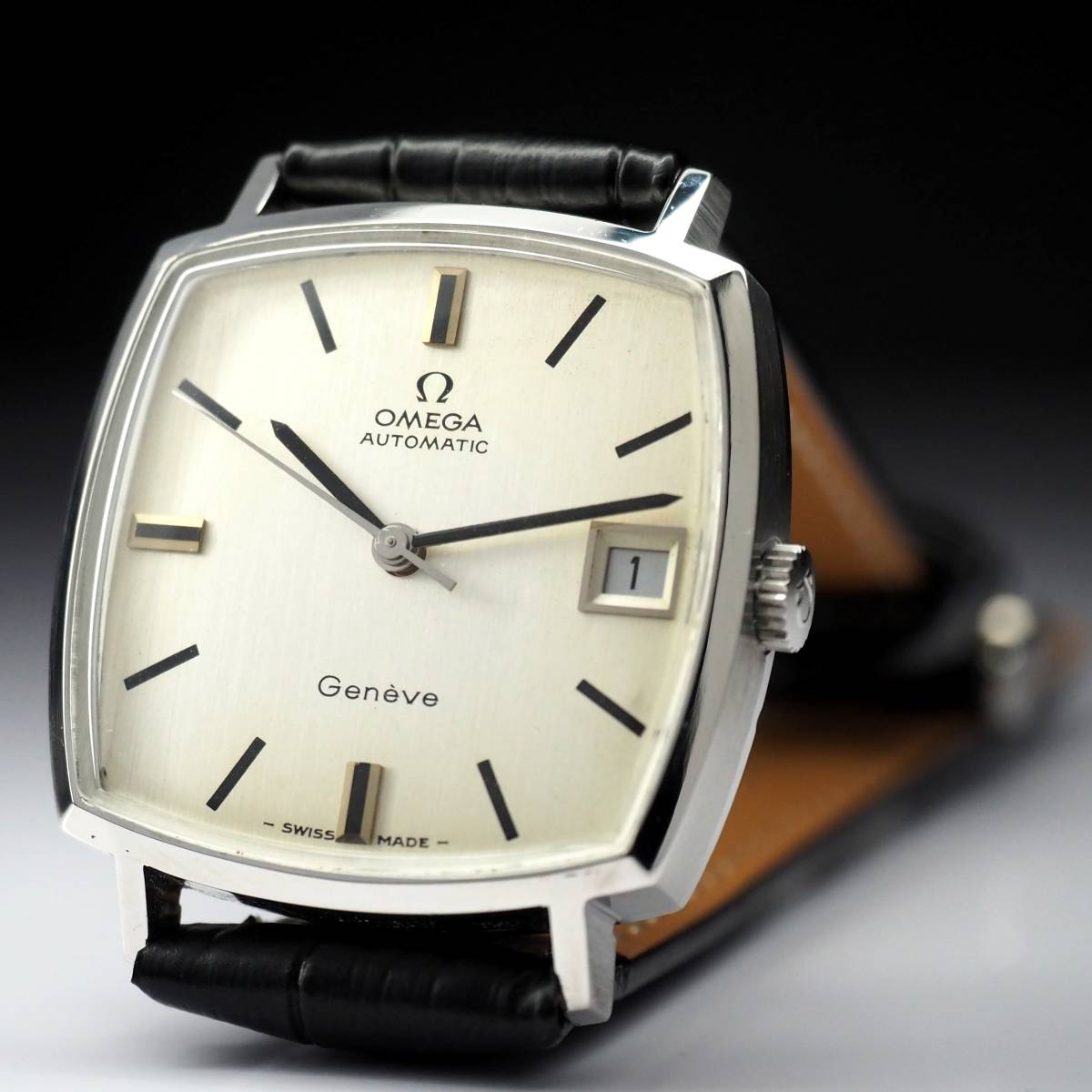 Particularly when packaged with Omega's trademark beads of rice bracelet, these watches look modern, attractive and attention grabbing, far more than any lowly Geneve was ever intended to.  They're a watch that has simply aged beautifully, and being a relatively uncommon reference from an unloved model-line, there are few taking the time to snap up these watches when they come up for sale.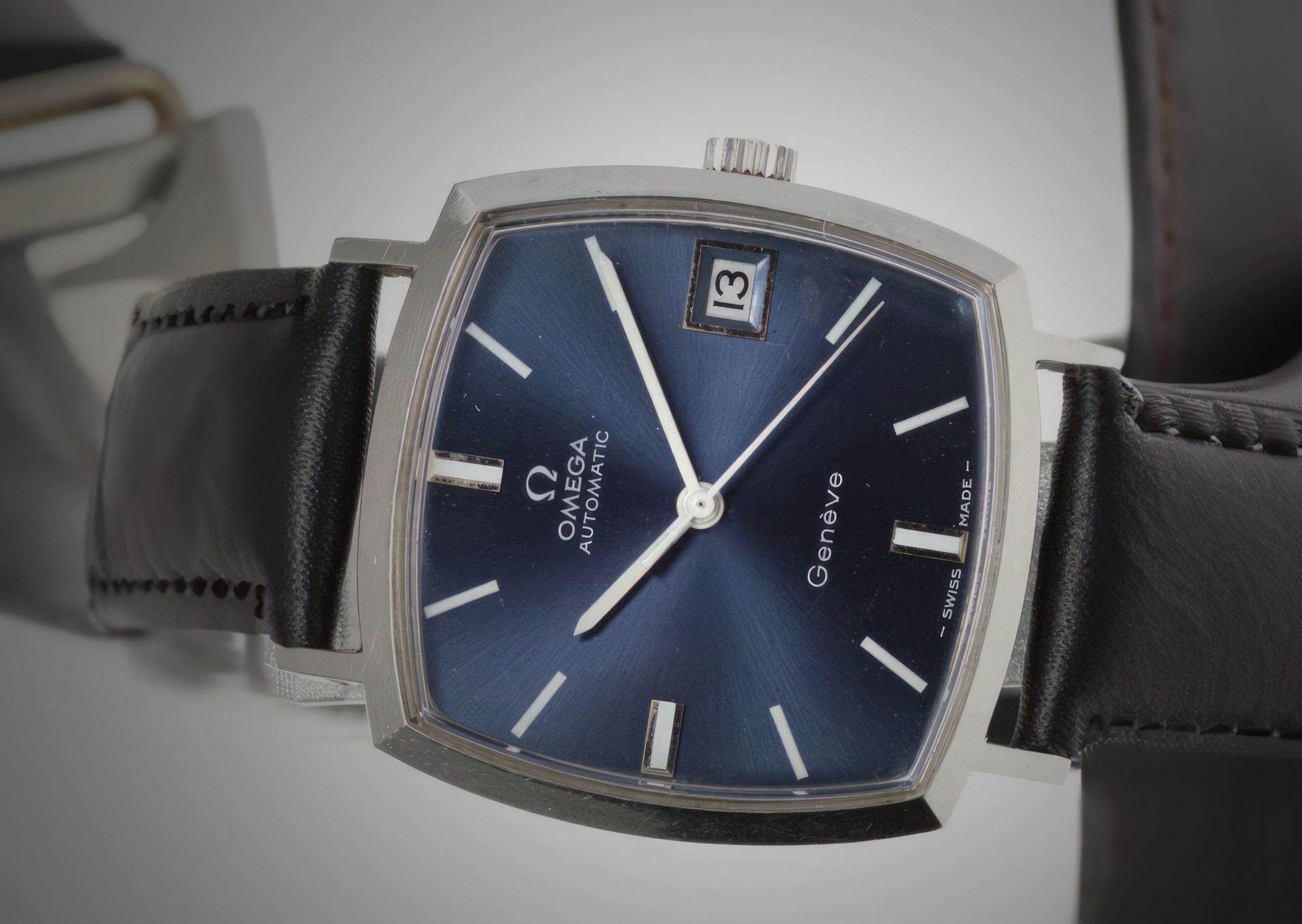 It is worth noting that these same watches are known both by the reference 162.0010 and 162.010 with the former being the reference used by the Omega vintage database.  Watches can be found with both the 6-digit, and the 7-digit reference inside the case-back, but are otherwise identical.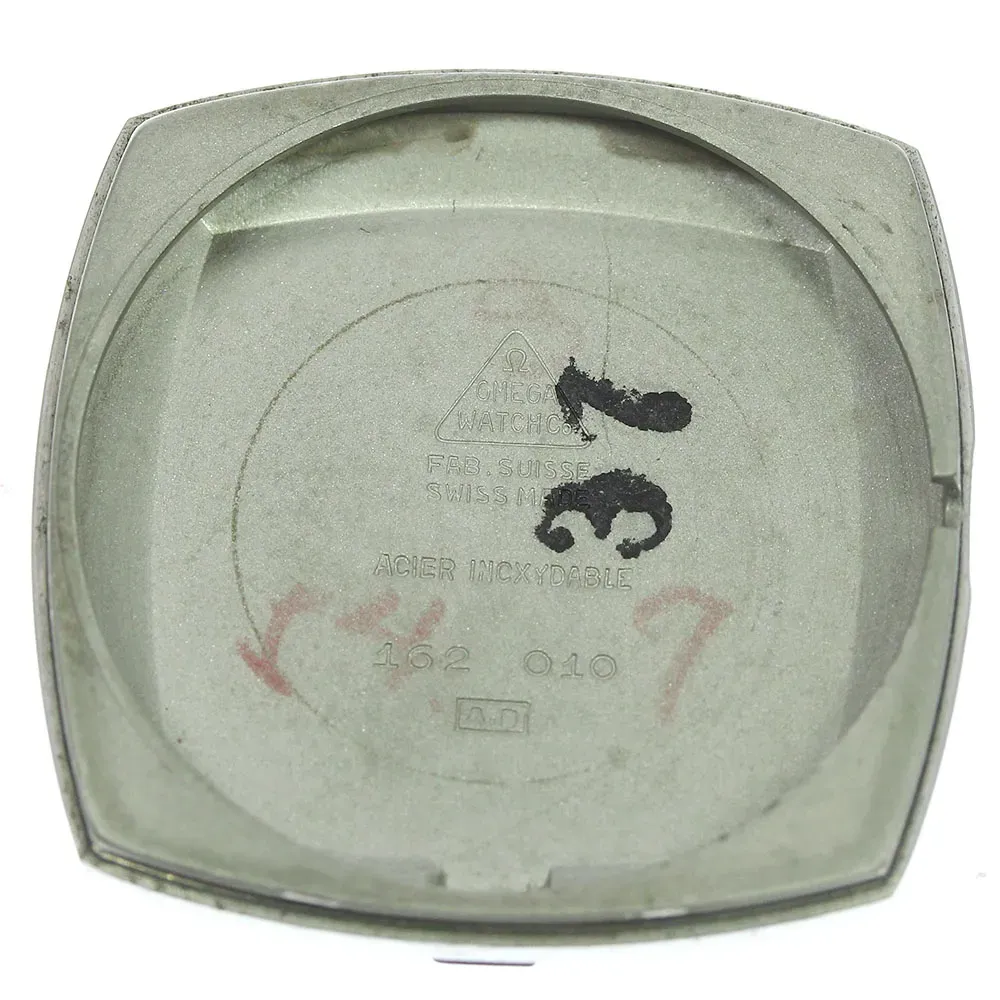 Case & Bracelet
The case of the 162.0010 is a curved edge square case, or a tank-like design, which is the most identifiable and unique part of this watch design.  Like many entry-level square-case watches of this era, one of the compromises made for this design is the water resistance of the watch.
Rather than using a screw-back like most other late 60's Geneve models, this case-back is a simple press-fit design, which is less than ideal for keeping moisture out.  Higher end models like the Constellation 368.0855 use a screw-in design with a gasket, while Seamasters experimented with key-bolt compressor cases with mixed success water-resistance wise, but the press-fit design met the Geneve's requirement for cost efficiency.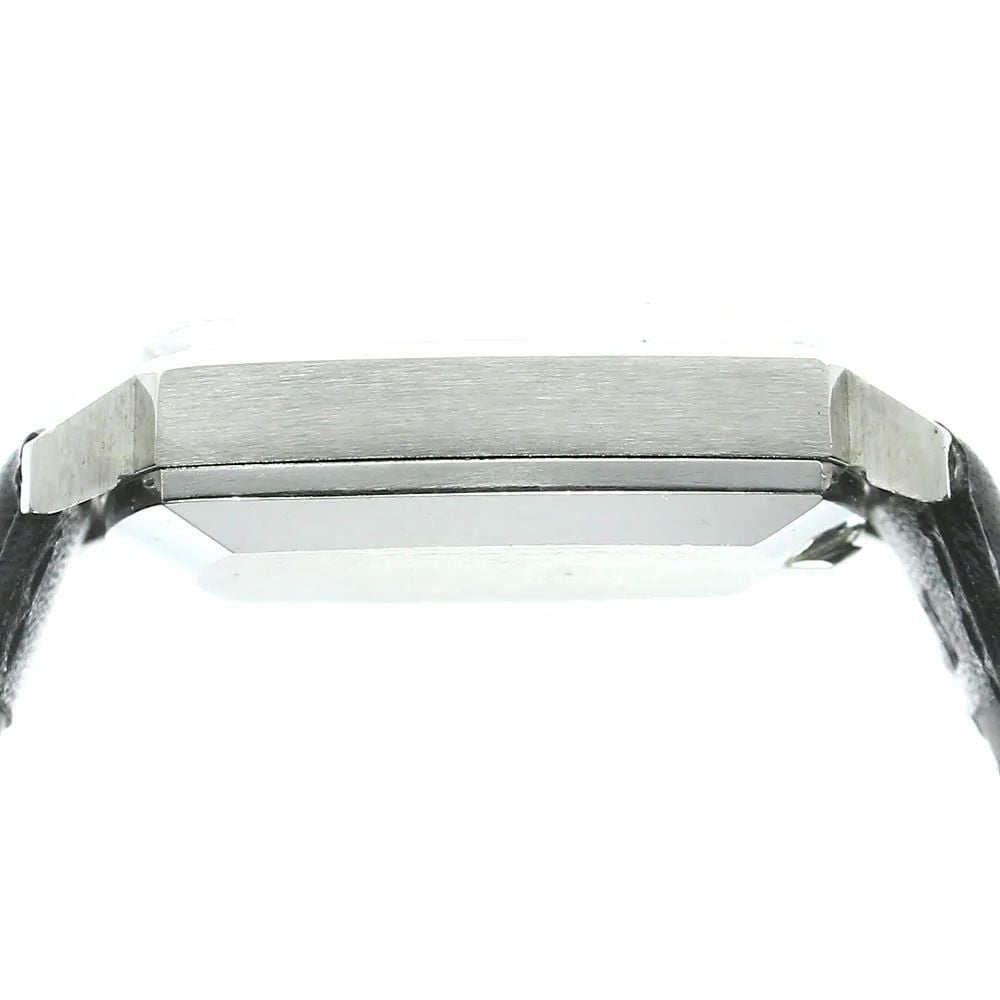 What is surprising about these watches is that despite the official lack of a water resistance rating and the press-fit case-back, the survival rate and condition of movements and dials in the Ref 162.0010 is remarkably high, defying expectation for some reason.
Cases for these Geneves come in stainless steel, gold-plate, and 18K solid yellow gold, with steel being preferable as the edges of gold-plated examples do tend to be prone to wear-through given how thin the plating is.  The case has a width of 32 mm, which is smaller than the 34.5 mm of typical Omega 1960's dress watches, yet due to this being a square case, it wears significantly larger on the wrist.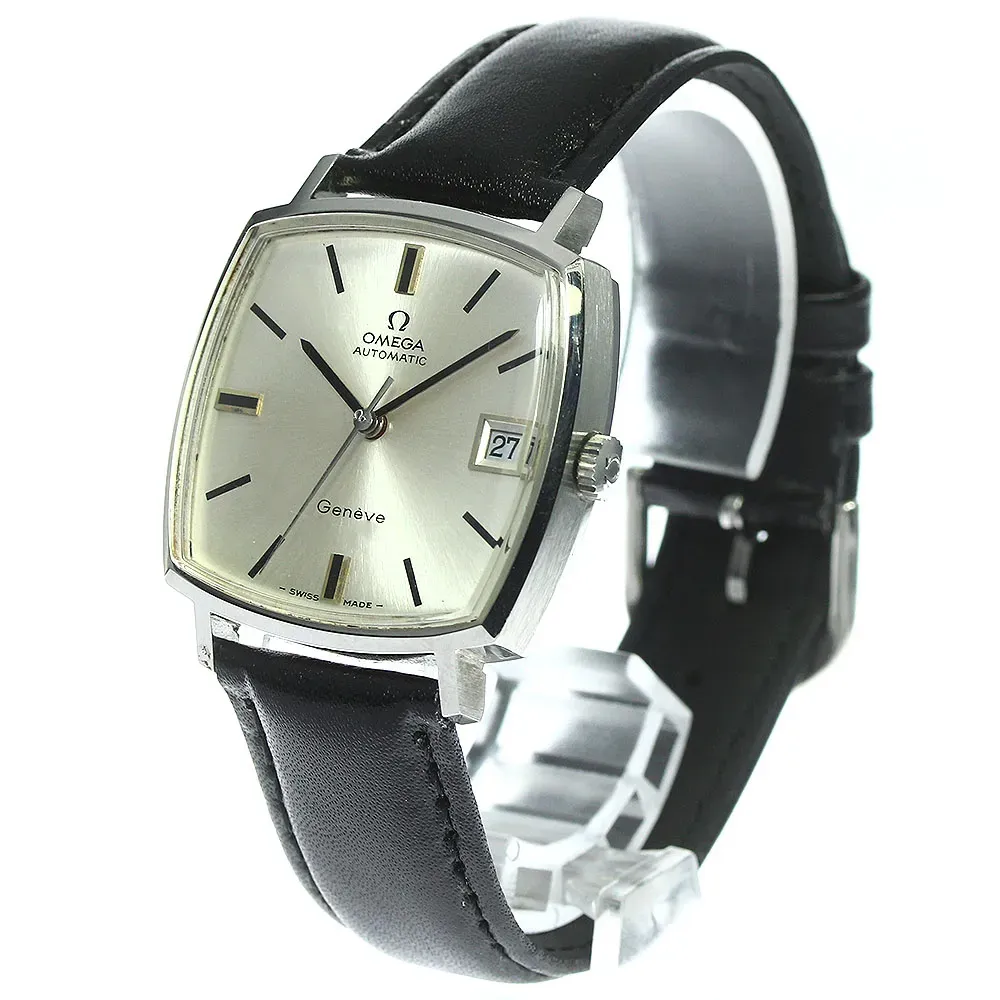 The case-design is a square, bulging out at all four edges slightly, with lugs attached to the top and bottom edge.  The knurled crown is slightly recessed into the side of the case, but easily accessible from the bottom.  The front surface of the watch case, including the bezel and top of the lugs is polished, while the sides of the case and sides of the lugs feature a brushed finish to create a nice contrast.  The case-back bulges out slightly with beveled edges, and has a satin finish in the center with polished sides.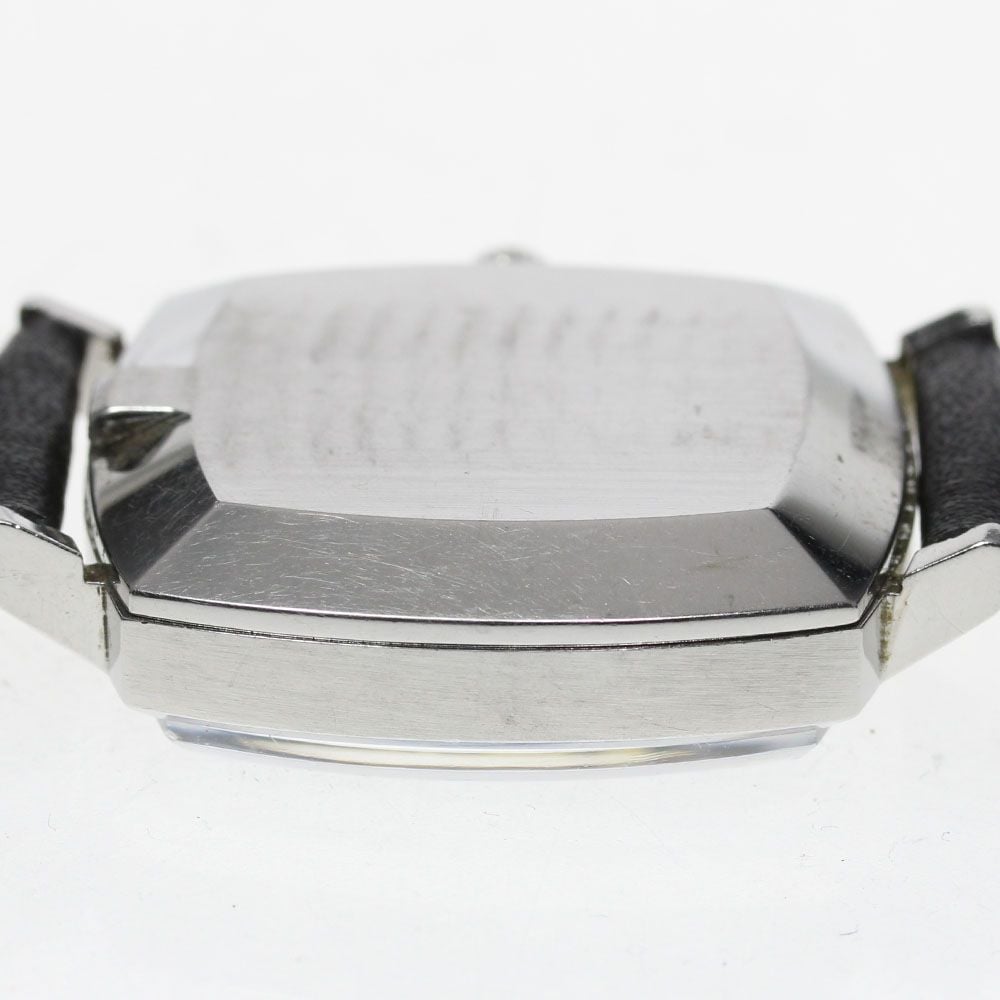 The 162.0010 Geneve features standard 18 mm wide lugs and while the majority of these watches were delivered on leather straps, there are two rather interesting bracelet options.  The first is the Omega straight-end mesh bracelet, often seen on Geneve Chronostop models.  This bracelet is fairly cheap and fits the case but doesn't give a flush fit with the lugs, while also having limited adjustability.  The second option is the more traditional beads of rice bracelet.  There is a straighter-than-normal end-link which gives this bracelet a perfect flush fit with the 162.0010 Geneve case, and both stainless steel and gold-plated options are available.
Movement
These square case Geneve models are powered by the Omega Calibre 565 automatic movement, which is superb, accurate and reliable.
Oscillating at 19,800 vph, this movement is not chronometer rated, however it does feature hacking, an efficient bi-directional winding system with 50-hour power reserve, and a quick-set mechanism operated by repeatedly pulling the crown out.
The Calibre 565 came at the very end of the second generation of the 5xx series and incorporates many improvements over earlier versions, representing the best of the breed.  Even though it was a 1960's design, Omega continued using it in limited numbers surprisingly deep into the 1970's on models like these Dynamics.
It should be noted that other calibres including the day-date Calibre 75x family should not be in these references, however because dials and movements are compatible incorrect combinations can often be found.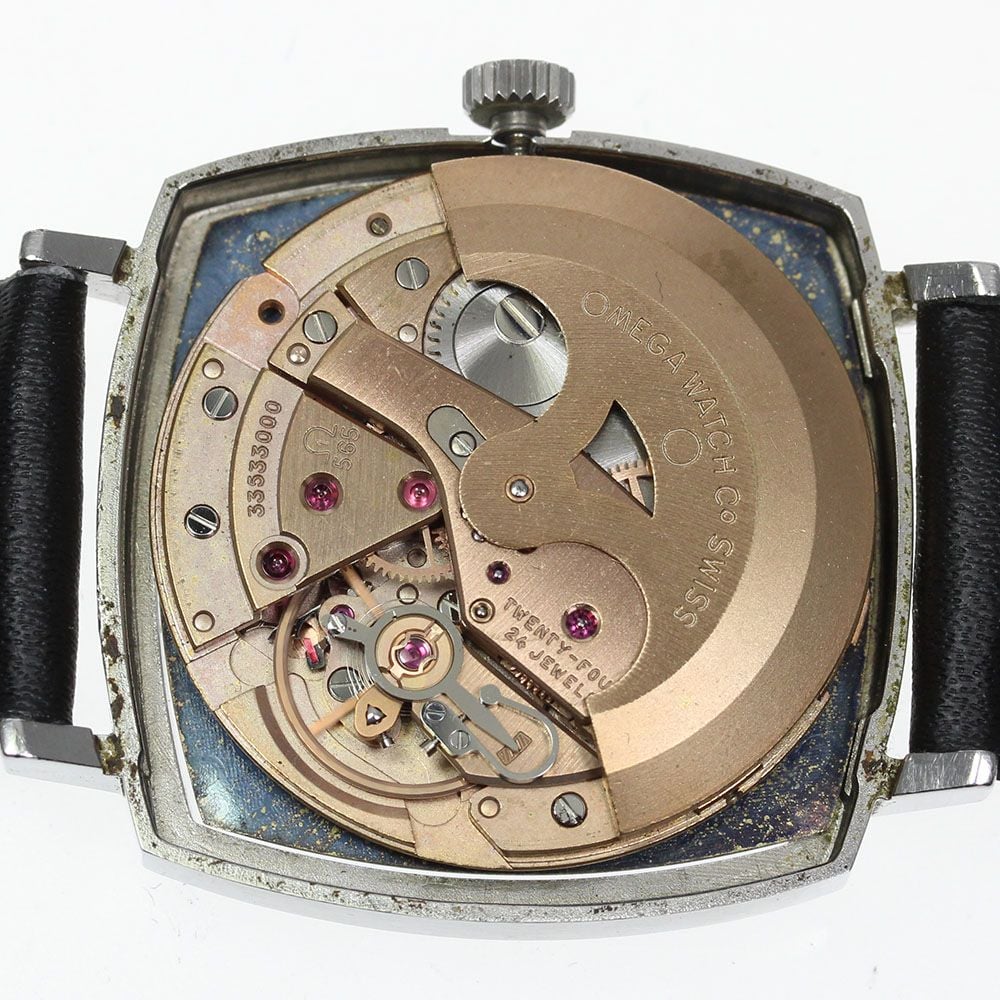 Because of how robust the Cal 565 movements are, even examples that have not been serviced in many decades are likely to run and even keep decent time without service.  This does not mean you should wear them in this condition as metal-on-metal wear is occurring when lubricating oils have long dried out.  This can lead to much more expensive parts bills down the road when the watch is eventually serviced, especially relating to the automatic winding system.
These movements can be serviced cost effectively by any Omega certified independent watchmaker with access to an Omega parts account for much less than the cost of a factory service.
Dial & Variants
All dials fitted to 162.0010 Geneves are minor variations in texture and color on a common theme.  Firstly all dials are non-luminous, with stick hands painted black, or white on blue dials.  The dials feature applied metal hour markers at 6, 9 & 12, with matching paint to the hands, black on all except white on the blue dial atop said hour markers.  The other hour markers are painted directly on the dial in the same color as the hands.  
These watches feature an applied date window, yet the Omega logo is entirely painted as is the word automatic below and Geneve at the bottom.  These dials are conspicuous in their lack of a minute track around the outer edge, which makes sense given the square case and dial makes this somewhat difficult to achieve cleanly.
All dial colors feature a white date wheel, and the metal used in hour markers is color matched to the case, so steel will have white metal dial furniture while gold-plated or 18K solid gold will have gold.
Stainless Steel
The three stainless steel variants come in a starburst silver dial, a starburst blue dial, and a vertically brushed texture silver dial.  These are the most desirable of the 162.0010 models, particularly the blue dial which is certainly something rather special.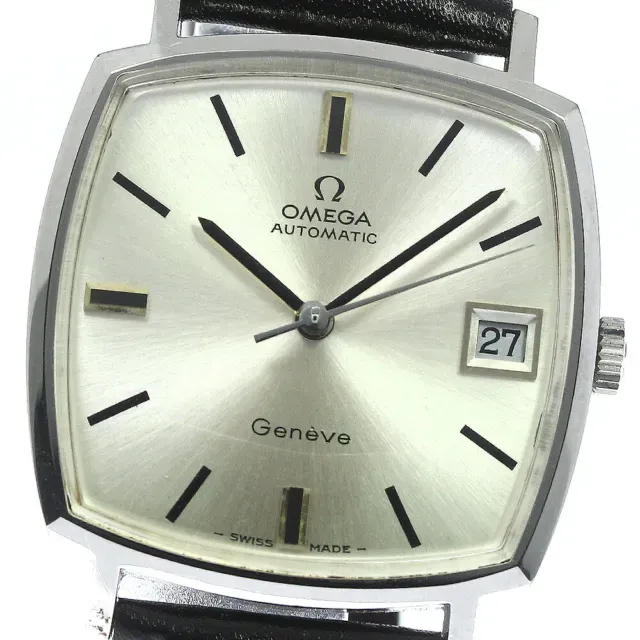 Gold Plated
Similarly to the steel, the gold-plated variants also come in three dials, a starburst silver, a starburst gold, and a vertically brushed silver once again.  The gold-plated cases are less common than steel and due to the high proportion of worn-through cases, good examples are significantly less common.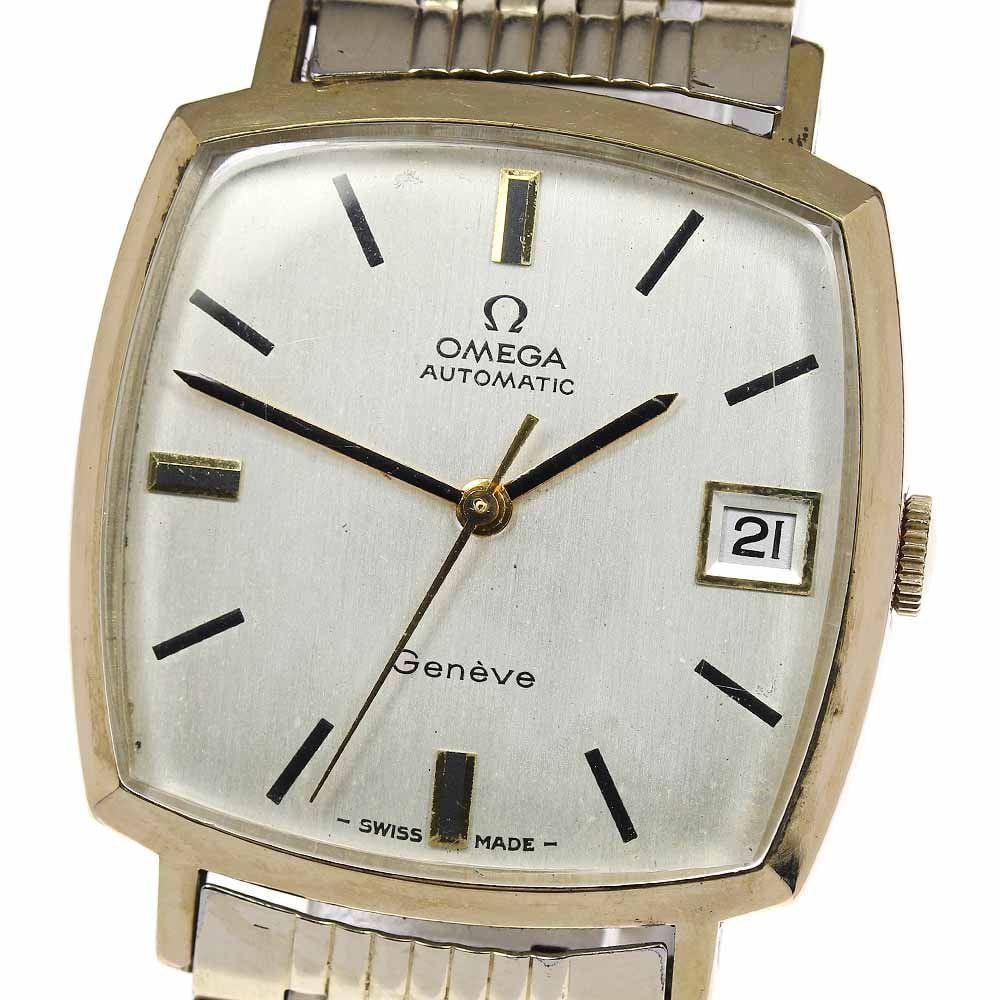 18K Solid Gold
The 18K solid gold version of the 162.0010 Geneve is by far the rarest and while the few examples around are typically in excellent condition due to the initial cost of these watches, they are remarkably hard to find.  Thus far only the starburst gold dial has been found on 18K gold variants, but other dial options are likely possible.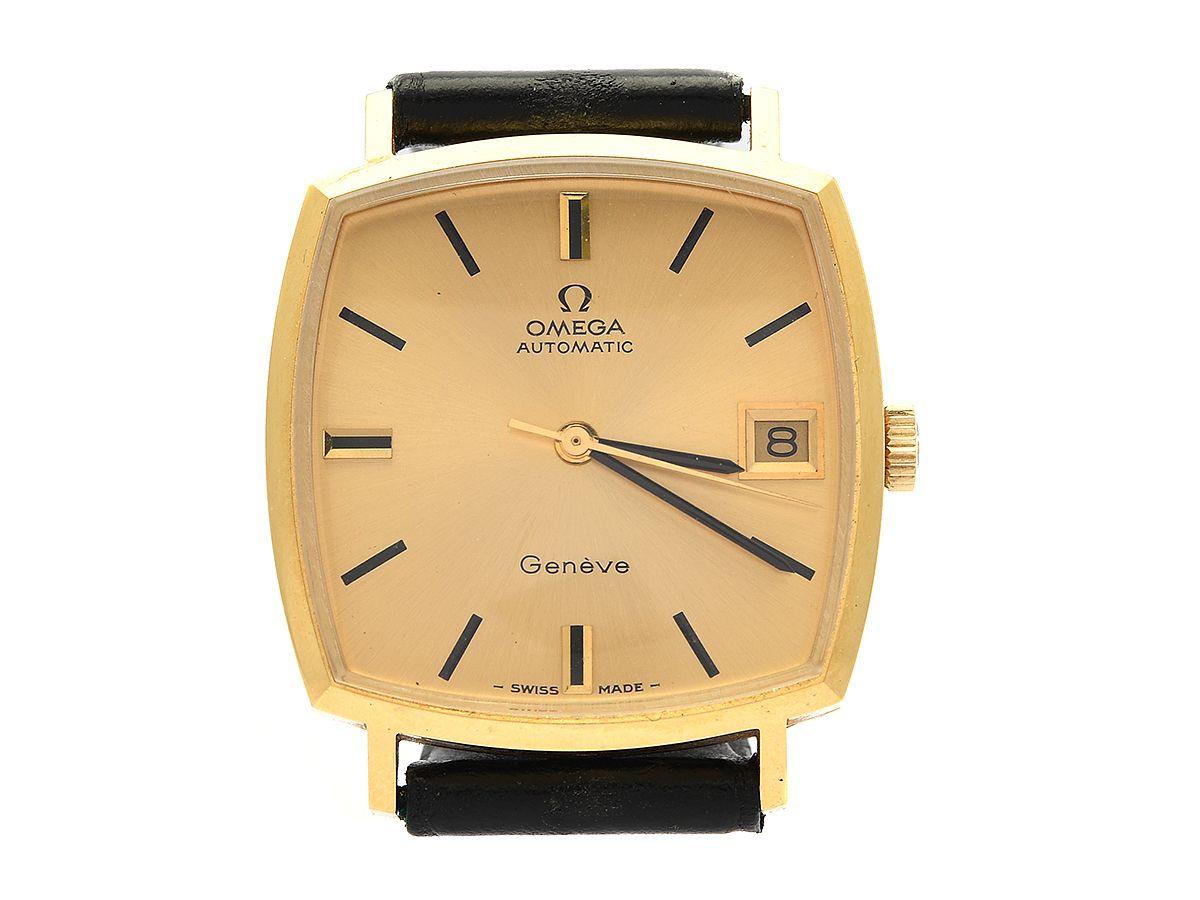 Buying
These square case Geneves are available in a fairly limited number of dials and versions, so the biggest decision for most people will be whether to hunt for a stainless steel or gold-plated case.  Due to the sharp edges and propensity of gold-plated cases to wear-through, they tend to be a worse option unless a mint example can be found, making steel the superior option.
Of the different dials, the most popular and highest value option is the metallic blue starburst, which is not uncommon compared to the two silver dial variants.  The blue texture is definitely unique and special for this era of Omega production and makes the watch really stand out on the wrist, making it worthy of the money and patience required to find a good example.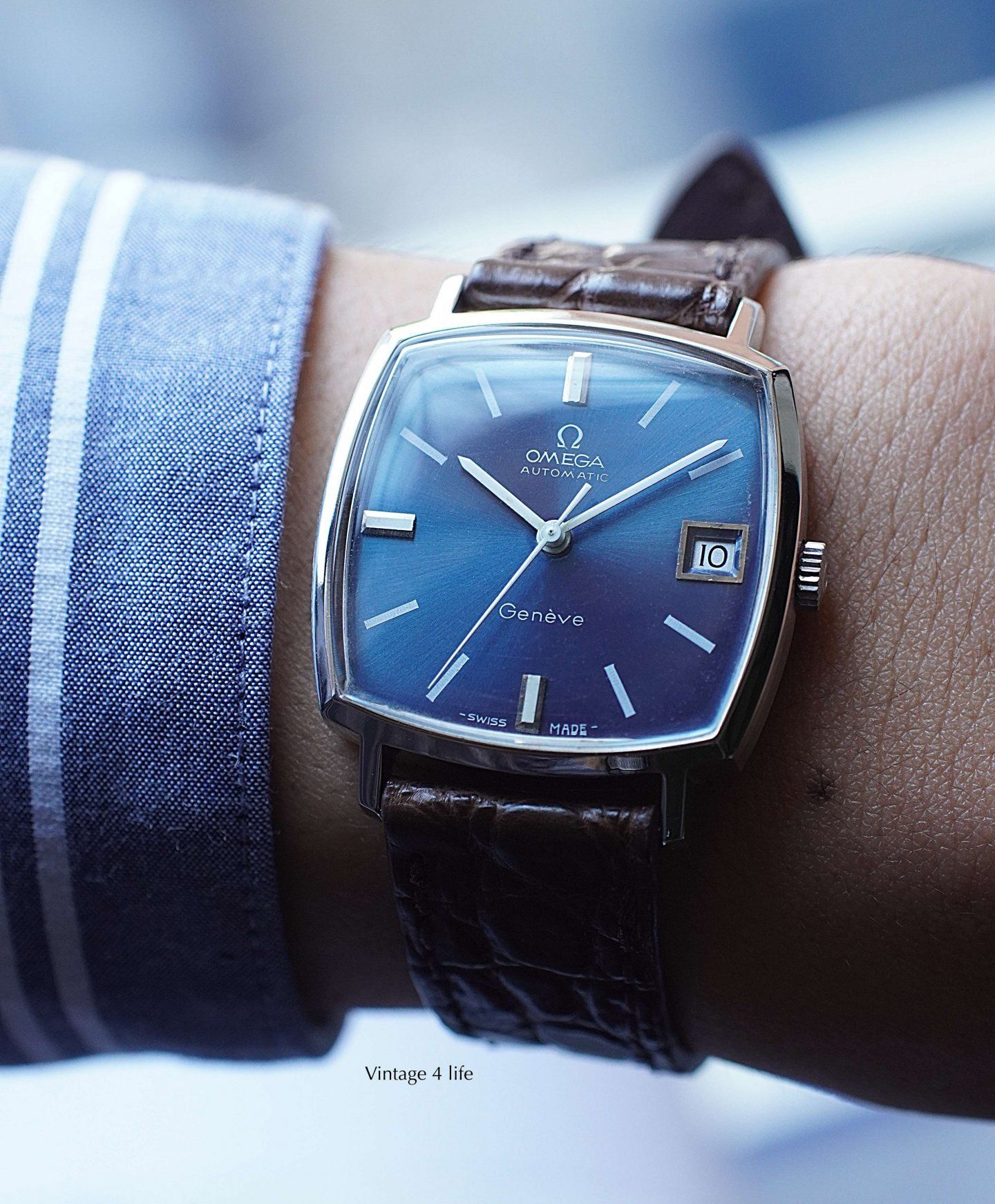 The biggest difficulty with the 162.0010 is that these watches were not made in particularly large numbers, or for very long.  There were several follow-up models with very similar cases powered by Calibre 1481, Calibre 1012 and Calibre 1030, which were movements in production following the Calibre 565.  While these movements are still decent, especially the Calibre 1012 and 1030, the 162.0010 is the only reference to be powered by the Cal 565, which is arguably the best non-chronometer movement of this era.
These watches often appear on eBay, and are seen in lesser numbers on Chrono24 and forums.  One of the key difficulties in finding them is the mislabelling issue, due to those other similar models with different movements and near-identical cases.  Due to the case design, many sellers will be unable to open the watch and will sell it with loose descriptions like "square case" or "omega tank" or similar terms, it pays to cast a very broad net as a result to find them all.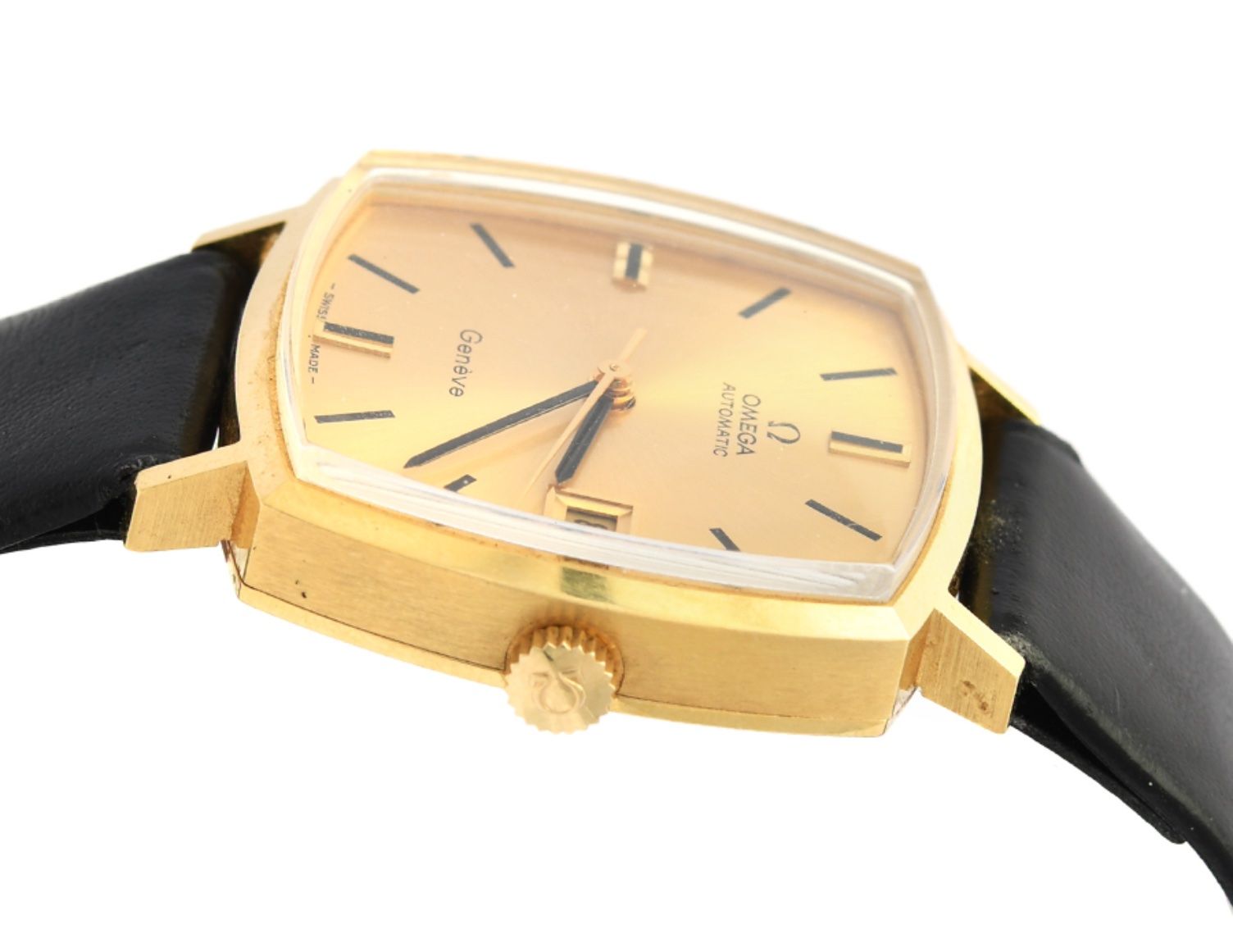 Condition wise, wear-through on gold-plated models is the biggest issue, followed by moisture intrusion and dial damage / discoloration on all models.  Any indication of water intrusion should be a serious red flag, as the movement has also been exposed to that same moisture and is likely corroded.  The 162.0010 case is quite sharp-edged and complex, attracting dents and scratches more than a typical rounded case would, so this can be an issue that needs to be looked out for also.  The crystal on these watches is very specific to the case also and will require an OEM Omega replacement if it is chipped or deeply scratched, so this is worth considering also.  Servicing tends to be relatively straightforward on Calibre 565s, they're an excellent movement that any Omega certified watchmaker can take care of for you.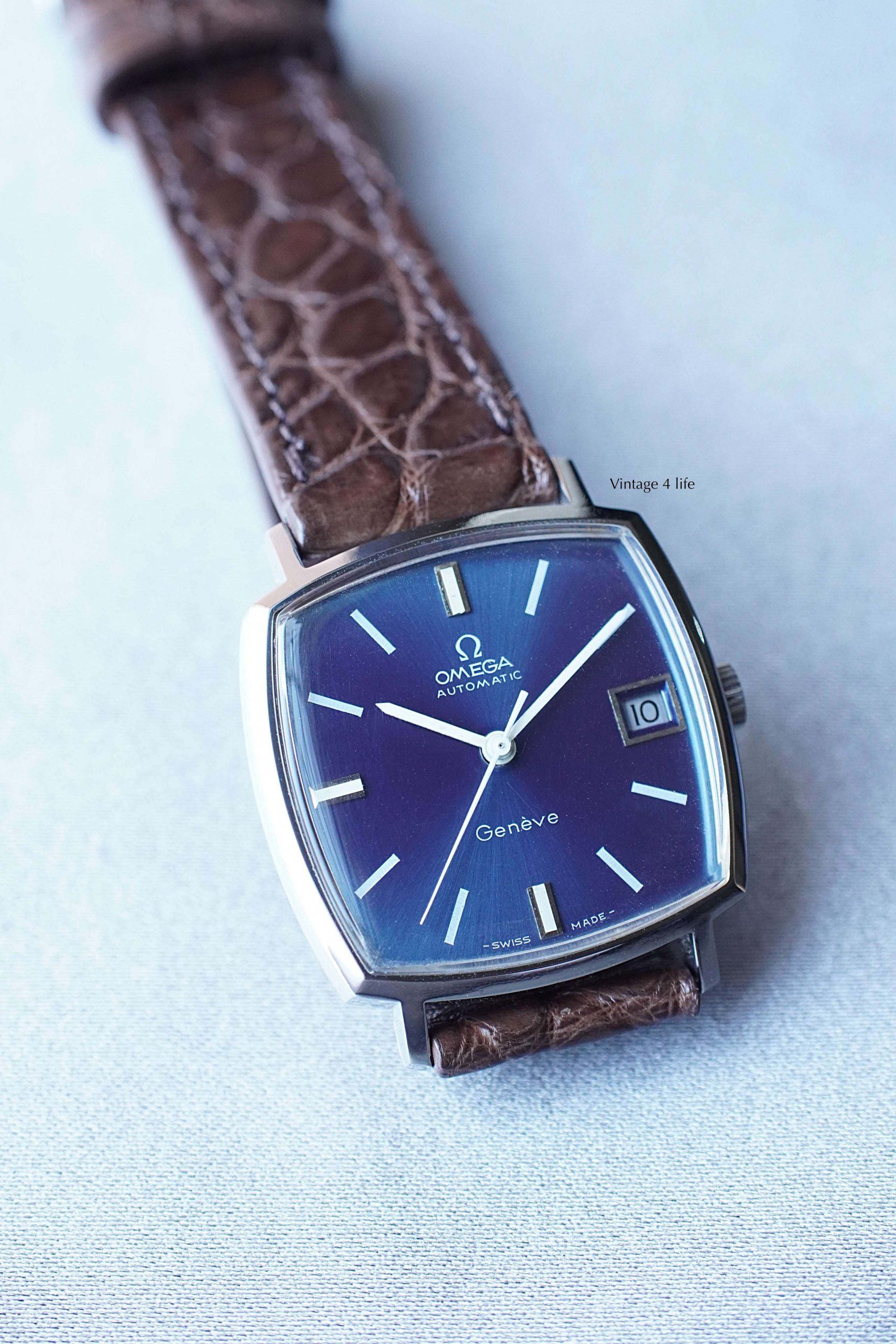 At the prices they typically sell for of $500 or less (as of August 2023), these Geneves make a very compelling option, with more interesting cases and dials than their round-cased Geneve cousins and featuring an excellent movement in an attractive package.  While water resistance is not their forte, as a dress watch, especially on bracelet it makes quite a statement, particularly in blue!
Discussion thread on Omegaforums can be found here: