The Geneve 166.0168, 166.0169 & 136.0102 are a rather excellent and highly affordable trio of mid 1970s Omegas with larger cases, good movements, and a unique look and style that has aged far better than many of their contemporaries.  Both the 166.0168 automatic date version and 166.0169 automatic day-date version are available under $300 on a regular basis with the manual wind 136.0102 going for even lower prices.  Yet again these watches suffer from being poorly known and from misinformation surrounding the quite good and dependable Caliber 1012, Calibre 1022 & 1030 movements powering them, which makes them an excellent target if they catch your eye.
Case & Bracelets
The case is shared between these three Geneve references.  Each reference carries its own stamping on the case-back but the actual shape of the case, and the dimensions are the same for all three of 166.0168, 166.0169 & 136.0102.  That shape is quite an unusual one for an Omega Geneve.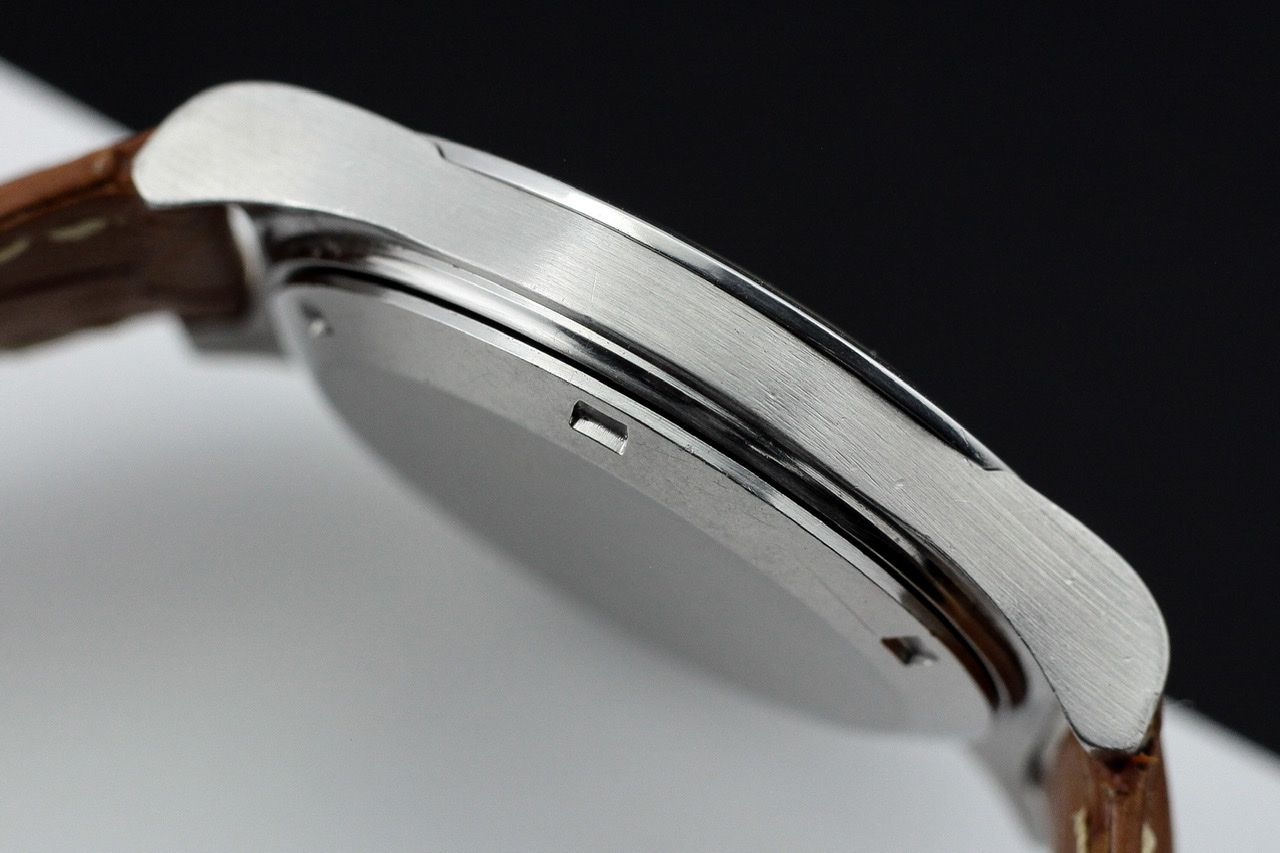 Generally speaking, later Geneves were a more entry level watch than Seamasters, Constellations or even De Villes.  They almost always featured non-chronometer movements, and simple, austere, one-piece cases with very little detail or flair to them in order to minimise the finishing costs.  
These Geneves are physically significantly larger than most vintage Omegas of the era at 36.5mm wide excluding crown and 44.5mm from lug to lug with a modest thickness of 11mm.  The rather wide flared lugs, curving downward and the thin bezel actually make these watches wear even larger than that, and when equipped with the factory bracelet they appear very substantial and modern.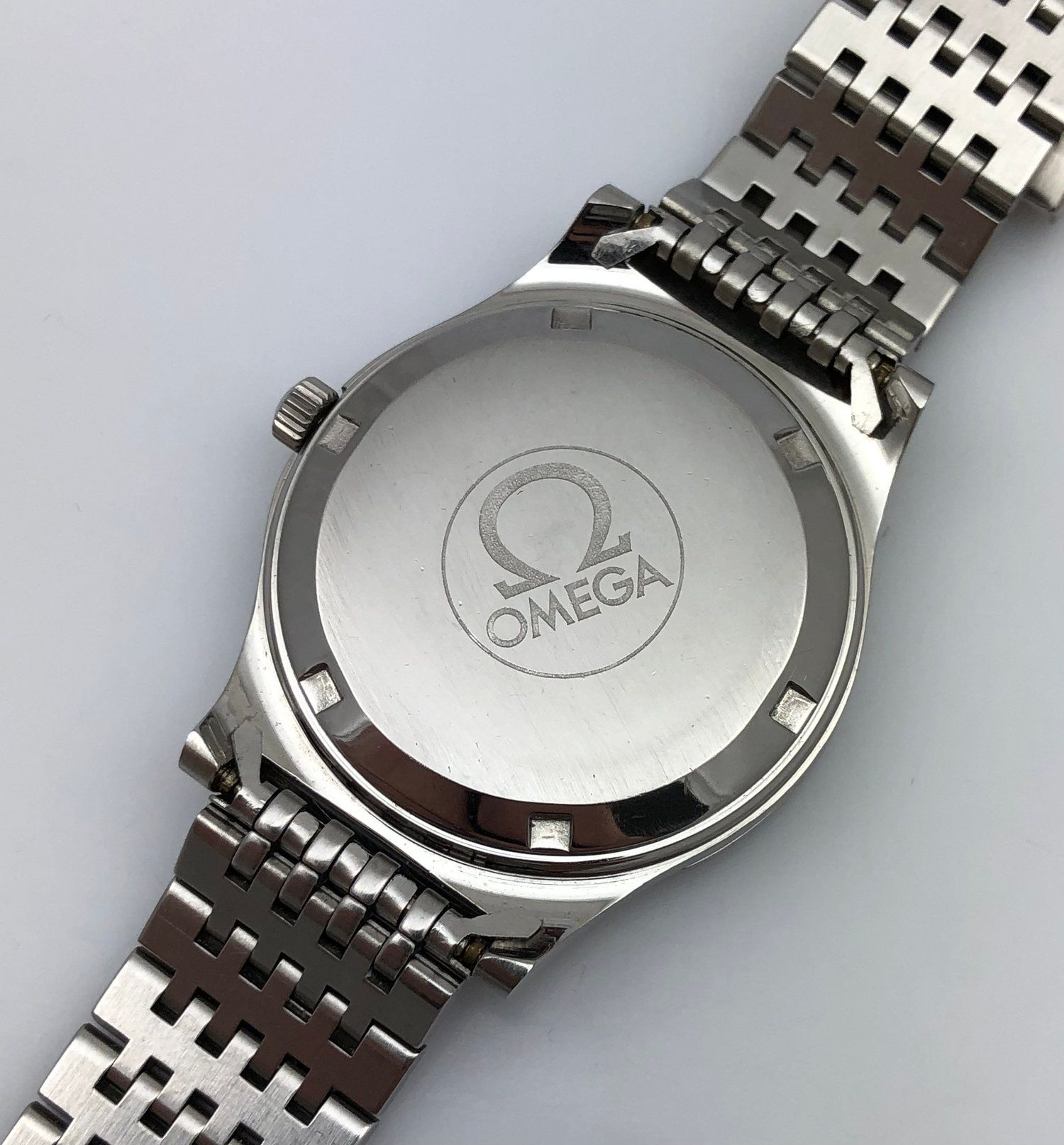 The case features a traditional non-monocoque design with a screw-in case-back, and unusually again for a Geneve, a separate polished bezel pressed into the case from the front.  The body of the case is brushed, vertically across the lugs and horizontally across the sides.  A practical and easily gripped Omega-signed knurled crown is used in keeping with most models of the 1970s.
The case is only available in two metals, stainless steel, and gold-plate with no solid gold variants existing of either reference.
The rather beefy lugs have an 18mm width and a flat design between the lugs similar to many modern Rolex strap models, which takes a very specific flat edge end-link compatible with a few bracelet options, and causes leather straps to sit very flush with the edge of the case.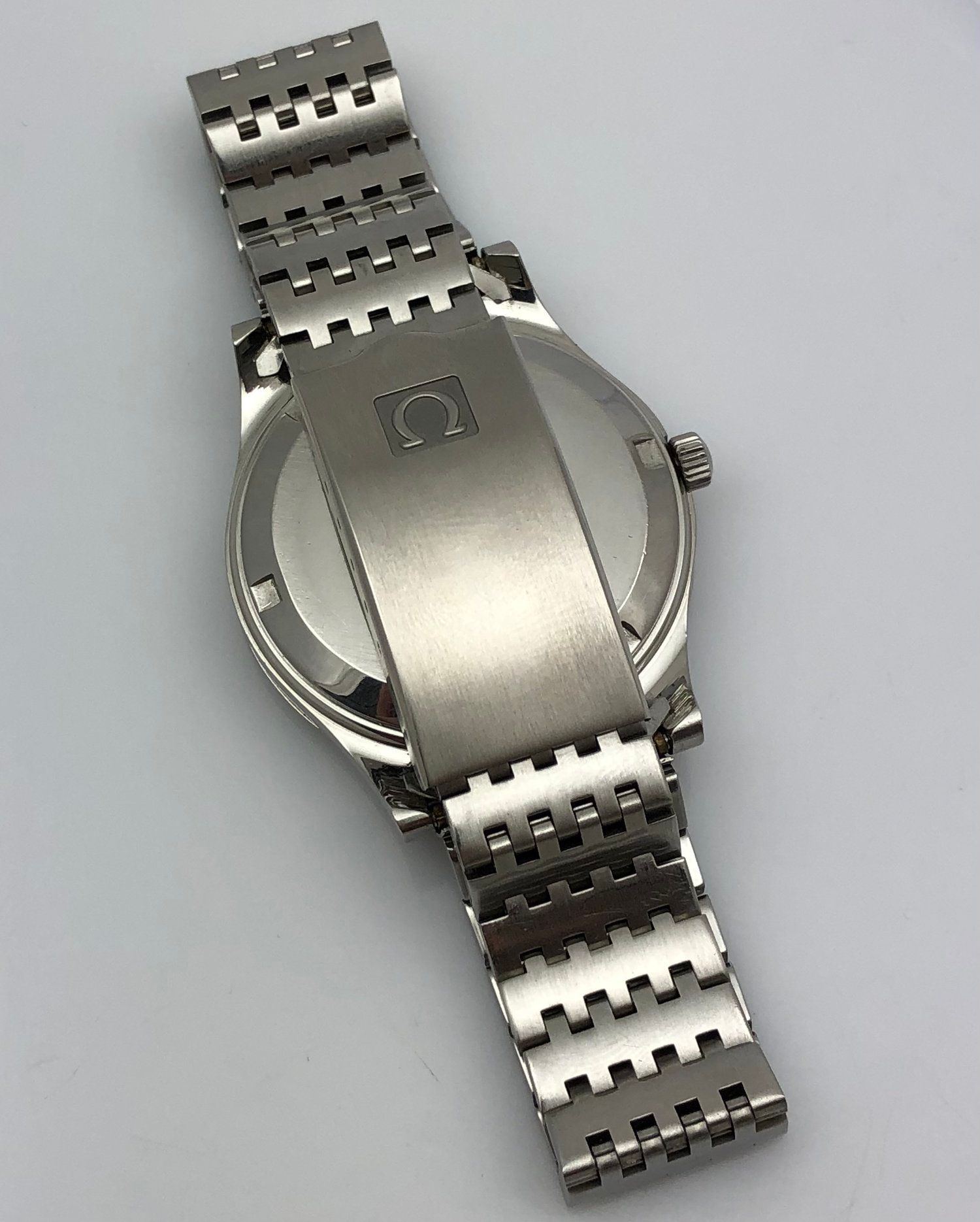 The bracelet typically found on these Geneves, and the option that really fits the design the best is the Ref 1193 bracelet with 568 end-links.  This one-piece link design is used by many 1970s models and tends to be fairly easy to obtain while also being very durable and quite comfortable to wear.
Movement
The Omega Calibre 1012 & 1022 movements are highly dependable, reliable and accurate movements with proper servicing from an Omega qualified watchmaker.  Many people continue to avoid them because of misinformation about the "Calibre 1000 series" which does not apply to the Calibre 1010/1020 series, which are a redesigned movement with mostly different parts.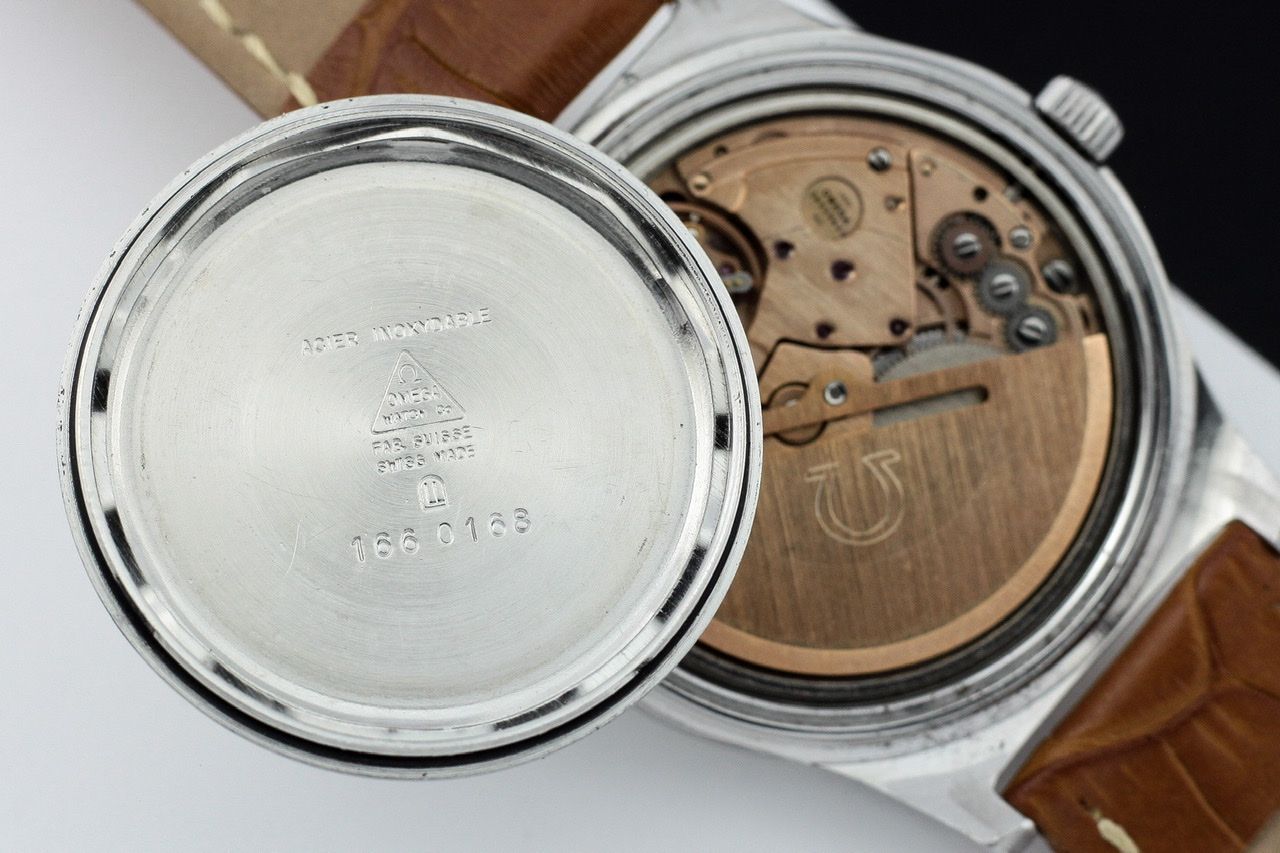 These movements are both non-chronometer rated, running at 28,800 vph with hacking, quickset (both day and date on the 1022), and have a 48 hour power reserve.
The third movement, used in the 136.0102 is the Calibre 1030 which is effectively a 17 jewel, manual wind version of the calibre 1012 date movement.  The 1030 was not used in as many watches as the automatic versions but remains a very durable movement, possibly even more so by virtue of not having an automatic winding system to wear out.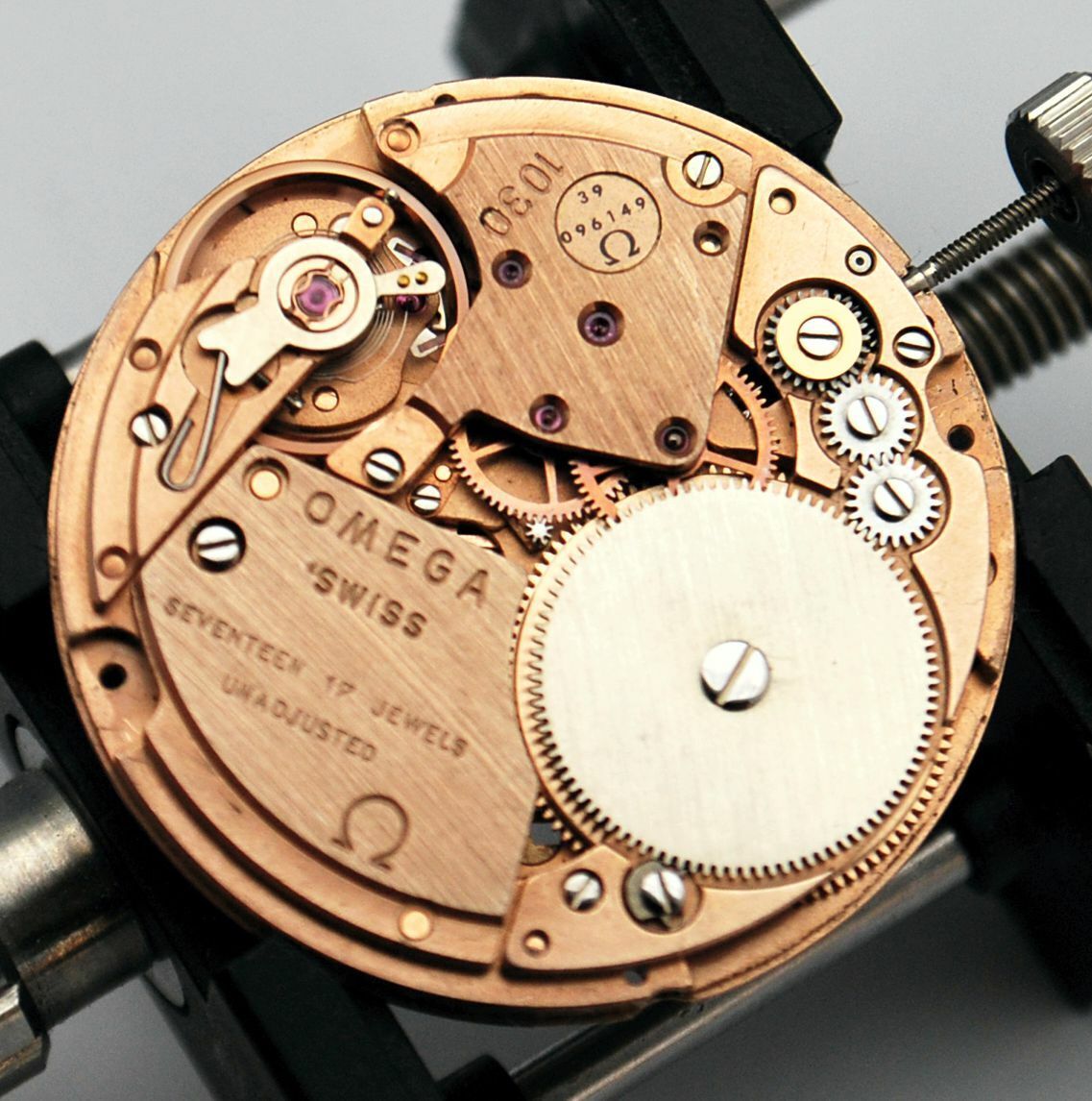 It is worth noting that on average, the manual wind versions of these, and other Omega dress watch tend to have seen less use and mileage on the wrist than their automatic cousins due to the inconvenience of being manual wind.  Whether that inconvenience is an issue to you or not is entirely a personal decision.
Dial Variants
All of the bellow dial patterns are very likely available across the three different references and being the 1970s there are many different dial options for these Geneves.  There are subtle differences in the Omega logo, fonts, date-window shape and even the location of SWISS MADE at the bottom of the dial between specific designs however all examples of a given design should be largely uniform with the exception of changes relating to reference.
Stainless Steel
The most common dial is the vertical brushed silver dial in steel with luminous hands, black, and starburst silver, there is also a brushed silver dial with Breguet numerals and non-luminous leaf hands.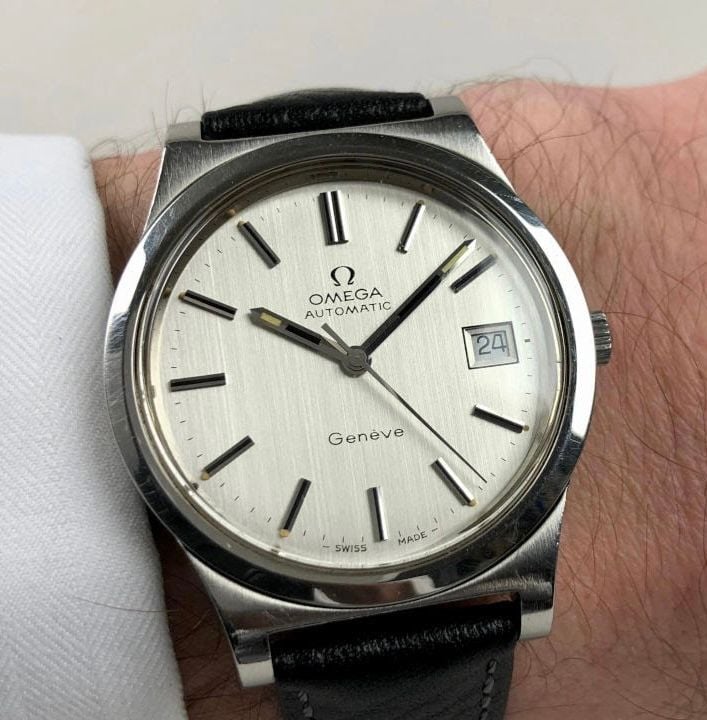 There are color fade dials, from burgundy red to black, from green to black, and from anthracite grey to black available, although these dials may be prone to some degree of cracking or crazing of the surface over time.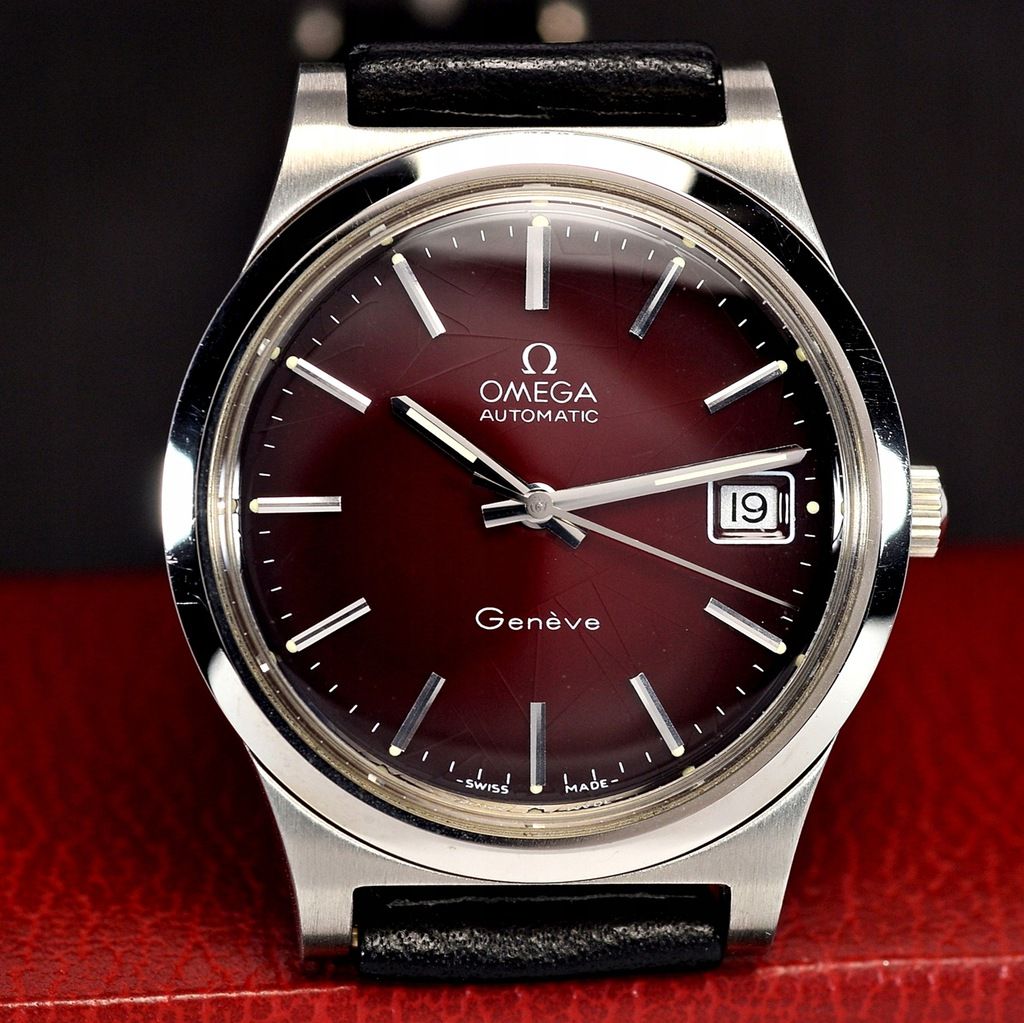 There are also starburst colored dials in red and blue, as well as a vertical brushed blue texture.
It should be noted there are also a lot of redials, and while there may be some dials beyond those listed above (and if so please do email ashley@omegaforums.net) with pictures, there are no sky blue, tiffany blue or variations there-of.  These are coming out of South Korea in particular and are not authentic.
Gold-plated
The majority of gold plated cases come in vertical brushed silver or vertical brushed gold, although the black dial and brushed gold with Breguet numerals and leaf hands are also fairly common.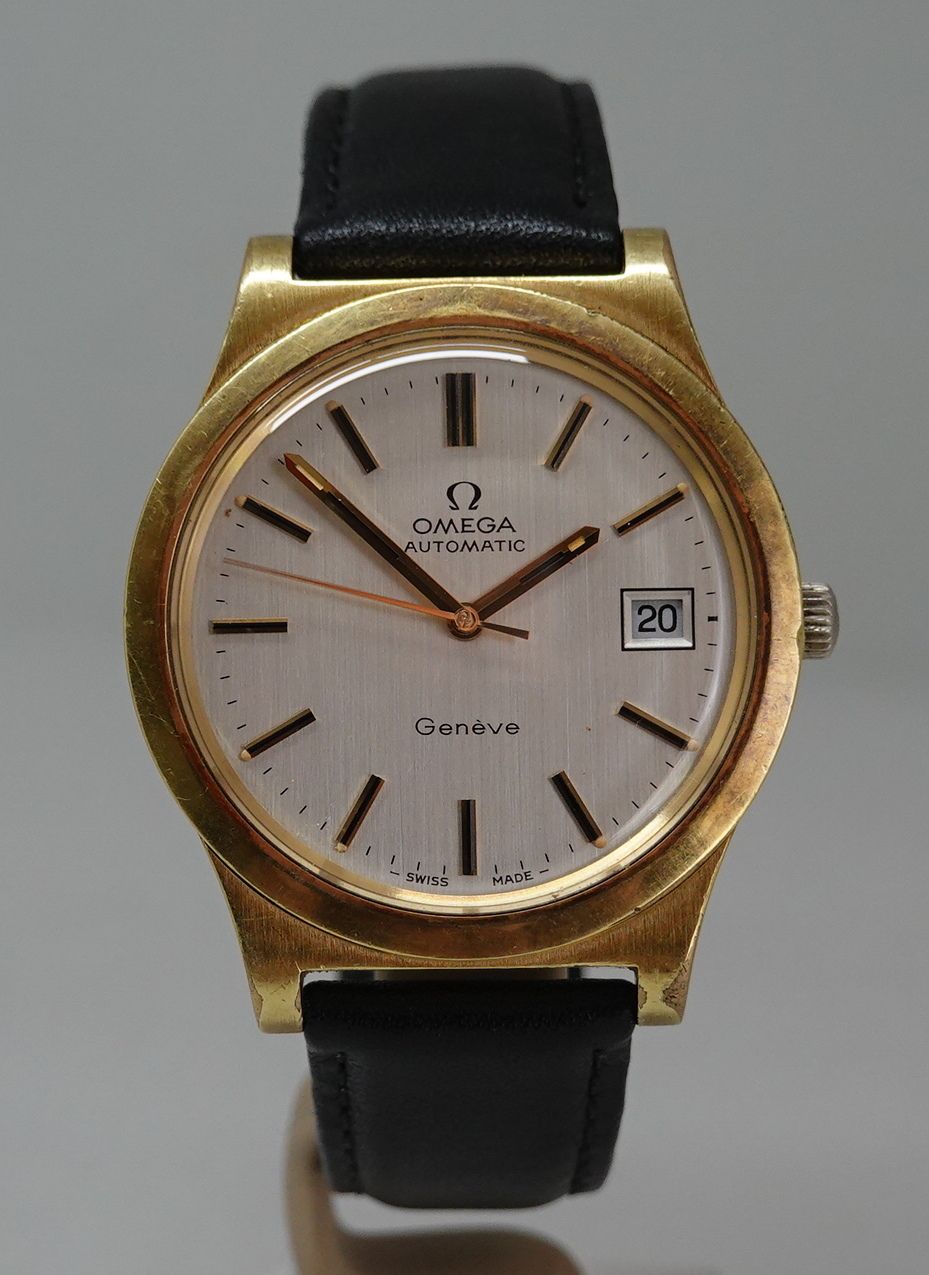 As with the steel models, color fade green to black and red to black are available, with matching gold dial furniture and hands for gold-plated models.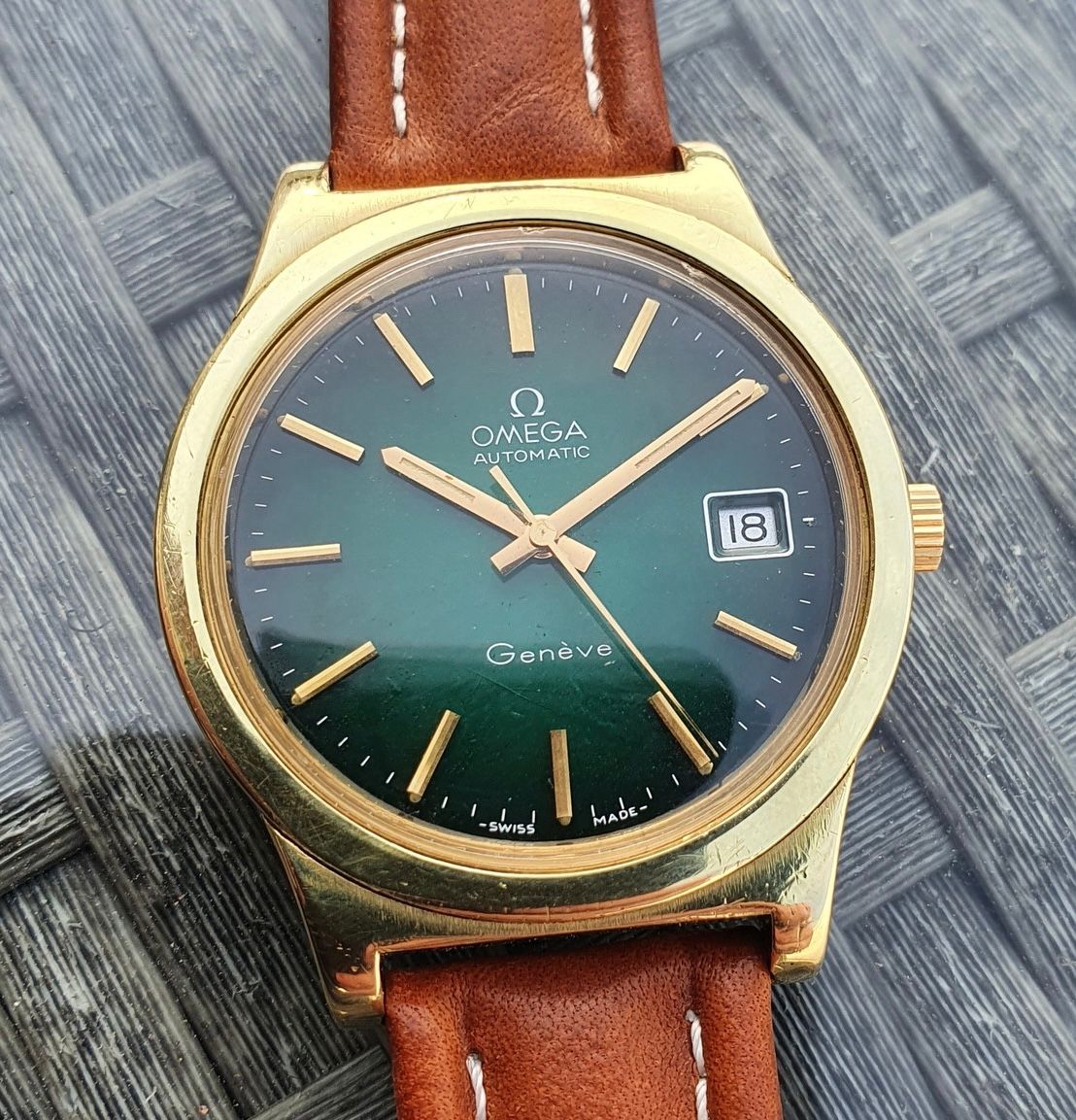 Gold-plated cases also received their own version of the metallic starburst red and blue dials with matching dial furniture.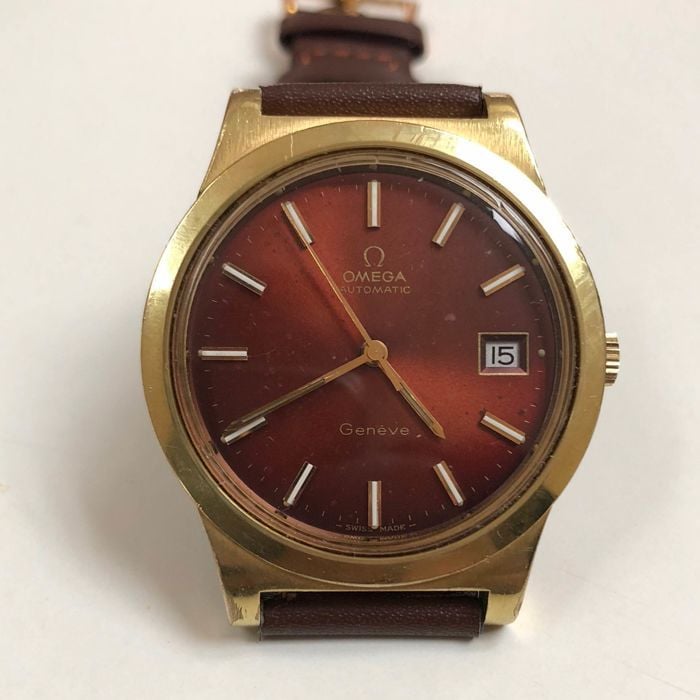 Buying
The great virtue of these watches it the modern feel, size, and look at a bargain price so unless you have your heart set on a specific unusual dial variant and have to have it, you are far better off looking around on eBay, forums and anywhere locally that cheap watches are sold.
Of the different references, the automatics, 166.0168 & 166.0169 are the more desirable and carry higher prices on average (though not always) than the manual wind 136.0102.  If you genuinely don't mind the idea of winding your own watch, the Calibre 1030 is a great movement and 136.0102 is well worth considering, especially if you find a dial that appeals to you.  A massive chunk of Omega collectors online are Speedmaster Pro fans and wind their watches daily, so there certainly isn't anything wrong with it. Having said that, you're probably better off finding out whether you like it or not with a $200 Geneve than an expensive Moonwatch.  That said, most will go for the automatic, it's just easier to live with and a bit more convenient.
The gold-plated models, as with many other gold-plated references are prone to wear through and should be avoided if any is present as it is not financially viable to re-plate these watches.  Wear-through most often occurs on the lugs and edges of the case.  The bracelet is worth chasing as it really does make the watch look more "complete" than just a strap.  Having the correct 1193 bracelet and 568 end-links is worth about $150-200 so do factor that into the price.  Box and papers are nice to have but not worth paying extra for on a watch like this.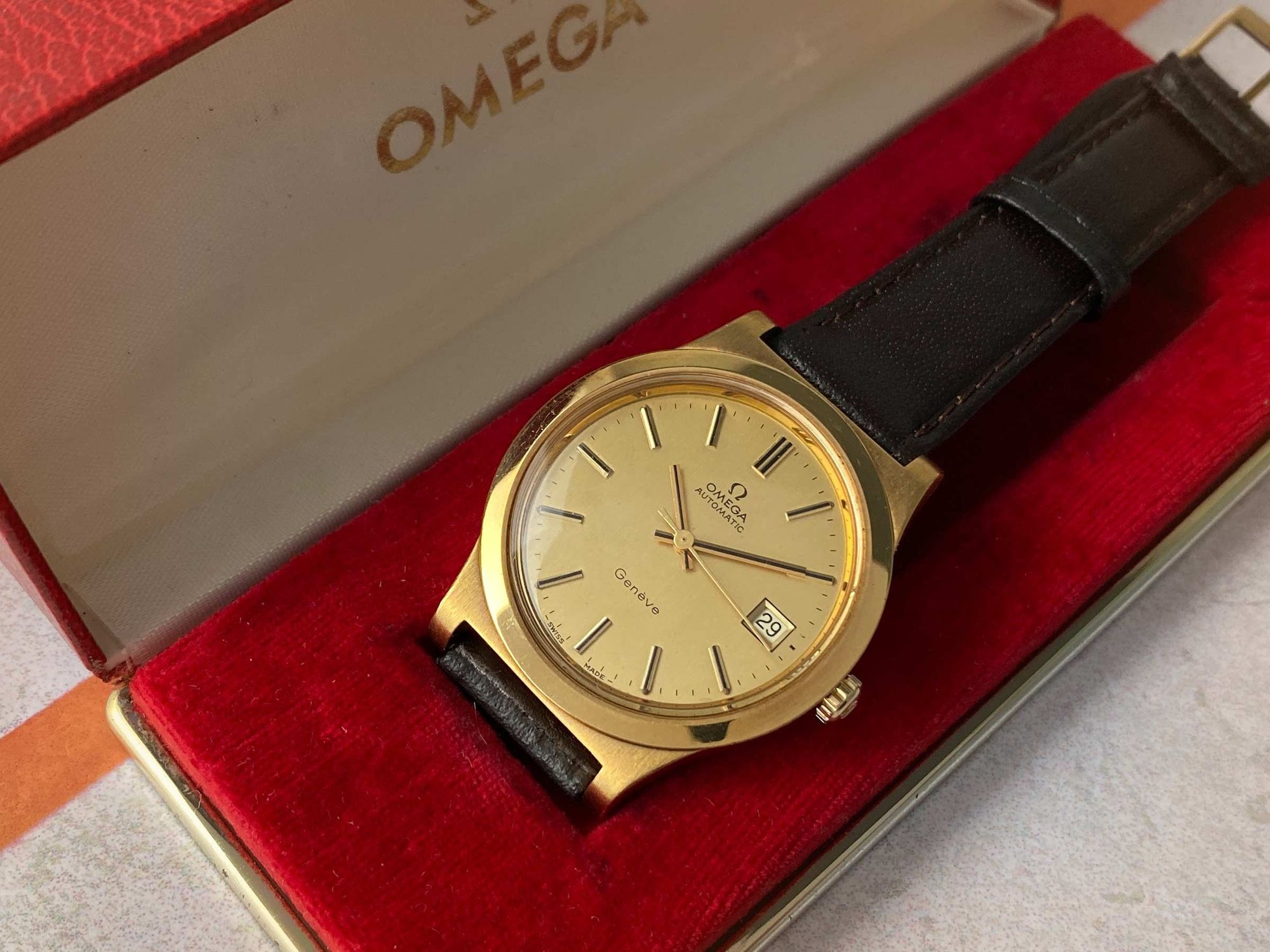 Condition wise, the lugs and bezel on this watch reference stand out greatly and should be sharp and dent free.  There are enough of these watches around to be picky, so do not settle for anything over-polished or noticeably beat-up.  Water resistance on these watches is quite good so dials should be in excellent condition, however some of them are prone to cracking and crazing from exposure to the elements which some will find acceptable patina while others will want to avoid.
Price wise these watches often go under $300, and sometimes even under $200 in no-reserve auctions on eBay.  A nice wearable example sold recently in October 2022 for $447.30 with the factory bracelet and end-links in quite decent shape.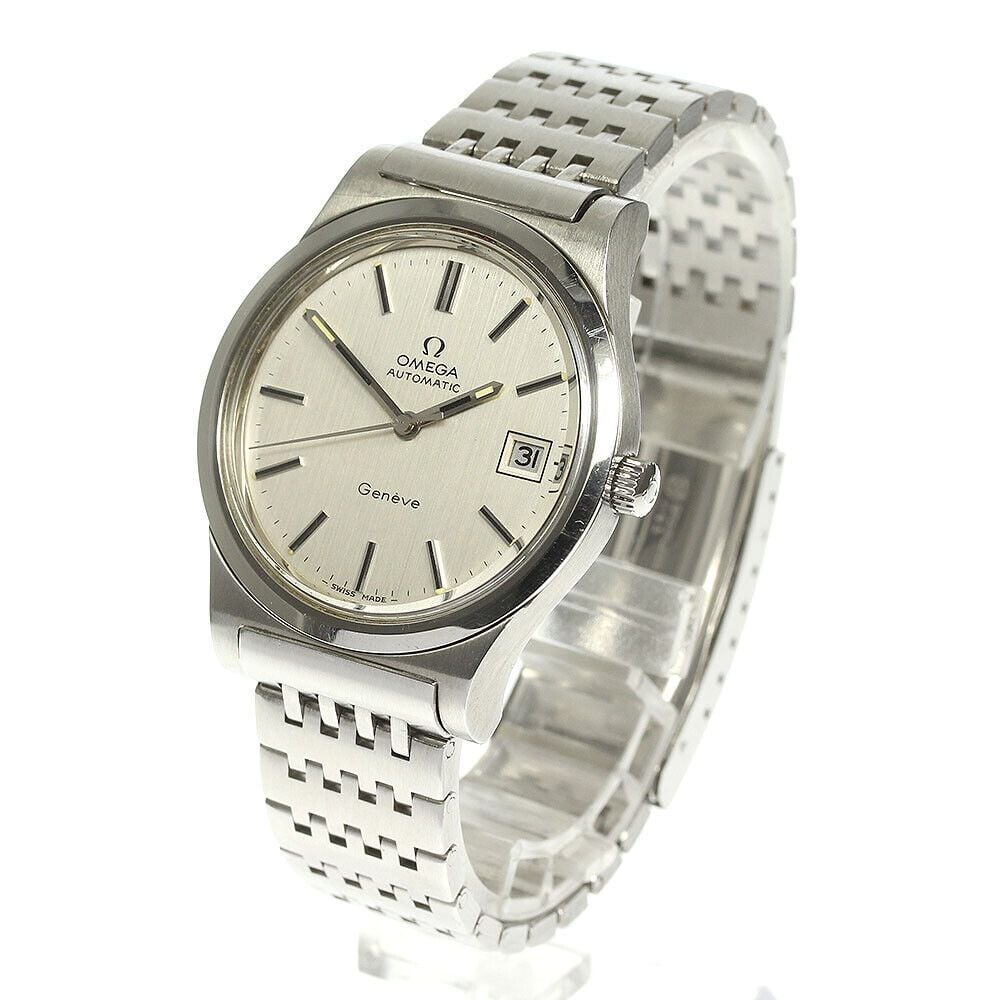 These watches are always available and were sold world-wide so don't overpay and be patient until the right example comes along.  If you do manage to land one, especially on the factory bracelet, these 36.5mm Geneve's really do make a statement and stand out at a price point you wouldn't expect.
Discussion thread on Omegaforums can be found here: