While substantially larger, thicker and somewhat polarizing compared to the Seamaster GMT, the first generation Planet Ocean GMT is a watch packed with technology, features and performance in an extremely well priced package.
A Long Awaited Successor To The Seamaster GMT
The first Planet Ocean with a GMT complication arrived in 2013 with the GoodPlanet Special edition, 15 years after the original Seamaster Pro GMT's debut in 1998.  Being based on the second generation Planet Ocean, this watch was gifted with a litany of new technologies and advancements, making it a technically and aesthetically superior watch in every way.  Finishing quality was substantially improved over the Seamasters debuted in the 1990's with ceramics, LiquidMetal, and applied indices just some of the major upgrades.   The one shortcoming was the thickness at 17.4 mm compared to the 13 mm of the previous Seamaster.  This was a very chubby watch and one that did turn some buyers off.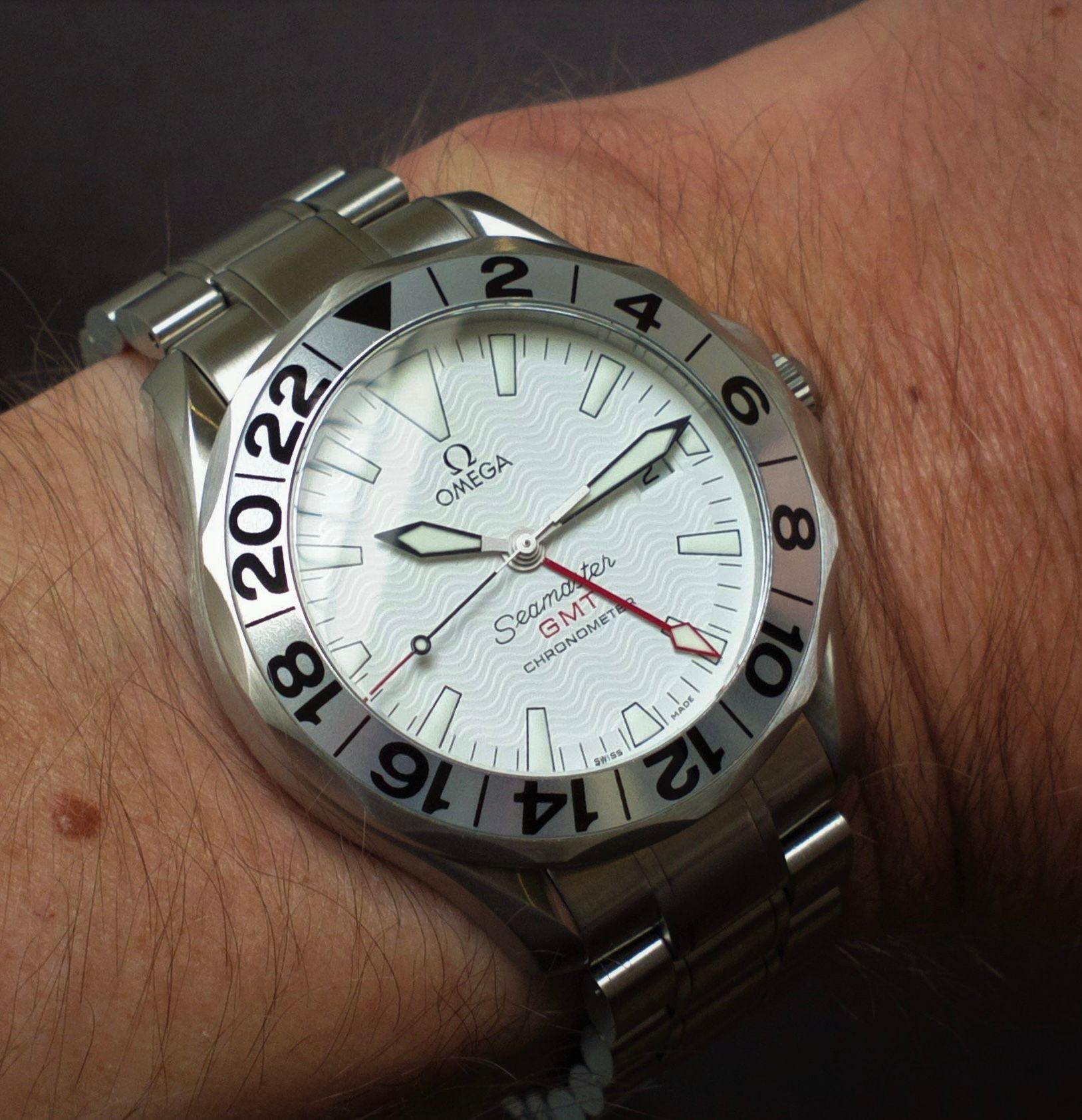 For those undeterred by the thickness, this Planet Ocean GMT was a watch packed with capability and performance, intended to greatly surpass its predecessors.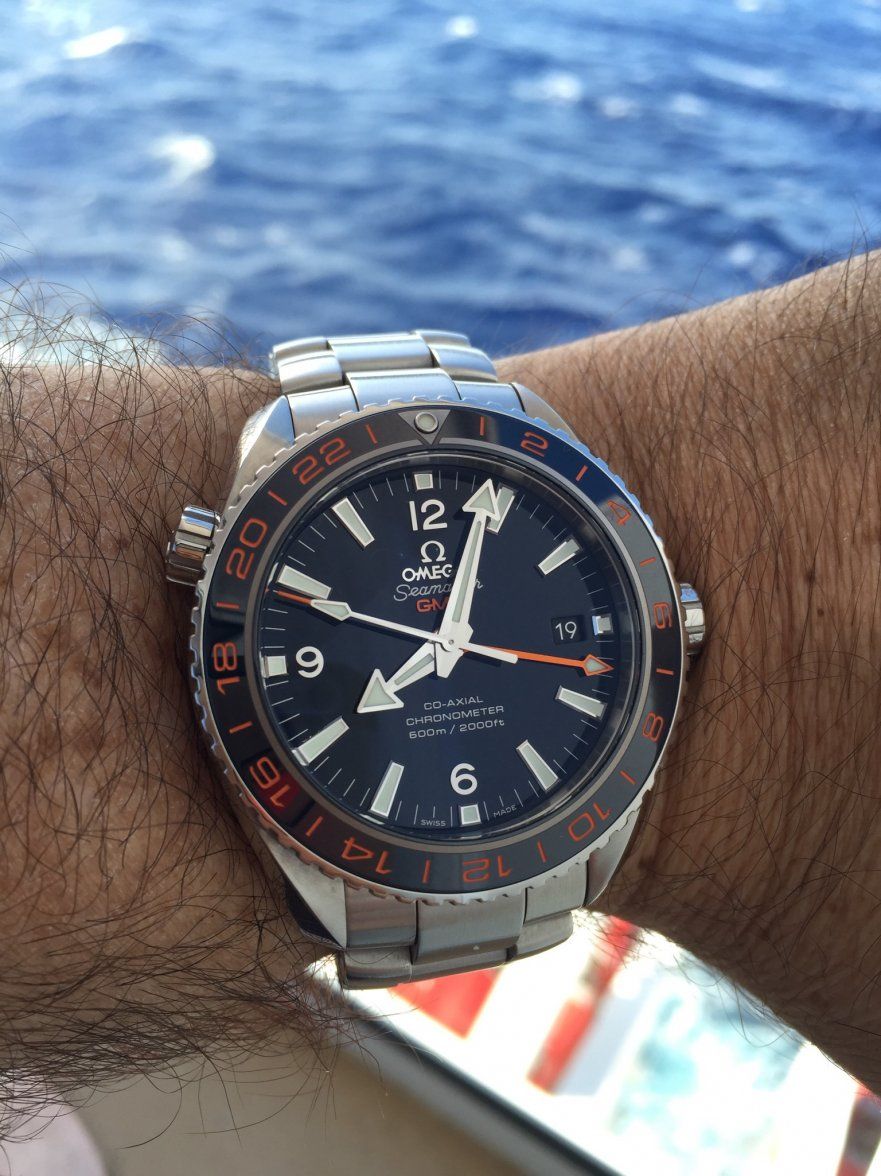 The Planet Ocean GMT also evolved significantly over its lifespan, as this watch existed during a time of rapid technical and materials advances for Omega with several of these appearing on these GMT models.  The first ever vibrant orange ceramic bezel, titanium liquid-metal editions, and in later years Master Co-Axial anti-magnetic movements all featured in these watches over the years.
The fundamental design of the Planet Ocean GMT would continue to this day, with a second generation powered by the Master Co-Axial movement being released in 2016, which is still in production as of 2023.  The new versions do however lack some of the variety of the first generation, with only a single steel model being available and all other options being precious metal or ceramic at a much higher price point.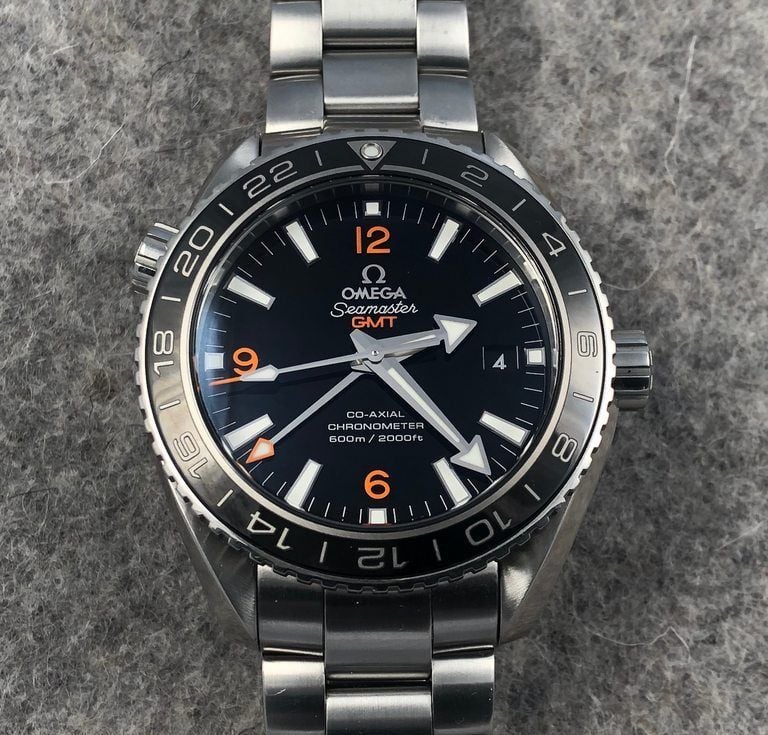 This leaves the original generation in a very interesting position.  It provides more options, colors and metals, in effectively the same case, with a very similar movement to the latest model.  Yet on the used market, $3,500 to $5,000 can buy you a nice example while the new version approaches the $10,000 mark.  This is where these Planet Ocean's represent incredible value, even compared to the original Seamaster GMT.
The GoodPlanet Foundation
The GoodPlanet foundation is an international NGO founded by French environmental activist, filmmaker, photographer and journalist Yann Arthus-Bertrand.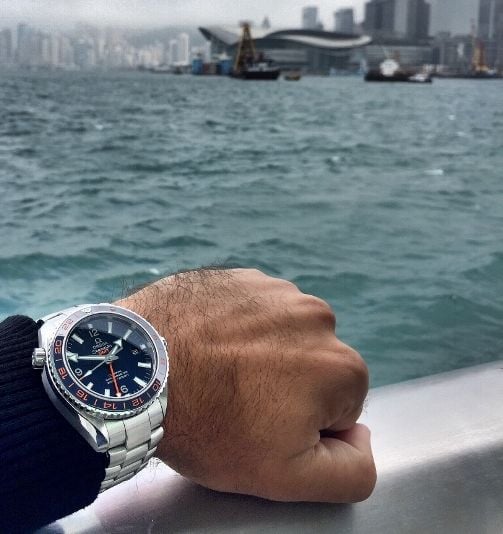 The foundation's primary aim is education about the environment, through film, physical media, and online experiences with several films being produced and made available to the public online for free.
Of particular note is the 2012 film familiarly titled "Planet Ocean", focused on the history of the organisms that live in the ocean, and the relationships they have with each other and with humans.  This film is available through an official youtube account and can be viewed below in full.
The timing of the film is no coincidence, coming immediately prior to the release of the GoodPlanet special edition Planet Ocean GMT in 2013.  10 years on, both the film and accompanying watch have held up remarkably well.
This would not be the last tie-in between an Omega model and a film produced by GoodPlanet's Arthus-Bertrand in 2015 an Omega Seamaster Aqua Terra would be released to mark the release of his film "Terra" with Omega supporting the documentary release.
Yann Arthus-Bertrand remains the president of the foundation as of mid-2023 and is most frequently photographed wearing his special edition Aqua Terra GoodPlanet Ref 231.92.43.22.04.001 on strap.
Case & Bracelet
The Seamaster Planet Ocean GMT's 43.5 mm case marked an entirely new size, halfway between the previous 42 mm standard and 45.5 mm XL versions of the watch.  Splitting the difference like this was likely an effort to reduce the number of unique models they needed to produce, since the GMT versions are typically slower sellers than the regular dive version.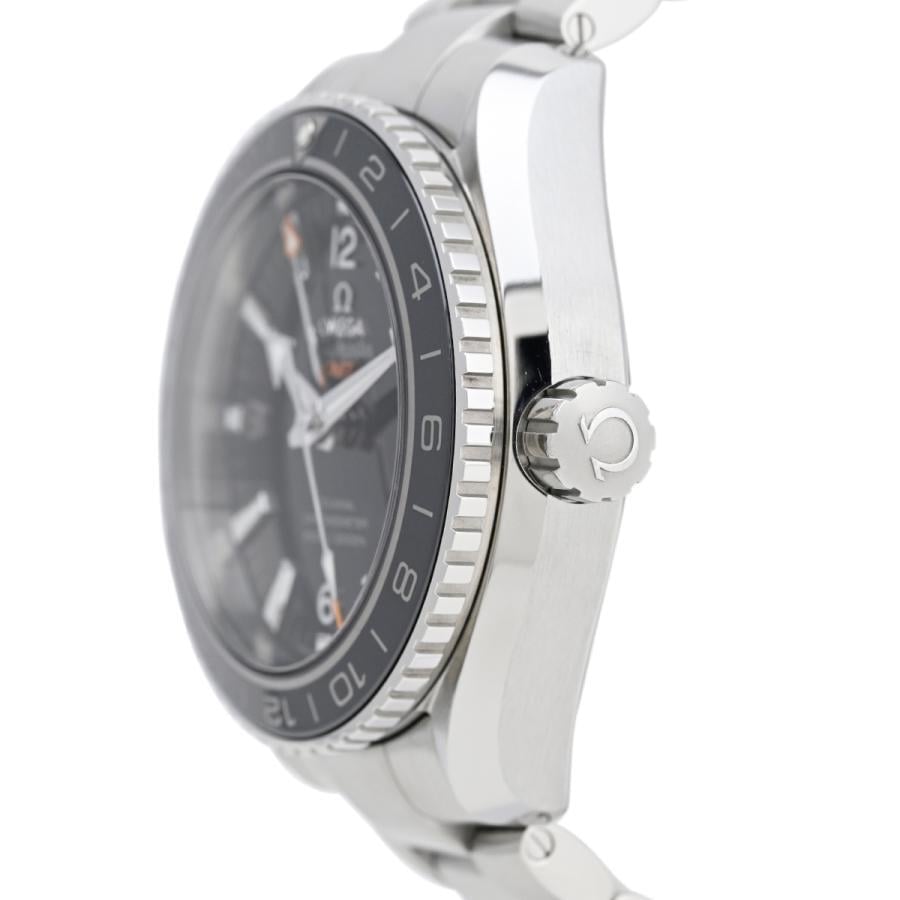 These 43.5 mm diameter watches feature 21 mm lugs, making them incompatible with either 42 mm or 45.5 mm watches, and have a thickness of 17.3 mm which is undeniably a lot.  The thickness increase comes about for two reasons, firstly the Planet Ocean being rated to 600 meters rather than the Seamaster Pro's 300 meters requires it to be a thicker watch just to make that depth safely.  All Planet Oceans are thus thicker than their equivalent Seamaster Pro models to begin with.  The additional thickness comes from the movement, as the Calibre 8605 is quite a bit taller than the thin ETA movements of old.
The Planet Ocean case carries the traditional twisted lugs first seen on the Seamaster 300 diver models of the 1960s, in an asymmetrical case with integral crown guards derived from the Speedmaster Pro Moonwatch case rather than the Seamaster Pro 300M.  It's easy to miss this small element that differentiates the Planet Ocean from the Bond Seamaster case but the Seamaster Pro 300M really does have crown-guards that sit proud of the case on their own while the Planet Ocean is effectively a Moonwatch case without pushers.
What the Planet Ocean does carry over from the Bond Seamaster, however, is the manually operated helium escape valve which you'll never use but is part of the whole professional diver aesthetic.  Incidentally, the previous Seamaster Pro generation did away with the helium escape valve, but on this generation of Planet Ocean GMT it was retained.  The Planet Ocean also carries a somewhat larger, also more Speedmaster Pro style knurled crown rather than the smaller Seamaster Pro 300M crown.
These Planet Oceans feature a true 24-hour GMT bezel, beautifully finished in durable ceramic, with a luminous dot at the 24 hour mark.  There are a number of different colors, metal combinations and finishes but one in particular is worthy of mention.  At launch in 2013 Omega showed off an orange bezel version which had an aluminum bezel, which was photographed by watch media but never made it to full production.  This watch was to carry the reference 232.30.44.22.01.003, and while it was not produced, Omega did produce an orange bezel Planet Ocean GMT in solid platinum a year later with a world first orange ceramic bezel.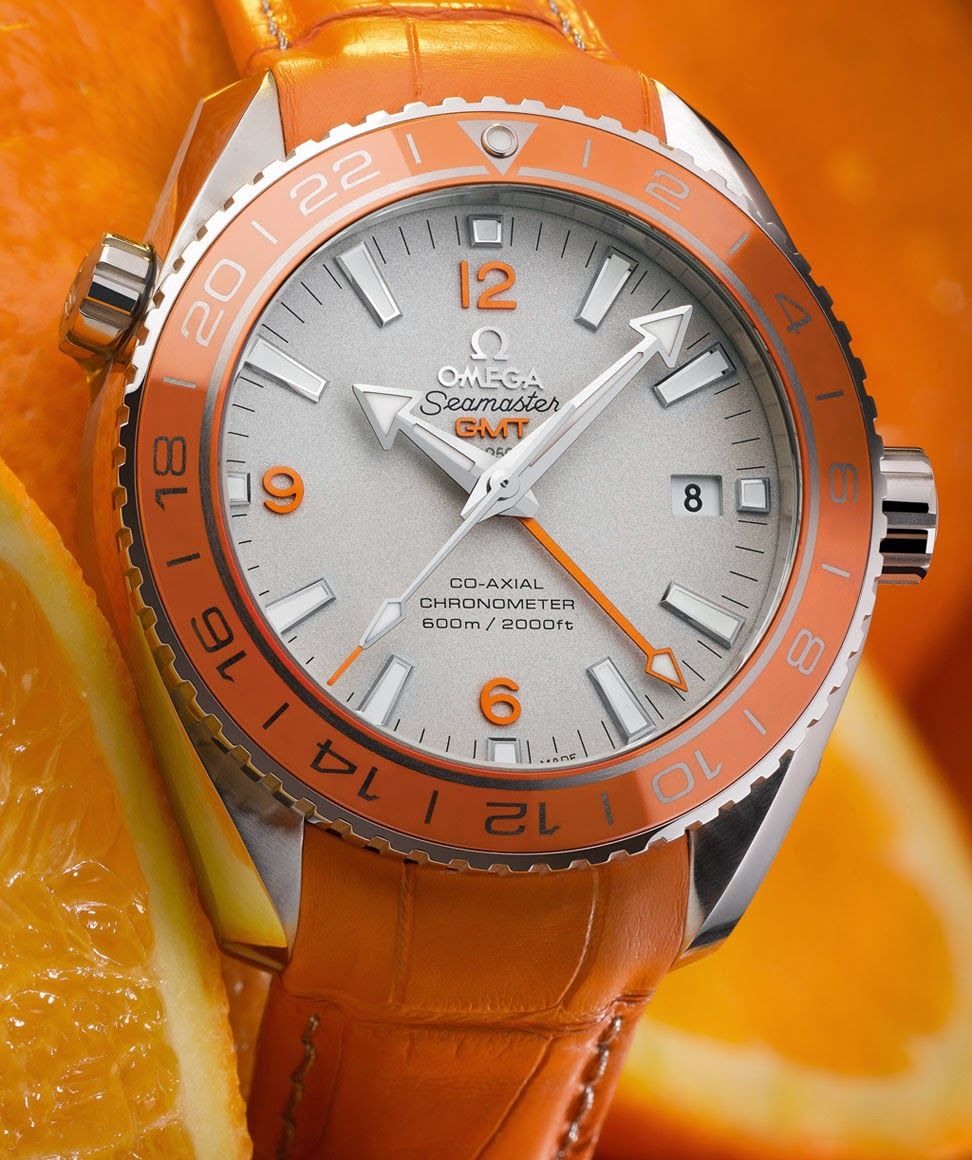 The case-back of these Calibre 8605 powered Planet Oceans is an elegantly designed display-back in sapphire with text engraved around the outer edge, quite an impressive feature for a 600 meter dive watch.  This display-back likely does not help matters in terms of thickness but the opportunity to show off the very attractive movement within definitely made it a worthy addition.  On the special GoldPlanet editions, the only text referencing the foundation is found around the outer edge of this display-back, keeping the dial clean and legible.
The Planet Ocean bracelet is simple, comfortable, durable and easily maintainable. It features a screw and bushing adjustment system, replacing the earlier pin and bushing system.  Fine size adjustment is achieved with half-links similar to the Bond and Speedmaster bracelets of this era, along with a simple clasp featuring the Omega logo and nothing else.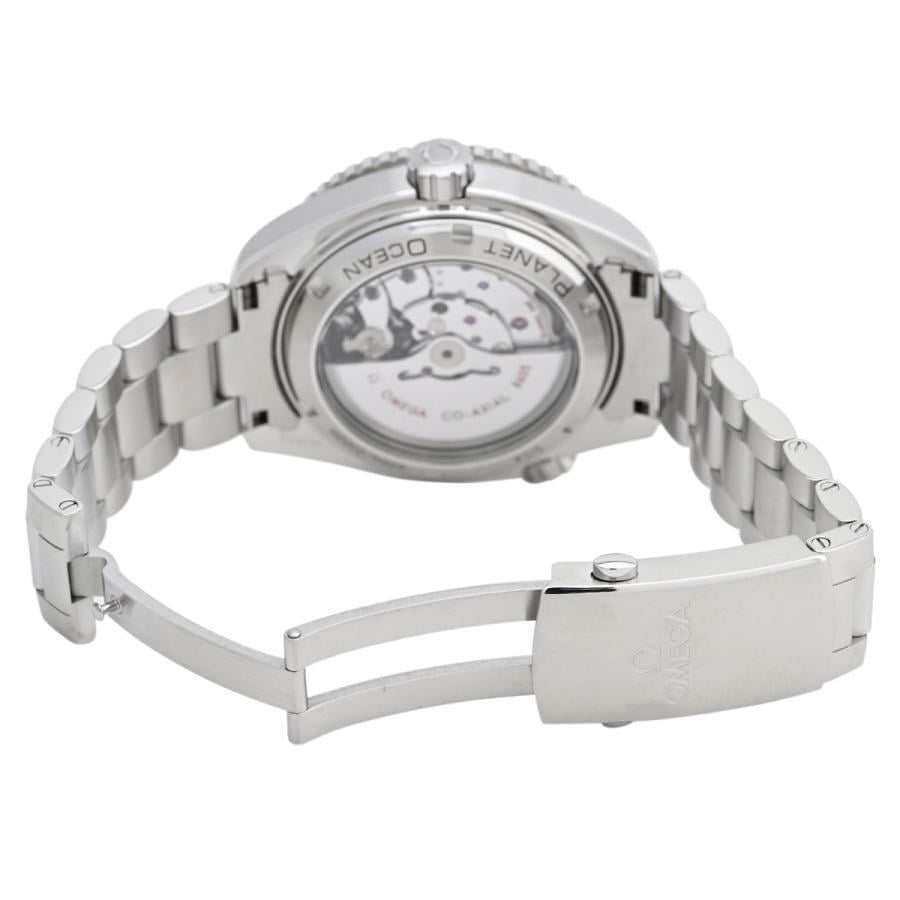 Due to the links and clasp being entirely brushed, any minor swirls and scratches they collect can be rectified relatively easily without the need for professional assistance.  Even with some scratches it tends to still look respectable in a utilitarian tool watch kind of way and doesn't look rough like some polished bracelets do in a short period of time.  The bracelet as a whole is very comfortable on the wrist, not known to be a hair puller and is non-self-marking, meaning it can be placed down without scratching itself or the case-back.
The rubber strap option on these Planet Oceans is particularly comfortable, and comes with the second generation Omega single-fold deployant clasp, which is an upgrade in fit and feel over the original.  
Movement
The movement powering the Seamaster Planet Ocean GMT family is the Co-Axial Calibre 8605.  This movement is a modified version of the in-house Calibre 8500 introduced in 2007 as Omega's new flagship movement.
The Calibre 8605 would have been relatively easy to create from the the Calibre 8500, given that the later was already designed with a jumping hour hand for travel purposes, leaving less work for engineers to do in adding the GMT complication.
The Cal 8605 featured a 3-level Co-Axial escapement, leaving it immune to the problems associated with early Calibre 2500 movements.  It beats at 25,200 vph, is chronometer certified, and features hacking along with a jumping hour hand for date setting and travel convenience.  The bi-directional automatic winding system powers two barrels for a total of 60 hours power reserve.
The aesthetic design of the movement is far more impressive than prior Omega models, with Cotes de Geneve en Arabesque in a radial, turbine-blade like finishing setting it apart from other watches.  Also interesting and somewhat unusual was the Si14 silicon balance wheel, identifiable in matte black against the bright rhodium finishing.  This effort in finishing the movement is undoubtedly why Omega chose to fit this generation with a display-back across the range.
While all movements have some teething issues when new, including the Calibre 8500 family, the Calibre 8605 movement came out about 5 years into production of 8500 variants and has been a solid performer over time.  From around 2015 onwards, these movements featured the 15,000 Gauss antimagnetic rating, and Master Co-Axial branding.  These movements can be handled by any qualified watchmaker with access to an Omega parts account and should perform exceptionally well if correctly maintained.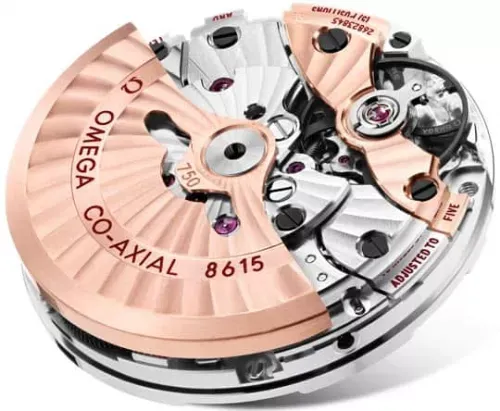 One point of conjecture that comes up often on the internet is whether the Calibre 8500 family of movements are truly "in-house" in the strictest sense of the word or not.  This is due to the fact that while the Calibre 8500 and 9300, along with their descendent were designed exclusively for Omega, manufacturing was taking place on dedicated production lines at ETA facilities.  Really it doesn't matter in the slightest, ETA is a Swatch Group company as is Omega, and ETA possess greater manufacturing expertise than anyone in the Swiss watch industry.  Just as Omega leans on expertise from Comadur SA for high tech ceramics and composites, it makes sense to make use of the best talent available in the group, and this leads to a better product.
Dial & Variants
These watches, along with many other of Omega's ceramic bezel and dial equipped models look vastly better in person than they do in photographs.  The glossy dials and bezels just tend to be very hard to capture and the richness of color tends to be lost so I would highly recommend visiting an Omega boutique or authorized dealer to view the range in person.
The dial of these watches is extremely similar to the regular Planet Ocean dive models, with a rich, glossy ceramic dial featuring white dial text.  There are applied, luminous hour markers for all hours, and applied white gold arabic numerals for 12, 9 and 6 with 3 omitted to make way for a date window.  Date windows are color matched to the dial with the exception of the orange and platinum limited edition which has a white date wheel.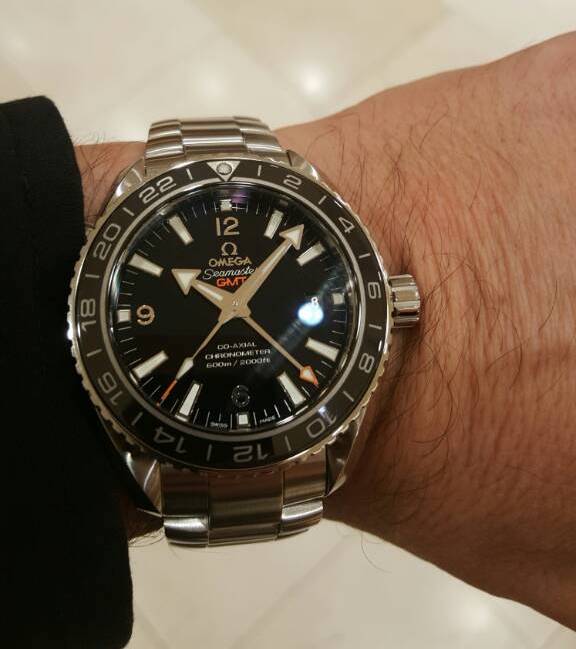 There is an applied Omega logo at the top of the dial with Seamaster and GMT in orange beneath it, then at the bottom is Co-Axial, Chronometer 600M / 2000Ft.  The hands are luminous broad-arrow hands as are found on the regular Planet Ocean, with the addition of a narrow GMT hand with a luminous arrow-head on the tip.
Standard Production Models In Stainless Steel
The regular steel versions introduced in 2013 included 5 variants.  The first two were the all black bezel and dial with white gold arabic numerals.  These watches, on bracelet, Ref 232.30.44.22.01.001, and on strap, Ref 232.32.44.22.01.001 are the most common of Planet Ocean GMT's and make up the bulk of those found on the second hand market.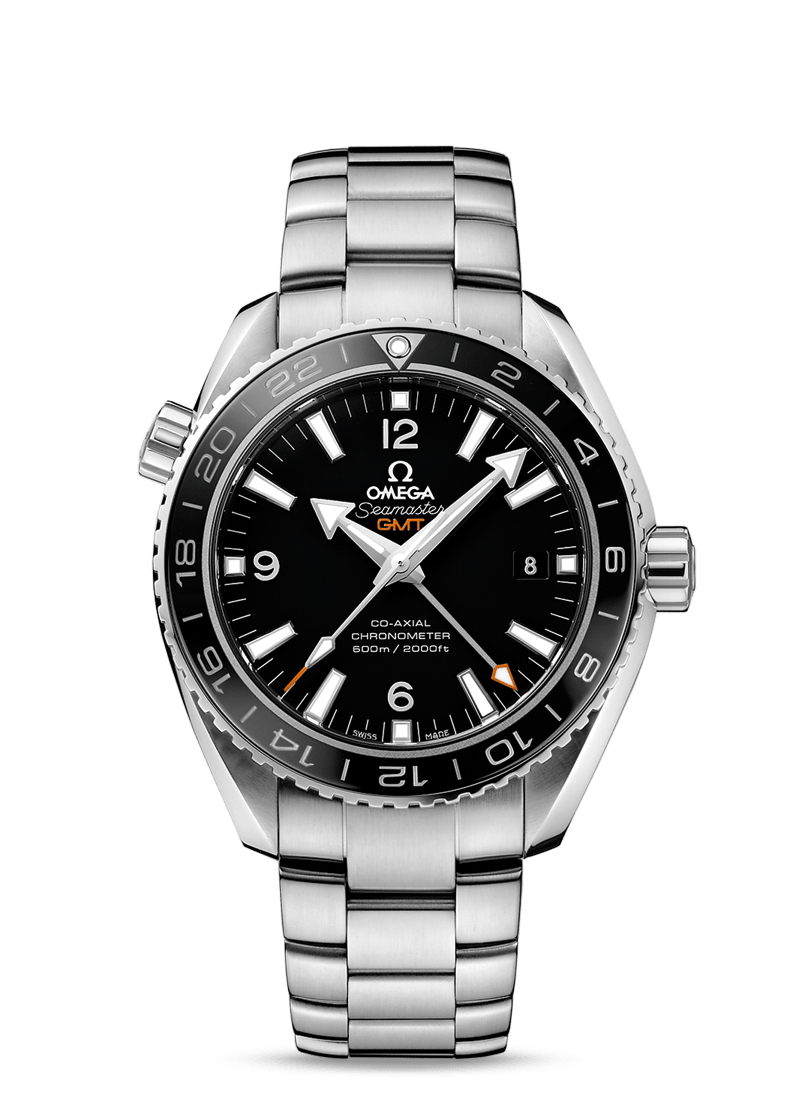 The second batch are the same as above but with anodized orange applied arabic numerals on the dial to give a bit of additional flair.  These are Ref 232.30.44.22.01.002 on bracelet, and on strap, Ref 232.32.44.22.01.002.  
There is also the phantom aluminium orange bezel model.  This was presented at Baselworld 2013, but never made it into production, being held back in favor of an orange ceramic limited edition a year later.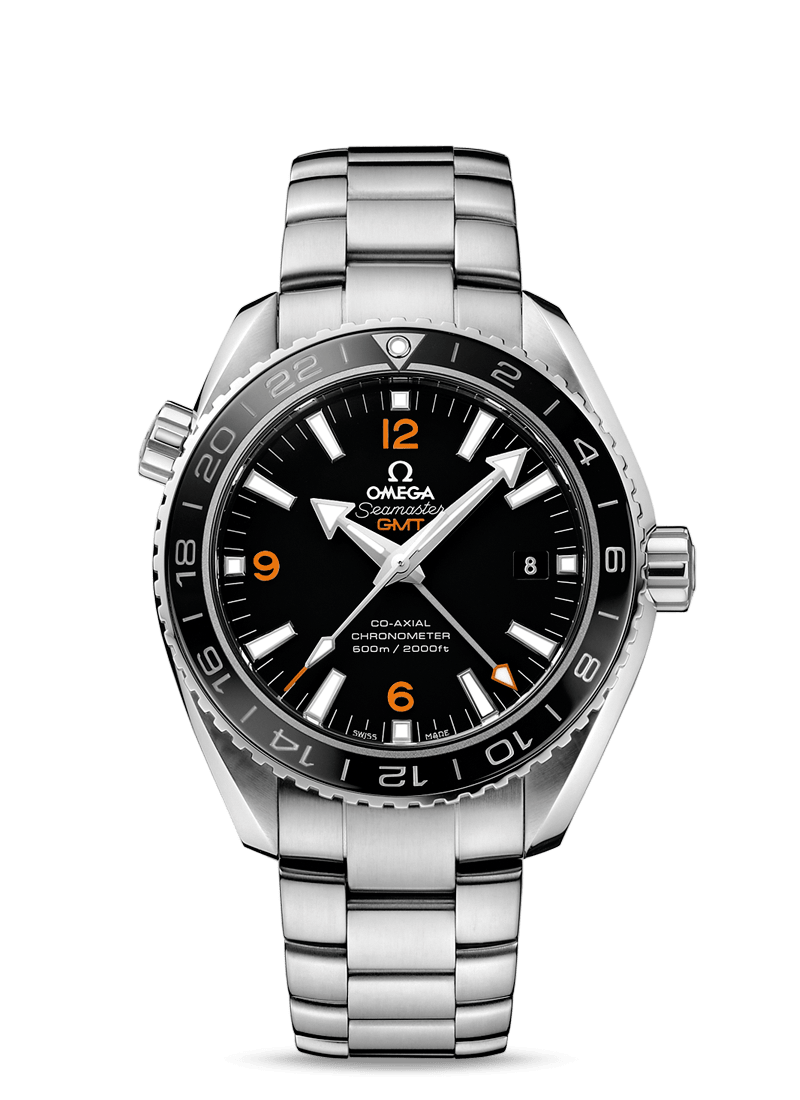 The Blue LiquidMetal Titanium Editions On Bracelet Ref 232.90.44.22.03.001 & Strap Ref 232.92.44.22.03.001
The blue LiquidMetal titanium models were released in 2014 and are the GMT versions of the popular regular dive version in titanium which served as a successor to the original LiquidMetal Limited Edition.
These watches are very light and comfortable, and are the only titanium options in the range.  The bracelet version carries the reference 232.90.44.22.03.001 while the strap version carries the reference 232.92.44.22.03.001.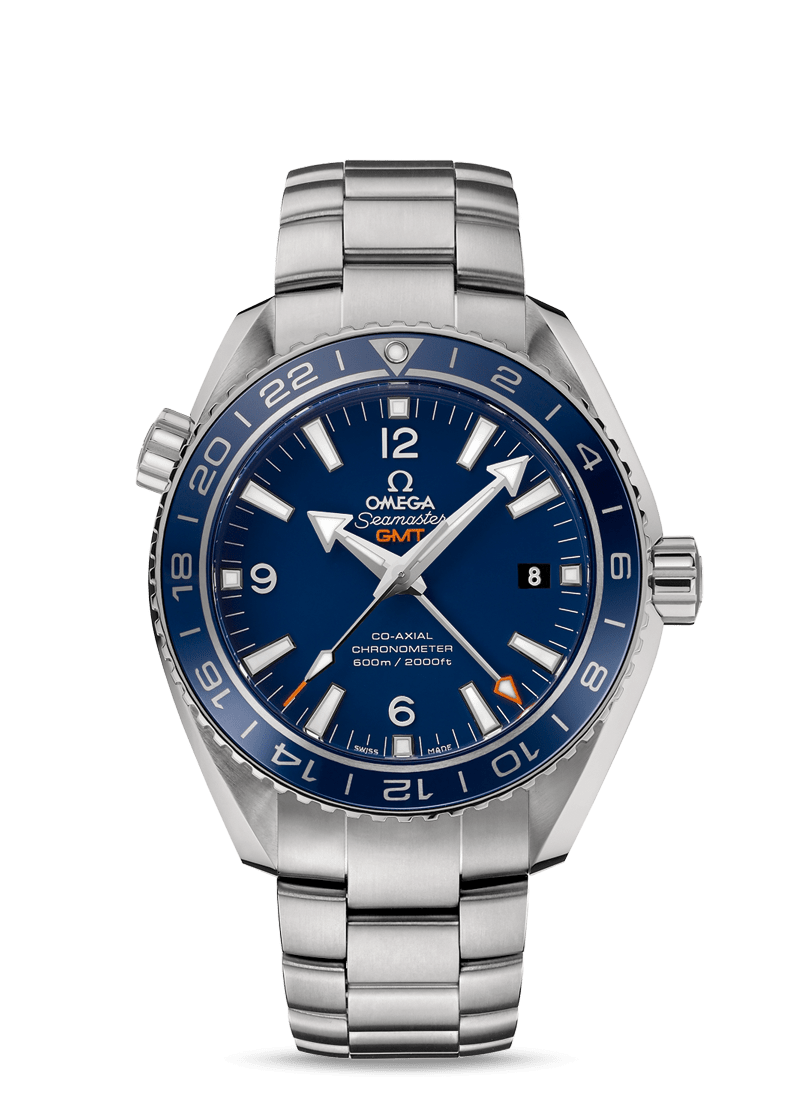 The GoodPlanet Special Editions On Bracelet Ref 232.30.44.22.03.001 & Strap Ref 232.32.44.22.03.001
The GoodPlanet limited edition was introduced in 2013 and is the only blue steel model in the range.  It features a very unique bezel with orange indices in blue ceramic and a matching orange GMT hand.
The GoodPlanet was not a limited edition, so a great many were made and they are still quite accessible today.  The bracelet version carries the reference 232.30.44.22.03.001, while the strap version carries the reference 232.32.44.22.03.001.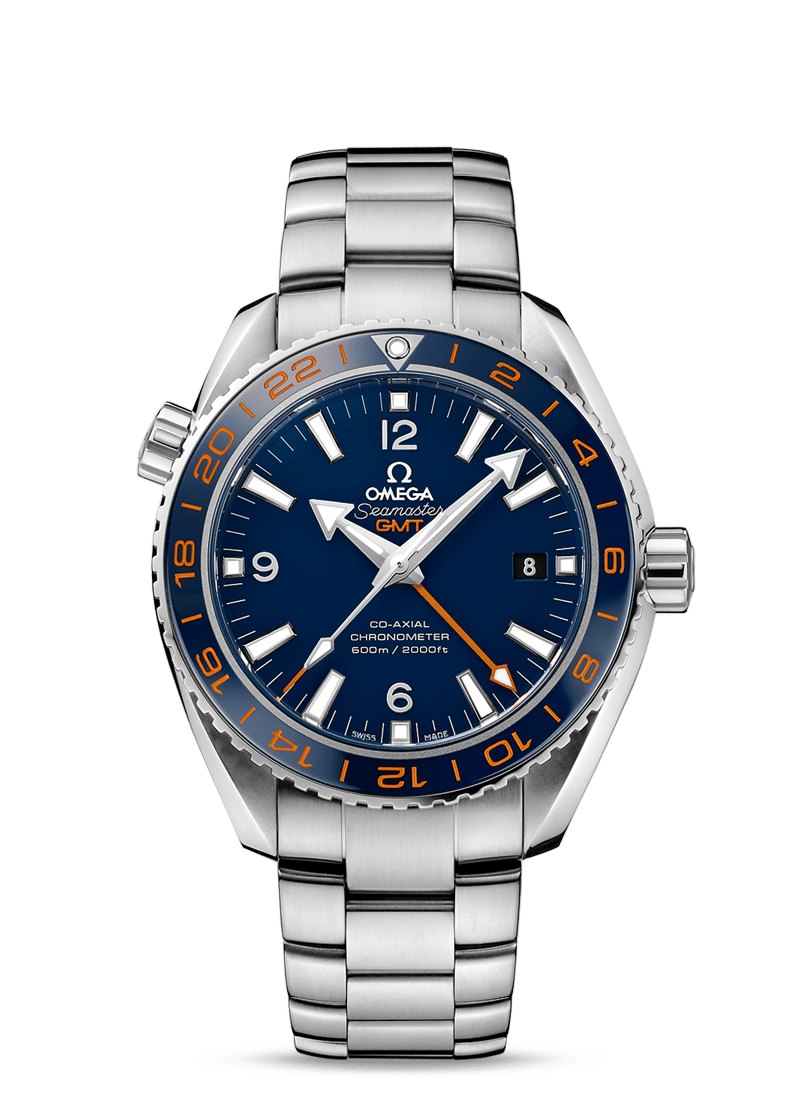 The Black Red Gold Edition Ref 232.63.44.22.01.001
The red gold edition is interesting in that it is the only serial production precious metal version of the Planet Ocean GMT, all others are very small limited production models or 1/1 piece unique watches.  It was released slightly after the other models in 2014.
The black and gold CeraGold bezel looks very striking with the rich dark red tone Omega are able to achieve with their red gold models, making this one you really should see in person.  It has no diamonds or precious stones on it, and comes on leather strap only, with the reference 232.63.44.22.01.001.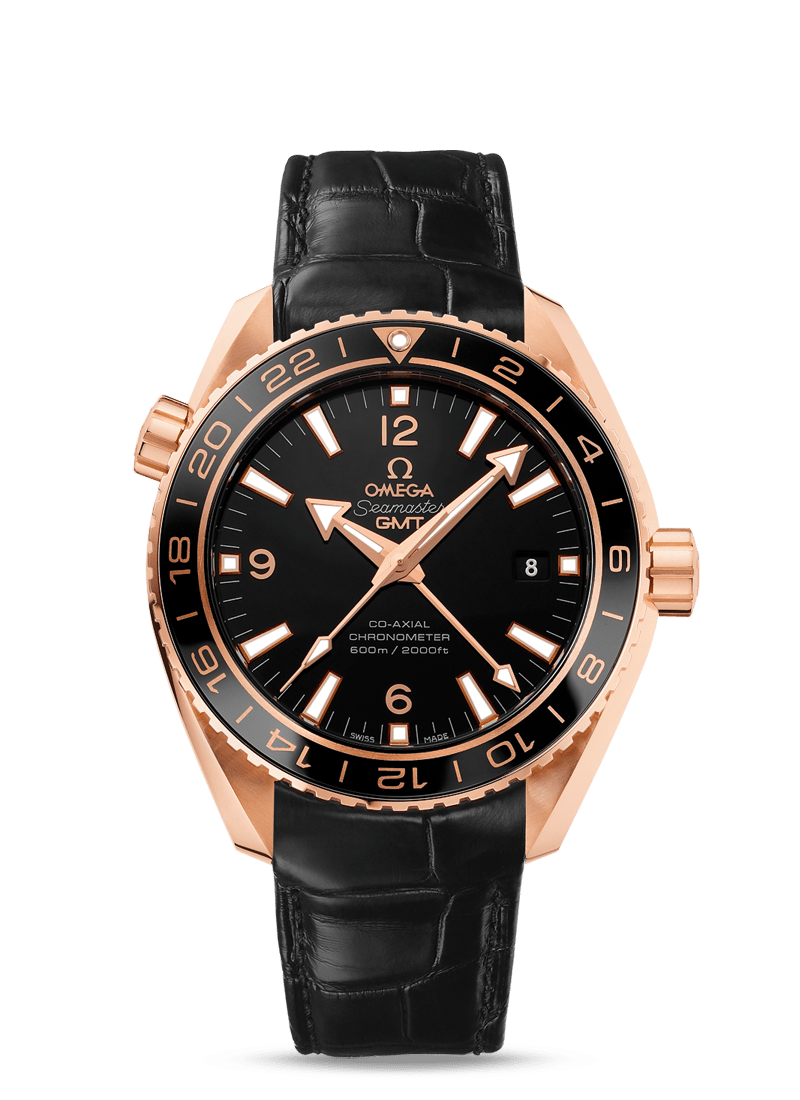 The Black Platinum 1/8 Limited Edition Ref 232.98.44.22.01.001
The black platinum limited edition is a solid platinum, diamond encrusted version yet, somehow is still restrained enough to look quite utilitarian and legible.  There are diamonds acting as the odd-number hour markers, as well as a diamond in the center of the triangle at the 24-hour mark on the bezel.  There are also channel-set diamonds running along the beveled edge of the case on both sides from lug to lug.  Finally the Omega logo is set in diamonds in the center of the display-back.
This very special watch was produced in only 8 units, is available only on black leather strap, and carries the reference 232.98.44.22.01.001.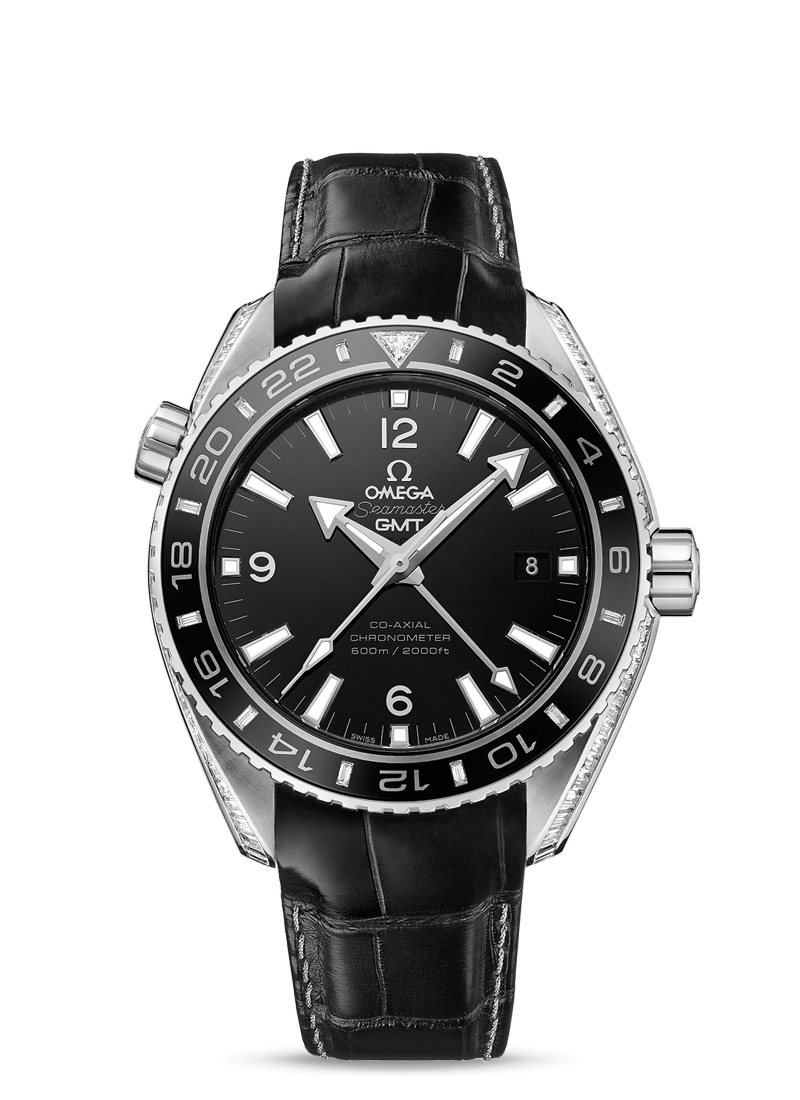 The Orange Platinum 1/8 Limited Edition Ref 232.93.44.22.99.001
The orange platinum limited edition came about in 2014 and was hailed by Omega as a world's first execution of an orange ceramic bezel.  This watch follows the aborted aluminium bezel orange version in steel which was previewed in 2013 but never produced, evidently to make room for this special watch a year later.
Unique to this watch is a frosted platinum dial rather than ceramic, and an orange leather strap.  This watch is only produced in 8 units, and carries the reference 232.93.44.22.99.001.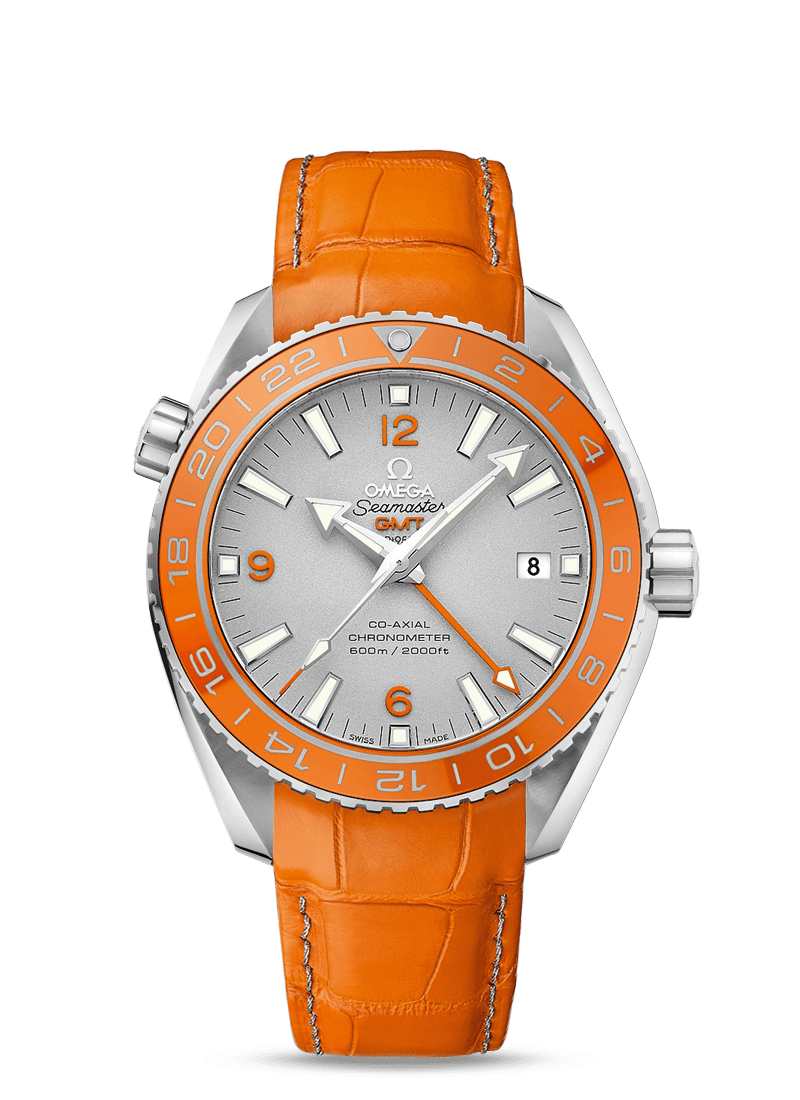 The Four Gulf State 1/1 Limited Editions In Platinum & Diamonds
The four gulf state limited edition Planet Ocean GMTs are a bit of an enigma.  These watches are effectively the same design as the diamond and platinum limited edition Ref 232.98.44.22.01.001, except there is a ruby at the 24 hour mark on the bezel rather than a diamond.
Four of these watches were made, each a 1/1 piece for a specific region.  Those regions were Oman, Ref 232.98.44.22.01.002, Qatar, Ref 232.98.44.22.01.003, Dubai, Ref 232.98.44.22.01.004, and Abu Dhabi, Ref 232.98.44.22.01.005.
What makes these watches particularly interesting beyond the fact that we will likely never see any of them, is that they apparently were released in 2011, a full two years prior to the rest of the Planet Ocean GMT range.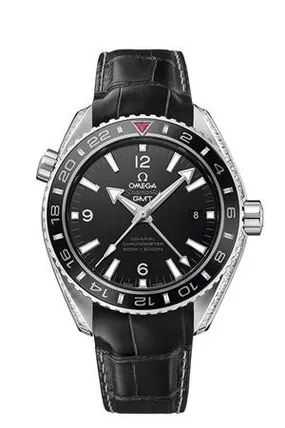 Buying
While substantially more expensive than the Seamaster Pro GMT family that preceded them, the Planet Ocean GMT range more than justify their price premium with quality, finishing and specifications.  The real question is, can you pull off a 17.3 mm watch on your wrist comfortably.
Choosing between the various models will be a very personal choice, but if the size and thickness is a concern, the lightweight titanium version might be the best option, given how comfortable this makes the watch by around halving the weight.
The quality and durability of these watches is very high as is the water resistance so the only issues should be the case condition, whether it has any major scratches or dents and whether it has been polished harshly.  Most of these watches are now due for service and that is best handled by an Omega certified independent in order to keep costs under control.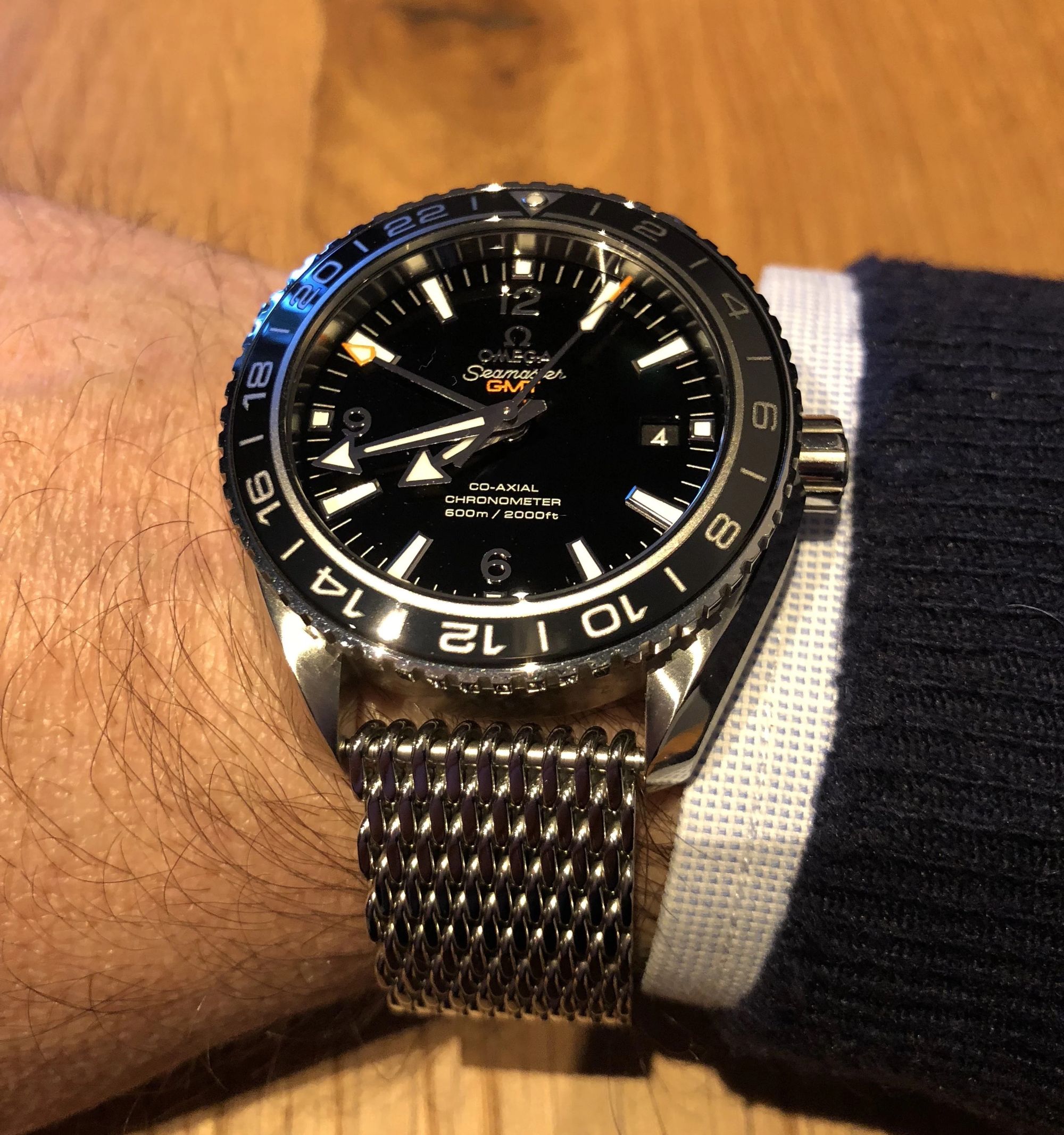 These watches in regular production models were not the biggest sellers but did get produced in large numbers still and were produced over many years.  As a result there will always be a good supply of them on Chrono24, eBay and forums.  It is really worth being patient and trying to find a nice example going no reserve at auction if you can, as they can go as low as $3,500 for clean examples.
These watches were sold all over the world and can be found just about everywhere, although as of mid-2023 there are some really great deals to be had out of Japan thanks to the very weak yen compared to other currencies.  
While watches should never be looked at as investments, it is hard to see these dropping much below their current rates, especially given the fact that Omega still sells a near identical watch for nearly $10,000 at present with prices only set to go higher.  
There may come a time in the future when Omega is able to miniaturise their GMT models and bring thickness back down to what it was 25 years ago, but for now, the Planet Ocean GMT represents the flagship of Omega's GMT sports models.  While the first generation is now over a decade old, it loses almost nothing to the latest variants, and represents exceptional value.
Discussion thread on Omegaforums can be found here: