The 166.0141 is a confusing watch with an unusual dial, few markings, and a myriad of names and descriptions most of which are wrong. It is unique, uncommon and remarkably good for a watch most overlook and few have heard of.
Guilloché or Barcode?
The term guilloché gets thrown around quite a lot, especially when selling a watch and isn't entirely accurate much of the time.  These watch dials are special, very unusual, and remarkably attractive.  
The pattern on these dials is not specifically guilloché as they do not use engine turned engraving, but rather create the illusion of depth through alternating black lines against a metallic background.  The effect created however is very real and has quite a bit of similarity to the three dimensional outer track on the Omega Hour Vision dials.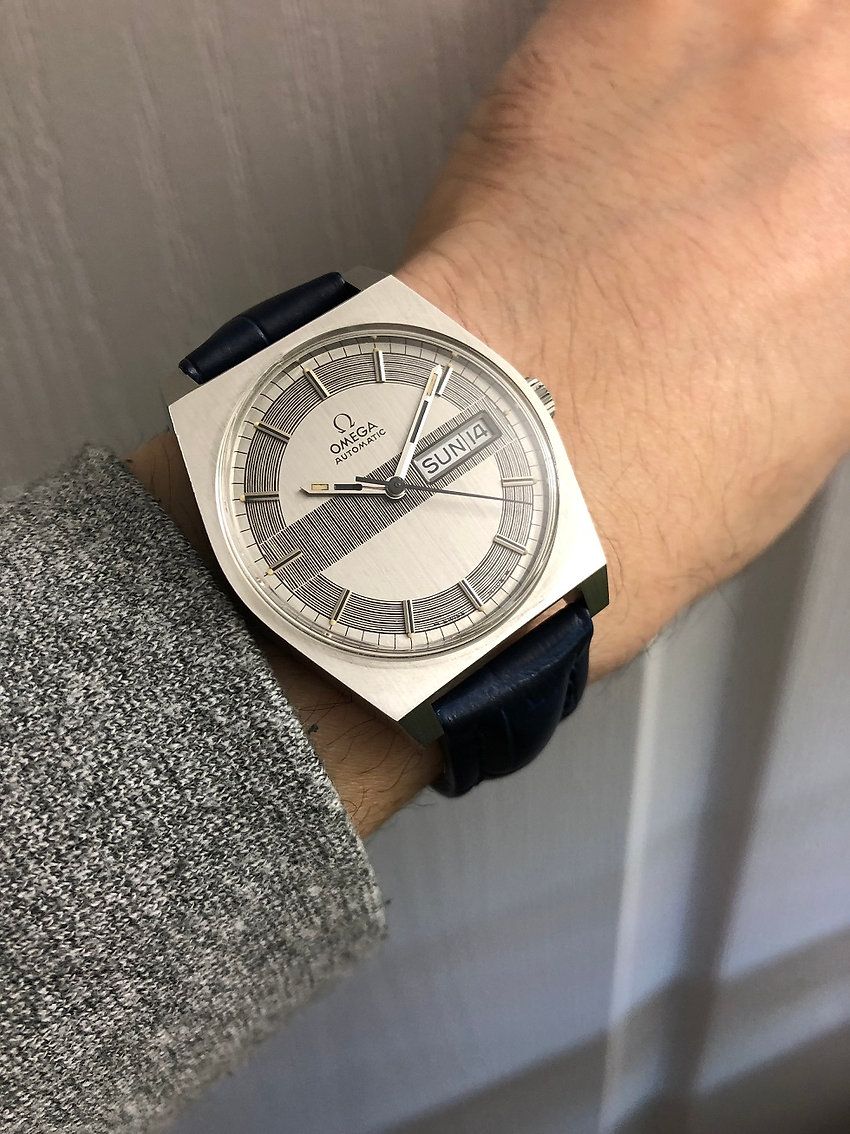 A more accurate description of the pattern and design might be barcode dial, as if a novice were told that name it would definitely make sense.  These dials are noteworthy by their lack of a model name on the dial, just an intriguing pattern and the Omega logo as with many other members of the "International Collection" produced by the brand during this time period.
A Geneve in All But Name
Going purely by the case design and not the dial, these watches are a part of the Geneve family.  There is actually a continuation of this dial design in a limited capacity, powered by the Calibre 1020 movement, which succeeded the Calibre 751.  This successor was known as the Ref 166.0120, and does carry Geneve on the non-barcode dial examples of that reference in a near identical case design.
The Geneve family were an entry level watch, designed to be cost effective to produce with austere and minimally embellished dials and cases.  This can be seen in the case of the 166.0141, it is a simple flat-sided polygon that an 80's computer game could produce.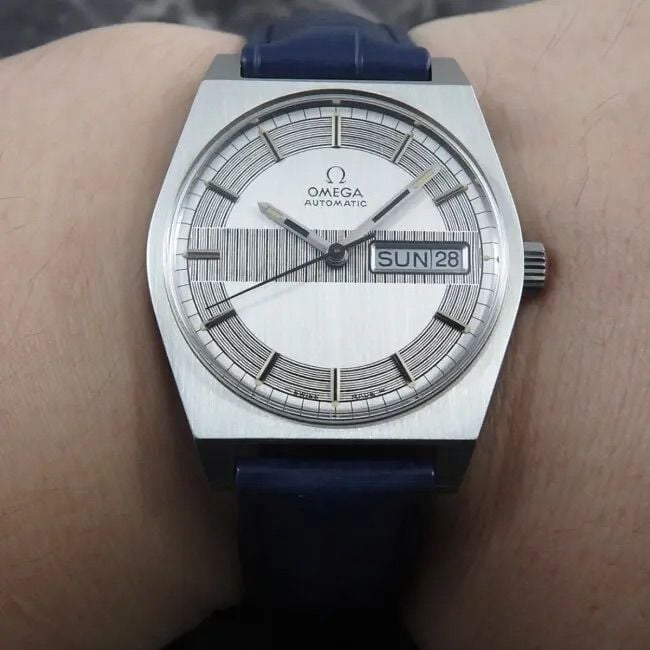 Yet despite the simple cases, these barcode dials are quite elegant and detailed.  There is applied metal dial furniture in a color matching the case, with contrasting painted tops to aid contrast.  The brushed metal texture and variety of colors gives a distinctly up-market feel as does the way the layered decoration continues beneath the hour markers.  
Coupled with the highly regarded Calibre 750 / 752 movements, this is actually quite an up-market watch, perhaps too much so to carry the name Geneve, while being too closely related to the Geneve to take the name of anything else.
Case & Bracelet
The 166.0141 is a typical late 1960's Omega Geneve tonneau-style case with a diameter of 35 mm.  It comes in both stainless steel and in gold-plate but there are no precious metal variants.
The overall design is very simple as is typical of a Geneve family watch, with a flat front face meeting flat sides at a 90-degree angle, while the lugs bend down at about a 30-degree angle from the front face before squaring off.  The case is symmetrical with no crown-guards and a simple knurled crown for easy access.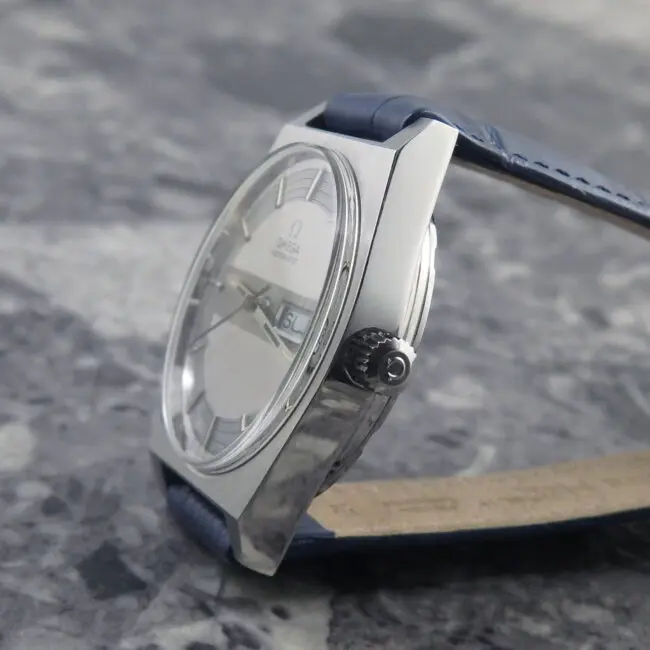 The case-back is a screw-in design which bulges outward slightly and carries no markings, not even an Omega logo, just keying for removal.
Due to the sharp edges of this case, it can be quite susceptible to ham-fisted polishing and watches that have lost their sharpness can look very poor as a result. Similarly, the sharp edges of this case result in wear-through of the gold-plating being more of an issue on this case design than on many others, with the 90-degree edges being a particular weakness.
The crystal of this watch sits proud of the case with no real bezel to speak of which can lead to the crystal taking more damage than some other watches, however there are replacements available from Omega.
The lugs on this watch are 18 mm wide, and the case design lends itself quite well to creative or interesting straps, especially those that emphasize the dial color.  There were however several bracelet options, the most popular being the 7-row beads of rice reference 1037 with 661 end-links & reference 1068 with 199 end-links.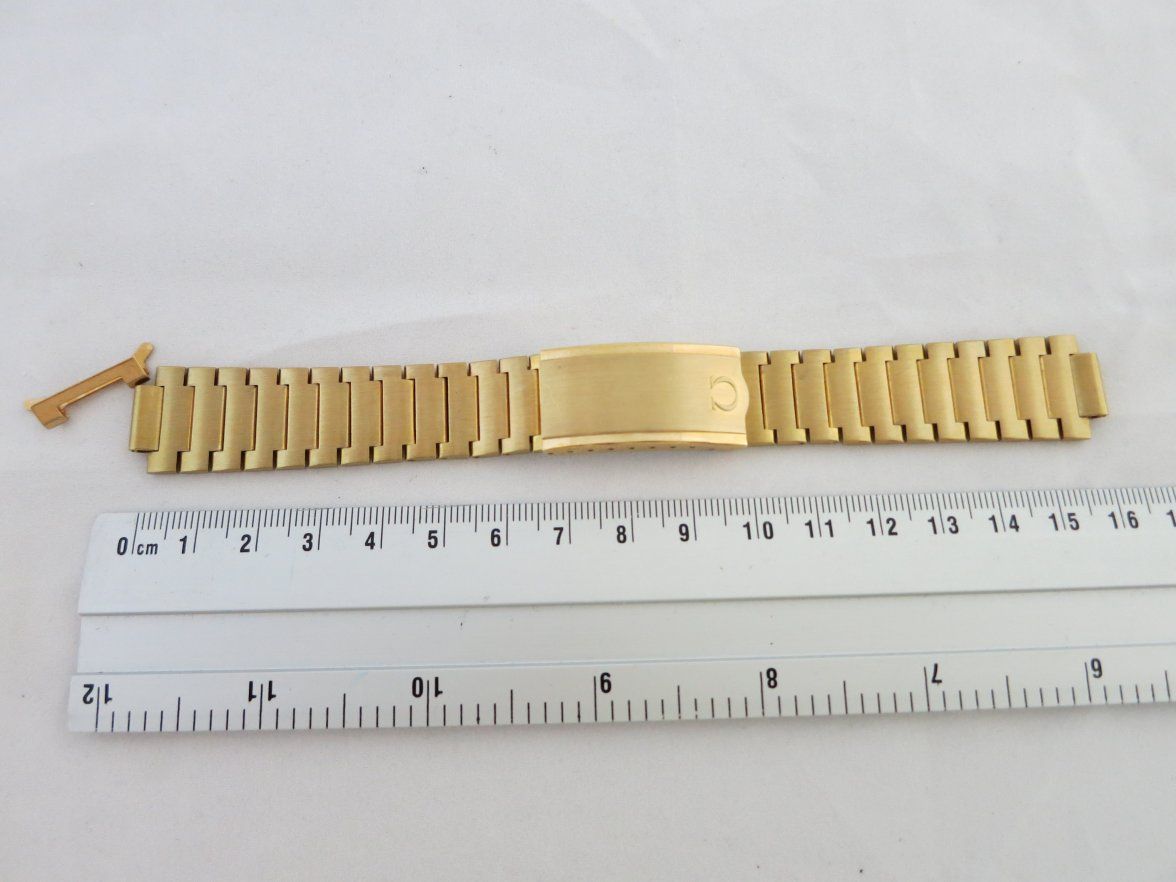 As an alternative to the beads of rice with a more modern 1970's feel, there is also the option of a one-piece link reference 1206 with 673 end-links.  This is definitely less common but fits perfectly and gives a look more in keeping with the overall aesthetic of the watch case and is available in both steel and gold tone.
Movement
The Ref 166.0141 is powered by the Calibre 750 & Calibre 752 Day-Date Chronometer movements, which are an absolutely superb piece of vintage Omega engineering.
The Cal 75x family is based on the very highly regarded second generation Calibre 5xx series of Omega movements.  These movements oscillate at 19,800 vph, feature a day wheel along with quick-set date operated by repeatedly pulling the crown out, are not chronometer rated and feature a 50-hour power reserve, all in a package only 5.5 mm thick.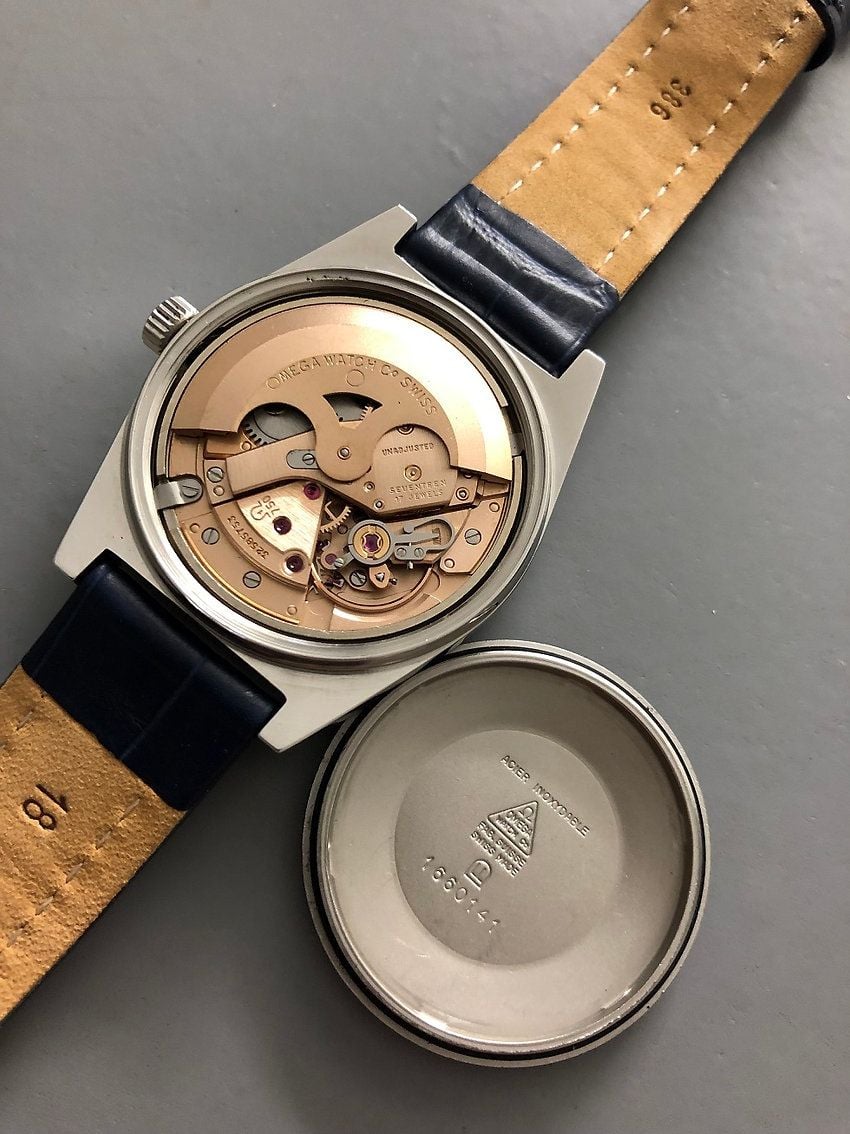 The key difference between the 750 & 752 is that the Cal 752 is a 24-jewel version as the chronometer rated 751 is, sold in international markets, while the Cal 750 is a 17-jewel version intended for the US market.  The reason why these 17-jewel "US market special" movements exist is that for tax reasons there were savings to be made by importing lower jewel count variants.  Many watch brands aside from Omega did the same thing during this time including Zenith with the El Primero and Rolex with the Calibre 1530.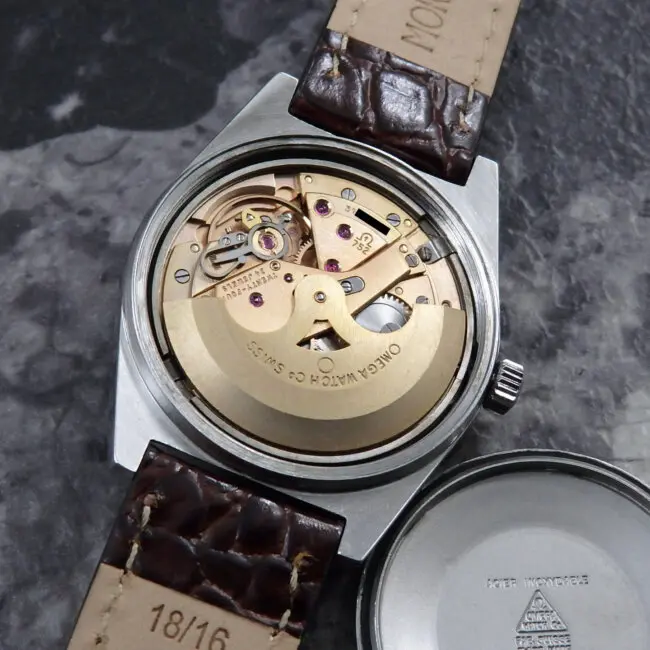 These movements can be serviced by any qualified independent watchmaker with access to an Omega parts account for significantly less than the cost of a factory service.  It should be noted when buying these that unless a recent service with proof has been provided, you are risking metal-on-metal wear by running these movements without servicing them first.  This can cause a significant increase in your parts bill, especially relating to the automatic winding system.
If properly serviced, these watches perform superbly well, and will easily outlive their owners while delivering excellent accuracy and performance, even compared to modern watches
Variants
The 166.0141 is quite an unusual reference in that the odd barcode dial is used across all models of the reference in a variety of colors to the exclusion of all else.  There are quite a few common features among the various models that set them apart from other similarly cased Geneves.
Firstly, all of these watches feature luminous dials with tritium dots at all hour markers and luminous hands.  There is an outer minute track painted in the same color as the dial text, and the dial text is limited to the modern Omega logo and the word Automatic.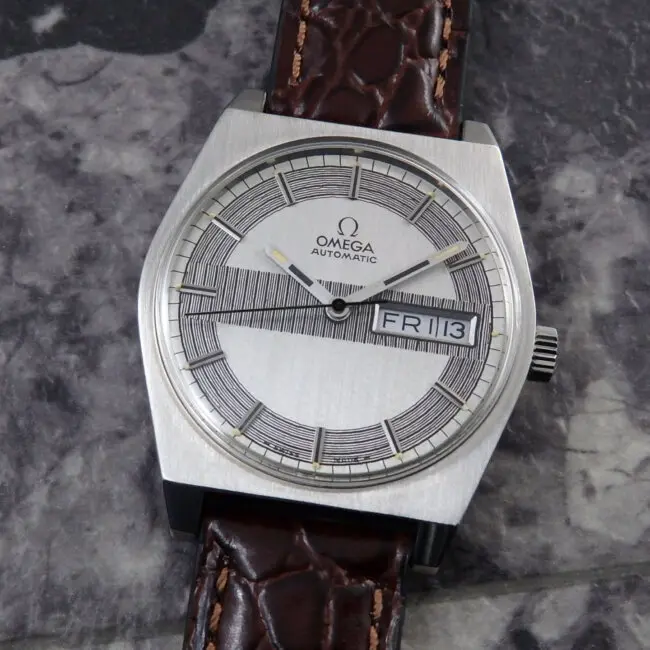 The dials all feature a brushed metallic tone which catches the light and changes color depending on the angle.  This metallic tone and reflective nature extends to the barcode sections which circle the dial underneath the applied hour markers and also extend in a straight line across the dial from 9 o'clock to 3 o'clock.  It is a very unique look and stands out in person in ways that are hard to fully capture in photographs.
Stainless Steel
The stainless steel models are predominantly the silver dial variant, to the extent that it is genuinely difficult to find anything else.  The blue and dark grey dials are significantly less common with very few examples having turned up at all.
The silver dial features luminous stick hands with black inserts and luminous, pointed tips in a silver tone and have black paint on top of the hour markers, with black dial text.  By contrast, the somewhat rare blue dial uses white dial paint, has white paint on top of the hour markers, and features solid white stick hands with a white second hand and white day-date window surround to provide contrast.
The dark grey dial similarly uses white hands and white dial paint and is identical to the blue dial except for having a dark toned dial.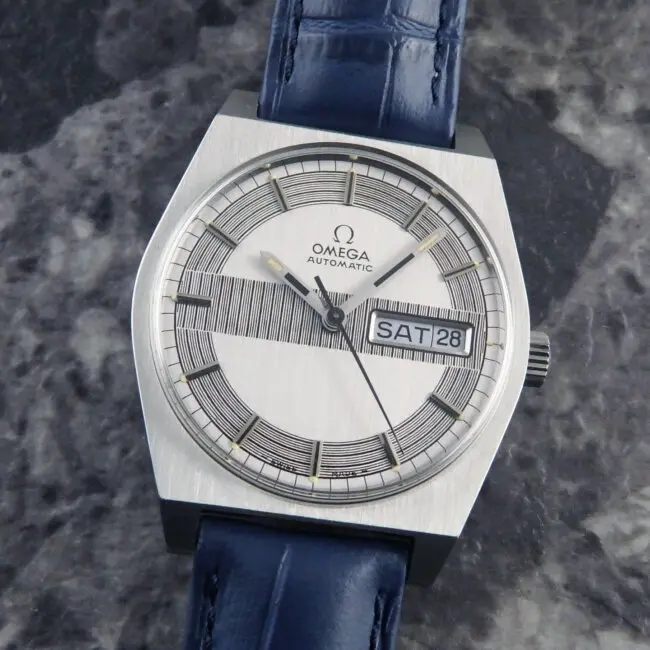 Gold-Plated
The gold-plated models offer slightly more variety in terms of dial options but also more risk of case wear as the sharp edges of the case are not forgiving to the thin plating.  
Like the steel version, a silver, blue and dark grey dial are available and these are largely the same as the steel variants, except for the fact that the hour markers are in gold-tone rather than silver-tone, and the hands of the silver dial are also gold-tone.
The fourth option which is also available on the gold-plated model, and which tends to be quite common as well is the gold-tone dial.  This dial is otherwise identical to the silver dial and features the same metallic gold-tone hands as the silver dial but with a gold-tone instead.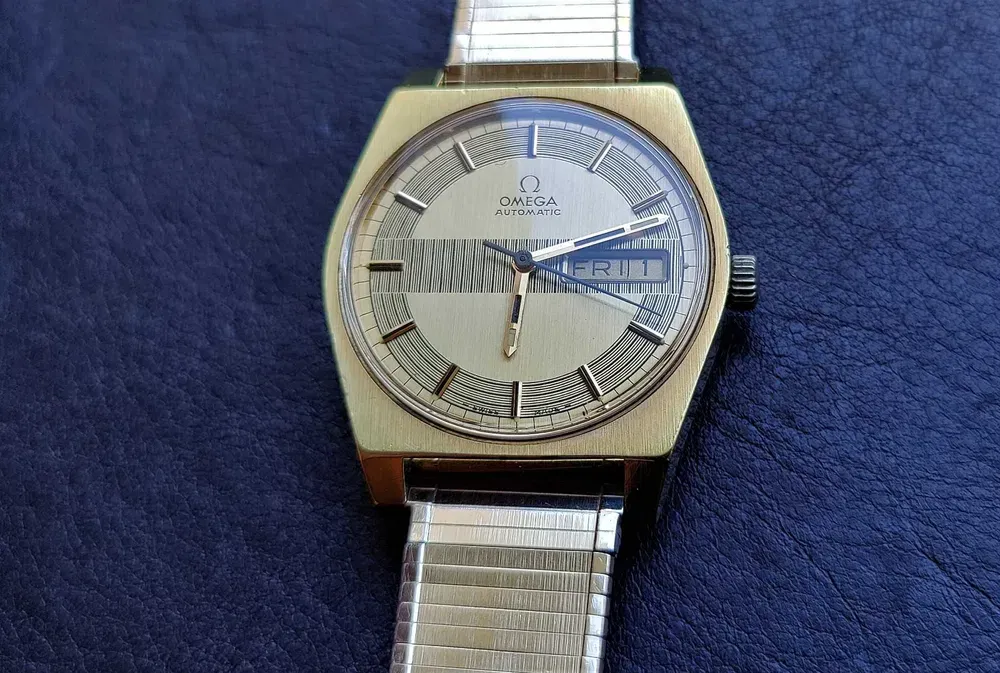 Buying
These watches are extremely poorly understood and almost anonymous in the Omega vintage back-catalog, which is rather convenient if they happen to strike your fancy.  Being powered by one of Omega's best vintage movements and featuring a very special and unusual dial, there is a great deal to like about these watches and the price they tend to go for makes them even more lovable.
When buying these, you really do want to look at forums and eBay as a priority as the gap between prices there and asking prices form dealers can be a gaping chasm.  On eBay there was recently in mid-2022 a very sharp and clean silver dial in steel sell in as-found condition for $352.  That is MoonSwatch money for a Calibre 75x Day-Date calibre in a superb vintage watch.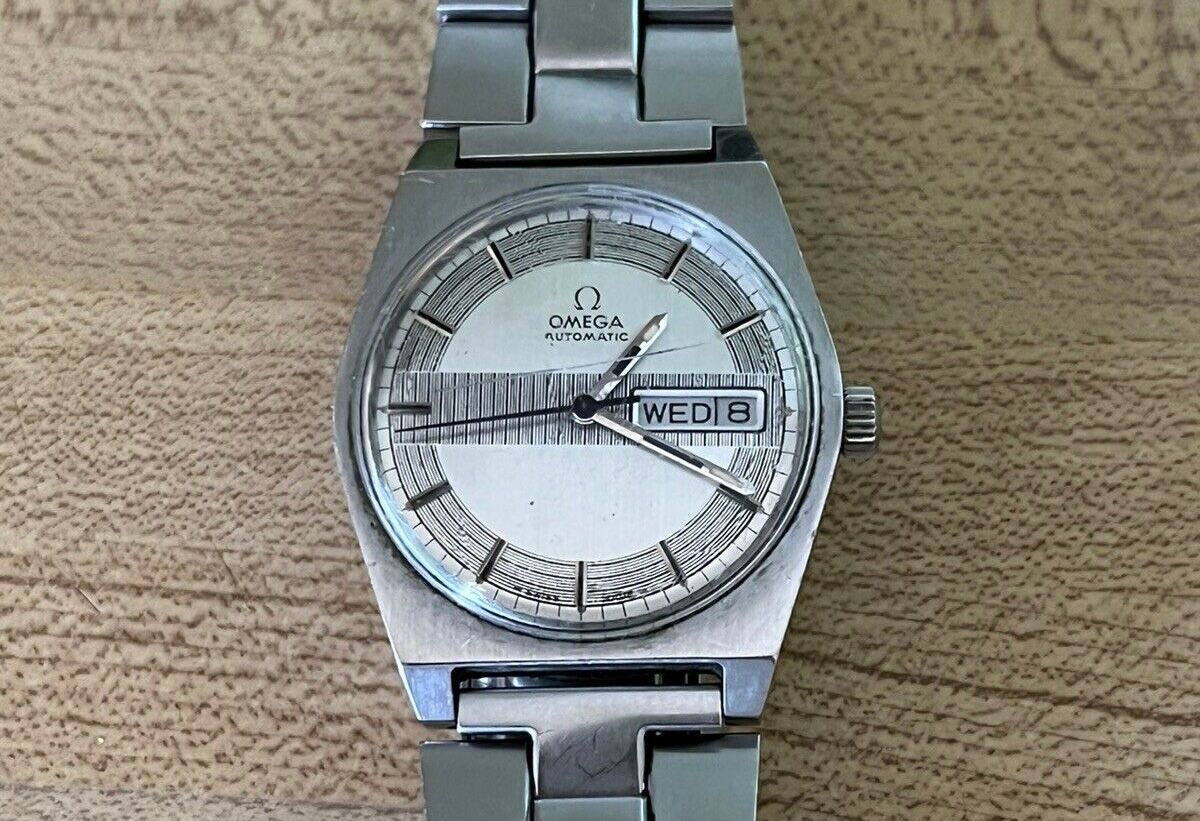 These watches were not sold in any one particular market more than others and can be found all over the world, often in odd places and often poorly or inaccurately described.  The lack of a model name and difficulty of identifying the reference without removing the case-back leads to many being sold under very generic descriptions.
Condition wise the dial should always be pretty close to perfect as water resistance on these models was quite good for the era.  The case tends to be the most significant condition issue and you will want to find one with sharp, uniform edges and no wear-through if gold-plated.  A worn gold-plated case is not worth re-plating and is an economic write-off.  The crystal on these watches is often scratched, chipped or even cracked due to how much it protrudes and the lack of a bezel, so factor in a new OEM crystal to servicing costs.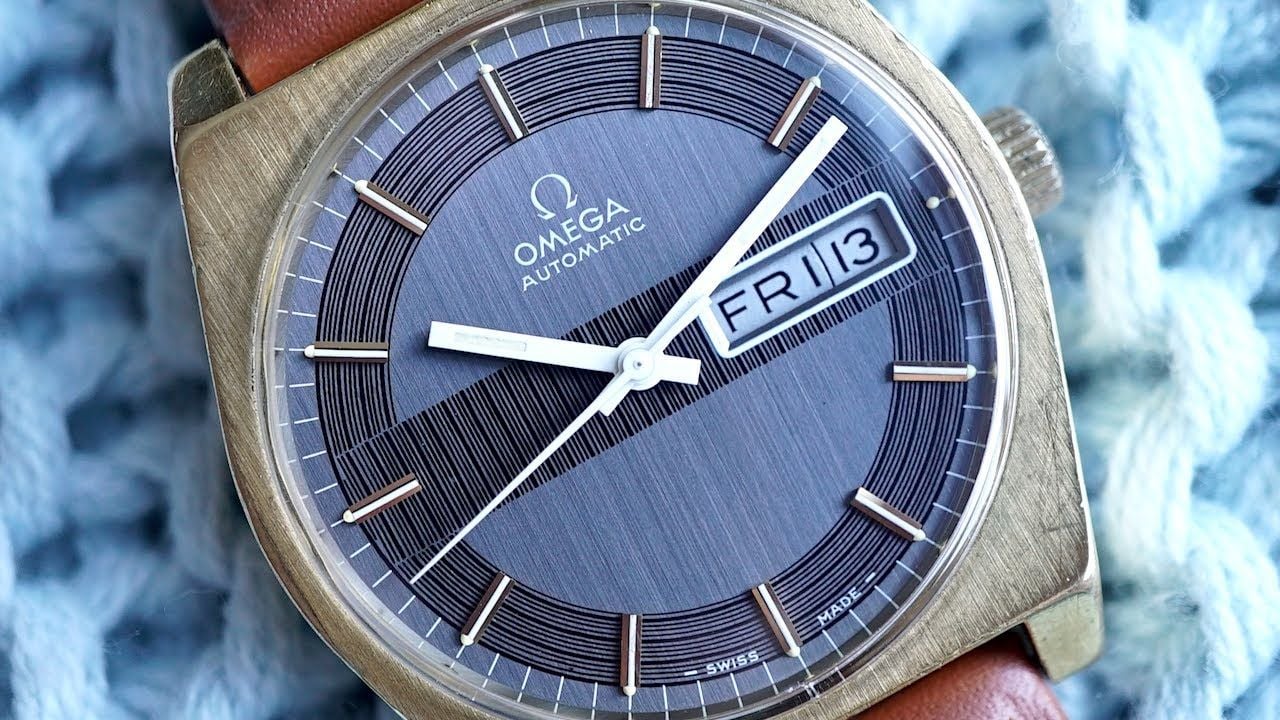 The Calibre 750/752 movement should be serviced before use in order to prevent metal-on-metal wear, especially in the automatic winding system as prevention is cheaper than the cure when it comes to replacement parts.  A good independent watchmaker should be able to get a well kept example up and running for a very reasonable price.
These watches were not produced for many years, and not made in very large numbers, so at times the relative few numbers of them couples with the poor descriptions can make these watches hard to come by in nice condition.  They are genuinely worth the wait however, and if you can acquire one for a good price on eBay you'll have one of the best value vintage Omega's money can buy on your wrist, serviced, for about the same money as an Apple Watch.  
Discussion thread on Omegaforums can be found here: