While many tribute watches have been created to honor "Dolphin Man" Jacques Mayol, the Plongeur de Luxe of 1980 was the original watch worn on his record breaking dives. Powered by quartz and with unique styling, this watch has gone on to become an important and highly sought after collector piece.
A Practical Watch for a Practical Man
The Seamaster 120M Plongeur de Luxe reference 396.0900 is a watch inextricably linked to the legendary free diver Jacques Mayol.  Worn by the man in his prime in the early 1980's, including on his record breaking dives, it is a highly sought after and very valuable watch in the Omega collector world.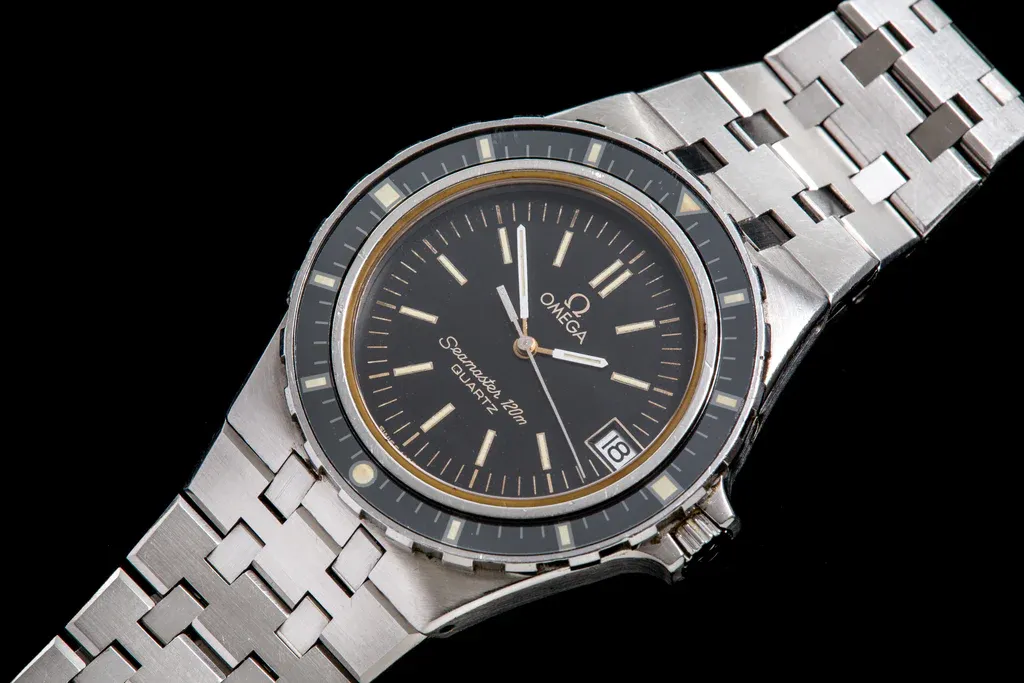 Unlike most popular vintage Omega's, this is a relatively small diameter sports watch, with an integrated bracelet, and a quartz movement that isn't exactly known for reliability.  That isn't the typical formula for a collectable Omega at all, yet the charisma and importance of the watch combined with that of the man who wore it counts for a great deal.
It's also important to appreciate this watch in the context in which it was created, in 1980 during a time of great technological upheaval and change due to the quartz crisis.  Japanese watch makers had genuinely shaken the Swiss watch industry by introducing accurate, cheap and dependable quartz watches with great capability and practicality.  The Swiss had struggled in their early quartz models, and by 1980 had finally reached a point of being able to compete with technical parity.
Quartz did have a lot to offer, batteries meant owners didn't have to worry about always wearing or winding a watch, accuracy was excellent, and thickness was significantly down on mechanicals.  In a world where Audemars Piguet had to tap JLC for an ultra-thin and rather fragile movement for their Royal Oak, Omega was able to use a much simpler quartz calibre to achieve almost the same thickness.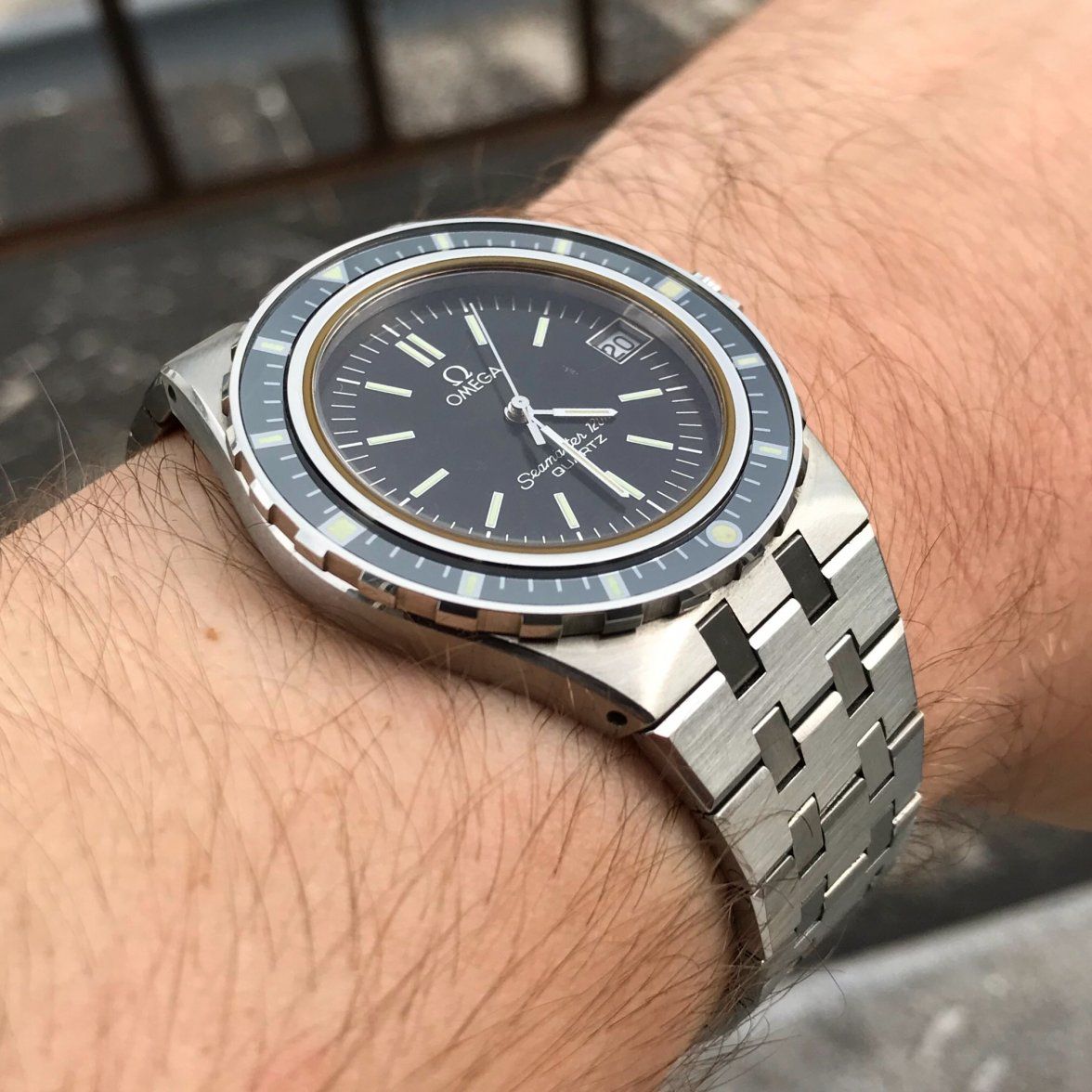 It was the latest and greatest diver on the market for Omega, and it was seen genuinely as the future for divers.  It made sense then that the Ref 396.0900 found its way onto Mayol's wrist as a practical man who pushed boundaries for a living.
To read more about Jacques Mayol, and about the Seamaster APNEA released in tribute to the man, it is well worth reading this article below as well.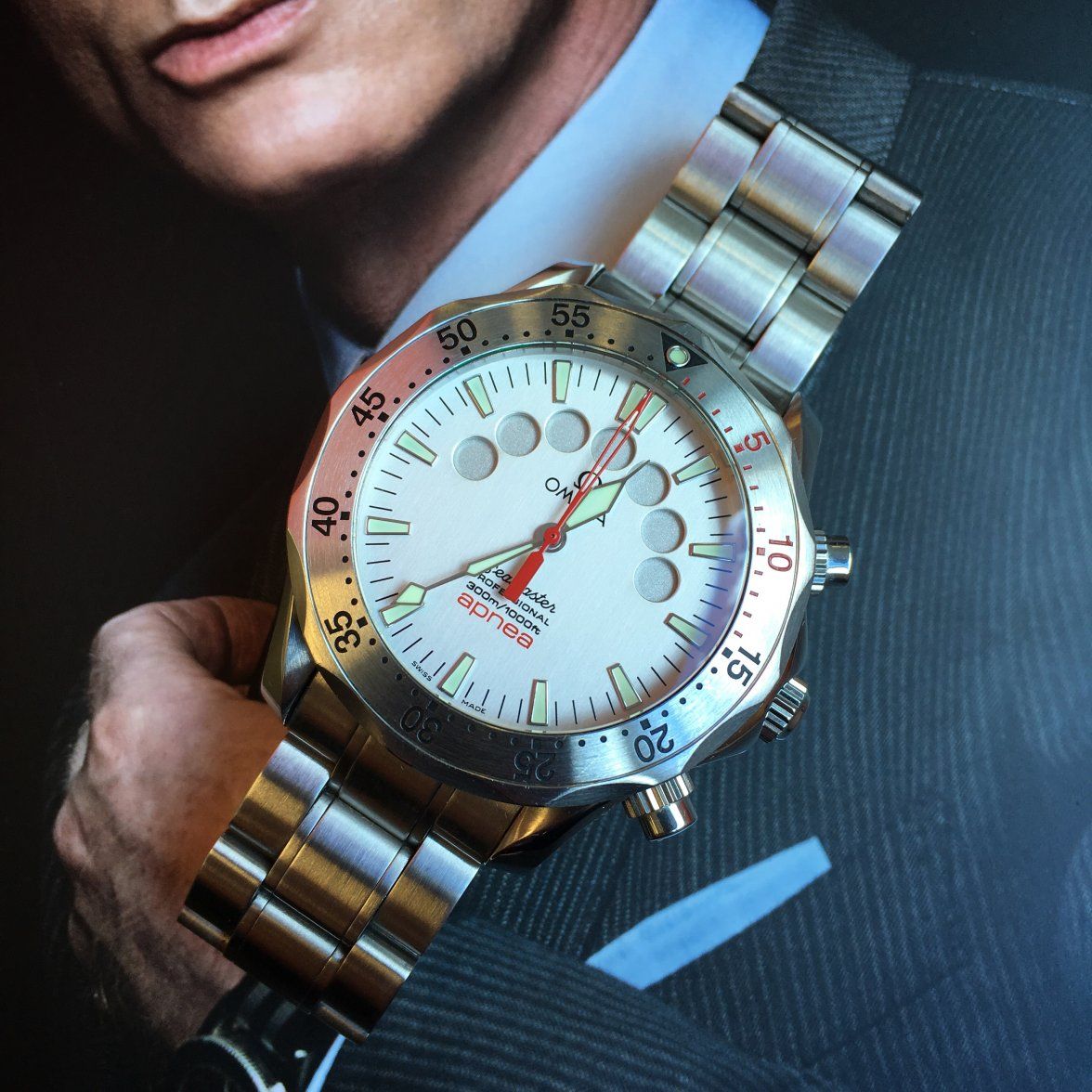 Case & Bracelet
The case design and integrated bracelet really are the star of the show here and we have to admit the undeniable influence of the Audemars Piguet Royal Oak in the design of this watch.  
Being powered by a very thin quartz movement allows for a very thin overall case design at only 8 mm from front to back including crystal and bezel.  The overall diameter is decent but not excessive at 37 mm and it wears slightly larger than that due to the squared off lugs where the case meets the bracelet.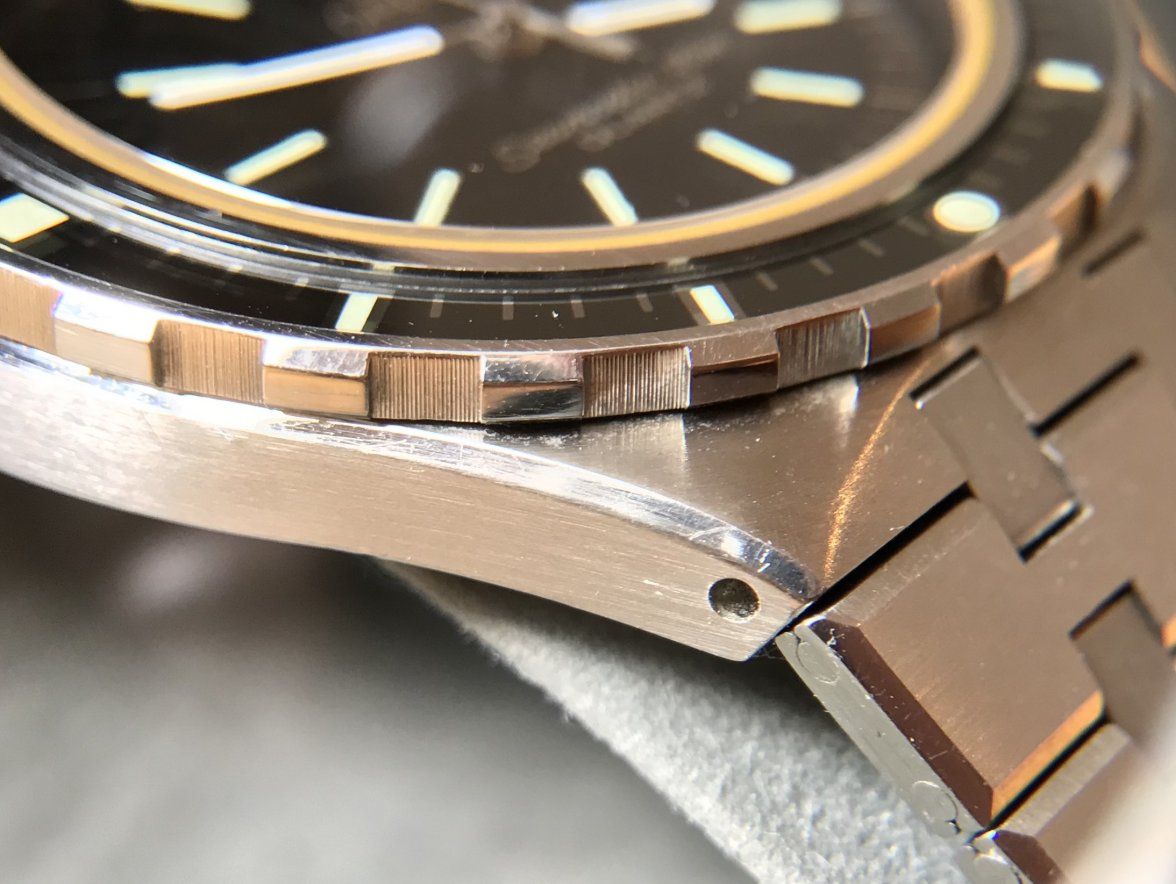 The bezel of the Plongeur de Luxe has a course square-toothed serration for easy grip even in gloves or with wet hands.  Like the Ploprof and Seamaster 300 designs of earlier years, a plastic bezel insert is used with embedded tritium luminous material for optimal visibility in low light conditions underwater.
It should be noted that these bezels are frequently lost or badly damaged with replacements being very hard and costly to come by, while the inserts were available only through Omega in recent years.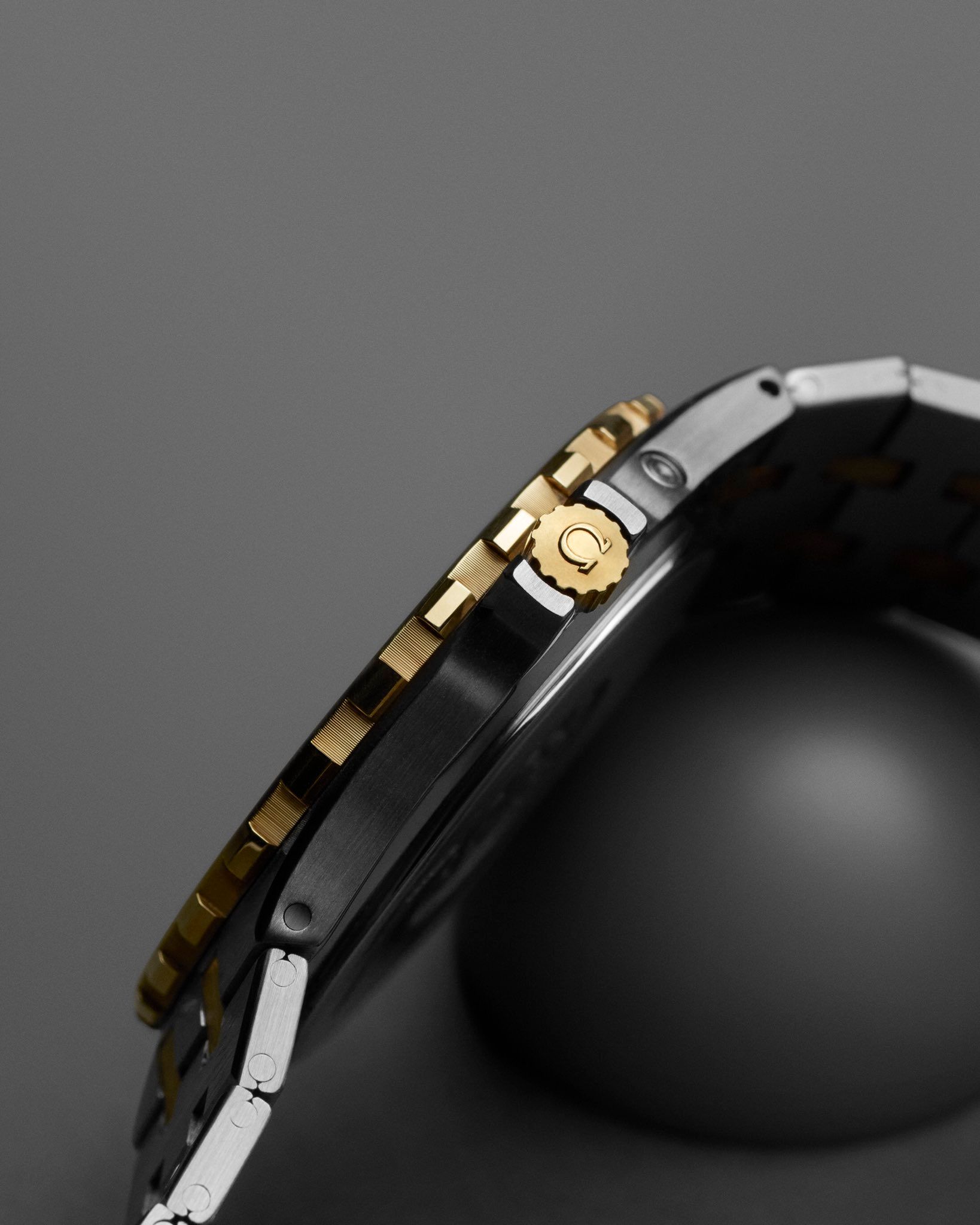 The case-back of Plongeur De Luxe is a friction fit design with a single use seal best left to a watchmaker with access to the right tools and the correct replacement seal.  The crystal is mineral crystal rather than sapphire yet still contributes to a depth rating of 120 meters, enough for Jacques Mayol's record breaking dives to have a small margin of safety.
The knurled crown is protected by crown-guards which fully cover it from the sides  ensuring it cannot be snagged or bent during dives.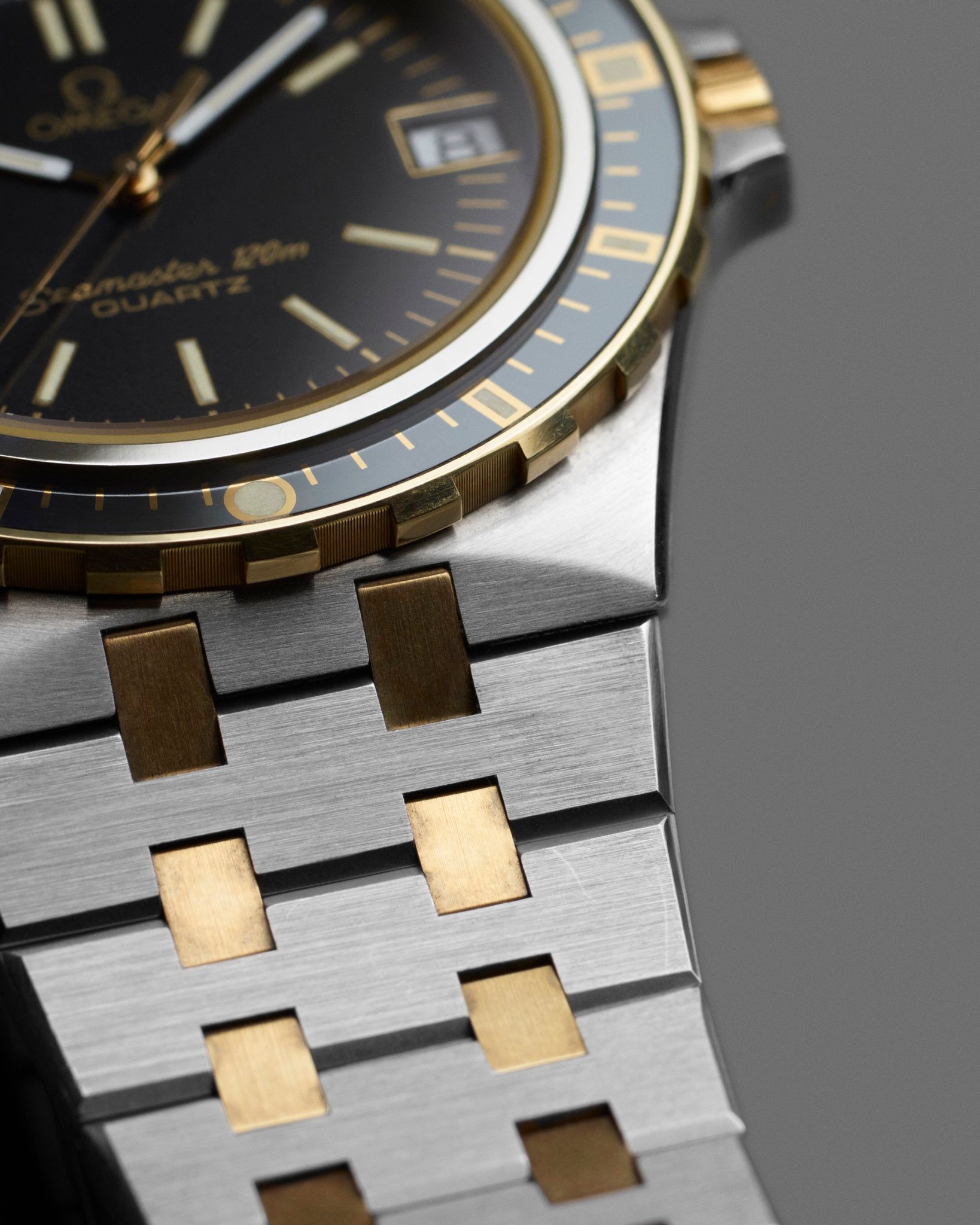 The integrated bracelet design is intricate and extremely similar to the Royal Oak bracelet.  Each cross link is carefully beveled on the edges with horizontal brushing  on the surface, while each vertical link is vertically brushed to create a contrasting depth and texture.  The clasp is a push-button deployant design and an Omega symbol on the cover.  The two-tone version of the watch with golden vertical links further enhances this contrast and is one of the most elegant and desirable two-tone watches Omega has ever made.  The two-tone was also the specific version that Mayol himself chose to wear.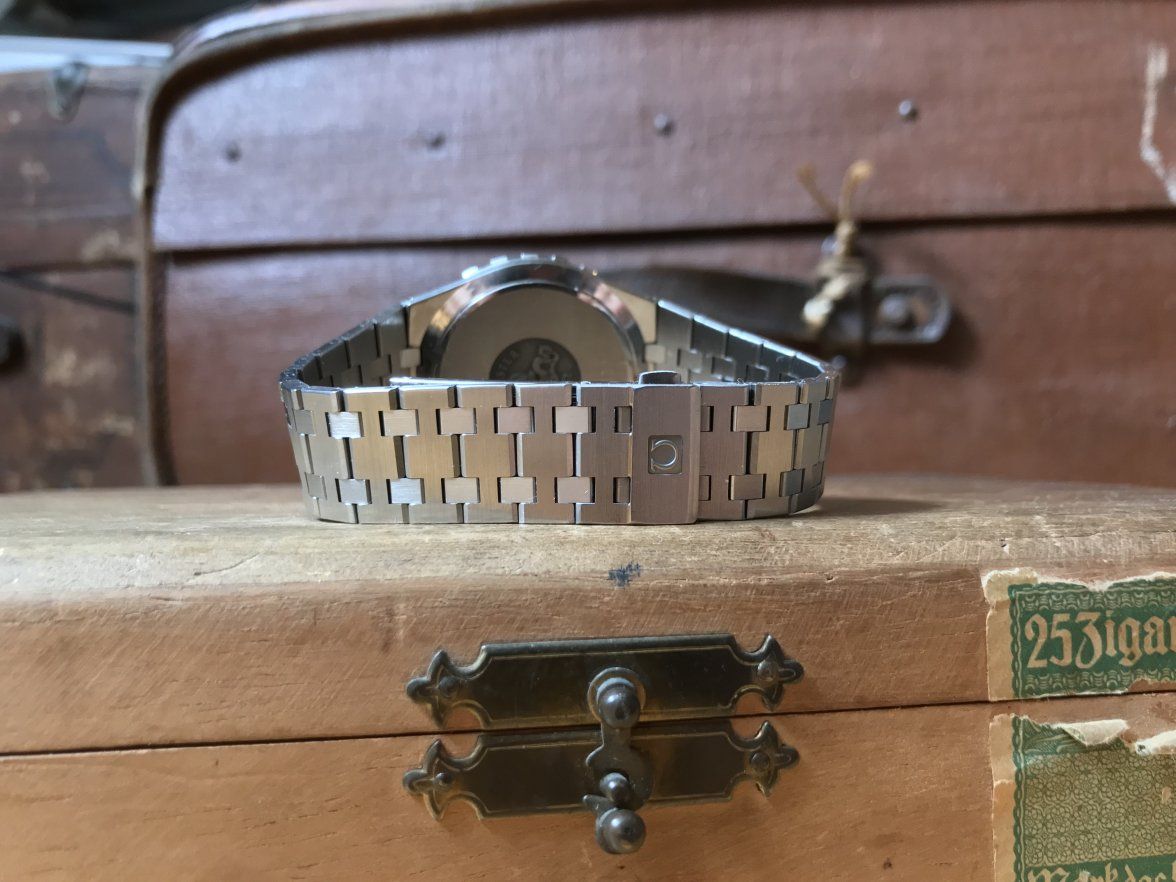 Movement & Donor Options
The Calibre 1332 / 1337 is not the worst quartz watch Omega made in this period, but it isn't great either.  One of the frustrating problems of the quartz era is that manufacturing new circuits for these old movements is prohibitively expensive because of the amount of tooling involved.  As a result of this, producing new ones is far more costly and complicated than mechanical watch parts, meaning the movements left today in the world are about all there is.
These movements should be accurate, have 3 hands and a date mechanism and feature hacking.  How you operate these movements is frankly bizarre, and to fully appreciate it I would suggest reading the manual at the link below.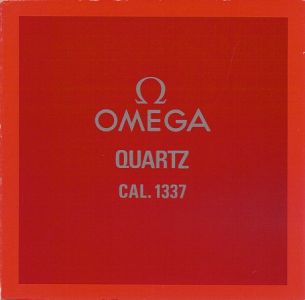 In short summary, the crown is for setting the hours hand and the date, while the push button in the 2 o'clock position above the crown is for hacking and setting the minutes.  It really is as silly as it sounds, check the manual if you don't believe me.
Reliability of these movements is not the greatest, and many found on eBay and various other places online will note that "the circuit doesn't work" or "needs parts".  This is obviously a problem given that parts are finite for these watches and are being consumed.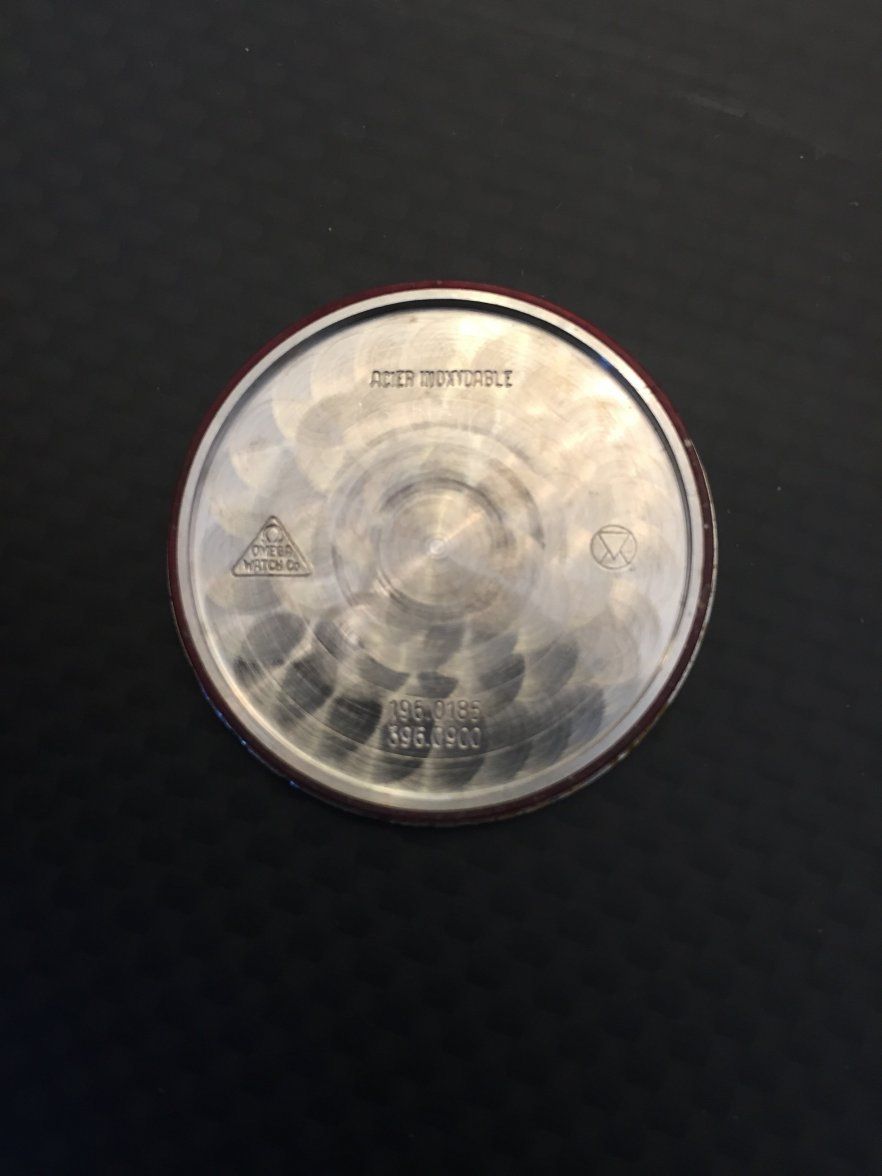 The good news however is that while the Plongeur de Luxe is dripping with charisma and style, the same Calibre 1332 / 1337 movement was used in a vast variety of boring Omega dress watches with no charisma at all that won't be missed.  You can purchase these unappealing watches in good running order and any aesthetic condition (the worse the better really) and recycle their movement into your Plongeur de Luxe.
The best donor watches tend to be gold-plated dress watches with wear-through on the case that still run well.  Searching eBay for references like MD 196.0205, MD 196.0281, MD 196.0280 & MD 396.0922 will turn up plenty for a few hundred dollars at most.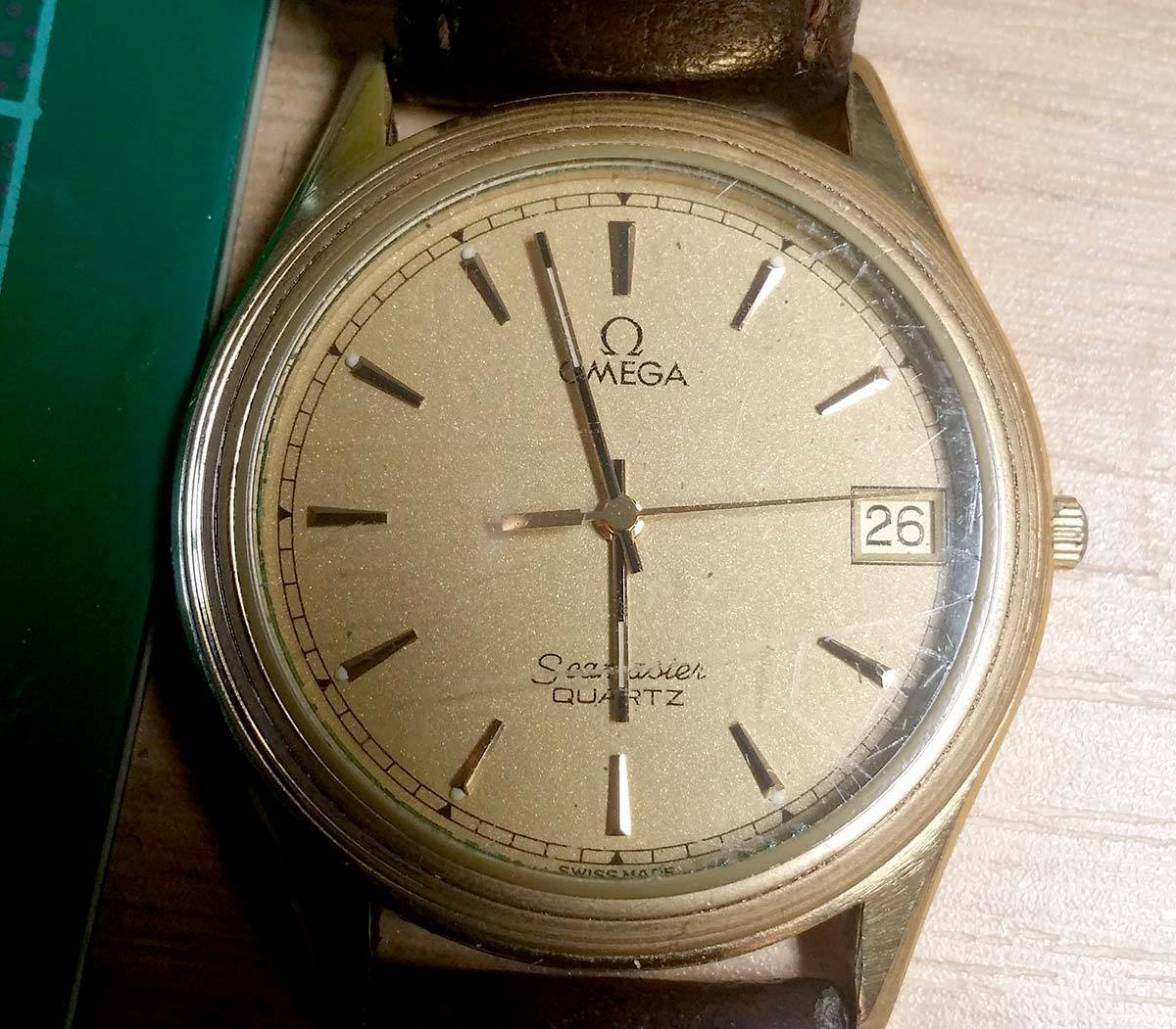 Not all watchmakers will want to work on a vintage quartz movement, but it is worth going to someone who is Omega certified and has access to a parts account as even if movement parts are being supplied in donor form, they will need access to other miscellaneous parts.
Variants
All variants of the Plongeur de Luxe share the same design, dial and bezel insert with the only difference being the metal of the case, bracelet, and bezel that changes.
The dial is very simple and rather uncomplicated in black with a painted Omega logo at the top and Seamaster 120M Quartz at the bottom in gilt script.  There are hour markers on the dial in luminous tritium and the date window at 3 o'clock.  Outside of the hour markers is a minute track in gilt with stick hands that bear a resemblance to those used on the Royal Oak.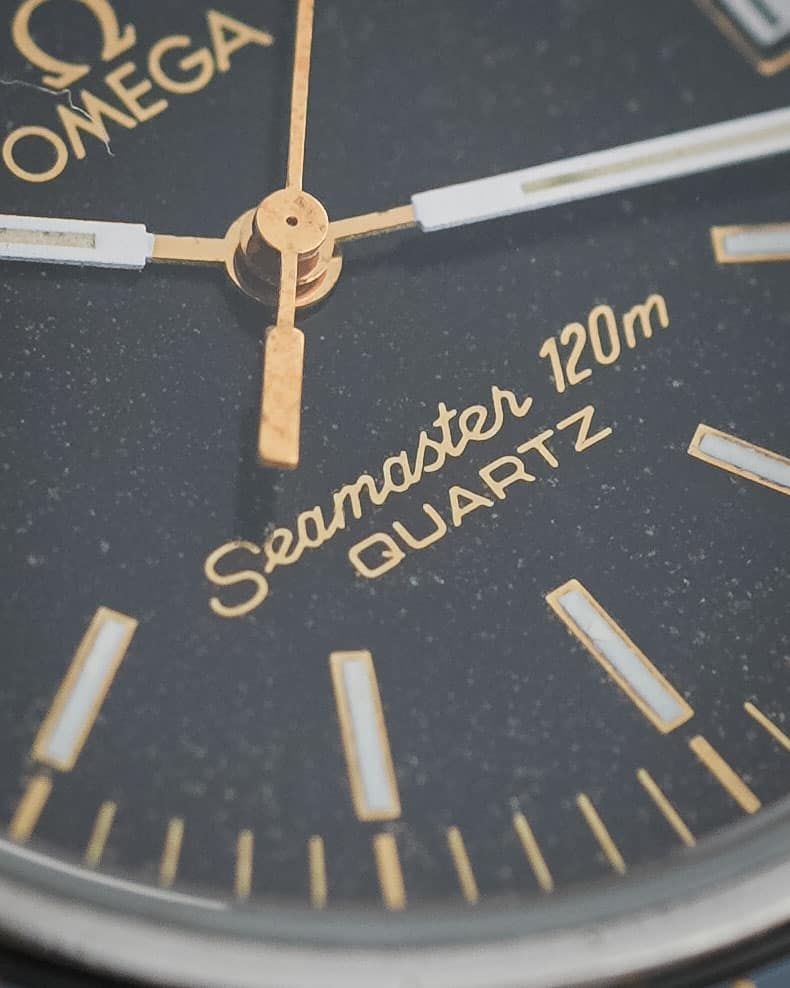 The bezel insert has non-luminous second hashes and 5-minute luminous markers in tritium with a triangle at 12 o'clock, a circle at 6 o'clock and two squares at 3 & 9 o'clock.
The stainless steel version Ref ST 396.0900 is the most commonly found, with alternate direction brushing on the horizontal and vertical links of the bracelet all of the same metal.  The steel is arguably the most attractive model in today's era with a subtle look that doesn't feel out of date, but that does come at quite a cost as these watches are both uncommon and highly desirable.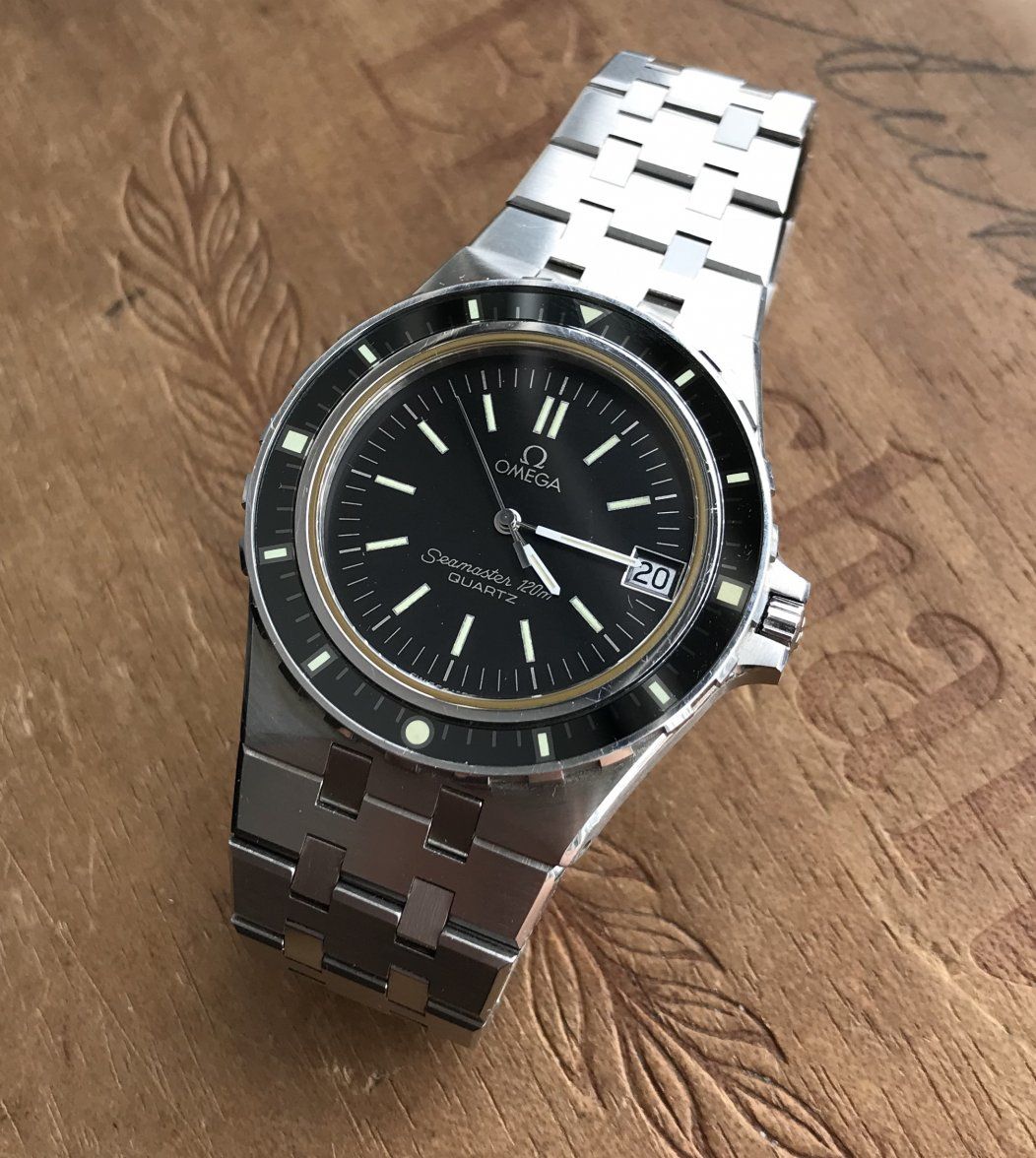 The two-tone Ref DD 396.0900 is stainless steel with 14K solid gold vertical links used to join the horizontal links, as well as a 14K gold crown and 14K gold bezel surrounding the insert.  Being that the two-tone is the model worn by Mayol and made famous on his record setting dives, there is an equal amount of love for this as for the all steel version and prices tend to reflect this.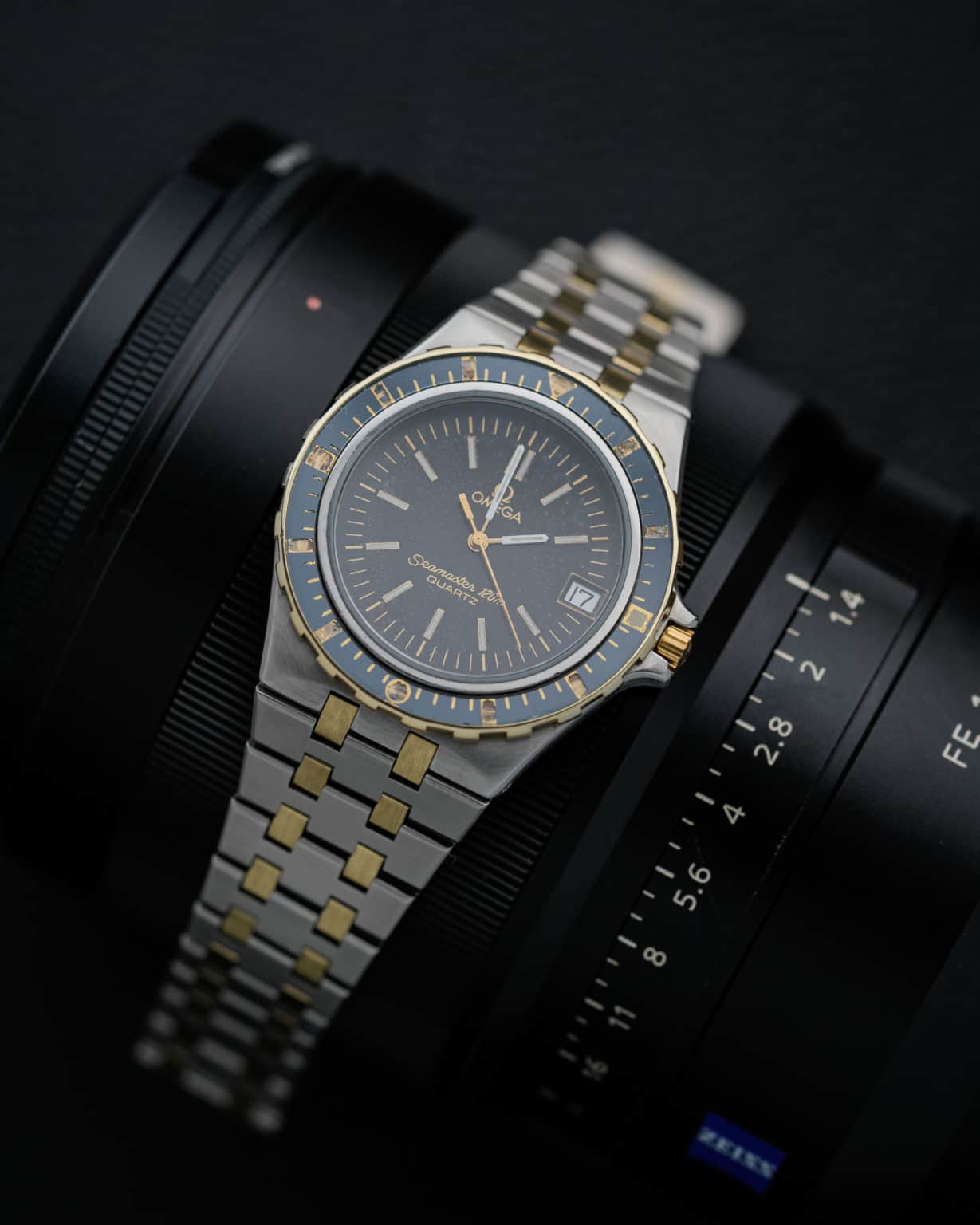 The final version of the watch, Ref BA 396.0900 is rare enough that the only photo floating around of it is from the Omega reference book "A Journey Through Time" of an example kept at the Omega museum.  This watch is stunning in all solid 18K gold, and no doubt is quite heavy in spite of its size.  It is impossible to guess at what such a watch would bring on the open market but given the prices seen for regular and two-tone models in recent years I would guess it could be a great deal.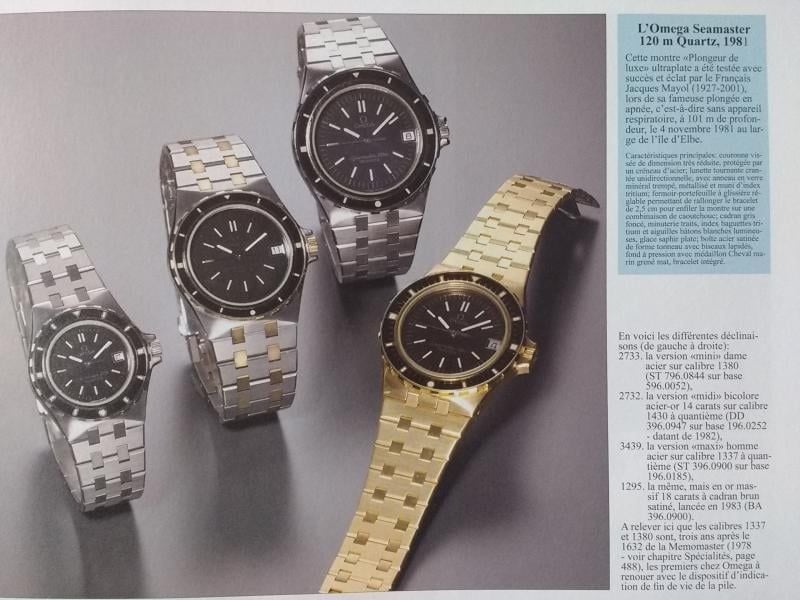 Buying
This is not really a watch that beginners should be buying off the bat, as there are a lot of caveats and pitfalls in purchasing an uncommon and potentially costly quartz piece like this, but it is worth reading regardless to understand why.
Firstly, when buying these it is important to note that this same watch design, the Ref 396.0900 was also used in a smaller size 34 mm 396.0947 which appears identical in photos and is often mislabeled.  There is also an even smaller 796.0844 which is 28 mm in diameter.  These smaller models are worth drastically less than the 37 mm full size yet are often priced optimistically by sellers and can easily be purchased by mistake.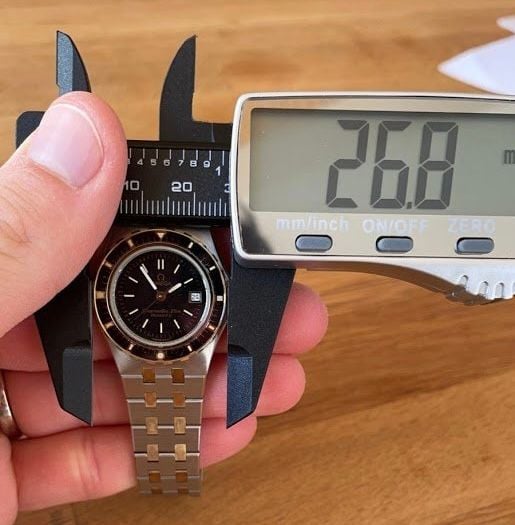 Next, when considering these watches keep in mind that parts availability is quite poor.  This applies to everything from movements to bezels to bracelet links.  If you buy a short bracelet, acquiring the links might be possible through Omega but the secondary market is dry, so it won't be cheap.  As a result, make sure the watch fits your wrist as-is if possible.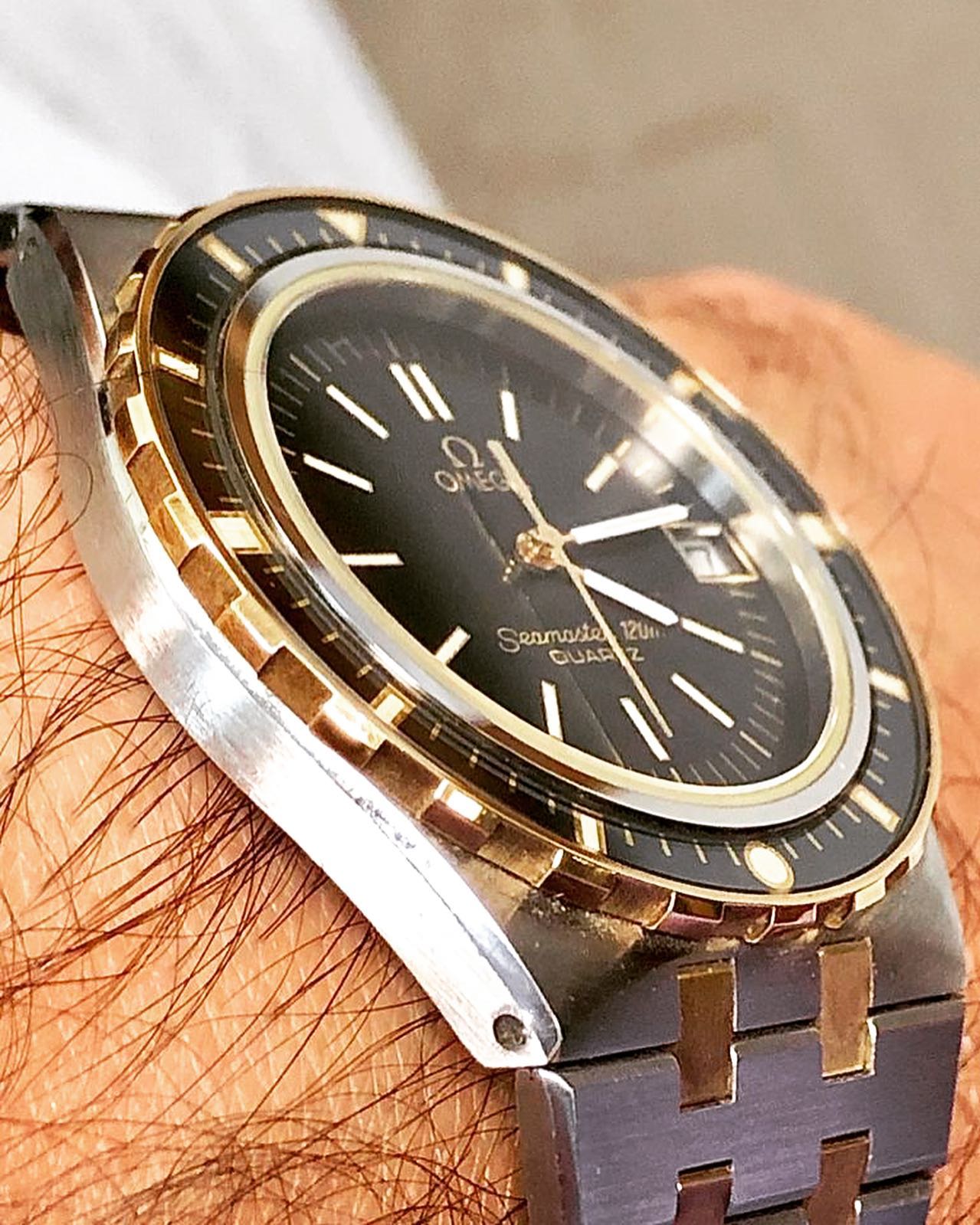 As mentioned earlier, the movement situation can be dealt with by scavenging if necessary, so an otherwise very good watch with a nice condition bracelet, case and bezel is actually a great option even if the movement is not working.  Factor in a few hundred for a donor and a few hundred more for a watchmaker and you can turn that into a great running watch at the expense of a gold-plated De Ville.
Condition issues with the bezel, case & bracelet are a problem and can lead to a project watch being economically non-viable to restore which is unfortunate but often happens as these were tool watches which were often used as such.  Some parts are still available from Omega but a rough piece can quickly really add up to a large bill if it needs one of everything.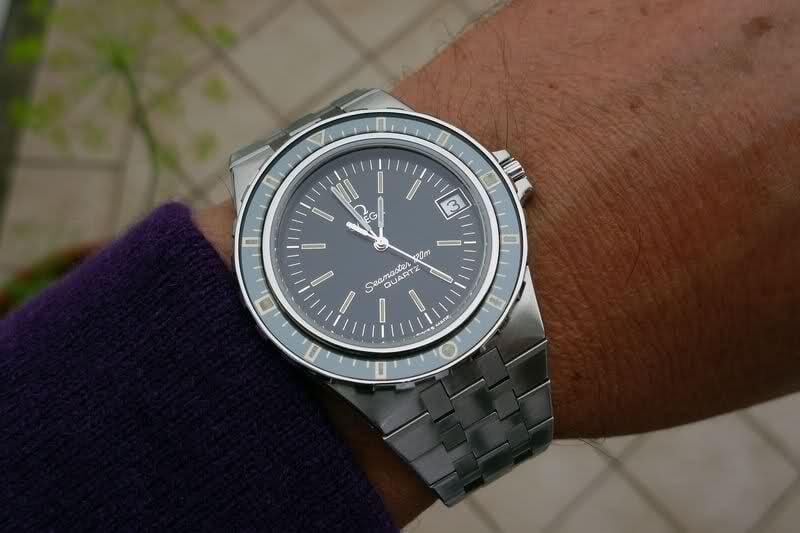 The best watch to buy is a nice clean example with minimal wear rather than a project watch needing a lot, and that can mean you need to do a lot of careful hunting using a great deal of patience.  The best deals will be found from other collectors on forums and from established relationships.  Those will be the best taken care of examples available at reasonable prices.
The rates charged by dealers for these are highly variable but can range from $3,000-$7,000 for nice examples which is an enormous amount of money for a vintage quartz watch.  
On eBay there are amazing deals that come up from time to time, for example this very good example with a factory service in Bienne by Omega and 2-year warranty recently sold on eBay for $1,083, which is frankly an absolute steal.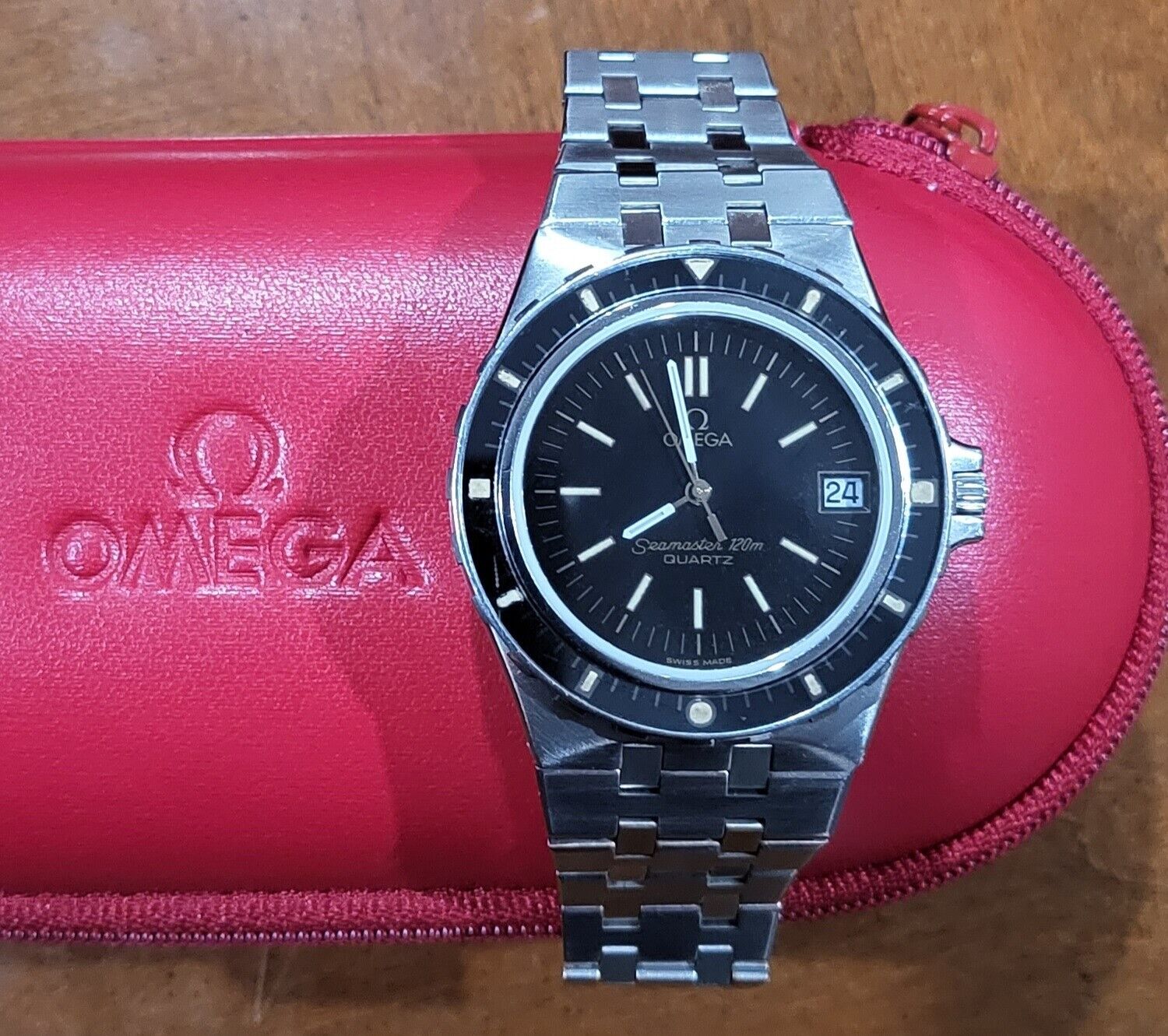 Whoever bought this watch in December of 2022 absolutely lucked out because that is almost a free watch after the cost of the service.
This is why patience is so critically required when buying these watches, the difference between a good deal and a bad deal can be absolutely enormous.  It might be months, or even years before the next sweet deal comes up at no reserve auction or our of a private sale and you just have to be ready, knowledgeable, and patient to obtain it.
It may sound like a lot of money for an oddity or a piece of historical obscurity, but these watches are genuinely special.  In a world where everyone is fawning over the latest hype watch whether vintage or modern, there is something truly special about bucking that trend and going your own way.  When you see a collector at an event, or posting on Instagram with a beautifully kept Plongeur de Luxe, that isn't a follower or a hype-beast, that is a connoisseur, and a man of refined taste and substance.  
Just like Jacques Mayol.
Discussion thread on Omegaforums can be found here: