The XXL family of Omega watches are definitely not for everybody, but thanks to a well thought out design and slim case, they do fit far more people than most would expect.
Its a Big Unit
These watches are huge and some will write them off on that basis but the near 50 mm case actually wears better than many will expect, and definitely better than some of the larger chronograph models.  
At the time the XXL line was launched in 2003, Panerai was really starting to hit its stride, and IWC had just released the Big Pilot a year earlier.  This style of oversized, pocket-watch powered watch were instantly popular and selling well, but Omega had never really been deeply into that type of watch.  
The closest Omega had at the time would have been the Museum Collection 1938 Pilot's Watch, a much smaller watch at 40 mm which did sell very well and lead to re-releases in subsequent years.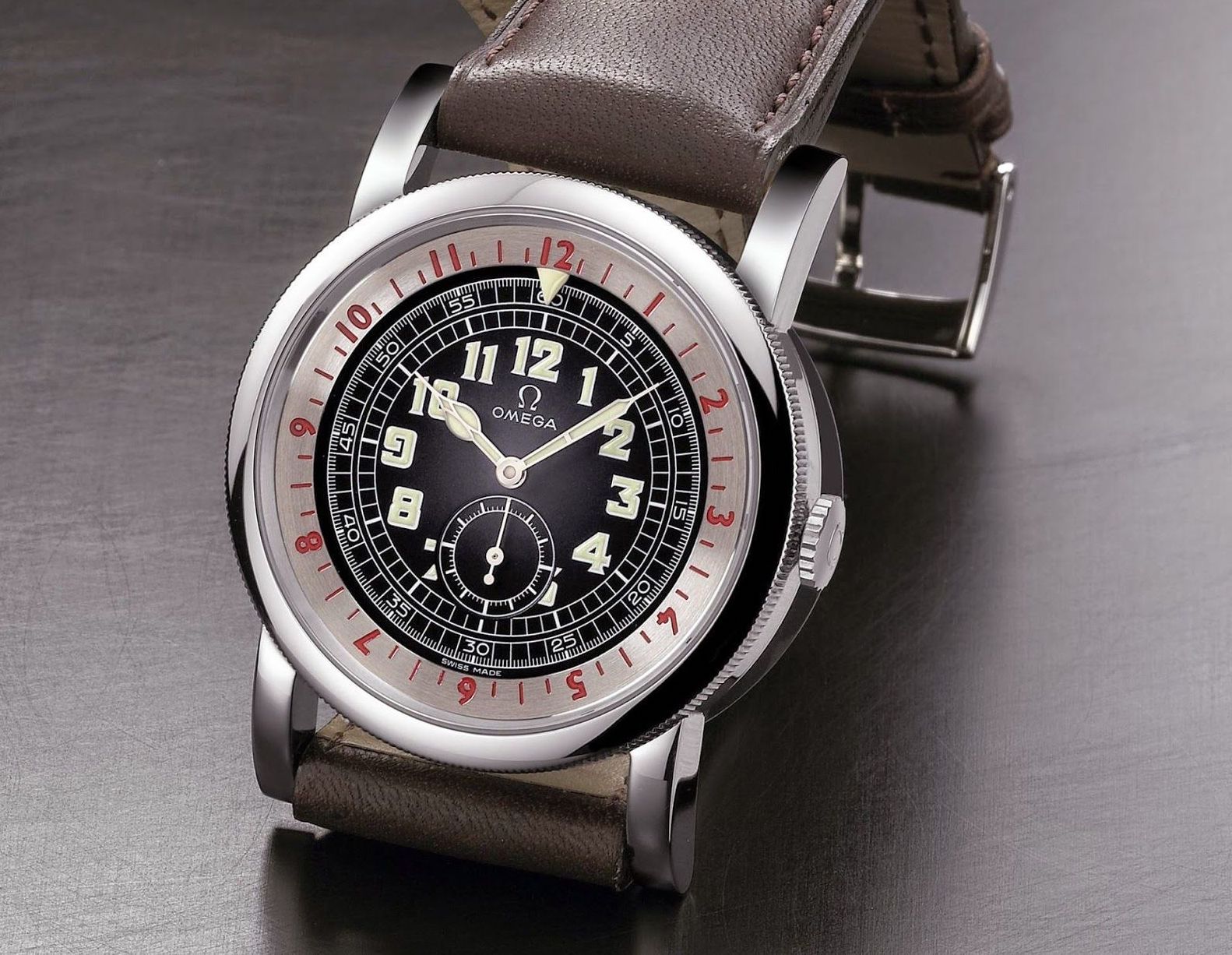 The Railmaster made sense as the model line to start with for the XXL.  The Railmaster had been manual-wind in its original form, and unlike the Seamaster and Speedmaster, it had not been earning its keep.  Seeing if it would gain popularity in this pilot's watch segment made a lot of sense then, and while it didn't really succeed, it probably is one of the most popular of modern Railmaster models.
Following the Railmaster's withdrawal from the market in 2010, the XXL continued to appear in display cases, this time powered by a differently finished movement and carrying an Aqua Terra dial.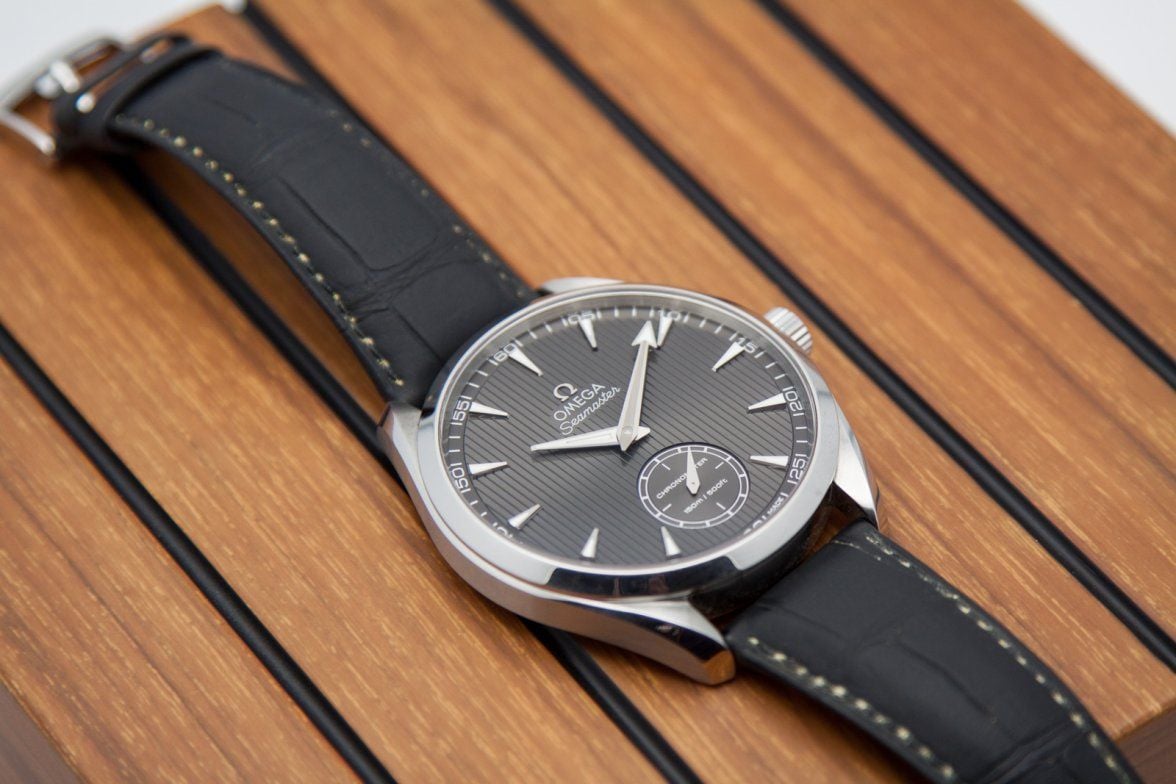 These watches really do need to be tried on to be appreciated.  The surprisingly light weight, and low-profile design really does mitigate the size, and make it easier for a broad variety of people to pull off the big watch look.  At the same time the watch is remarkably comfortable on the wrist, and just feels normal to wear.    
Case & Strap Options
The case used on both the Railmaster and Aqua Terra versions is effectively the same with minor variations in finishing.  
While very large at 49.2 mm in diameter, and featuring a lug width of 24 mm, the watch is remarkably thin, even with the display-back at only 12.5 mm from front to back.  This, combined with the relatively short lugs, is why the XXL family of watches wear so well on the wrist even compared to smaller diameter watches like the Planet Ocean Chronograph.
The case is a standard Aqua Terra design, with twisted lugs, no crown-guards, and a simple angled bezel with a flat sapphire crystal.  All models retain the same depth rating of their smaller Aqua Terra cousins at 150 meters.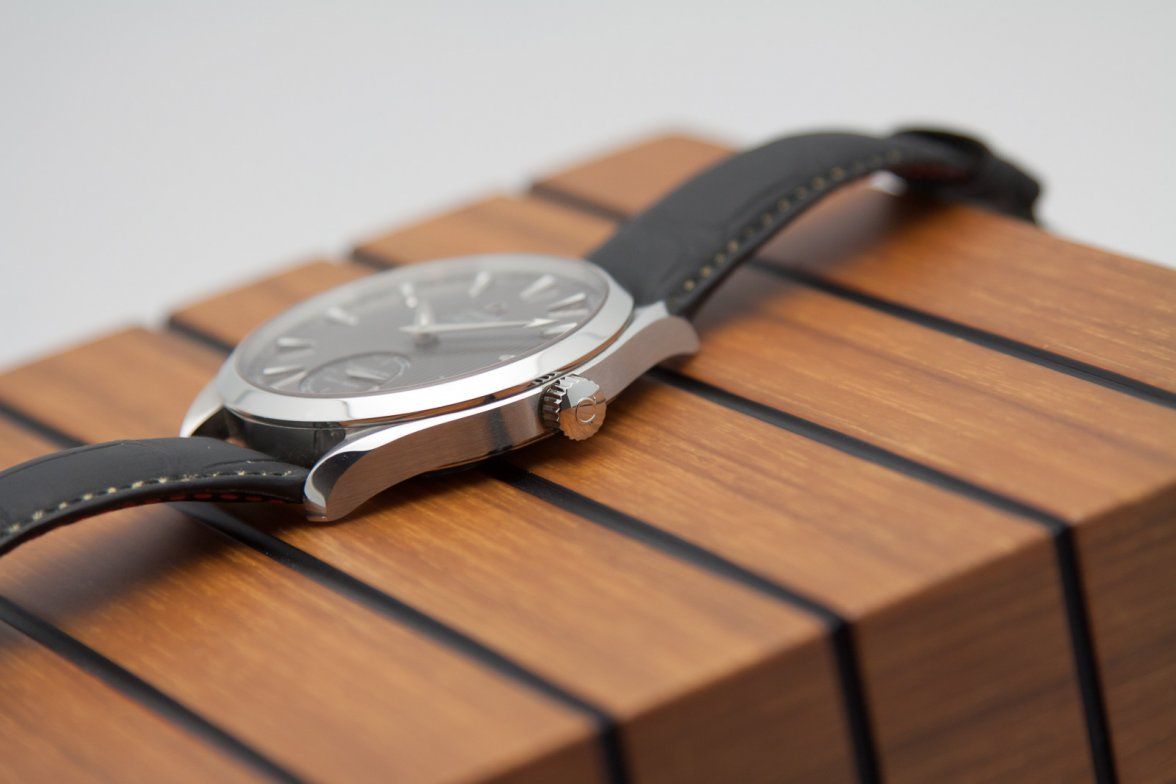 All versions feature a large display-back with Seamaster Aqua Terra marked on the outer ring, except for the limited edition versions which mention their status as special models around the outer edge.
While the design of the case is the same for all models, there is a great variety of materials.  Across the two generations these watches were produced in stainless steel, red gold, white gold, and orange gold.  While telling the difference between red gold and orange gold seems almost impossible, Omega do describe them separately as such.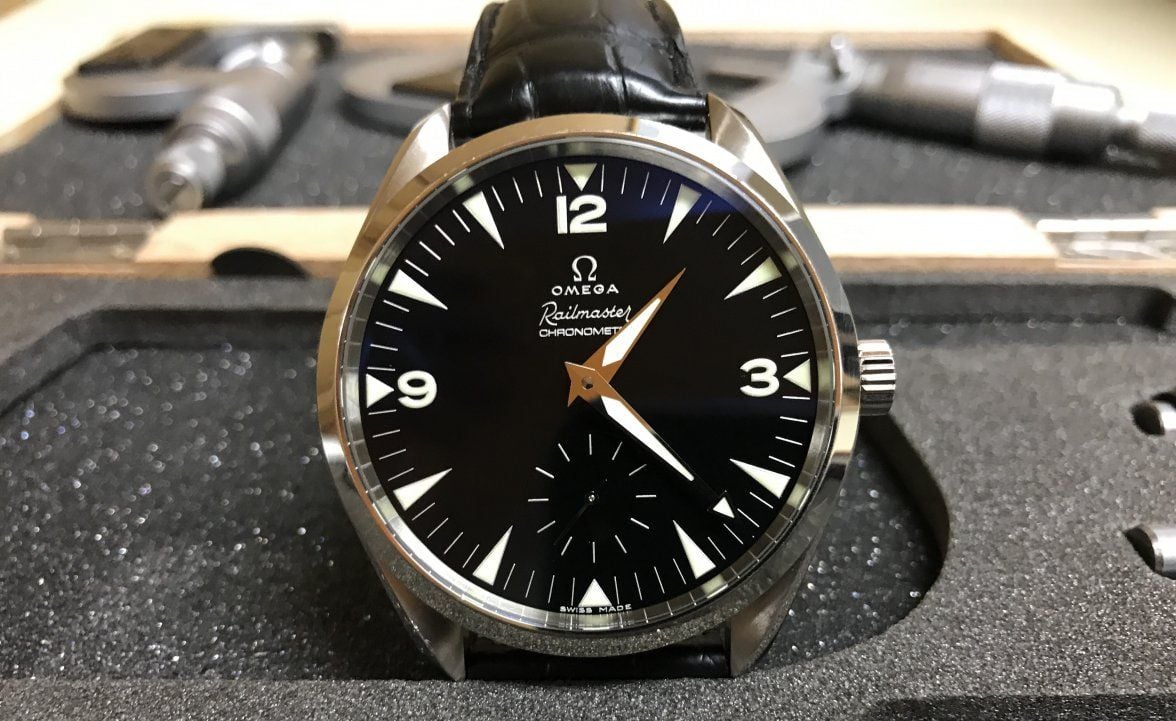 The 24 mm straps offered on these watches are relatively limited, only alligator being available in black, brown, burgundy, polished black, and brown with white stitching.  Being 24 mm, these watches are compatible with a very wide variety of aftermarket straps made for the Panerai community, so options are nearly limitless.  Railmaster & Aqua Terra XXL models come with either a tang buckle, or a fold-over deployant clasp in the same material as the case.
Movement
There are two movements used in the XXL family, both based on the ETA Calibre 6498-1 pocket watch movement, the Calibre 2201 & Calibre 2211.
This base movement has been used by a very wide variety of brands, from TAG Heuer, to Bell & Ross, to Montblanc, to Longines, but in the Omega it receives significant modification.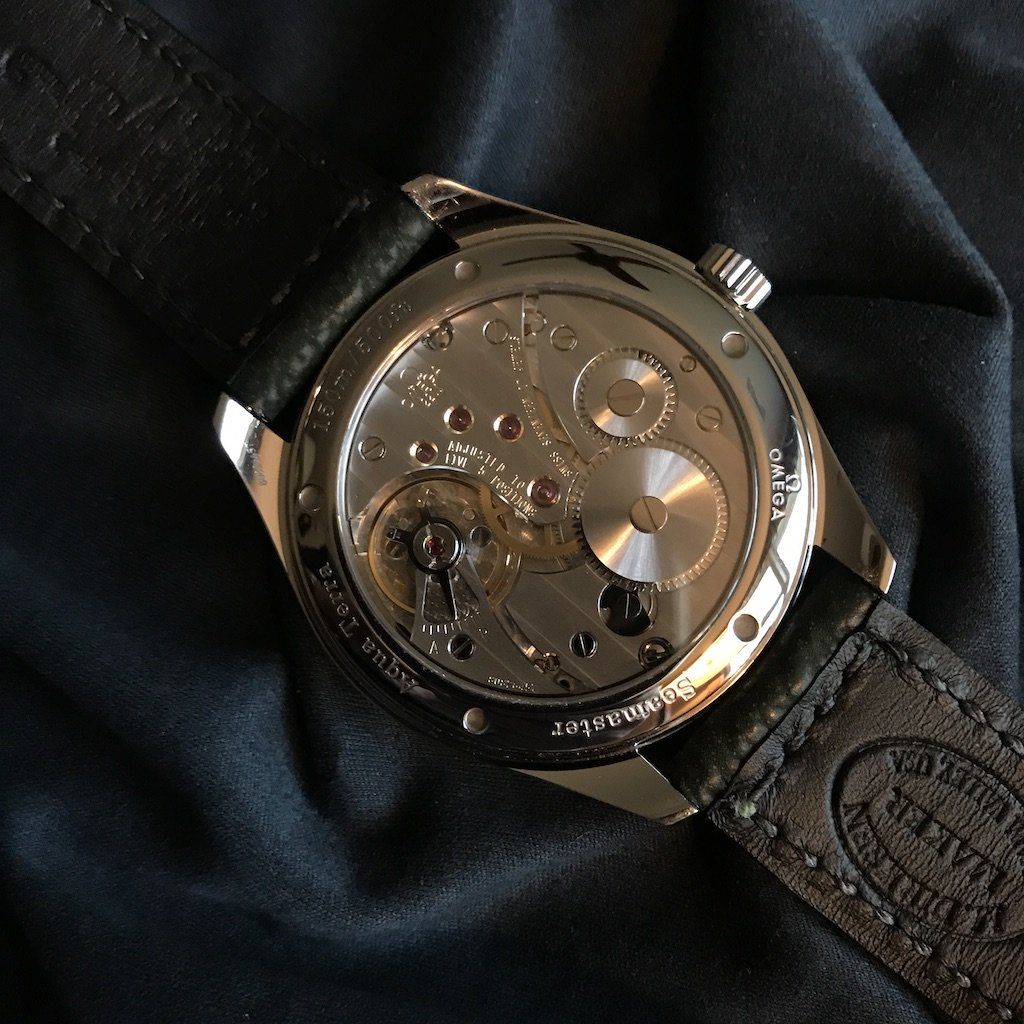 Both the Calibre 2201 & 2211 beat at 21,600 vph, have a 53-hour power reserve and are chronometer rated with no date, no hacking and sub-seconds.  It should be noted that while many movements updated around 2010 received the Co-Axial escapement, this movement did not, and continued to use a traditional Swiss lever escapement right up until the final units were produced in 2014.
From an aesthetic perspective, Omega employs custom bridges in both the Calibre 2201 & 2211 which replace the ETA's sharp edges with smooth flowing lines and bevelled edges more fitting with Omega's historical models.  Decoration is added in the form of Côtes de Genève on the rhodium plated Calibre 2201, while the Calibre 2211 has an unusual gunmetal-grey finish.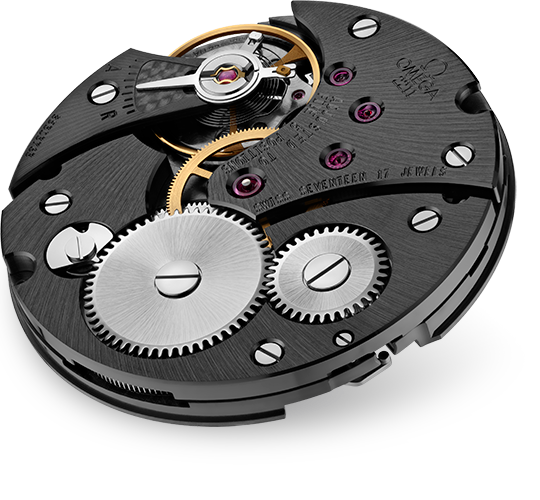 Both movements are very simple, reliable, and well made, with plentiful parts supply and can be maintained by any independent watchmaker with an Omega parts account.
So simple, in fact are these movements that I and many other Omega owners have assembled and disassembled one of these under supervision at an Omega boutique.  I'll likely write about this program at another date, but I cannot speak highly enough about it as an experience, and the Calibre 2201 movement is used as the basis for it due to how beginner friendly it is.  The movement really comes apart and goes back together with the ease of a Lego set and allows you to appreciate how each part of the movement functions as an Omega trained watchmaker guides you on the journey.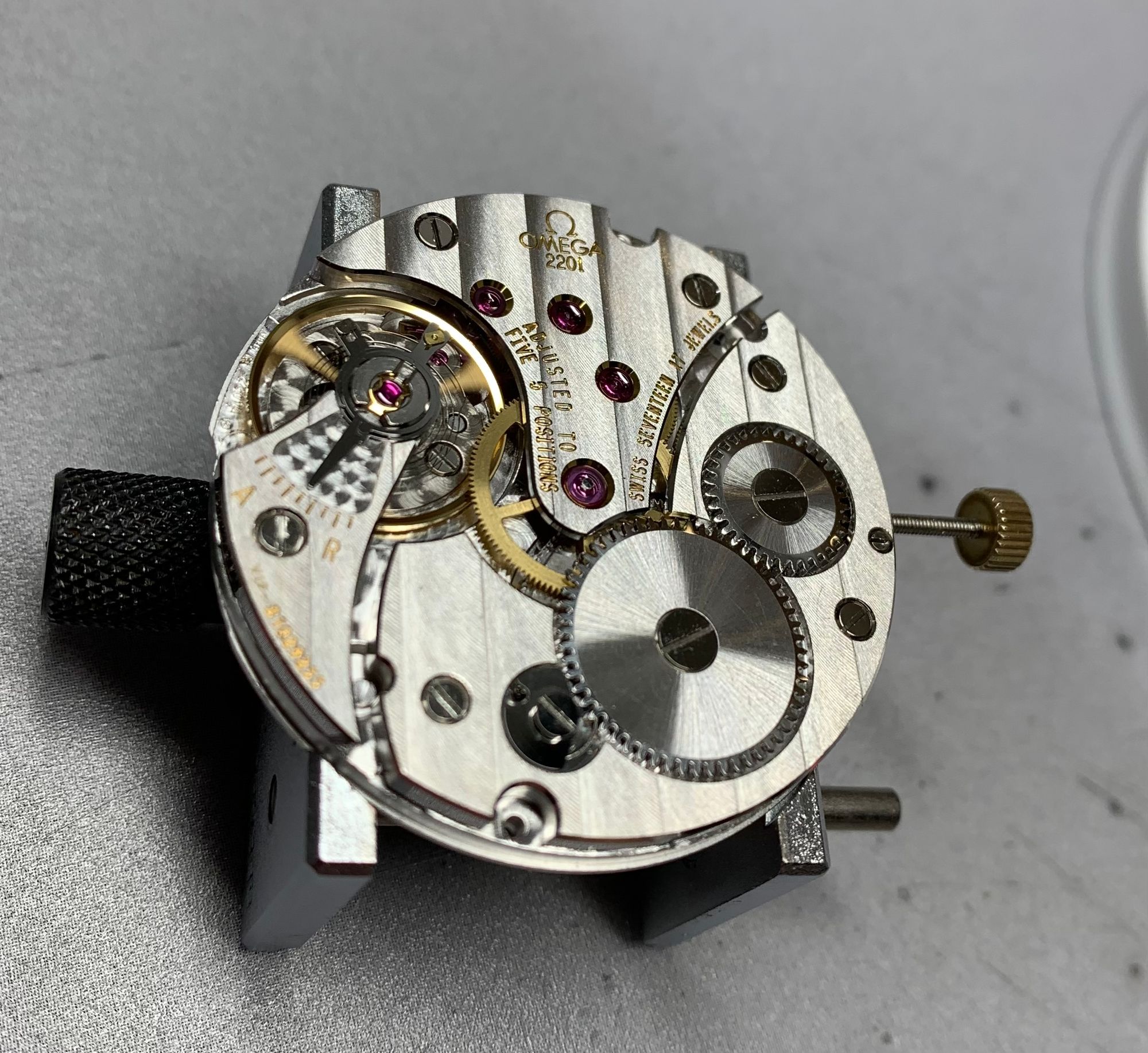 Model & Dial Variants
The vast majority of these watches appear in two forms, the first generation steel Railmaster XXL, and the second generation steel Aqua Terra XXL.  The steel models don't give a great deal of variety with only a single dial option in each, but Omega did get very creative with these watches in special editions as you will see.  
First Generation - Railmaster XXL
The standard Railmaster XXL in steel, Ref 2806.52.37 is very similar to the smaller automatic versions.  It features triangular luminous hour markers with luminous Arabic numerals at 12, 3 & 9.  The only dial text is Omega, Railmaster & Chronometer at the top of the dial while a simple recessed sub-dial for seconds with 5 second hashes is found at 6 o'clock.  The watch features large versions of the luminous Aqua Terra broad-arrow hands with an arrow on the tip of the minutes hand while a simple stick hand is used for seconds.  
Aside from the stainless steel version, there are a pair of precious metal versions, the white gold Ref 221.53.49.10.01.002 and the red gold Ref 221.53.49.10.01.001.  
The white gold looks almost exactly identical to the stainless steel, with the only differences being the case-back which references that the watch is a limited edition of 157 units, and the weight, which is 168 grams, substantially up from the 123 grams of the steel version.
There is also a red gold version, which has red gold hands to match the case and gilt colored dial text to further match including a feint gilt outline around the lume plots.  like the white gold, the red gold is also limited to 157 total units.
While this last difference is very subtle and can be difficult to notice, Omega also replaced the modern Omega logo on the steel version with the vintage version of the Omega logo.  This is the only way to spot the white gold without handling it.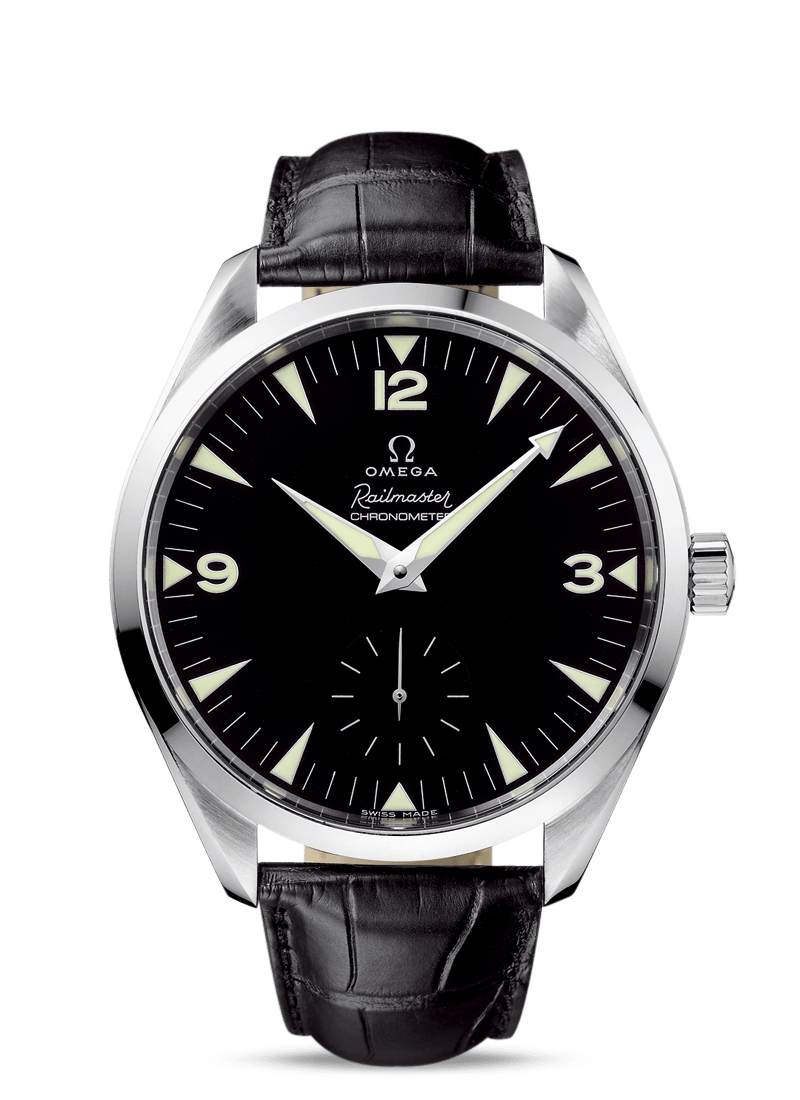 The final versions of the Railmaster XXL are extremely unusual, featuring a diamond set mother of pearl dial, but in a regular stainless steel case.  These watches are definitely not subtle and grab attention from across the room with ease.  Due to being mother of pearl, the dials vary greatly with the "pink" dial, Ref 2806.77.40 being anywhere from vibrant pink to purple, while the "blue" dial, Ref 2806.72.31 can be anywhere from green to blue, to purple or a mixture of everything.
These watches were very costly when new, and were primarily sold in East Asia, especially in Japan, Singapore, and China.  While their brand-new cost was high, they have depreciated a lot and often now sell for a small fraction of their MSRP.  There are also more of these floating around than most people would expect, and they were not limited in production.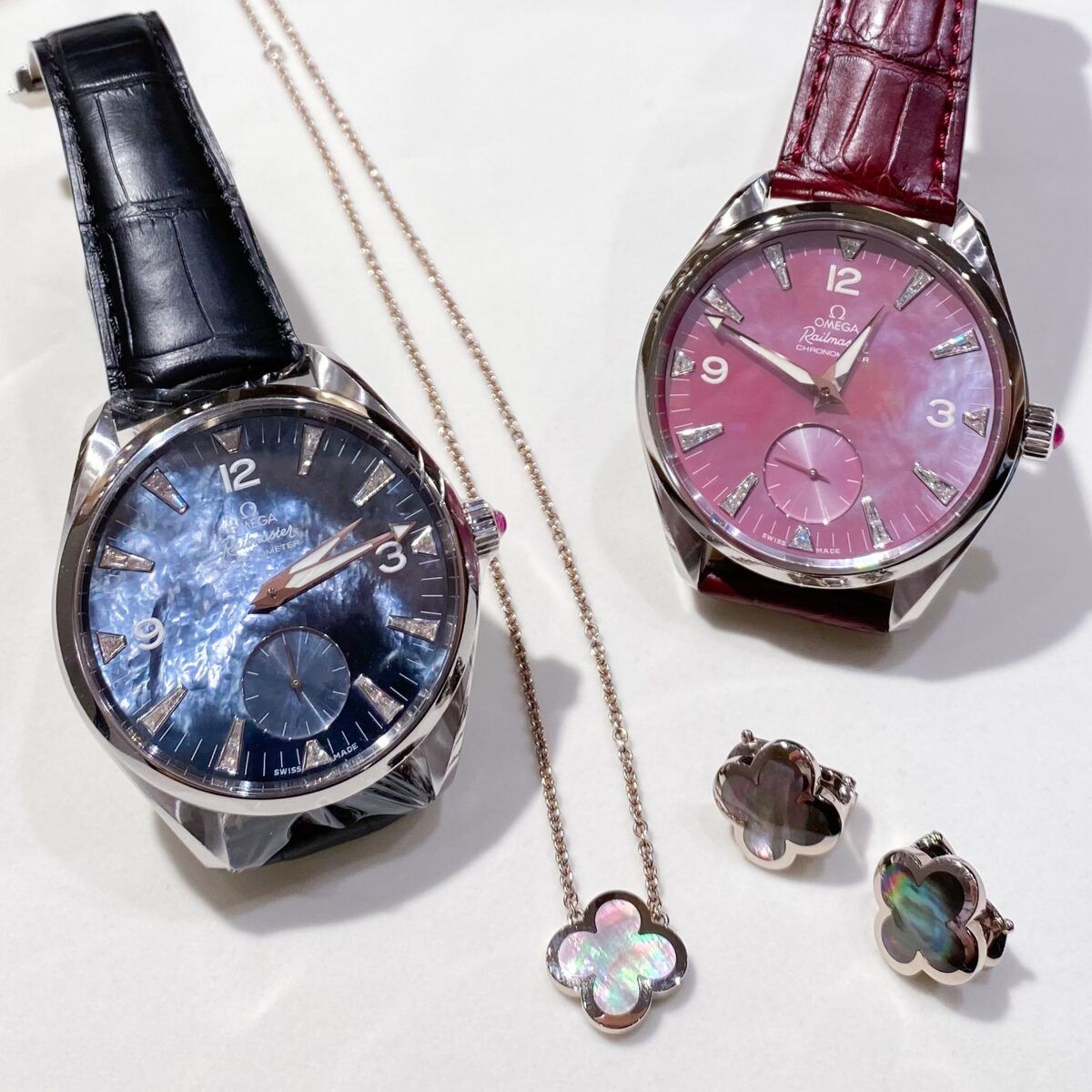 Second Generation - Aqua Terra XXL
With the Railmaster line being discontinued entirely for 2010, Omega shifted the XXL model to the Aqua Terra, gracing it with the very attractive vertical engraved "teak dial".
The anthracite grey Aqua Terra XXL Ref 231.13.49.10.06.001 replaced the black dialed Railmaster as the only full production steel version.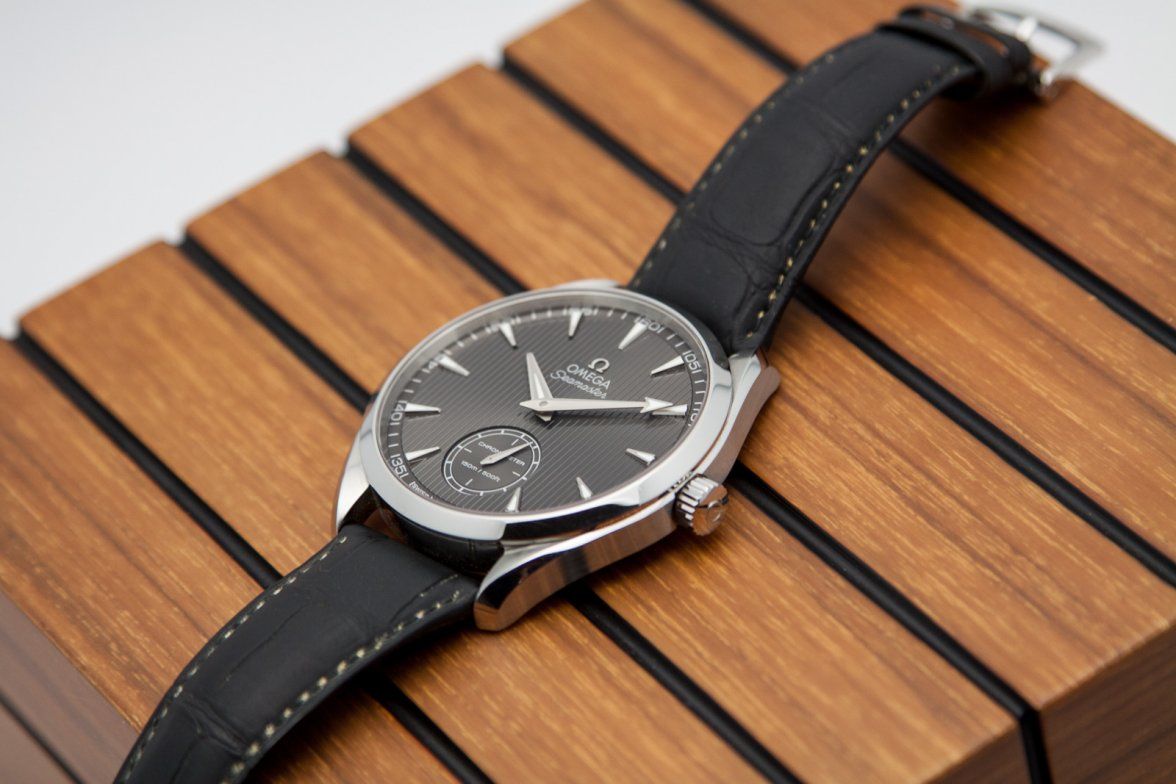 The new dial featured applied, luminous metal hour markers at all hours except 6 o'clock, an outer minutes track with 5 minute markings, updated but similar hands, and a new sub-seconds dial with concentric finishing and text above and below the second hand.  An applied Omega logo is also added, along with a dauphine sub-seconds hand and a new crown with less fine knurling.
The movement was also updated to Calibre 2211, with the darker gunmetal-grey finishing visible through the display-back.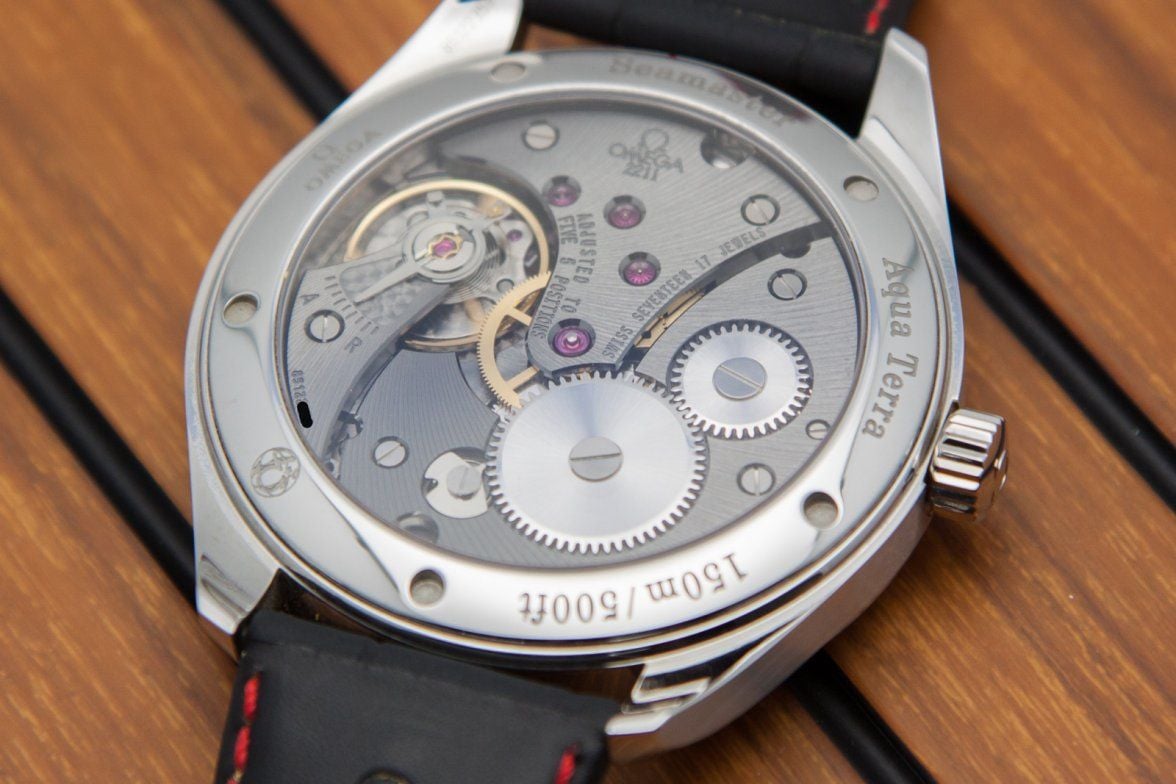 The Aqua Terra XXL would continue in production until 2014 and can still be found as old stock even many years later in some places.
The standard Aqua Terra XXL watch was supplemented by an orange gold version which carried the same anthracite grey toned dial, but with matching orange gold hands, applied Omega logo and dial furniture.  Unlike the Railmaster, there was no equivalent made in white gold.  The orange gold Aqua Terra XXL was produced from 2010 until 2014 and was not a limited edition.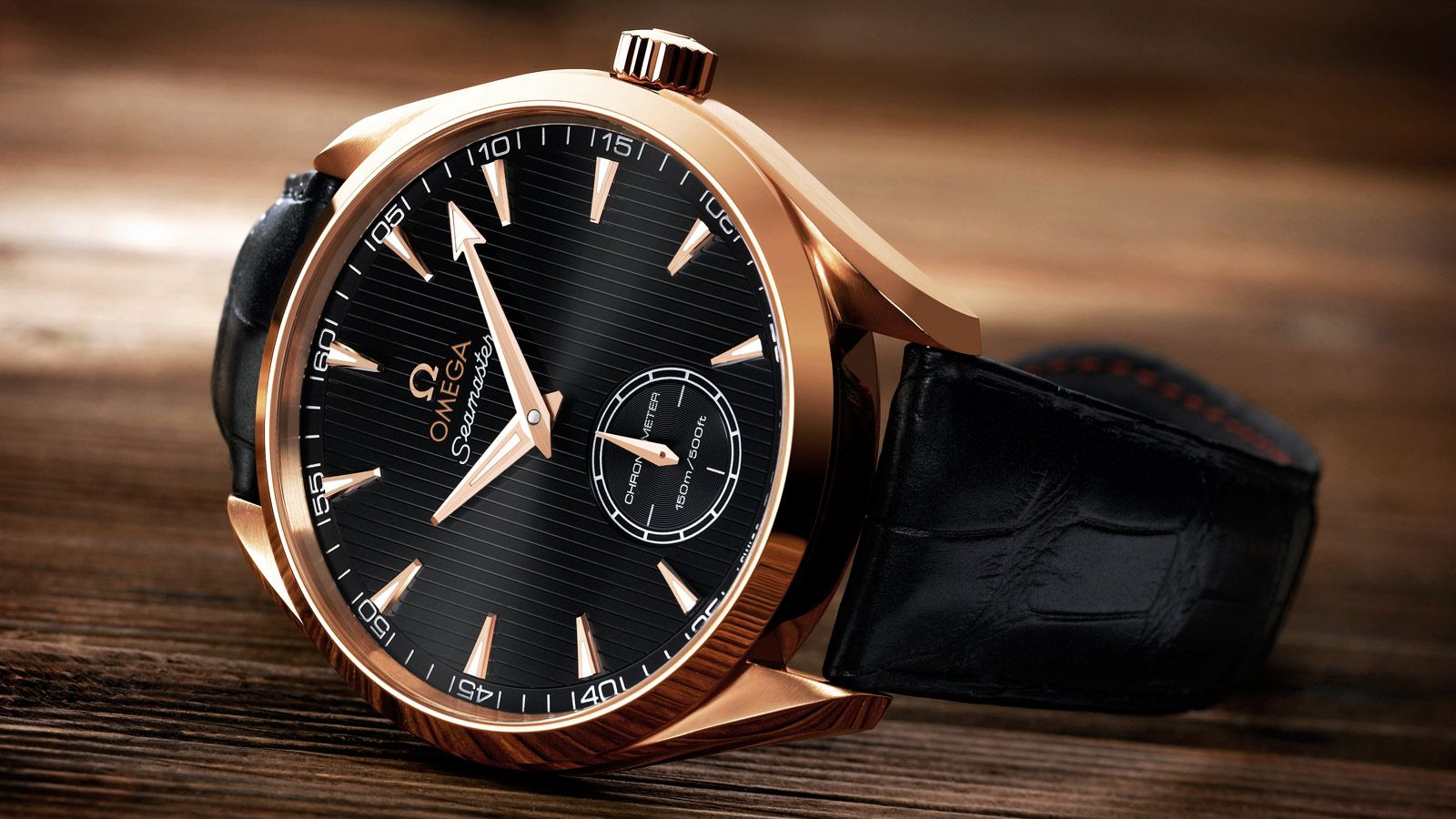 The final two models in the XXL family are very unusual in that while they remain part of the Aqua Terra family and use an Aqua Terra case, the dial and hands are that of a vintage dress watch.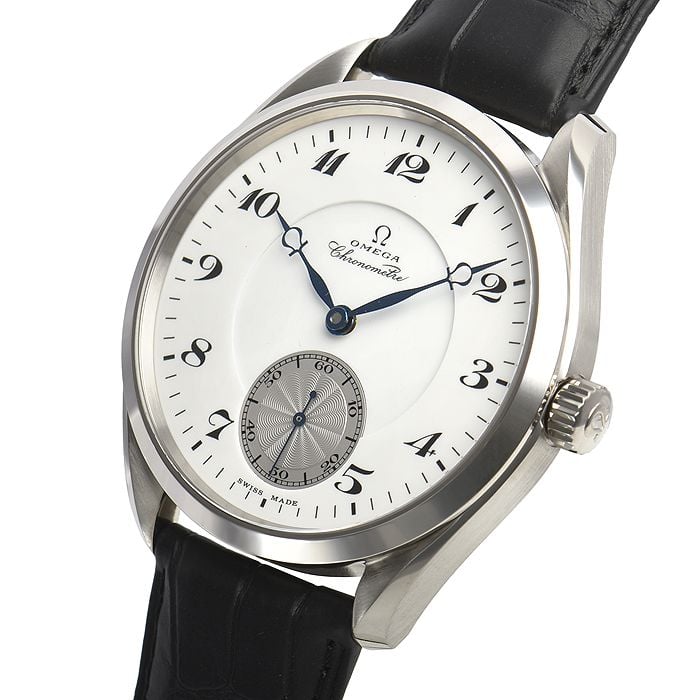 These two, the red gold ref 231.53.49.10.04.002, and white gold ref 231.53.49.10.04.001 feature an enamel dial with painted black Breguet numerals and black painted dial text with just Omega in a vintage and Chronometer on the dial.  The hands are blued steel with a unique Omega symbol design, and interestingly the Guilloché finished seconds sub-dial is made of silver, separate from the dial and will patinate a dark color over time.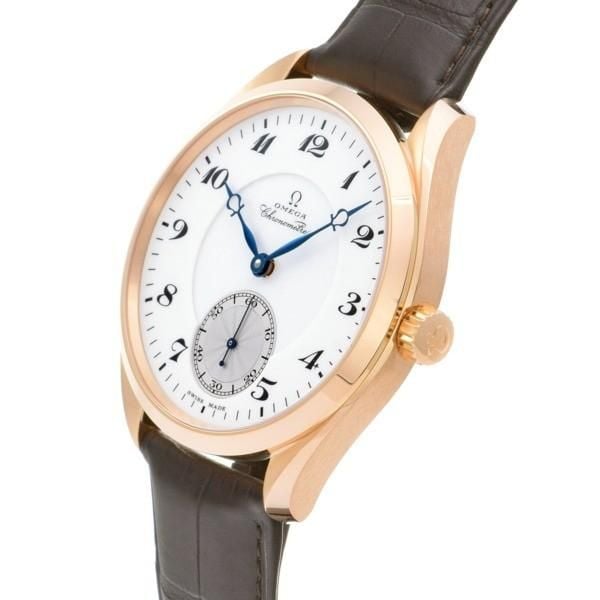 These are beautiful watches and only produced in 88 units each.  
Incidentally, during Ben Clymer's 2018 interview of Greg Norman, it was discovered that Greg in fact owns one of these and gifted the same watch to each member of the 2011 President's Cup International Team he captained.
Buying
These watches were originally rather pricey, especially the precious metal and mother of pearl versions, however time has made them all surprisingly affordable.
Omega produced these watches from 2003 to 2014, and made quite a lot of them, so there are always several of each version, even the rare ones available.  Rather than paying dealer rates it would be best to be frugal and hunt these on forums, eBay and other private listings as when they do change hands, they tend to do so below expectation.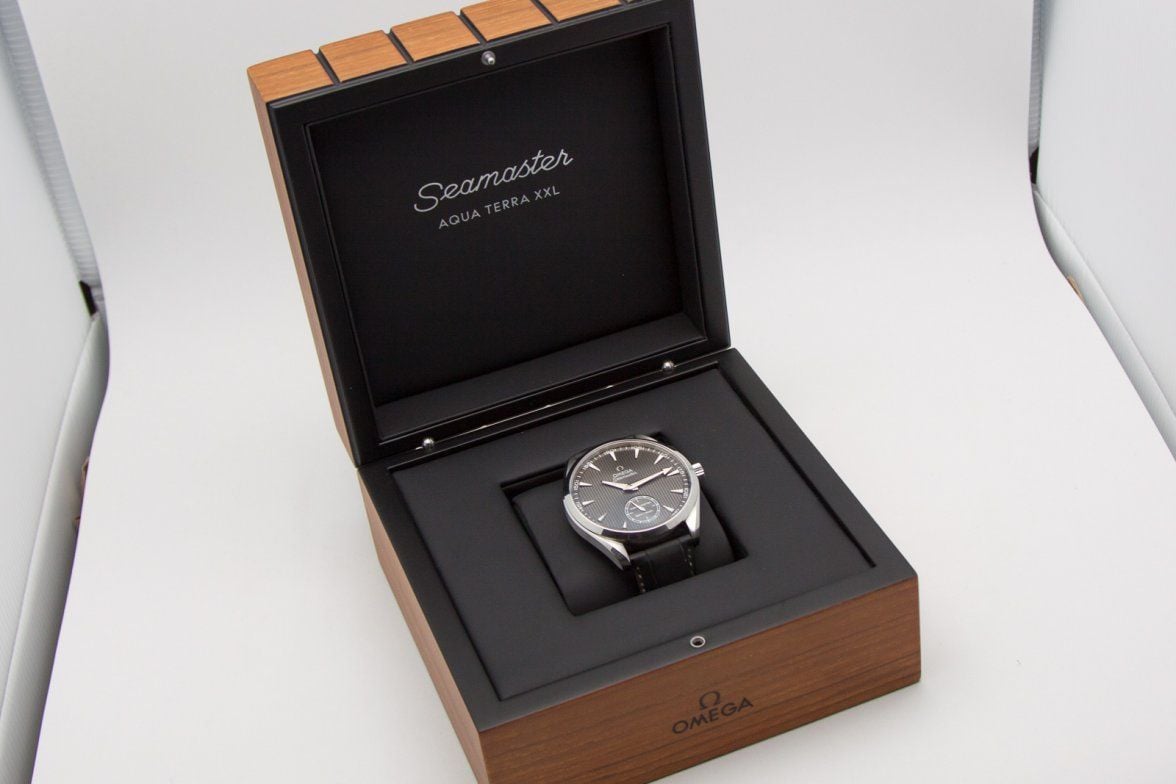 The Railmaster XXL in steel is the cheapest typically, although the standard steel Aqua Terra XXL isn't that far behind it.  Both of these are often seen listed in the $2,500-3,000 range but when they go no reserve at auction there are some very good deals to be had.  Due to how many people rule themselves out of owning them due to the 49.2 mm diameter, listings on eBay can go as low as $1,700 for a nice condition watch, which is shockingly cheap considering how great these are to wear.
The rose gold and white gold Railmasters can often be found listed in the $7,000-9,000 range, which is a fraction of their original five-figure price tag and when they do go to auction there isn't much support above the $4,000 mark.  The mother of pearl models sit around the same region price wise, and supply always seems to exceed demand.
The Aqua Terra XXL rose gold model can carry a premium of a couple of thousand over the gold Railmasters but suffer from the same issue when listed no reserve at auction with a lack of support being very apparent beyond around $4,000.  For this reason, they are rarely listed at auction but are worth keeping an eye out for when someone does get desperate to let one go.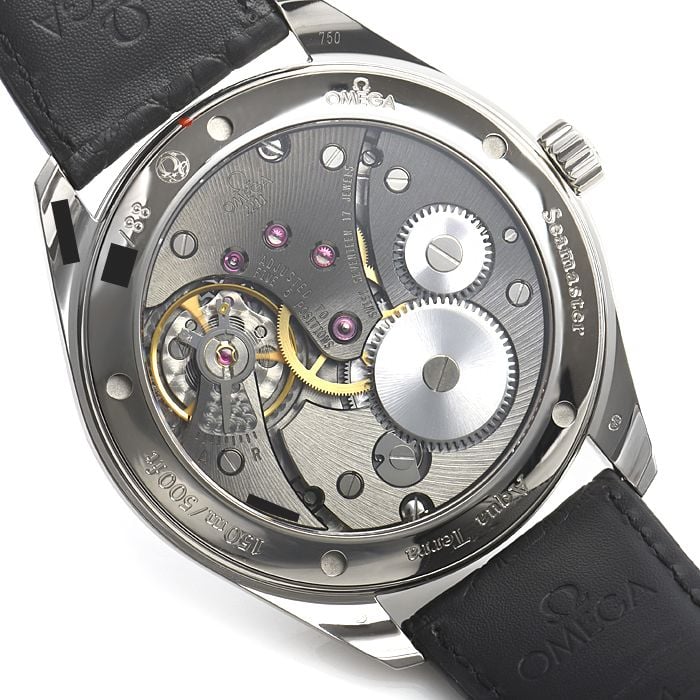 Even the Aqua Terra 1/88 Limited Edition models which you would expect to be very hard to find are surprisingly available with Hodinkee having one for $12,600 at time of writing.  Considering how special these watches are, that sounds remarkably reasonable even at a major dealer.
Condition wise, the case is really the main thing to focus on, especially on the softer gold models.  Small swirls and scratches can be easily resolved but deeper scratches and dents can be an issue as can excessive or amateurish polishing.  The dials and movements should always be in perfect condition given the high water resistance so skip any that are not.  A deployant clasp is nice to have as they are pricey to buy separately so factor that in as being worth a couple of hundred dollars at least.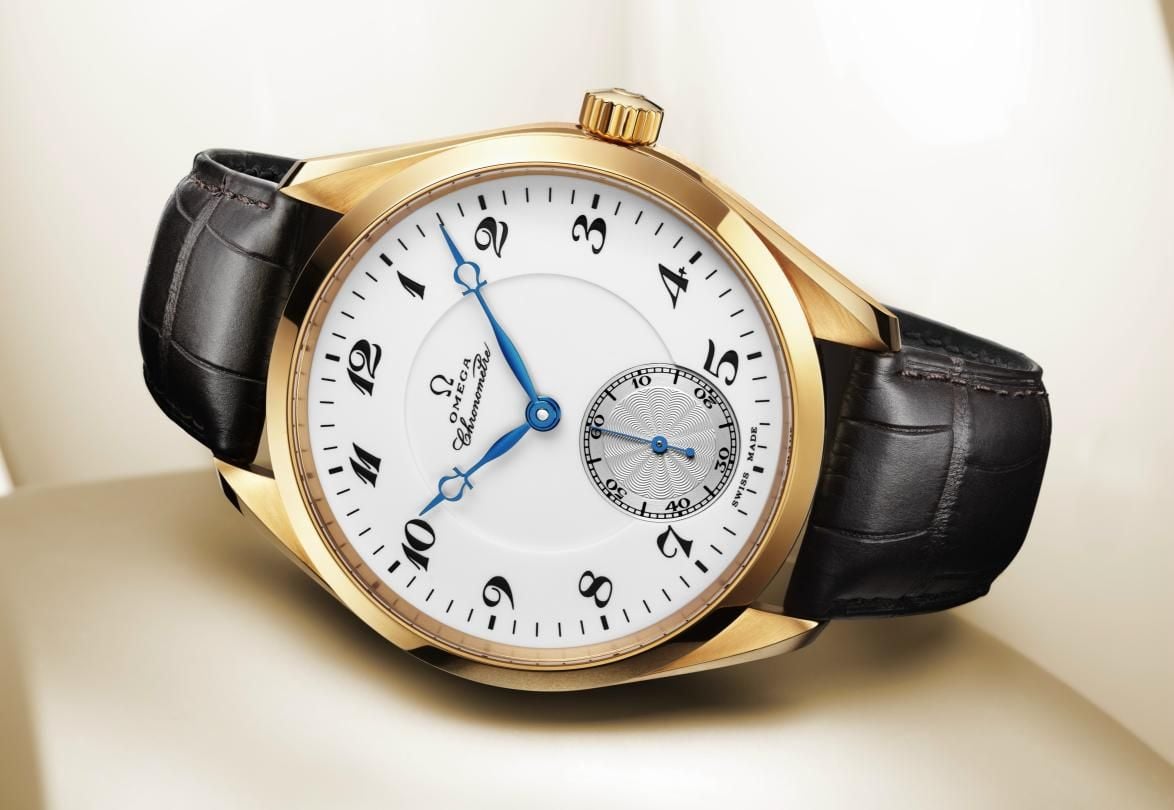 These movements are almost all due for service or overdue at this point, but they are among the cheapest to have serviced by an independent and afterwards will keep excellent time, well within chronometer spec.
You really don't need a big wrist to wear an Aqua Terra or Railmaster XXL, they really are designed to work on more people than you might expect.  You may need a big personality to make the mother of pearl versions work but that comes with confidence and a sense of occasion.
Discussion thread on Omegaforums can be found here: