The first generation Seamaster Pro 300M Chronograph was a hit with collectors and enjoyed over a decade of continuous sales success before the second generation hit the market. Powered by an all-new movement and packed with features, how well did this new version measure up?
The Difficult Second Album
The second generation of Seamaster Pro 300M Chronograph came out in the early 2000's, powered by a new movement, equipped with a new layout, and bringing a broad range of improvements.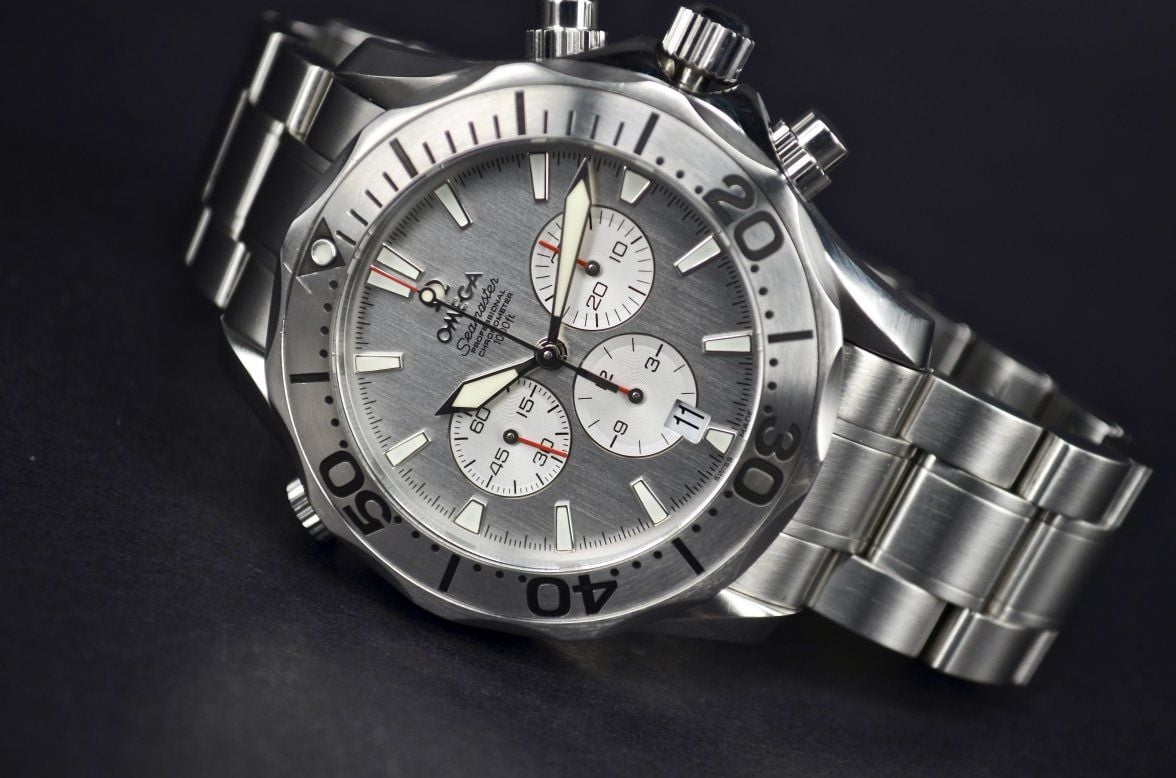 It came after the very successful and much loved first generation, powered by the ETA based Calibre 1154/1164 and immediately had big shoes to fill in replacing the original, especially at a higher price point.  The Seamaster Pro 300M series is rather fascinating to look into as you can see the clear iterative improvements Omega made with each generation as well as which changes worked and which were subsequently reverted.  
The upgrades in this generation were quite significant and wide ranging.  In the 2000's, ETA 7750 powered watches were dominating the Swiss watch industry with the distinctive asymmetrical sub-dial layout almost ubiquitous among Omega's competitors.  Omega wanted to differentiate and reposition to a higher end of the market and tapped Swatch stablemate F. Piguet to provide the basis for a new movement with a traditional 3-6-9 sub-dial layout, a column-wheel, and a vertical clutch.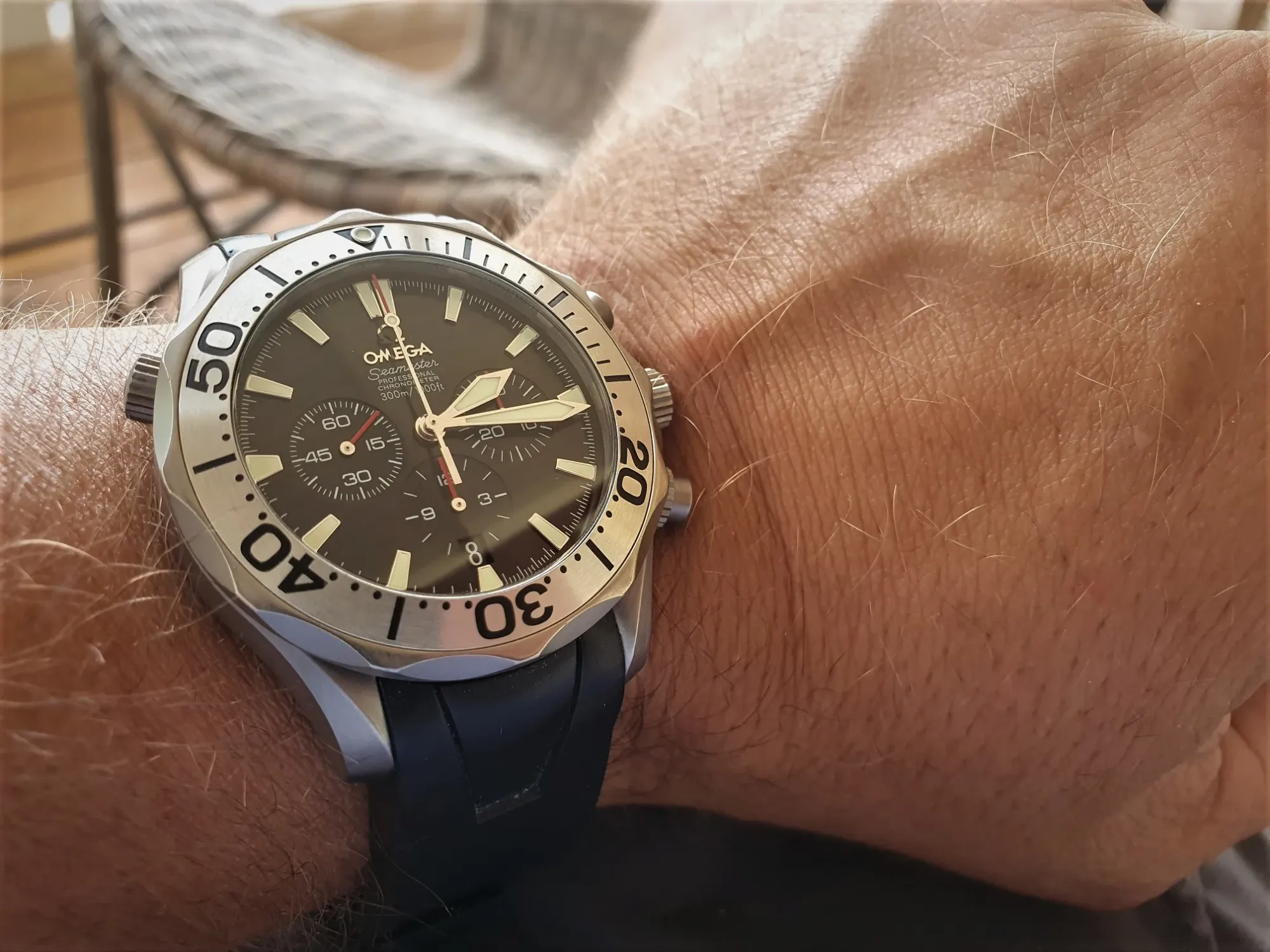 As an added benefit of the new movement, Omega was able to reduce the thickness of this watch by 1 mm, making it more comfortable on the wrist.  
In keeping with the new Seamaster Pro 3-hand generation, sword hands and Speedmaster style bracelets replaced the skeleton hands and Bond bracelet.  Applied hour markers and Omega logos replaced the old painted versions as first seen on the Seamaster Pro 300M Non-AC edition.
There was a lot to like about these second generation models, but online they faced a bit of a cloud of uncertainty related to some early teething issues with the movement.  As we look back now, with these issues having been long ago solved and corrected, these really are terrific watches and deserve appreciation in the market.
While its true that fewer of these second generation models seemed to have been sold and they didn't have quite the variety or longevity of the original there were other factors that created headwinds during this period.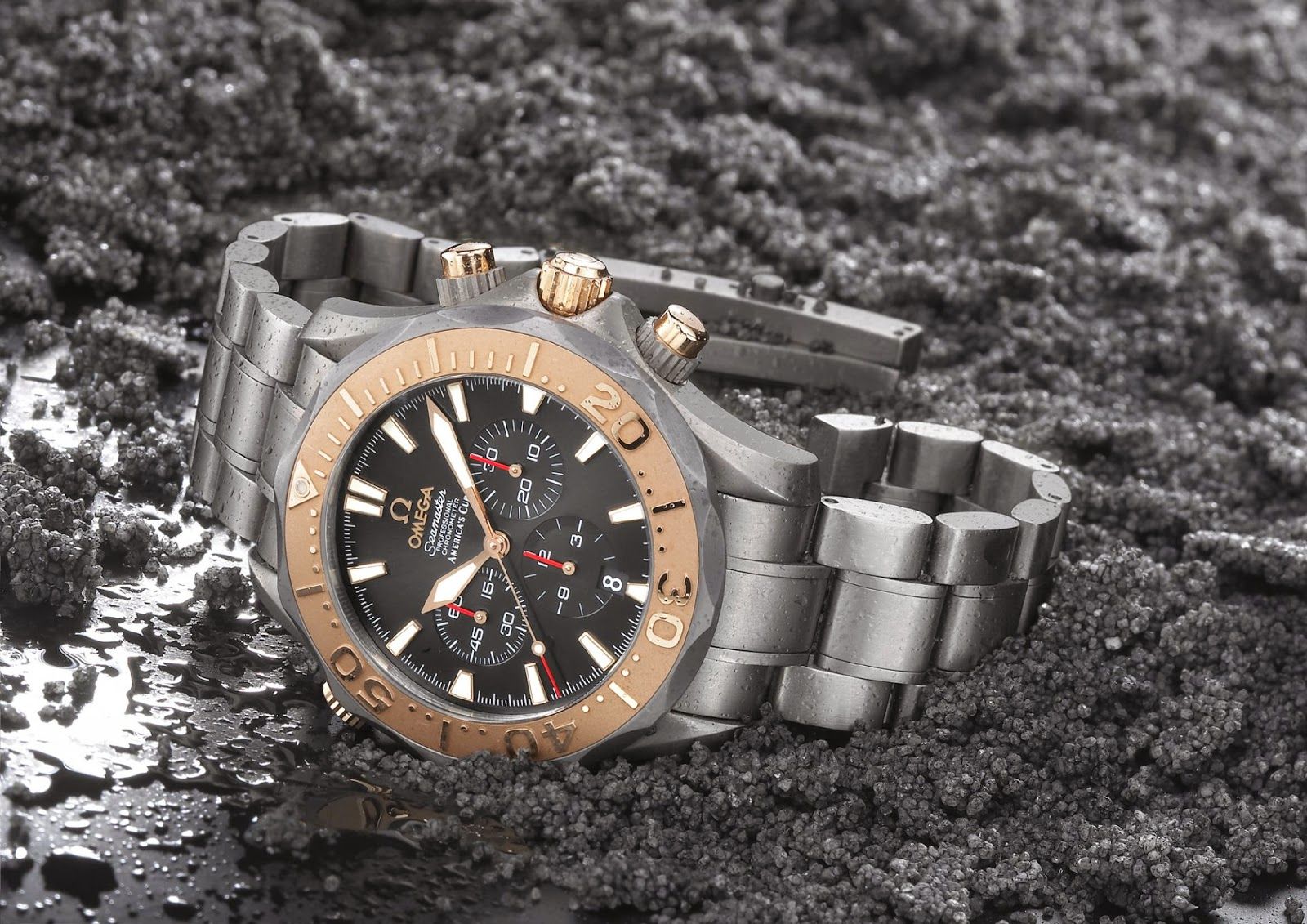 The 1st generation Seamaster Pro Chrono Divers continued to be in display cases at a lower price, with the updated white gold furniture versions coming in 2005.  Then in 2006, the Co-Axial equipped 600 meter water resistant Planet Ocean Chronograph came out as a more expensive upgrade on the 2nd generation Seamaster Pro.  
In essence this fundamentally very good watch never really got the chance to excel on its own and spent most of its production run competing not with other brands, but with other models in the same Omega display case.
To read about the first generation of Seamaster Pro Chronograph, visit the link below: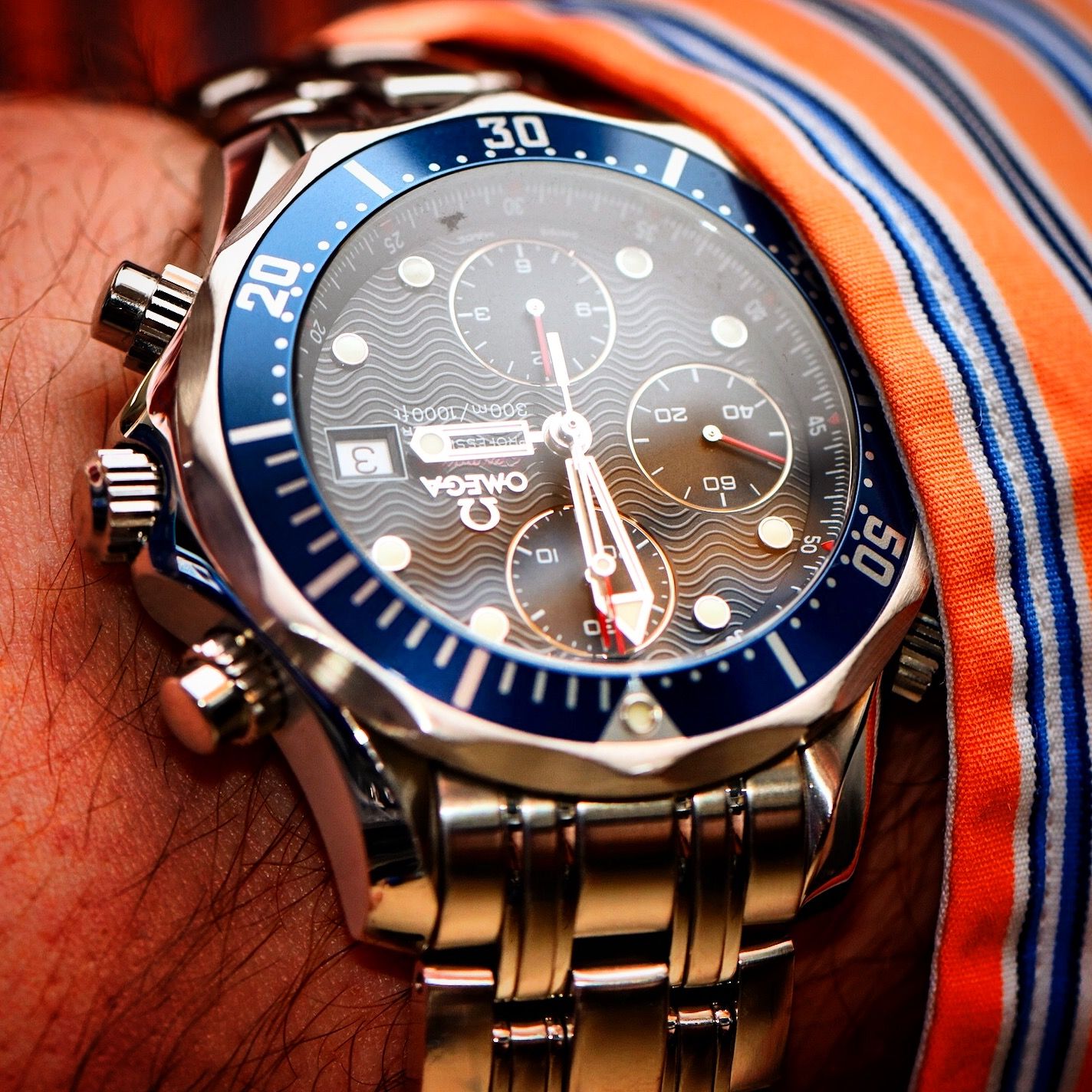 Case & Bracelet
The first generation case was an excellent design and an industry leader in the technology it brought to bear at this price point, so Omega didn't upset the apple-cart too much with the second generation.
The diameter stayed the same at 41.5 mm, however they worked on one complaint from the original by shrinking the overall thickness by 1 mm from 16 mm on the first generation to 15 mm on the second.  A solid case-back remained in use with the wave pattern on early versions and the large hippocampus design on later versions, both with same keying that would continue across the range in the mid-2000's.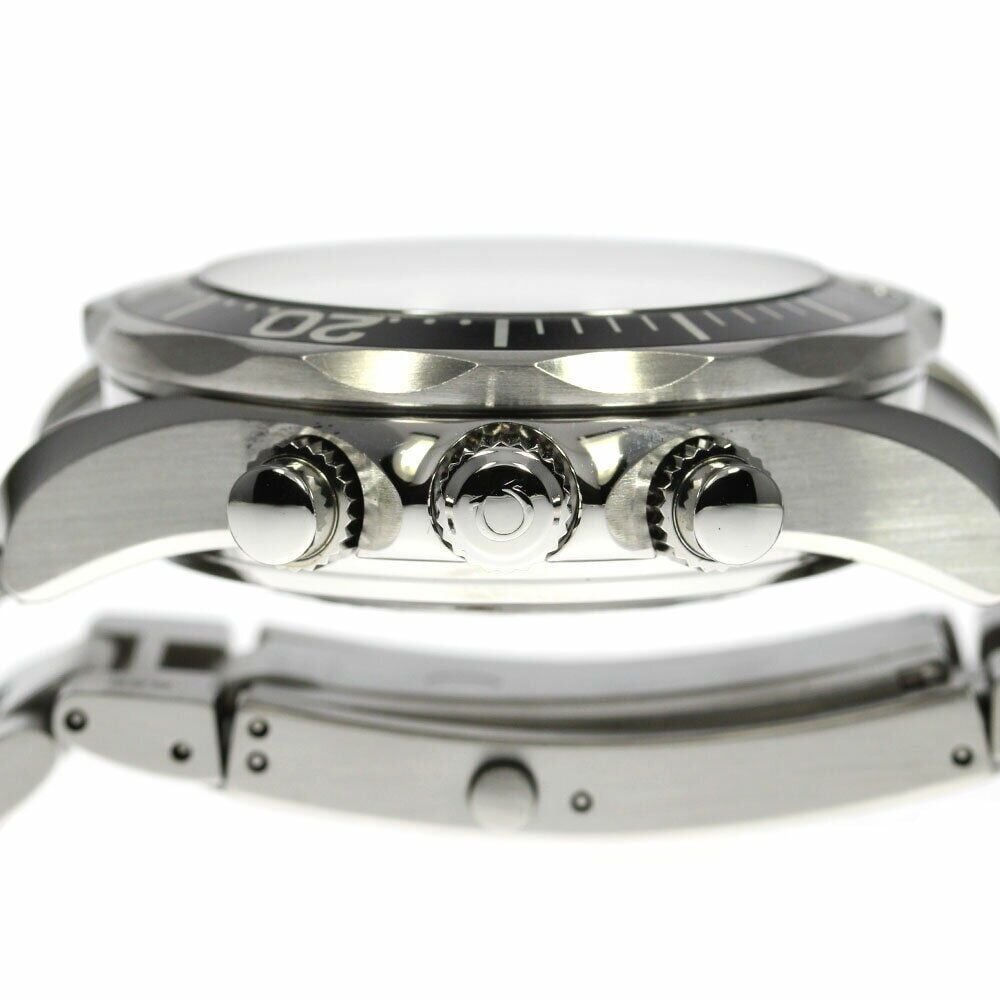 The full 300-meter depth rating operational pushers of the original were retained, and still remain a feature lacking in the vast majority of high-end chronographs on the market today.  Similarly, the manually-operated helium escape valve and small knurled crown, heavily shrouded by the crown-guards remained from the first generation.
Case material options were slightly less varied than the original with only stainless steel, titanium and titanium & rose gold being available.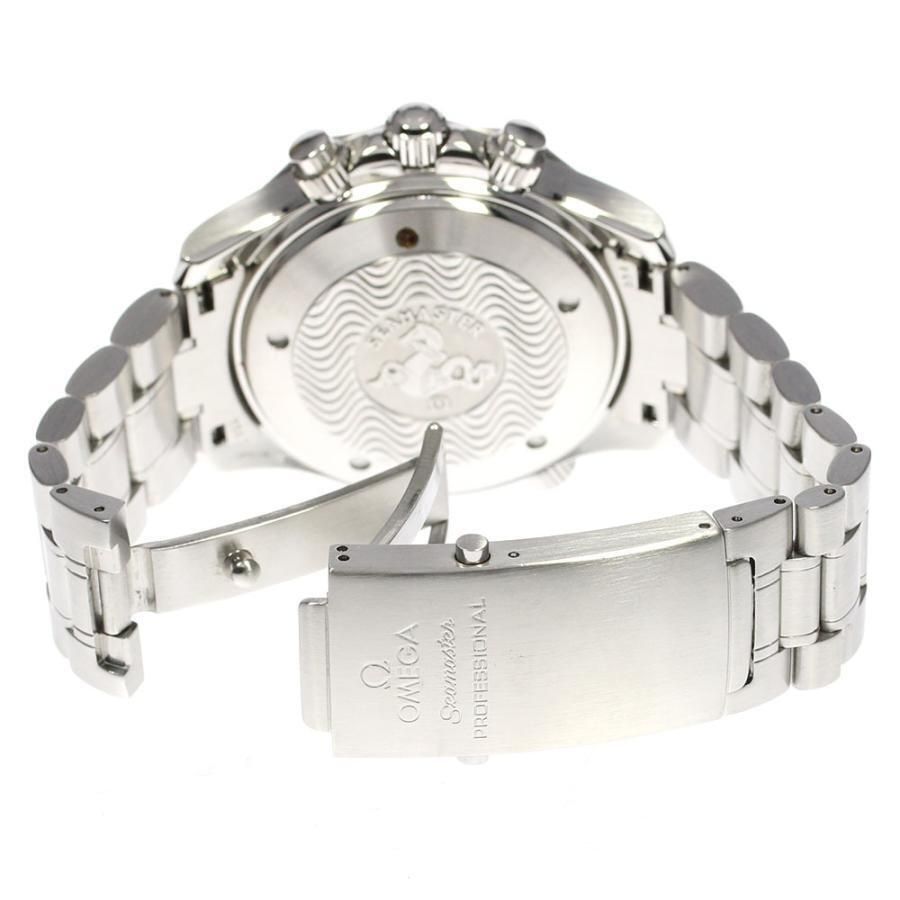 The bracelets used on these models were exclusively the Speedmaster style, with updated rubber straps used on these which would later go on to serve the Planet Ocean line.
Movements
These watches feature two movements which were used over their production run, the Calibre 3301 and Calibre 3303.  These two movements are effectively identical from a performance and specification perspective but differ in that the Cal 3301 has a relatively plain finishing on the surface of the plates and rotors, while the Cal 3303 features Côte de Genève finishing.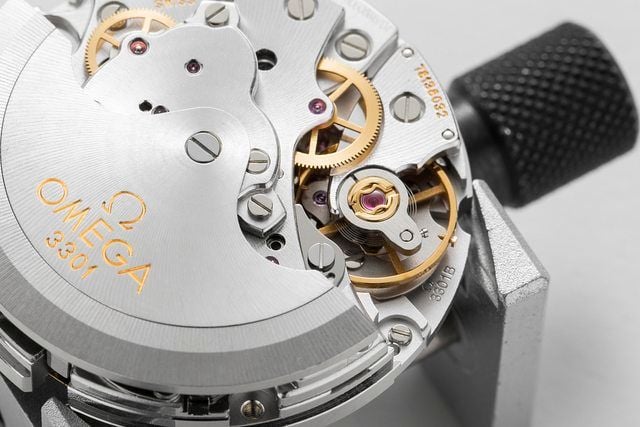 Both movements oscillate at 28,800 vph, use a traditional Swiss lever escapement rather than Co-Axial, feature hacking, quick-set date, a chronometer rating, 55 hours power reserve, and a chronograph with a column-wheel and vertical clutch.  Overall, it is a genuinely impressive package, and while the column-wheel is the feature collectors tend to obsess over the most, the vertical clutch assembly is a really interesting technology and worth reading about below:

As mentioned earlier, the early days of the Cal 3301/3303 saw some issues relating to the chronograph mechanism and as tends to happen this spread around the internet and turned quite a few people off.  These issues were fixed by upgrade kits which were available by 2008 and any watches produced after 2009 should already have those upgrades applied from the factory.  A more detailed explanation of these upgrade kits can be found in this thread:
Now at this stage, all Calibre 3301/3303 watches have either been serviced or are well overdue for one.  If you have your watch serviced by a qualified watchmaker with an Omega parts account, or by Omega themselves you will get the watch back with these upgrades applied and can enjoy the watch without worry.
These watches are reliable, accurate, and dependable watches when correctly serviced, so don't let outdated internet concerns from over a decade ago turn you off them.
Variants
These watches were available in fewer different metals and styles than the first generation, however there are still quite a few different options available including some odd quirks and dial options.  As the total production of these watches is lower than many other Omega watches, it may take quite some time to find good examples of the less common references.
America's Cup
Released in 2002 without limited production numbers, the America's Cup versions of these watches are very subtle, so much so that it can be hard to even notice whether are looking at a regular version or an AC version.  
While the 3-hand version has the "America's Cup" text pride of place in the middle of the dial in large letters, it is only seen in very small print at the top of the dial in place of where the depth rating is.  
As an example, here are the AC version, Ref 2293.50, and Non-AC version, Ref 2293.52.  You can see how the America's Cup text really disappears into the dial and is hard to notice unless you're looking for it.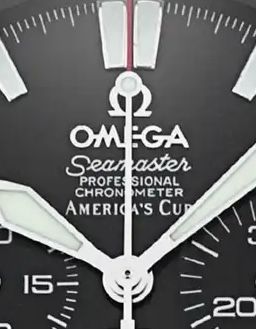 If you don't mind or even like the America's Cup version, it expands the pool of watches you can look for in stainless steel Ref 2594.50, titanium Ref 2293.50 and rose gold & titanium Ref 2294.50.
Stainless Steel
The stainless steel version of the second generation Seamaster Pro Chronograph is only available in one style with a black dial and black bezel.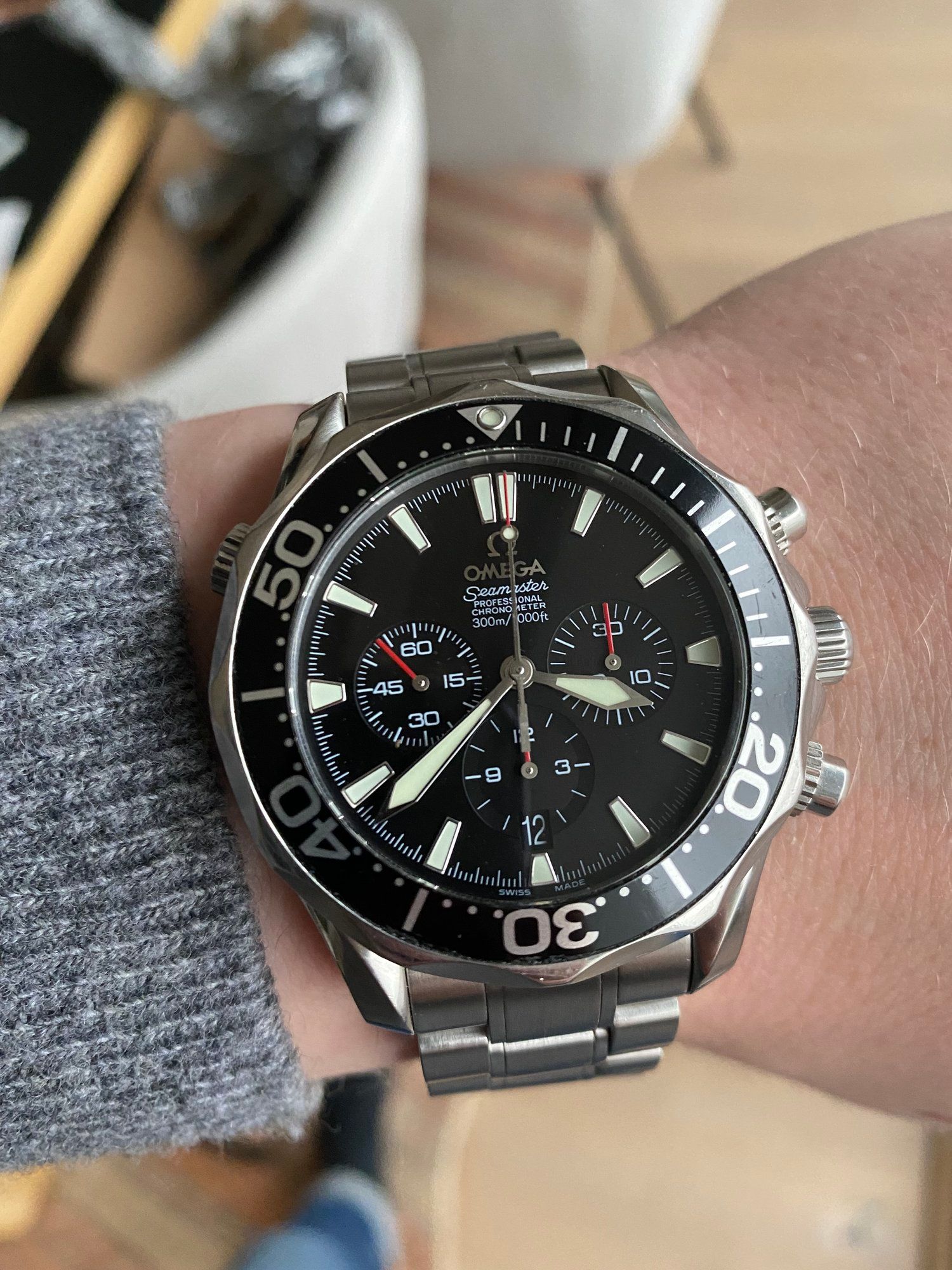 This may seem a bit limiting but it should be noted that this watch did sell for some time in parallel to the first generation with blue and polished steel bezels, so the black really did a good job of setting it apart.
The steel version had a very similar bezel to the first generation steel model in design just with a different color.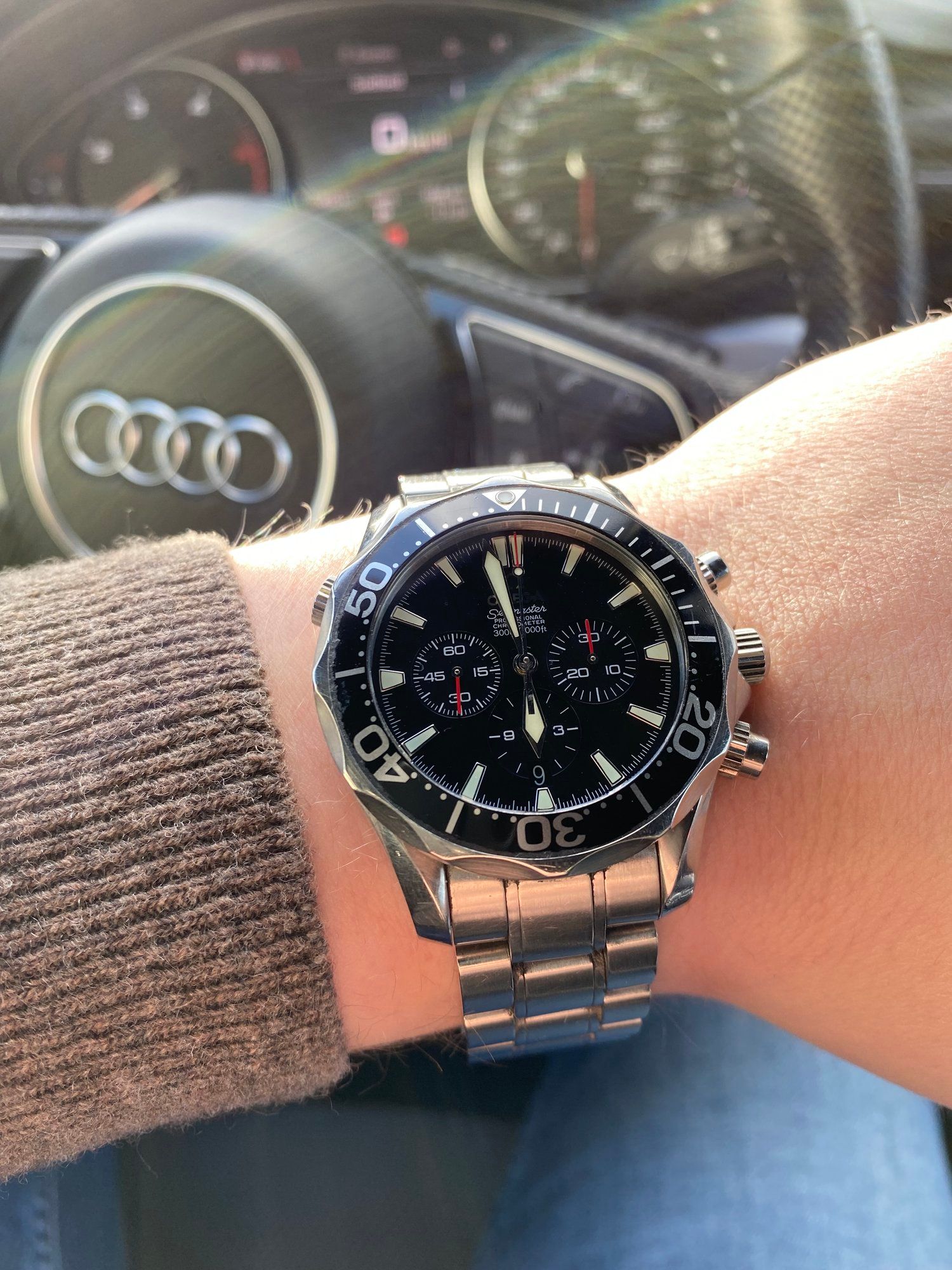 The steel version comes in a standard version on bracelet, Ref 2594.52, an AC dial version on bracelet, Ref 2594.50, a standard version on strap, Ref 2894.52.91, and lastly an AC dial version on strap, Ref 2894.50.91.
These are definitely the most common of all second generation models and most configurations can be found in quite decent condition relatively easily.
US Special Edition
This steel edition features a brushed stainless steel bezel insert, similar to the titanium model, and is set apart from other models by the brushed silver dial which is unique to this model.
This dial has a very different and dramatic look with course vertical brushing which catches the light and reflects it differently depending on the angle, such that the color can shift from brilliant opaline white to a dark grey.  The white sub-dials contrast against the dial as do the white gold applied hour markers.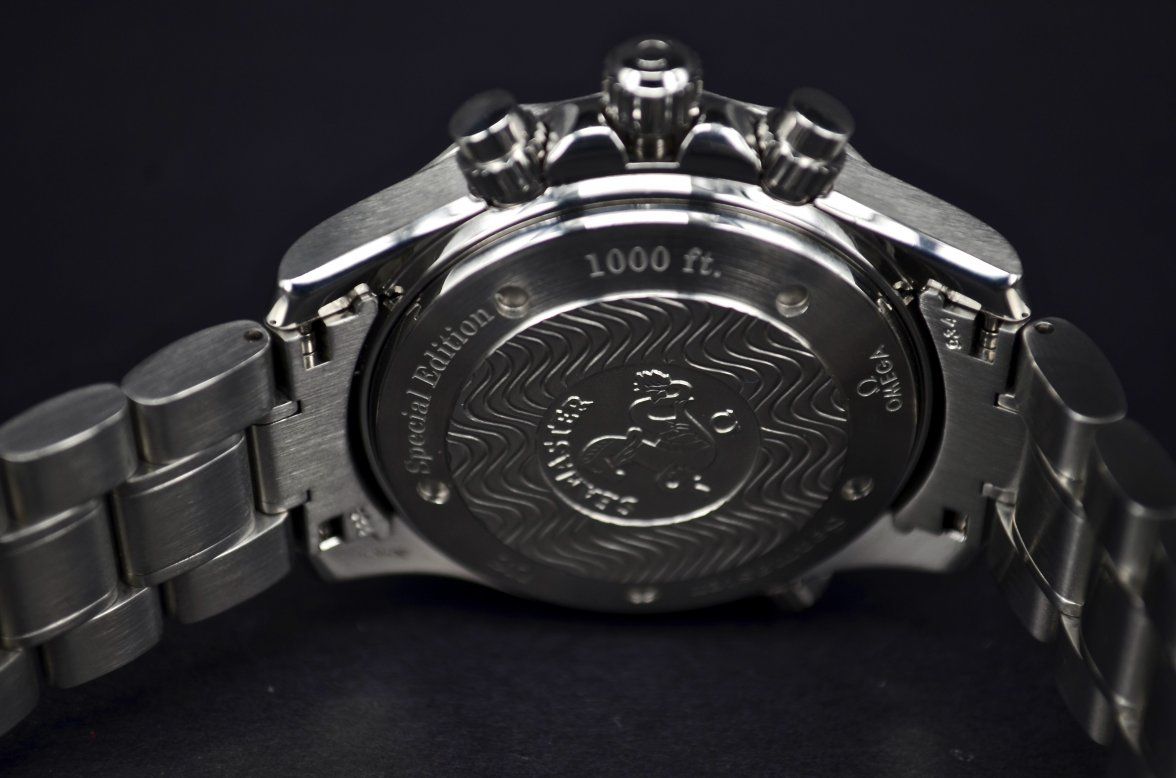 This watch, carrying reference 2589.30 also features the words "US Special Edition" engraved on the case-back around the outer edge.  While it is a special edition, it is not numbered and not limited in production number.
All Titanium
The titanium version was also only available with an identical black dial to the steel version, and with a titanium bezel with a concentrically brushed titanium insert.  
The first generation titanium version is much loved and known to be Chuck Maddox's favorite, so Omega must have known this watch would matter a lot, and they really nailed it.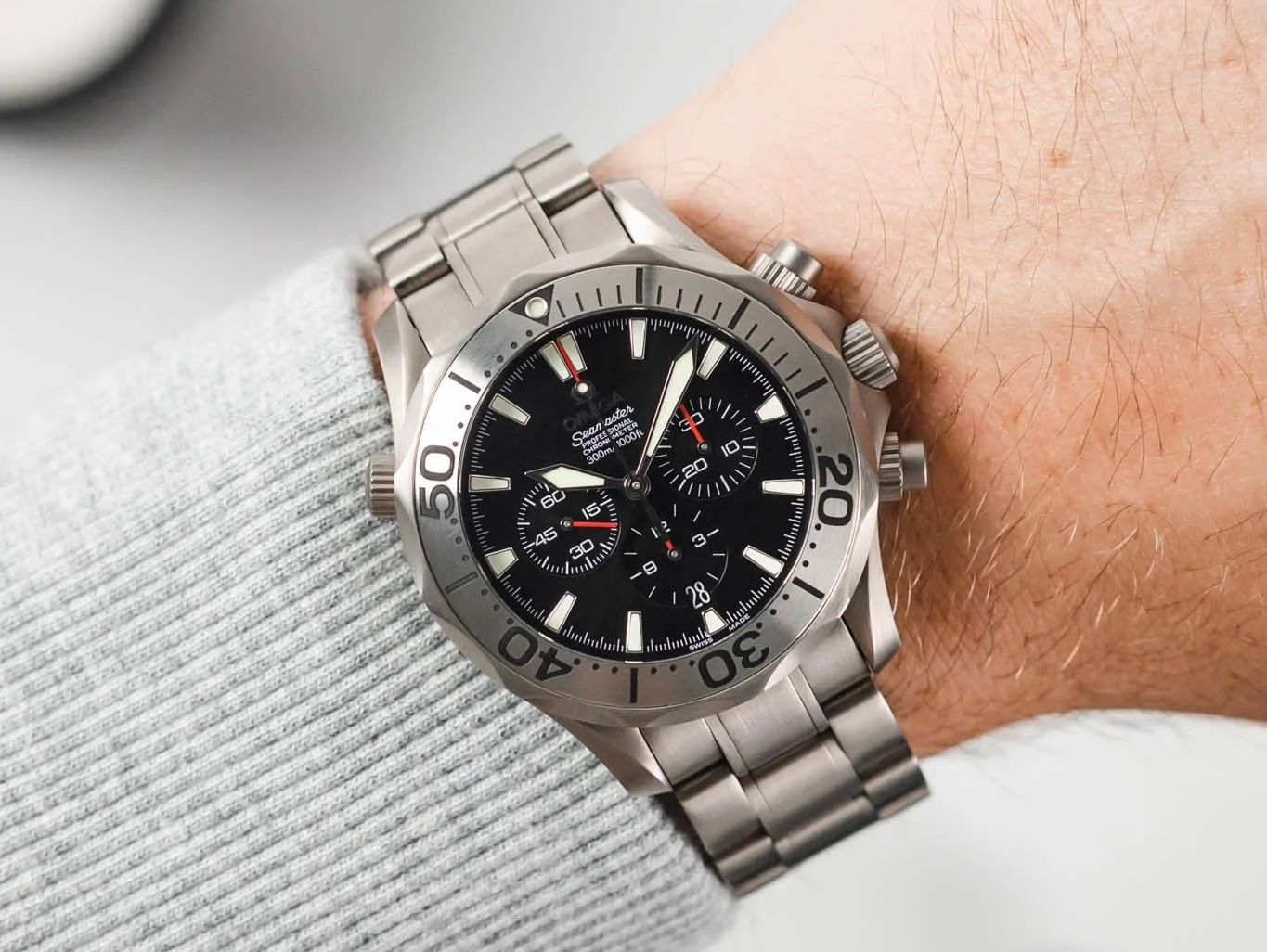 The brushed titanium bezel, the Speedmaster style bracelet, and the light overall weight, combined with beautiful dial with white gold furniture makes this an exceptional watch and in my view the pick of the litter.  
The second generation titanium is subtle, beautiful, practical, reliable, and impeccably finished at a very reasonable price for the quality of watch on offer.  Few watch brands make titanium watches as well as Omega and none in the diver's chronograph realm, it really is hard to go past this model for any of the others.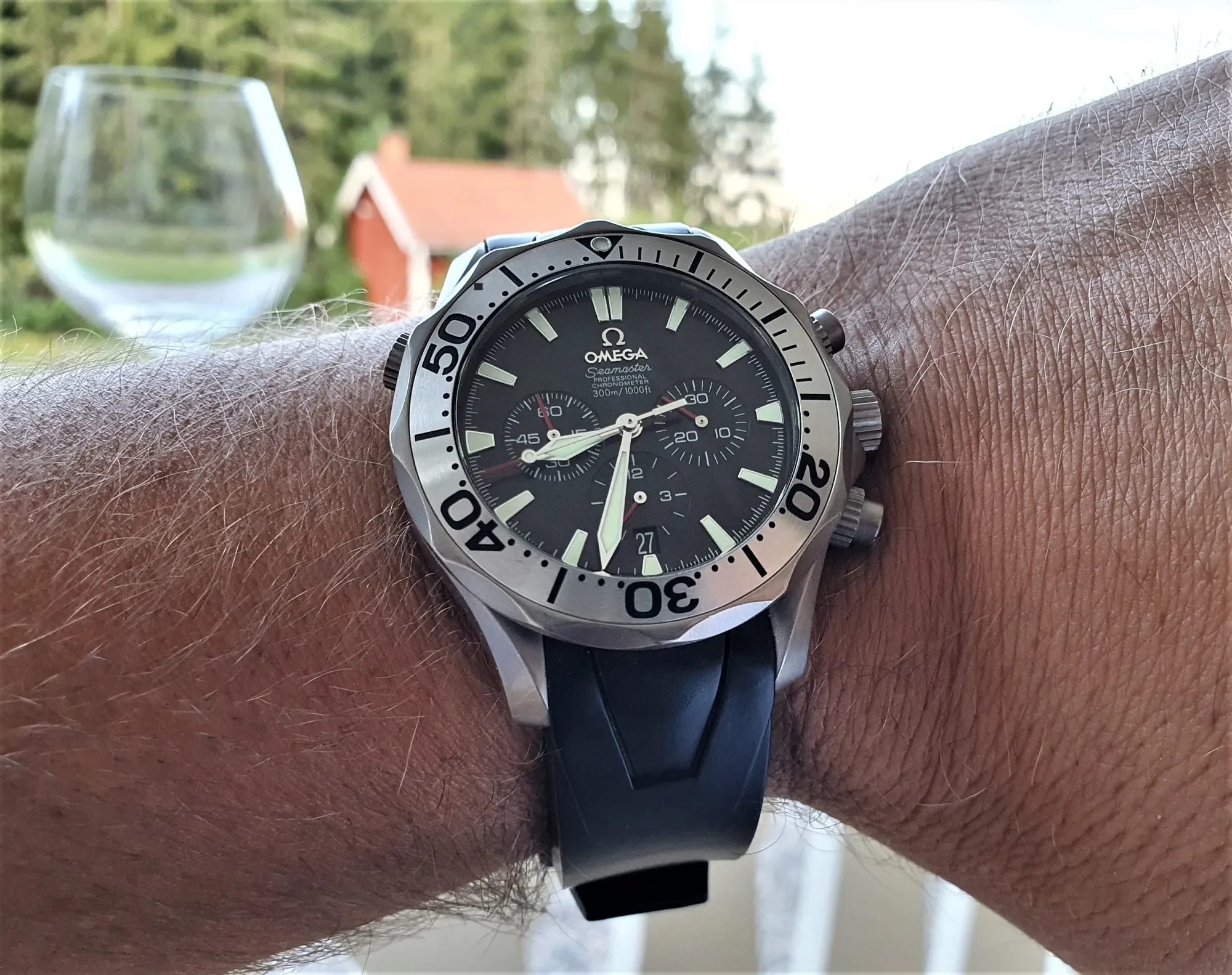 There are four versions again in total, a standard version on bracelet, Ref 2293.52, an AC dial version on bracelet, Ref 2293.50, a standard version on strap, Ref 2993.50.91, and an AC dial version on strap, Ref 2993.50.91.
Once again, this really is the one most people would and should want.
Titanium & Rose Gold
The titanium & rose gold is the spiritual successor to the beloved Ti-Tan-RAu of the first generation and while it isn't an unattractive watch, it comes a little short of filling its predecessor's shoes.
Firstly, although advertised as titanium & rose gold this watch is technically Ti-Tan-RAu, it does use a very small amount of tantalum, but only in the bezel outer ring so it isn't easy to see much of this blue hued metal and how it contrasts with the gold and titanium other than from the side profile.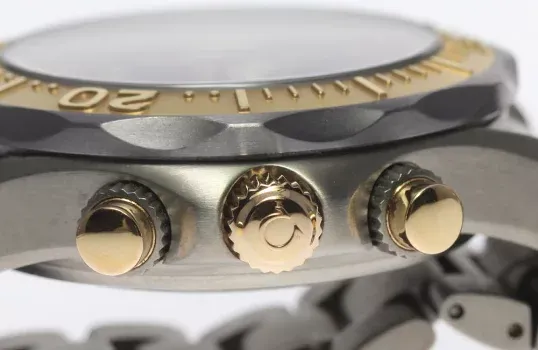 Secondly, the tri-metal design only extends as far as the watch head and does not continue into the bracelet.  Now it could be argued that the Speedmaster style bracelet doesn't lend itself to multi-metal designs as well as the prior Bond bracelet, but it doesn't really come across that way.  It feels a bit like an oversight or even worse, a cost saving on a watch that should not have any such thing.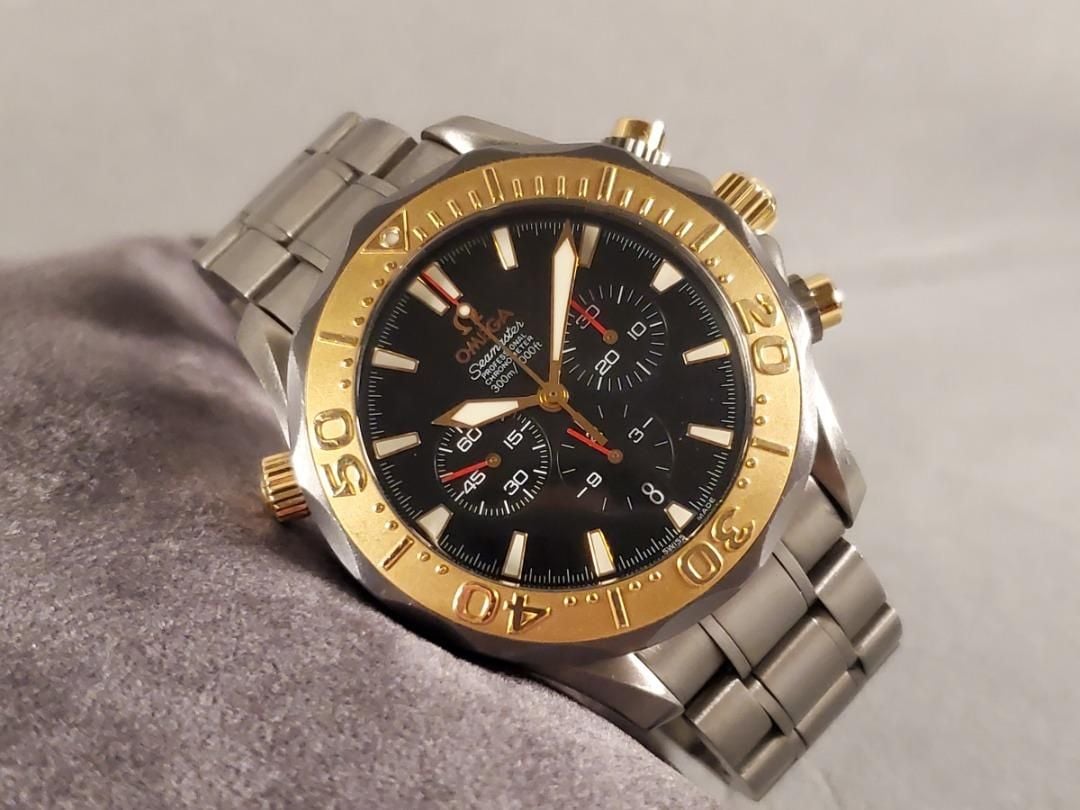 There are some beautiful pictures taken by owners of these watches and they do look spectacular, especially the dial.
There are two versions of the titanium & rose gold, the standard version on bracelet, Ref 2294.52, and the AC dial version on bracelet, 2294.50.  
Olympic Editions
The two Olympic Games editions are non-limited in numbers and are nearly identical to each-other while being extremely unusual compared to all other second generation Seamaster Pro Chronographs.
Firstly, instead of the usual dial with applied indices and text, these editions both have a black lacquer dial with painted Breguet numerals for hour markers, and a giant red vintage Omega logo at the top.
The bezels are largely the same as the steel version with a black painted insert and the sword hands remain.
The 2004 version of the watch is part of the "Olympic Collection" and has a standard second hand with an older style first generation wave pattern case-back that has the Olympic rings logo off to one side.  This 2004 edition carries the reference 2894.51.91.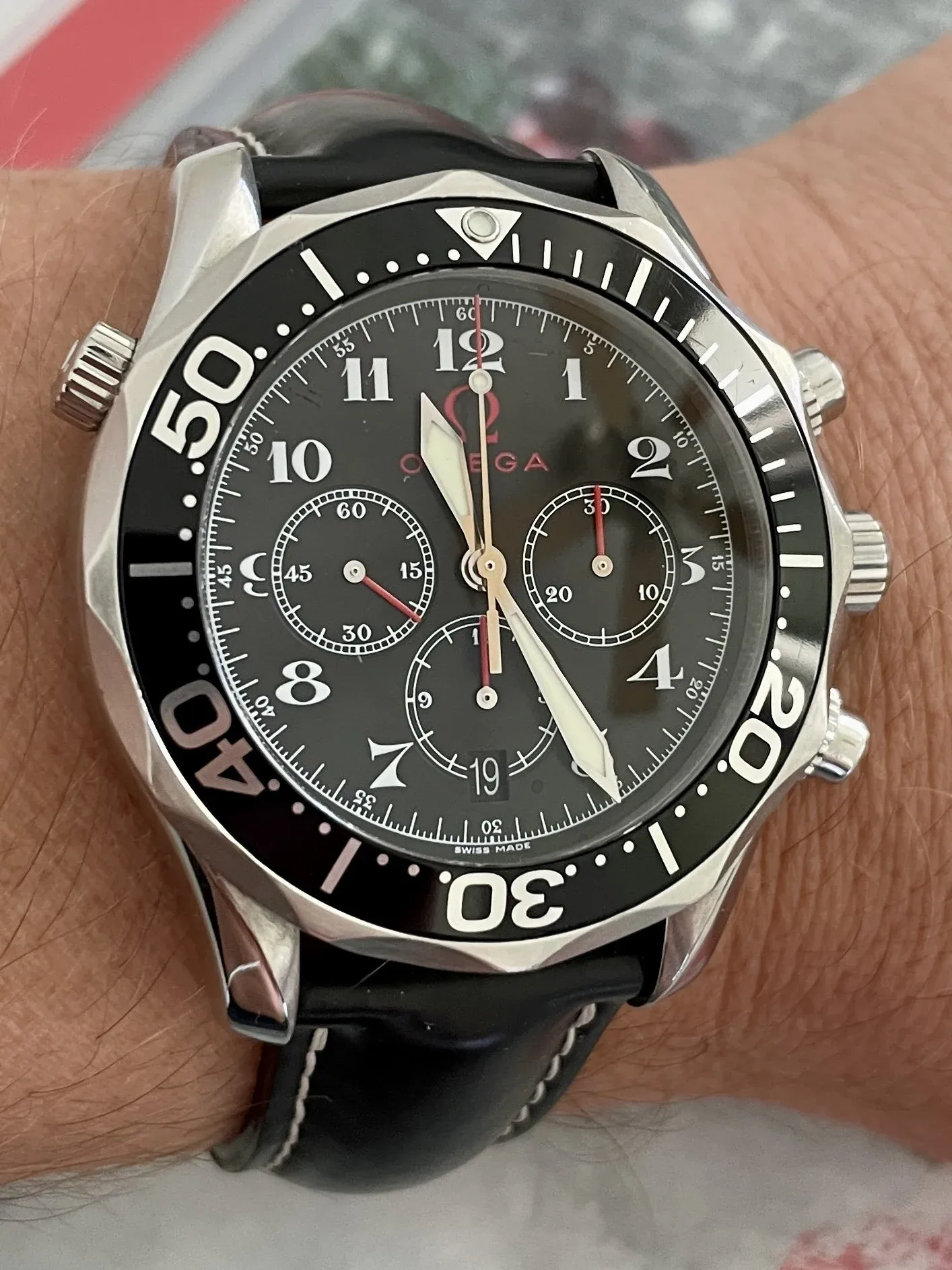 The 2008 version of the watch is part of the "Olympic Timeless Collection" and has a modified second hand with the Olympic rings as the counterweight, and a case-back with the large Olympic rings in the center, "Omega" at the top, and "Official Timekeeper" at the bottom.  This 2008 edition carries the reference 2896.51.91.
Buying
The second generation Seamaster Pro Chronograph hit shelves with an increased price tag over the first when new as a result of the many improvements and innovations.  That was a fairly significant difference when new, but all of these years later the price difference has shrunk to almost nothing.
The magic number tends to be around $3,000, with steel versions dipping slightly under that in nice condition, and titanium versions being around that or very slightly above.  This puts the first and second generation roughly within a couple hundred dollars of each-other, especially the titanium model.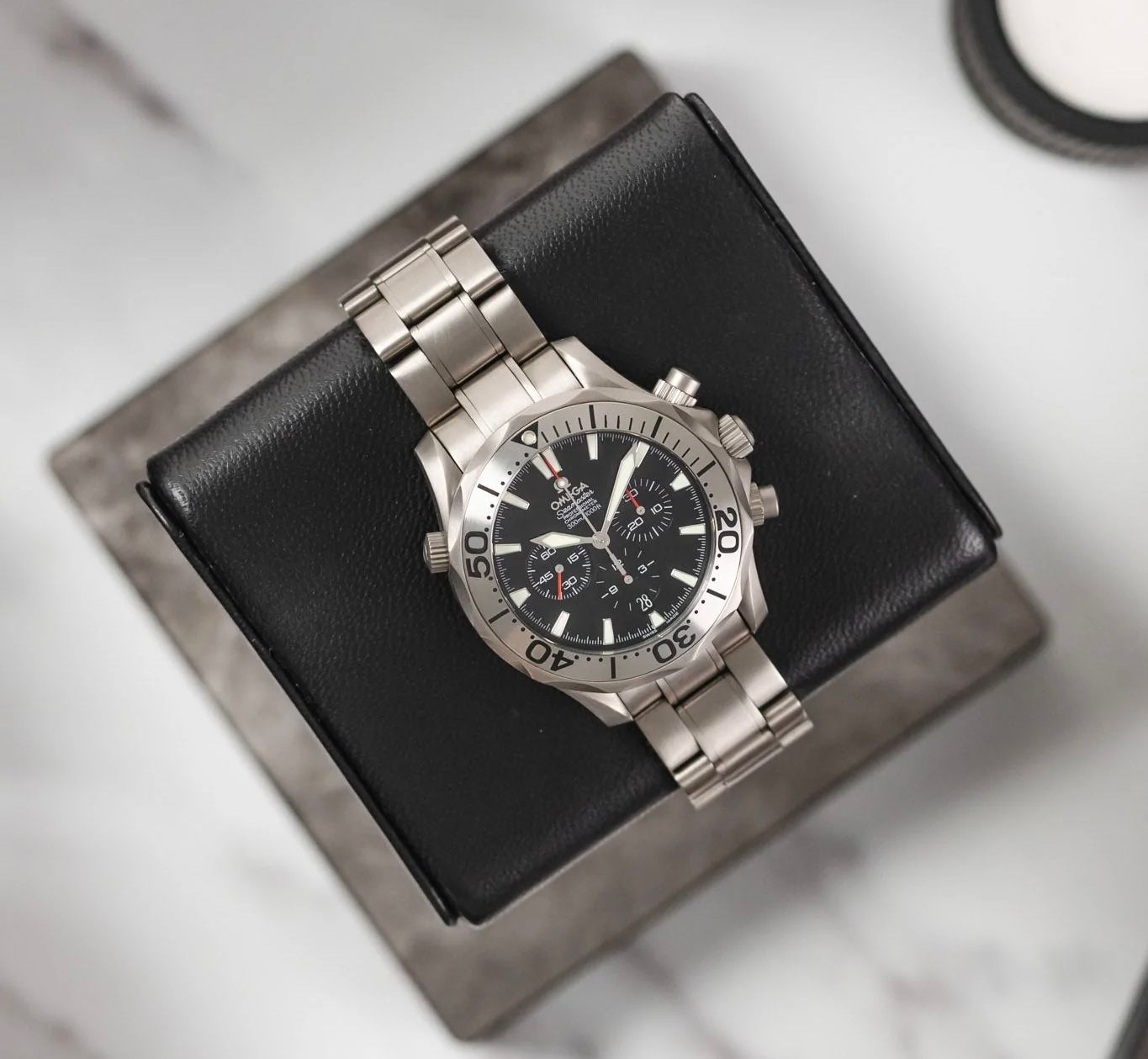 At that price range, even factoring in the cost of a quality service, these watches are superb value and well worth owning, with the titanium on bracelet being at the head of the pack.
The rose gold & titanium is very uncommon, especially the Non-AC dial version of it which is extremely difficult to even find an example of.  These watches go for $4,000-$5,500 which is higher than the first generation Ti-Tan-RAu.  That makes for a very difficult decision as many would likely prefer the original to the second generation in this case.
The Olympic models are going to be very subjective, if you've been to the games in a given year or even competed it will have a special meaning to you and these watches are just as good as the steel models but with a unique twist.  Prices can vary a lot as there aren't many in circulation but given there aren't many buyers either I would expect prices similar to or slightly above the steel models.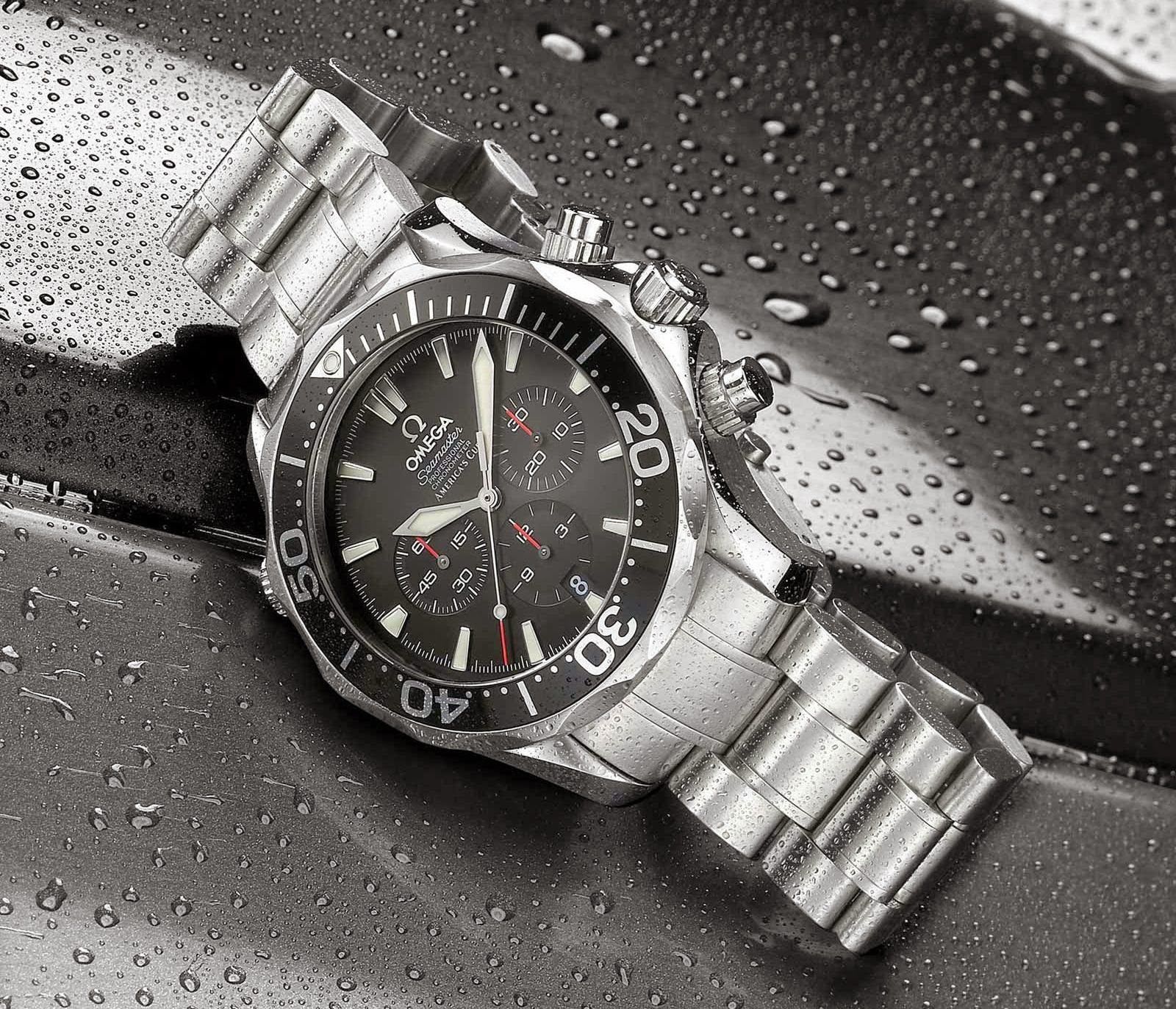 It should be noted that the bracelets for these watches are extremely difficult to acquire on their own anywhere other than from Omega, and the titanium bracelets are extremely expensive, so avoid head-only examples.  Even if you are a non-bracelet person, you're better off buying one and keeping it for future resale or flipping it to off-set the cost of the watch.
For servicing, make sure you service the watch either with Omega themselves or with a watchmaker that you know has direct access to an Omega parts account.  Anyone without that access will not be able to apply the upgrades if needed or acquire any replacements for worn components on the Cal 3301/3303 easily.
At $3,200 or thereabouts, I would be hunting down a 2293.52 in titanium on bracelet in the best condition I could find, getting it serviced by my local independent for a few hundred, and enjoying it every day.
Discussion thread on Omegaforums can be found here: