Halo models within Omega's vintage watch lines are often a very costly affair, with Constellation Deluxe, Grand luxe, Seamaster Piepans, and Golden Seamasters commanding very significant premiums as the ultimate precious metal versions of highly desirable models.  This isn't necessarily the case however with the Geneve line, where an 18K gold, chonometer rated flagship reference exists, complete with uniquely special dials, a more elaborately designed and finished case, and a bespoke chronometer rated hand-wound movement, produced in limited numbers.  Normaly this would be a recipe for an extremely expensive watch that sparks bidding frenzys but this Geneve "deluxe" can be had for roughly the same money as a clean condition regular Constellation, making it a relative bargain through its obscurity.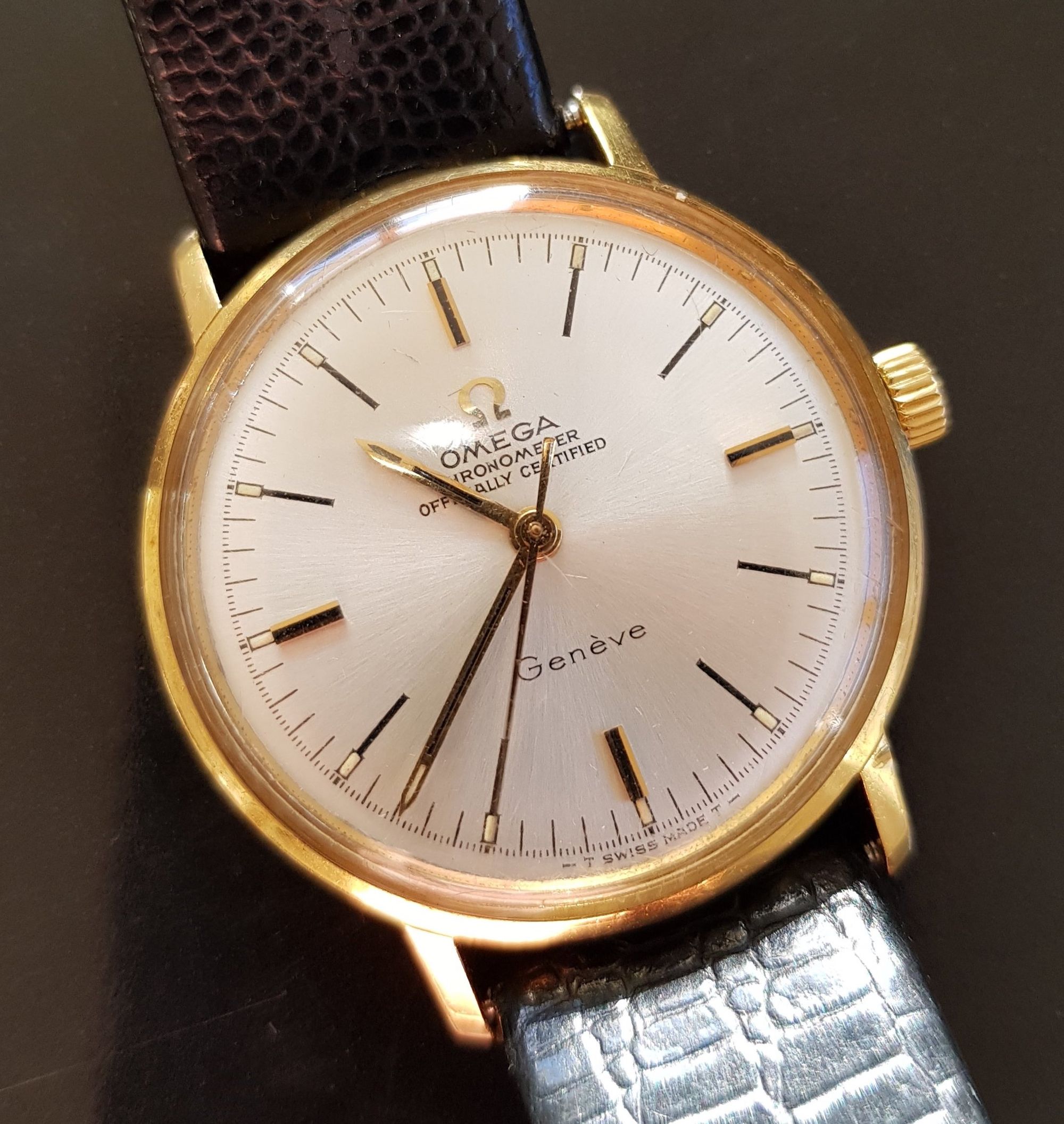 The Calibre 602 Chronometer movement
To say this movement is unusual is to put it lightly.  The Calibre 600 series are a line of manual-winding movements based on the highly regarded Calibre 550/560 series of automatic movements.  By removing the automatic winding system the movement is simplified, produced more affordably, and reduced in height ever so slightly at the expense of some convenience.  The Calibre 601 movement is typically found in entry level watches, Omega Geneves, some Seamaster DeVilles and watches of that nature that present an affordable yet high quality daily wear watch.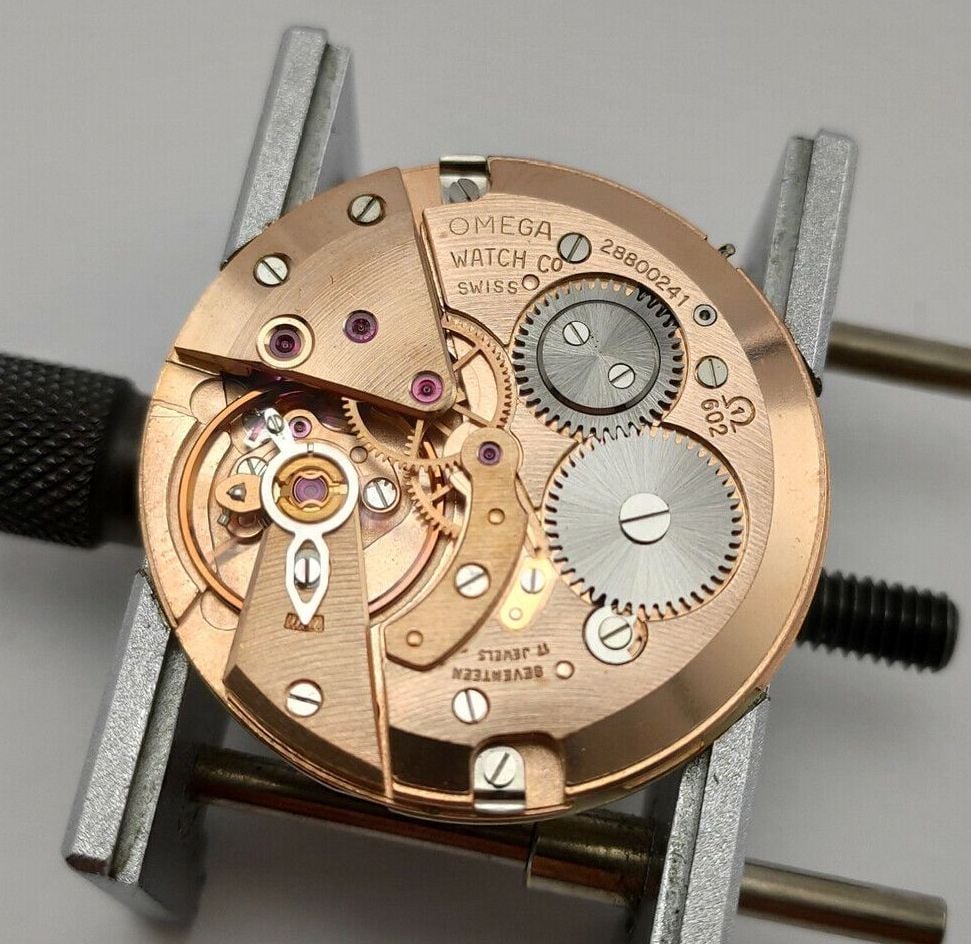 The Calibre 602 Chronometer's purpose couldn't be further from its near-identical non-chronometer cousin.  This movement was produced in remarkably small numbers, and used exclusively in 18-karat solid gold Geneves.  In fact, no other watch model or reference ever carried this movement other than the BA 137.001 Geneve.
The Calibre 602 is also the only member of the Calibre 600 series with a chronometer rating, there was never a date version produced, and it has been reported by Omega that total production amounted to no more than 4000 units.  The 602 was the first new hand-wound chronometer to be produced by Omega since the Calibre 30mm models of the 1950s, and was the last hand-wound chronometer until the similarly uncommon and unusual Calibre 864 in 1992.
A Shared lineage
The Geneve Chronometer's case reference of 137.001 is not shared with any lesser steel or gold plated variant, it is a unique reference all of its own.  What makes this even more unusual is that the Chronometer does not share the simple lines and flush edges that are commonly expected on a Geneve.  In fact the reference with which this model shares the most is a hybrid case reference, 135.019, which was alternatively branded as Geneve, DeVille, and at times with nothing at all.  It should also be noted however that the 137.001 is ever so slightly smaller than some other dress watches of the era at 33mm rather than the more common 34.5mm of vintage Omega dress watches.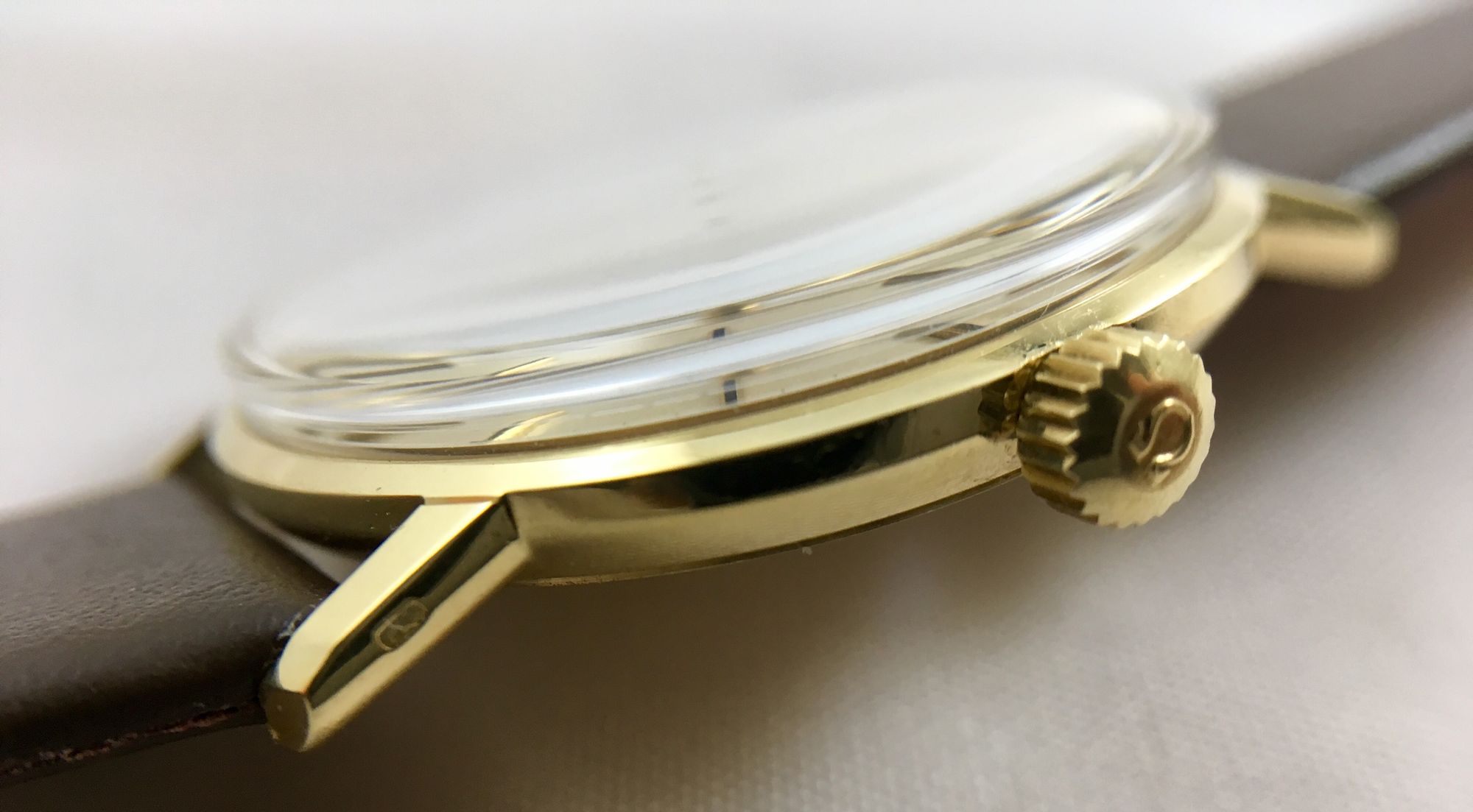 The 137.001 is a front-loading monocoque case, hence the "TOOL 105" marking on the caseback, and this is quite good news as these case designs have proven on the Seamaster DeVille line to have been quite effective for their era at maintaining good water resistance.  By eliminating the caseback as a separate component, the caseback seal is also removed as a means of potential ingress, leaving only the crown and the crystal.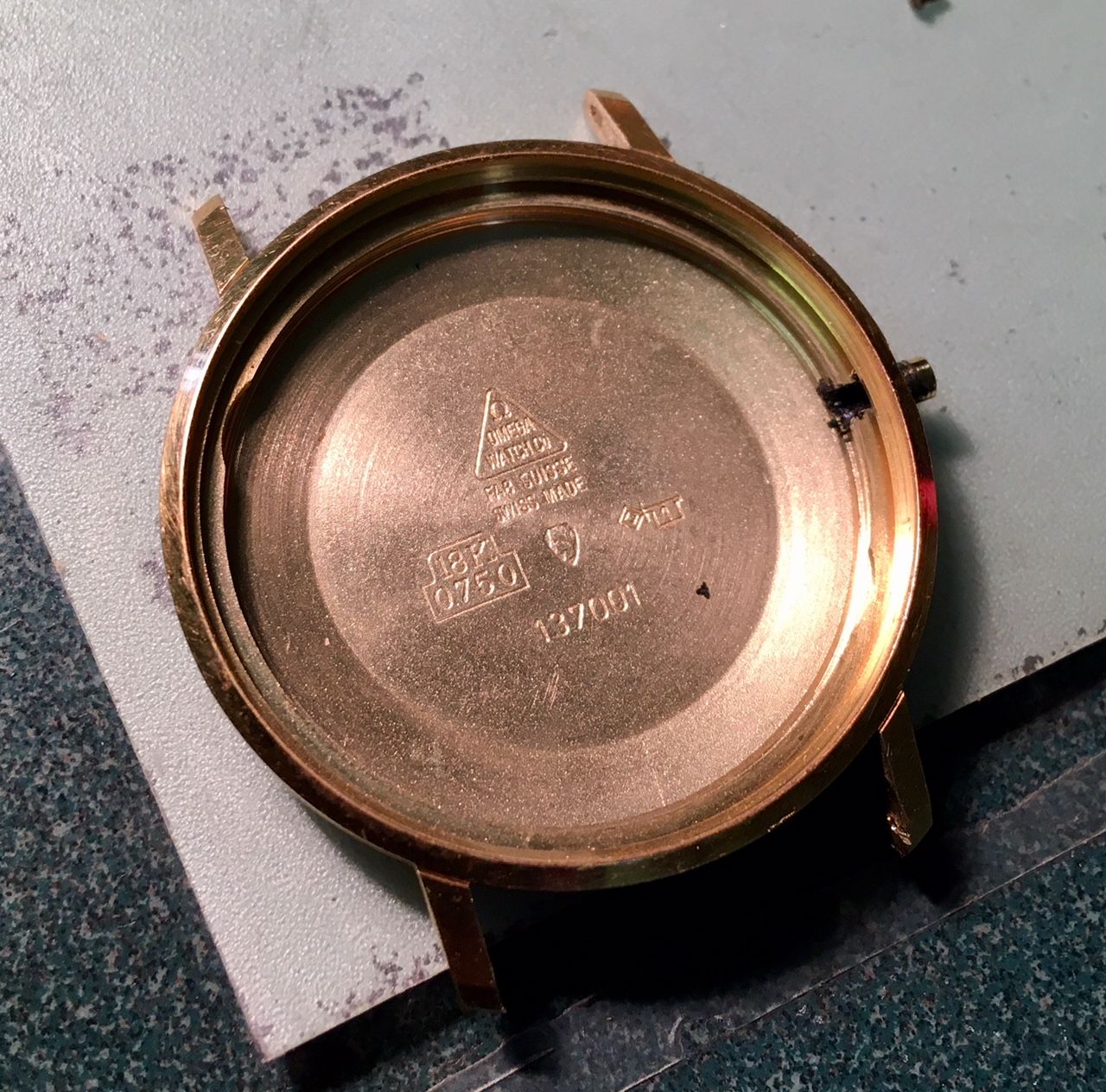 Due to this fairly water resistance design, dials and hands tend to be found in very good to excellent condition in most examples.  When buying, you should absolutely hold out for an original dial without visible patina, discoloration, lume loss or damage.  The case itself is more likely to be a condition issue as gold is always a soft material, prone to dents and scratches especially on the side of the case and around the lugs from strap changes.  Be aware that thin gold lugs, as found on the 137.001 can also be bent easily so it is important to ensure they are straight and undamaged.  As with most gold watches it is worth paying a watchmaker to do strap changes on a Geneve Chronometer to reduce the risk of damage.
Dial variants
There are three known dial variants of the 137.001, two tritium luminous and one non-luminous gold dial.  All of these variants have 18K yellow gold dial furniture and hands, however, there are rumors of the existence of white and rose gold examples of the Geneve Chronometer.  Although none have been photographed so far, this indicates the possibility of additional dial variants in white or rose gold either conforming the the overall design of the yellow gold examples or potentially different again.  If you do identify a new dial variant, or one of the theorized white or rose gold examples, please get in touch with photos!
Dial variant A:  Silver luminous dial with 12 hour markers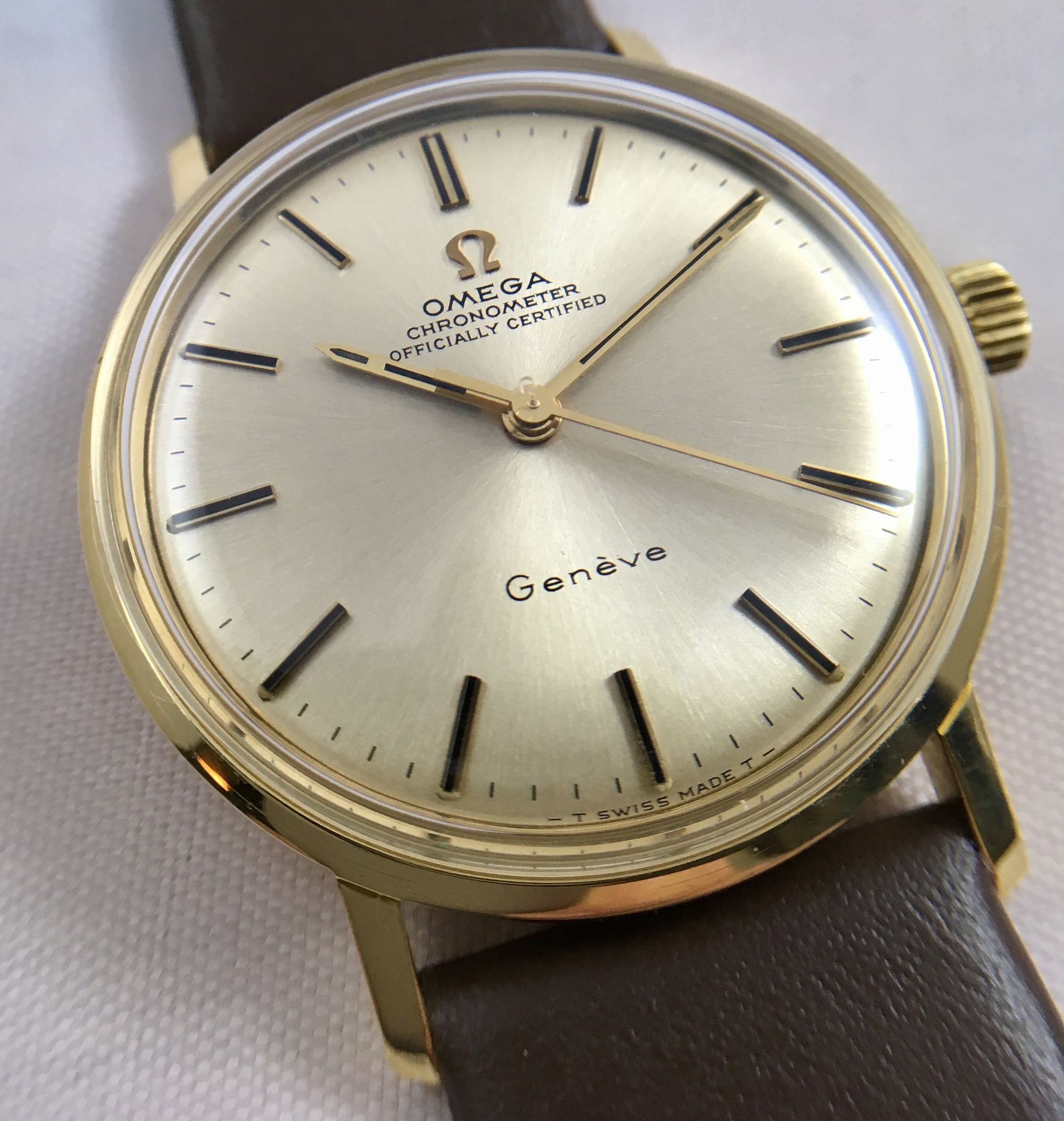 The most common dial is a silver tone with 12 equally spaced hour markers, each made of gold with an onyx inlay, doubling up at the 12 o'clock position.  Each hour marker has a dot of tritium lume at its outer edge and there are two Ts at the bottom of the dial flanking the words SWISS MADE with minute hash marks surrounding the rest of the dial.  This dial is paired with gold hands that have onyx inserts most of their length, with a shorter line of tritium luminous material at the tips of the hour and minute hands.  The Omega logo is applied in gold and the words Omega Chronometer Officially Certified appear at the top, in the typical position one would expect of a Geneve.
Dial variant B:  Silver luminous dial with 4 hour markers & sub-seconds
The second dial variant is more unusual and appears to be less common.  This dial is also a silver tone, but only features onyx inlaid dial furniture at 12, 3, 6 and 9 o'clock.  The remaining hours are marked by black painted indices, and all hour markers, both applied and painted are inset towards the center of the dial to allow for large rectangles of tritium lume on the outside of these indices, rather than the simple dot of tritium on the previous dial.  While this dial does also have the same pair of Ts flanking the words SWISS MADE at the bottom, it supplements minute hashmarks with four sub-second markings between each of them similar to the Seamaster 600 & Geneve "Technical dials".  This dial variant features the same gold hands with onyx inlay and tritium tips as the first variant.  The applied Omega logo, along with all writing on this dial is shifted towards the center to allow for the larger dial furniture and tritium lume plots, which makes the dial look visually quite distinctive compared to all other Geneves, including the first dial variant.
Dial variant C:  18K Gold non-luminous dial with four markers & sub-seconds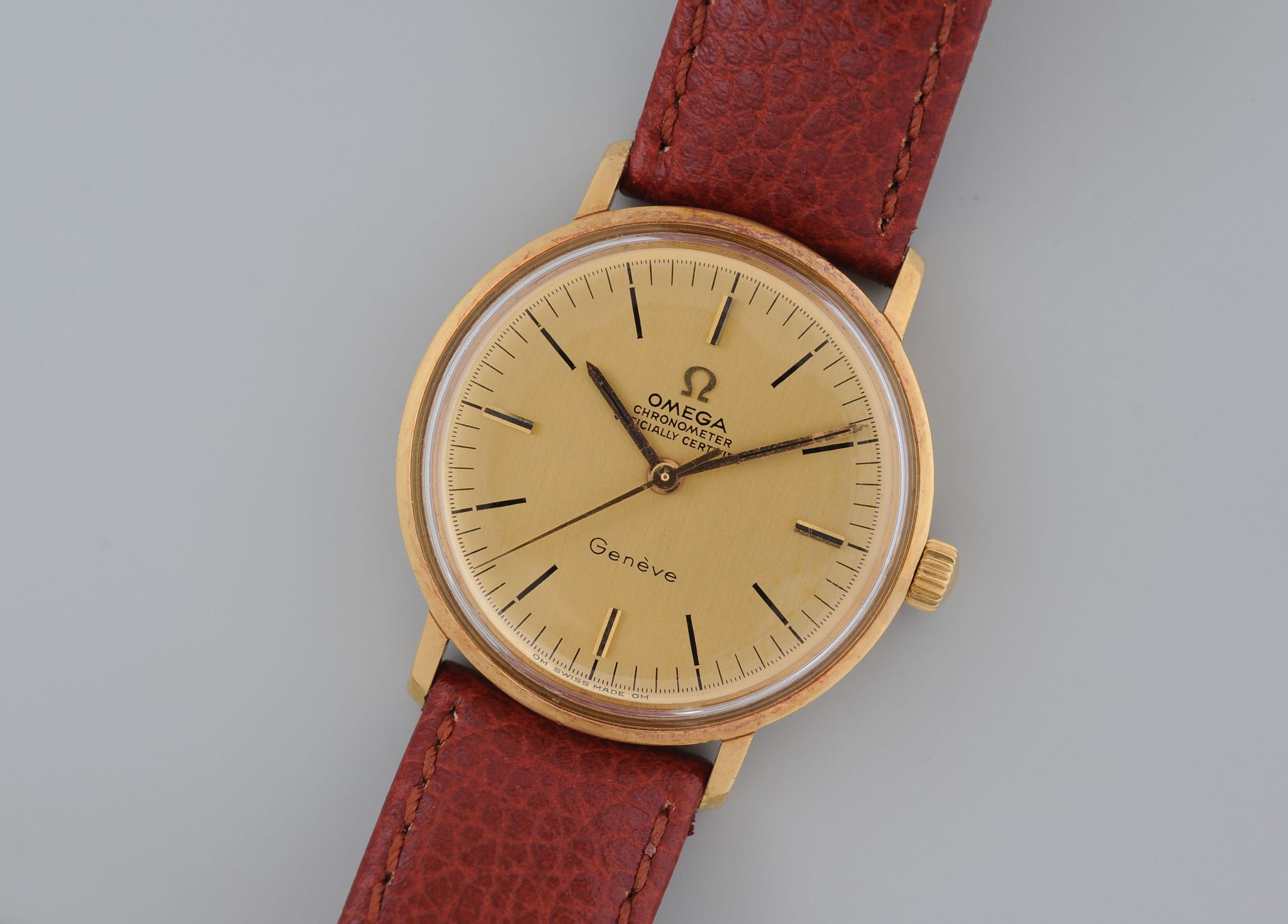 The third and final dial variant is the most unusual of all, and seemingly the least common.  This dial variant is a gold tone with a vertical brushing to it that gives it a lighter, almost matte look, and is not painted but is rather an 18K solid gold dial, sharing a similar layout to the second variant.  There four onyx inlaid hour markers at 12, 3, 6, and 9 o'clock, with painted markers for the rest as with the second variant, however while the inward positioning of these markers remains the same as the second variant, there is no tritium luminous material on this dial at all, with a simple black painted line taking the place of the rectangle of tritium seen previously.  Instead of a pair of Ts at the bottom indicating the presence of tritium, this dial has the letters OM flanking SWISS MADE at the bottom of the dial, indicating "Or Massif", French for Solid Gold.  This gold dial features minute hashes with 4 sub-second markings between them once again as with the second variant and the applied Omega logo and dial text also appears the same as in the second variant.  The final difference in this third dial is that it is matched with non-luminous hands, made of gold once again but with onyx inlay for the whole length and no tritium tips.
The example seen in "A Journey Through Time"
On page 479 of the Omega reference book, "A Journey Through Time" there is a Reference 137.001 pictured which most closely resembles variant A in this list, with the silver dial and no sub-seconds.  There are some issues with it however as the dial is marked with T SWISS MADE T at the bottom, as would typically be expected however there are not tritium dots on the hour markers of the dial and the hands non-luminous yet different again from the non-luminous hands found on examples of the solid gold dial variant.
Based on this, it is most likely that the example pictured in the book is not actually correct and shouldn't be considered a combination that came from the factory.
Buying and condition
The Geneve Chronometer was never made in particularly great numbers however due to a coalescence of fortunate features, the survival rate is very high for the era.  Accordingly there is every reason to expect to find an example in very good to excellent condition, and no reason to settle for any watch that has a damaged or refinished dial, an excessively polished or damaged case, or an incorrect calibre.  
The relatively water-resistant front-loading case protected these watches quite well from moisture so any signs of staining should be unusual and avoided as should any redials no matter how "professional" a job the seller may claim.  The tritium luminous material may still degrade and become unstable with time, but this isn't the end of the world to deal with.
The calibre 602 is a fairly trouble-free movement and their manual wind nature has resulted in many of these watches languishing in drawers and boxes rather than being worn daily for long periods.  Servicing should be quite cheap as long as the movement is the correct calibre, and is free of damage or corrosion.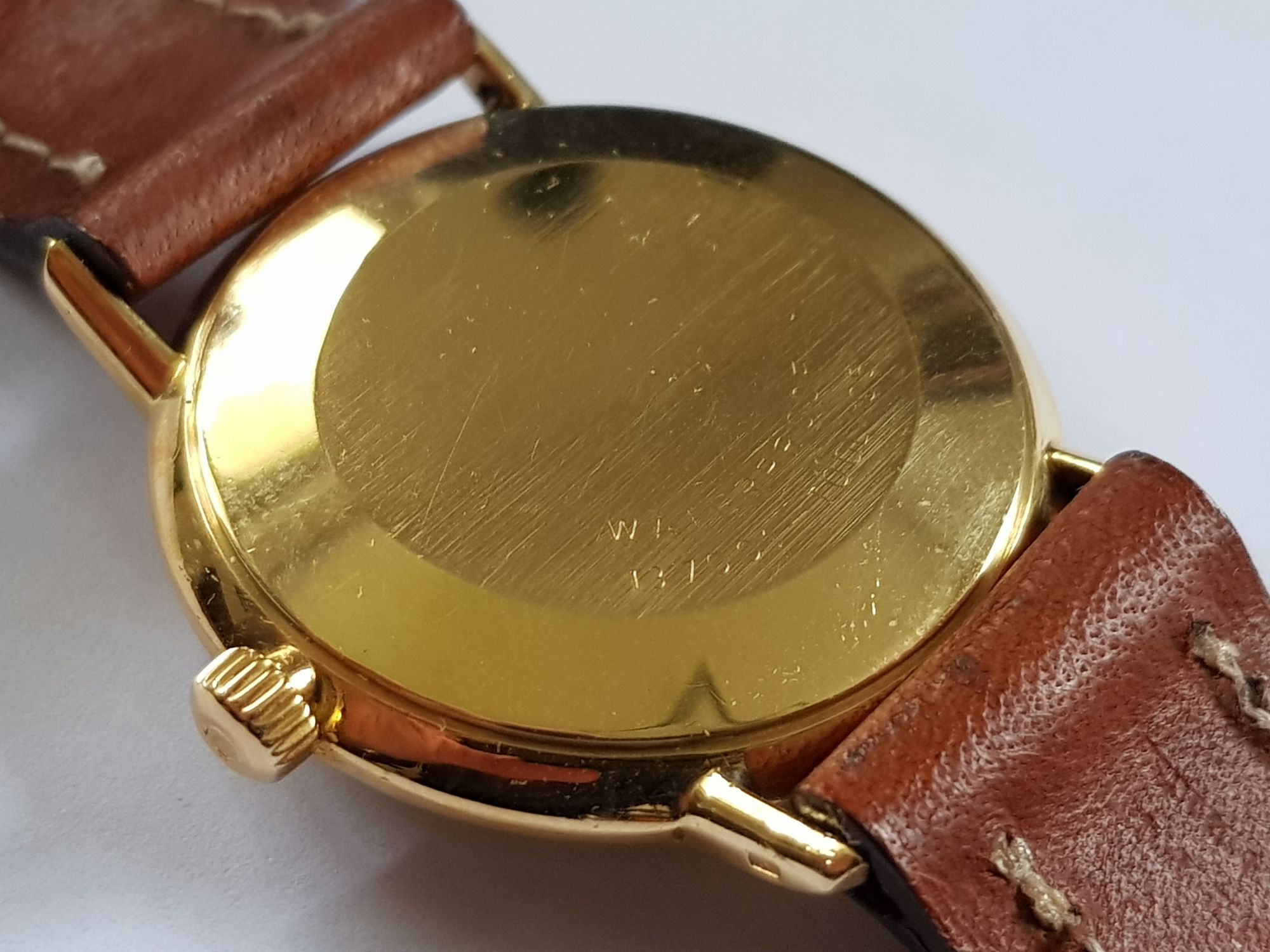 The case is soft, being 18K gold and the sharp edges of it will make it attract dents and scratches.  This is an unavoidable consequence of desiring a gold watch however there are plenty of examples in the wild that are in great condition so avoid anything heavily polished or with loss of its edges especially around the bezel and lugs.  The solid gold lugs, being relatively thin can also be victim to scratches and even bending as a result of careless strap changes or the installation of straps wider than intended, so try to find an example that has been well treated in this respect.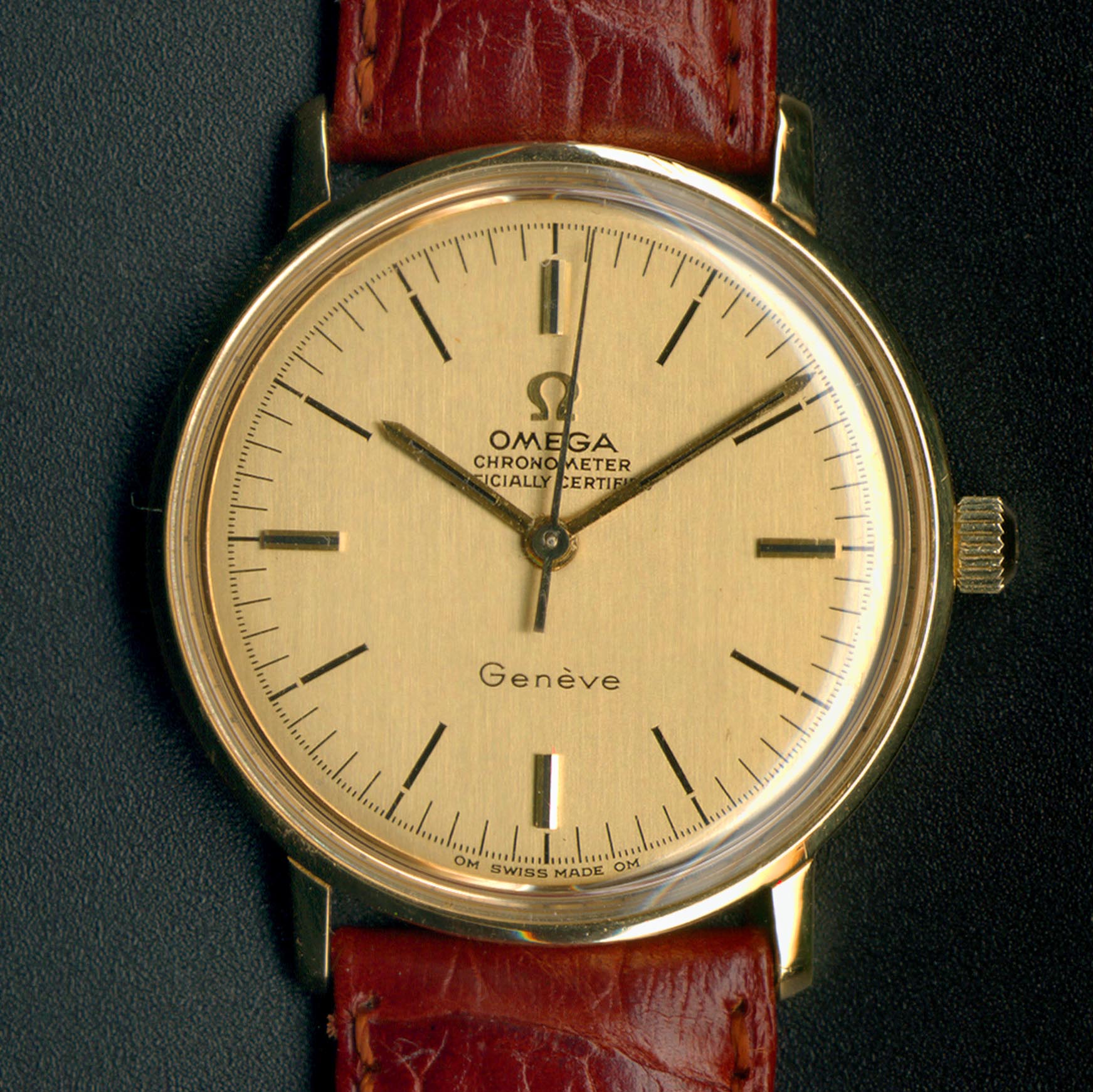 References and discussion
Discussion thread on Omegaforums can be found here:

Further threads about this topic can be found here: