The De Ville Byzantium is a watch often seen as a one trick pony with a quirky dial. The deliberate choice of one of the more special limited edition dials as the cover header image is to try to broaden minds and expose the full depth of beauty in this little known model line.
Two Very Different Designs in One Model
The Byzantium is an uncommon De Ville based off the Museum Edition No. 2 case design, and very similar to the De Ville X2 Big Date but in a slightly smaller case at 33.5 mm by 33.5 mm.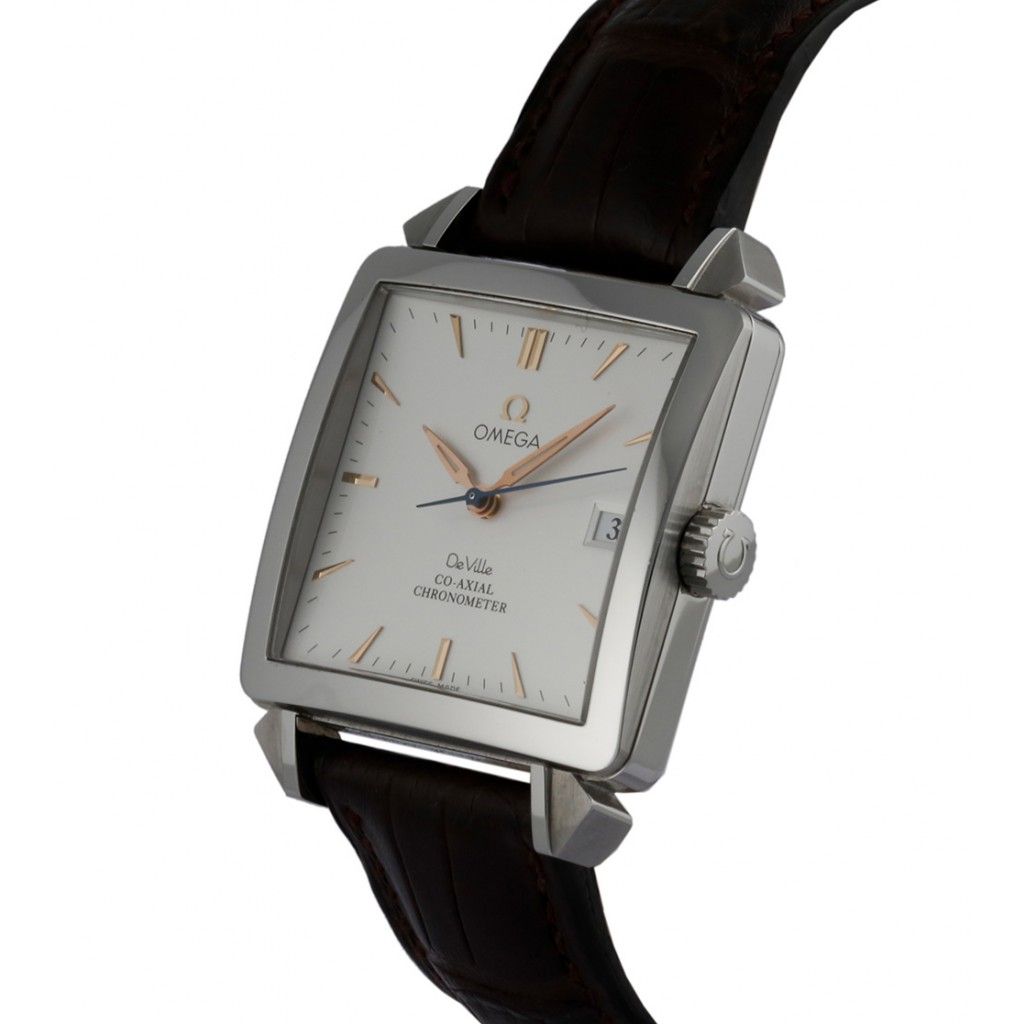 Like the De Ville X2 Big Date, the original Byzantium design is a rather polarising one, with the conspicuous mixture of Roman and Arabic numerals on the dial leading to the name.  Byzantium is the ancient name for the city which became Constantinople and later modern-day Istanbul in Turkey.  As the meeting point of East and West, the city, like the Byzantium watch design is a melting pot of cultures, languages and ideas.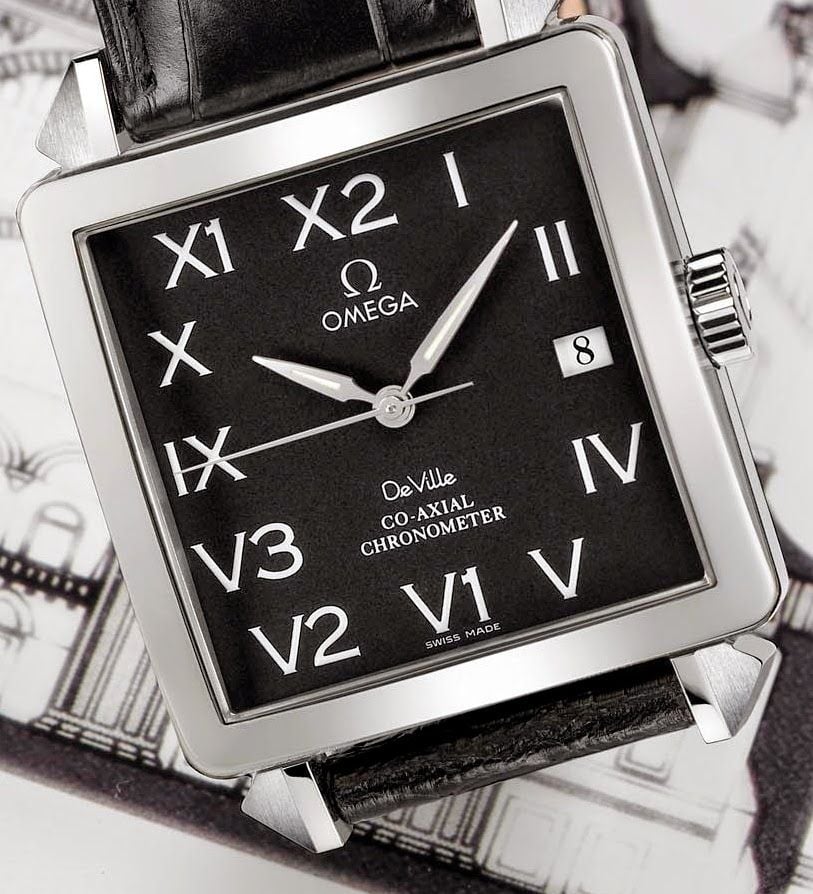 While the Byzantium name is tied to the original dials launched on this model, what is less known is that the Byzantium did double duty for Omega, as a vintage styled platform for some of the most beautiful modern limited edition watches made by the brand.
Omega produced no fewer than four unique limited editions, which entirely eschew the Byzantium theme in favor of vintage 1950's styling.  These watches are largely unknown and undocumented with few if any appearing in the west in the near 20 years since their launch.
Even better for collectors, while most small production limited edition Omega's with beautiful styling tend towards precious metals, the Byzantium LE family is available only in stainless steel, and at a very reasonable price point.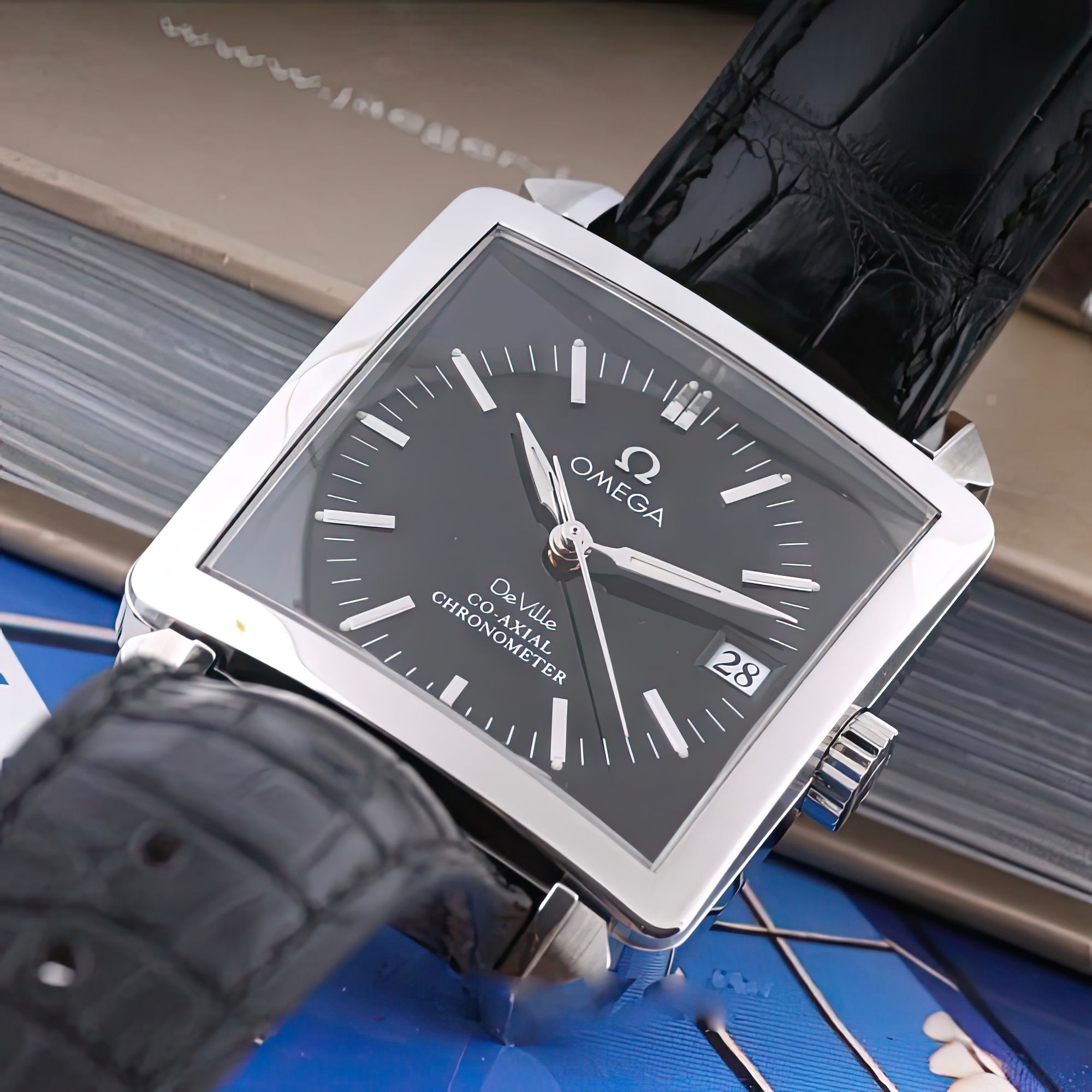 These limited edition models give the Byzantium an entirely different personality and style, one far more universally appreciated than the regular dials yet their lack of exposure has kept them a relative secret in the Omega collecting world.  The difficulty is in knowing what to look for, what references they bear, and where to begin hunting for these rare modern Omega watches and this is we will try to address.
Case & Strap
Like the De Ville X2 Big Date, the Byzantium square case design came after the popular Museum Edition No. 2 Cosmic 1951, an was heavily inspired by the vintage model CK 3903.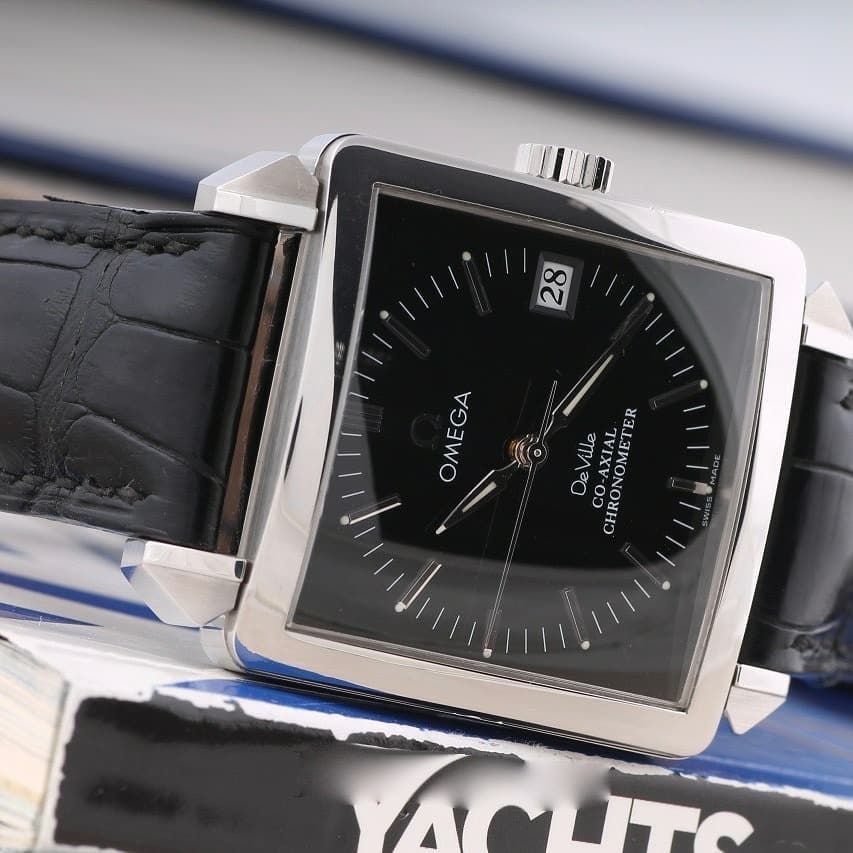 The slightly smaller case size at 33.5 mm on the Byzantium perfectly matches the original CK 3903 case size, and can be considered the most faithful modern reproduction of that vintage case.  Like the Museum and X2, the Byzantium maintains the modern 50 meters of water resistance, making these watches genuinely practical for everyday use.  
The original vintage square case models were produced in an era before decent water resistance, which is why there are few good surviving examples and those that exist are valuable and must be worn carefully.  This is the great benefit of the Byzantium, it gives the ability to daily-wear an unusual Omega with an authentic vintage feel that would otherwise be impossible.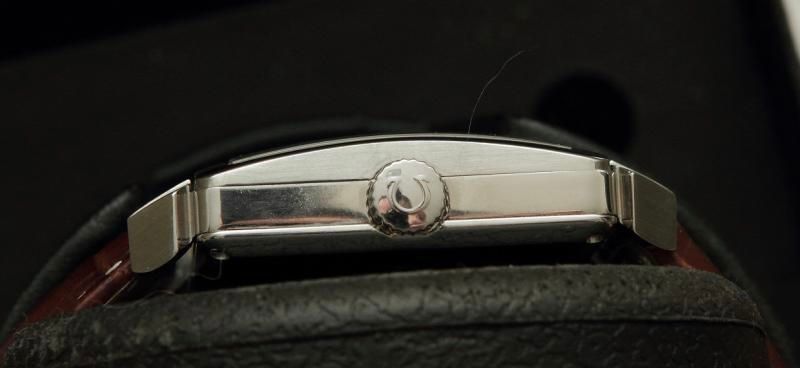 The case design is identical to the other modern square case models, and it is worth watching this video of an X2 Big Date being serviced to appreciate how the watch case goes together.  Effectively there is a mid-case which is the central brushed band seen side on, which acts as the meat in the Byzantium sandwich.  The crystal is placed atop this and held in place by a bezel from the front, and a case-back from behind.  The case-back and bezel are screwed firmly into each-other by four screws from the back to complete the sandwich and hold the case together.
Due to the complexity of how this case is assembled and the need for it to seal correctly when re-assembled to ensure water resistance, it is highly recommended that you do not attempt it yourself.  Leave opening these watches to a professional qualified watchmaker.
While the case has been shrunk on the Byzantium, this is still a large watch on the wrist due to the square shape and wears more like a 38-39 mm round watch in terms of wrist presence.
The lugs on the Byzantium preserve the 20 mm width of the De Ville X2 Big Date, which is excellent as this strap width opens up a very wide world of statement strap options as well as interesting aftermarket bracelet options.  The factory straps are all alligator leather and fitted to a stainless steel single-fold Omega deployant clasp.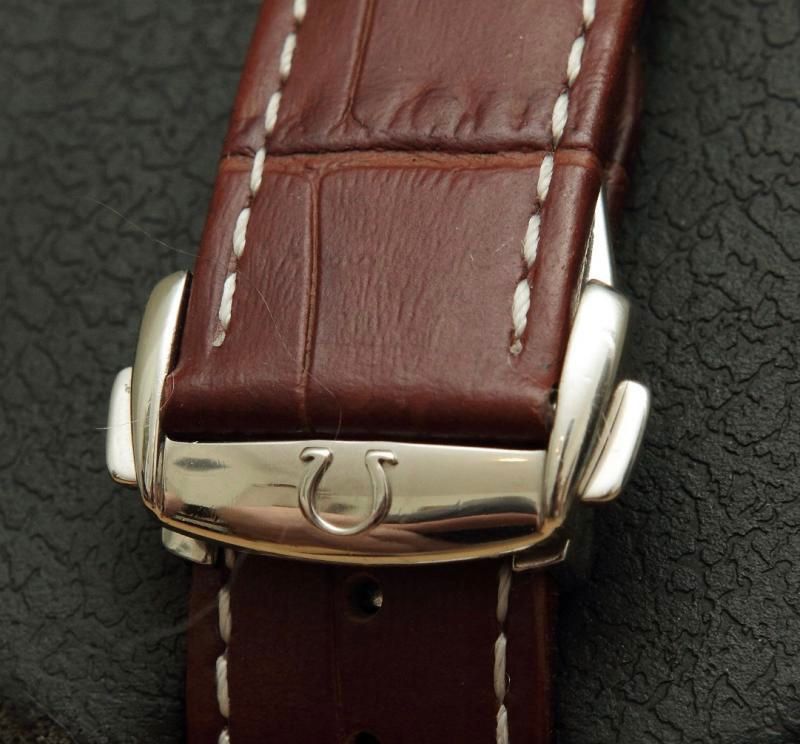 Movement
The engine powering the Omega De Ville Byzantium line is the Calibre 2500, specifically the later production Calibre 2500C with reduced beat rate.
These movements were produced for a very long time, since first appearing in the late 1990's and were used in the majority of Omega's models over the following decade.  The particular advantage offered by the Cal 2500 is that while it is an accurate chronometer rated movement, it also fits into a very small footprint being just over 25.6 mm in diameter and an impressive 4.1 mm thick.  This comes in particularly handy with the reduced dimensions of the Byzantium case.
Both the C & D variant of the calibre oscillate at 25,200 vph as opposed to the 28,800 vph of earlier Cal 2500 variants and feature a 48-hour power reserve, up from 44 on the A & B variants.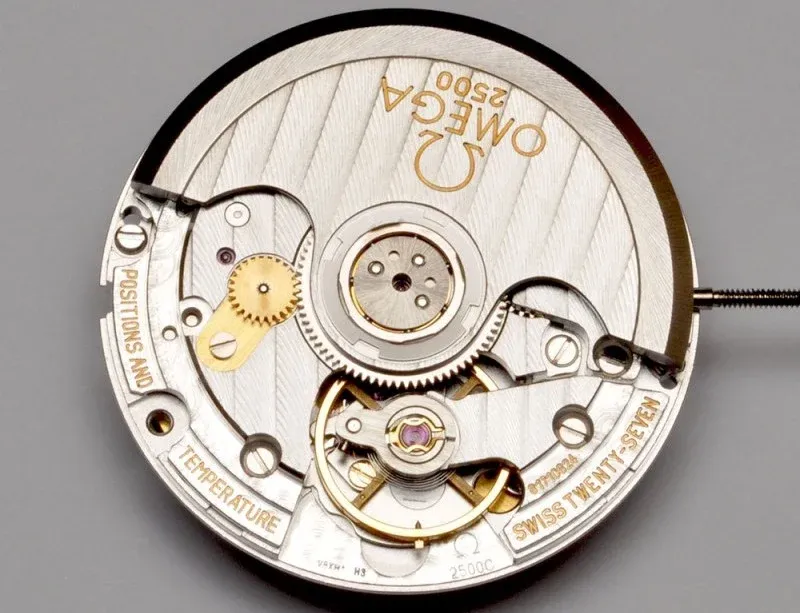 The key difference between the Calibre 2500 C & D variants is the design of the escapement.  The later Calibre 2500D movements utilise a 3-level co-axial escapement, which is actually the original design George Daniels intended for this escapement.  All earlier versions including Calibre 2500C utilise a 2-level co-axial escapement.  The two-level design was developed to keep thickness down as much as possible and unfortunately this compromise led to issues that required several attempts to address.
The ultimate solution for the Calibre 2500C movement was an upgrade package Omega developed with some new parts and new procedures to follow in servicing.  After this solution is applied, the movement stopping issue is effectively resolved to the extent that it will no longer be the limiting factor that brings the watch in for service.  All De Ville Byzantium models by now have either had at least one service or are overdue for a service, so it is likely that they either have this upgrade or will receive it when they are sent in.  Any qualified watchmaker with access to an Omega parts account will have the ability to apply this during service as will Omega if a factory service is sought.

While it is good to be aware of these issues that early Calibre 2500 movements had, there is no reason to be afraid of them by any means.  When fresh from a watchmaker's service, they will be extremely accurate, reliable, and dependable so spend the money to service your De Ville Byzantium and wear it without worry!
Variants
The Byzantium comes in three different dial styles, and four distinct families with almost nothing in common between them.  The difference in rarity and price can also be quite significant between models.
What they do have in common is everything other than the dial.  All cases are stainless steel, all watches come on an alligator strap with stainless steel deployant clasp, and all are powered by Calibre 2500C.  
Classic Byzantium
The most common dial by a massive margin is the classic black Byzantium, Ref 7801.50.31 with mixed Roman and Arabic hour markers.  There is no standard white dial, or any other non-jewelry model of the Byzantium other than black.  
The luminous hands are complemented by luminous hour markers which glow over the full numerals to make night time legibility quite impressive.  There is no applied dial surround, nor an applied Omega logo for a very flat and restrained look.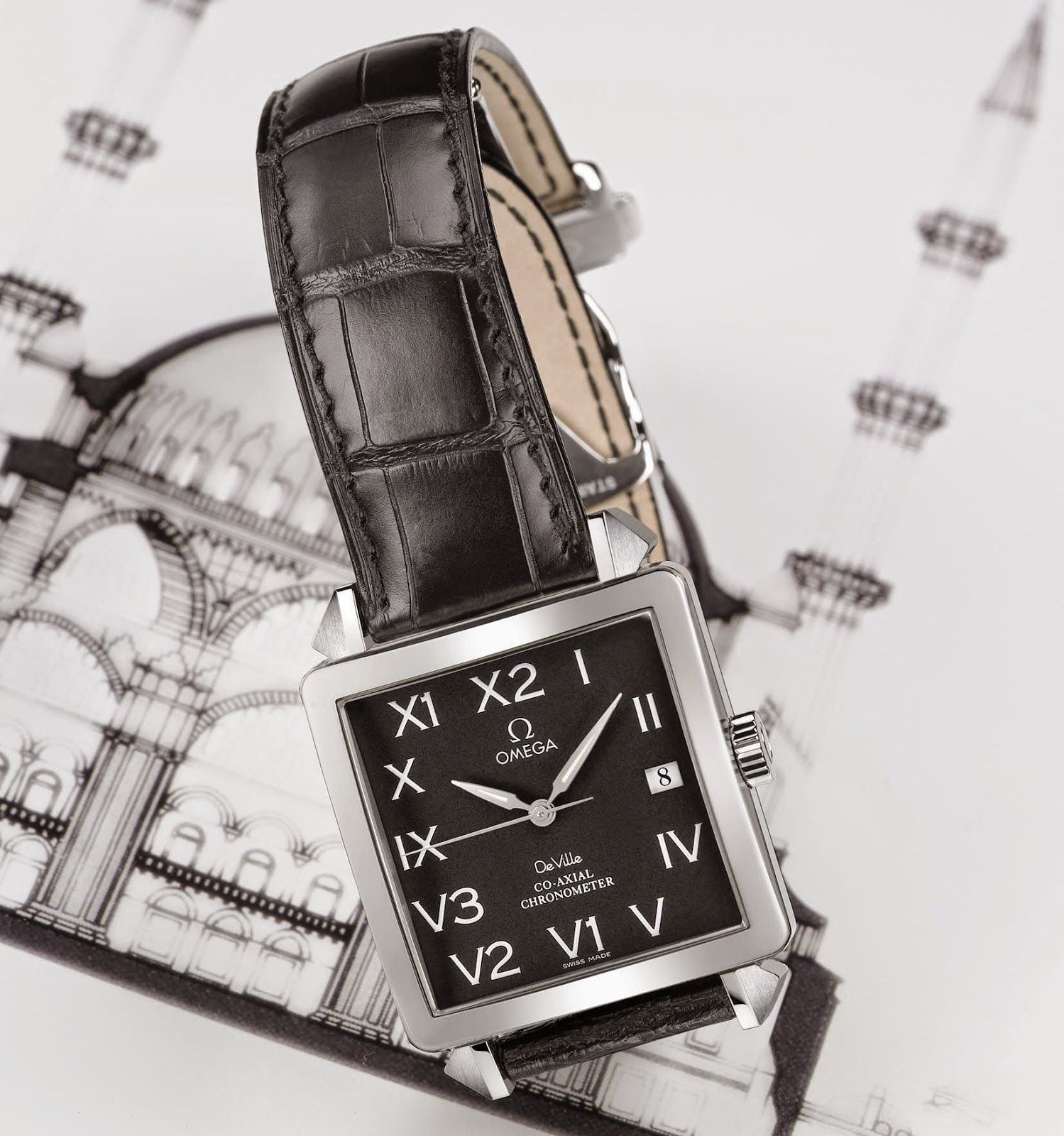 The alternate jewelry version of the classic Byzantium dial, Ref 7805.75.34 is very different and quite special, and very similar to the jewelry versions of the De Ville X2 Big Date.  The dial has a white mother of pearl base, although it can take on a variety of different colors due to every natural dial being unique.  The luminous hour markers are replaced by diamond set markers and a white gold Omega logo is added as well as a white gold date window frame.
In another nice touch, a jewel is added to the crown to further dress up this watch.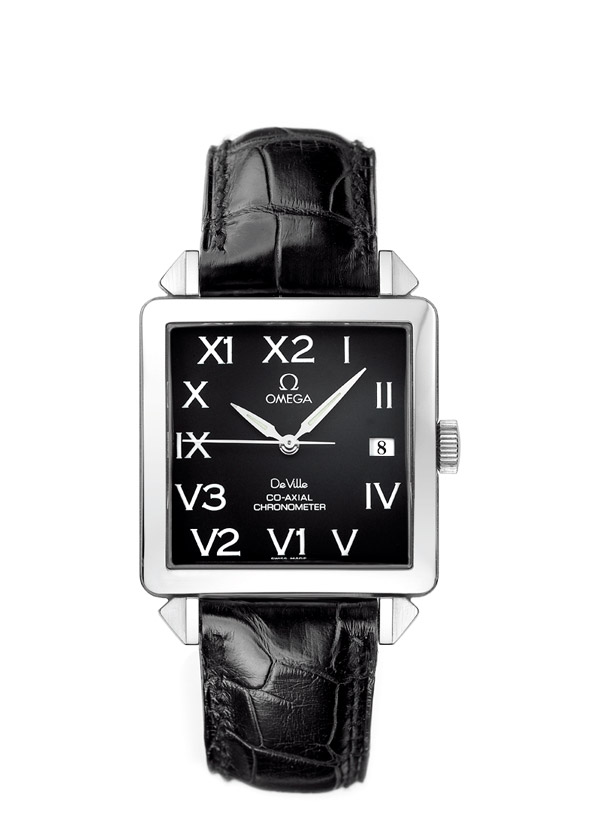 Vintage Style Limited Editions
The two vintage style limited edition dials are my personal favorite of the Byzantium collection.  While the Byzantium classic dial is polarizing and won't necessarily suit everyone, these dials are true to the original Ref 3903 vintage models and are quite objectively beautiful watches.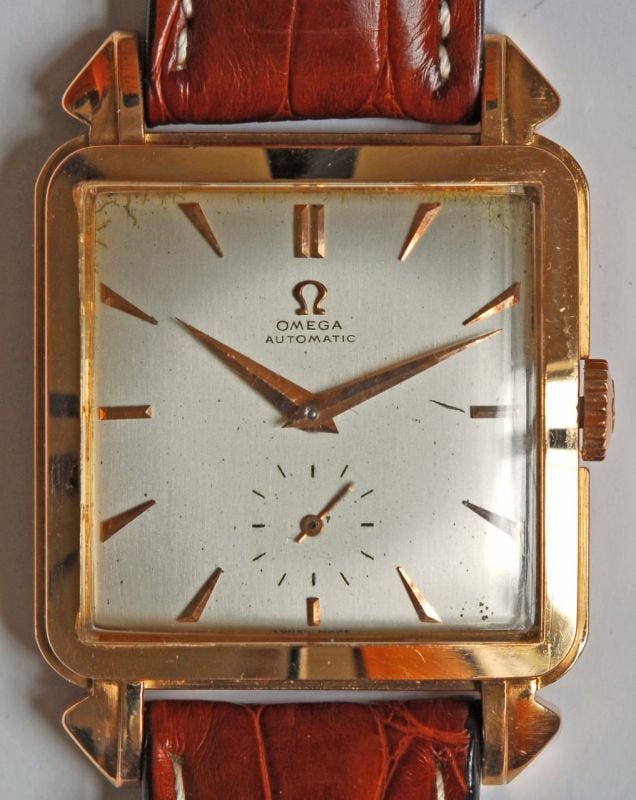 The first version is the gold furniture limited edition of 600 units total production, Ref 7806.30.32 with white dial.  This model is sometimes incorrectly also labelled as the 7806.30 with the final digits omitted.
It features a beautiful white dial with applied, alternating shaped hour markers in gold which very accurately replicate those used on the vintage 3903 pictured above.  Matching this is an applied gold Omega logo and matching gold luminous hands, although there is no luminous material on the dial itself.  
These watches were primarily sold in Asian markets with the majority ending up in Japan or China.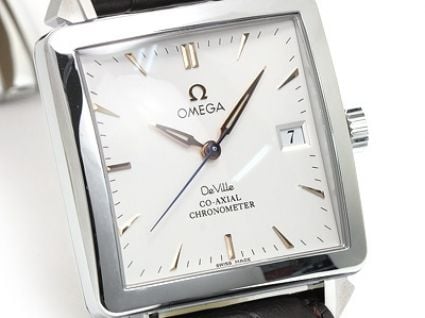 The second of this family, the otherwise identical white dial but with blue applied markers and hands, Ref 7803.30.32 is extremely rare.  This watch, also known as the Almada LE, is a limited edition of only 111 units for the entire world, produced as a tribute to the Portuguese artist José de Almada Negreiros.  
The rarity of this watch is such that even though we were able to track down some sales in Asia, and discussions of it on foreign language watch forums, there are no known good quality images at all of this watch.  Accordingly, we (or rather Trev) had to combine special image enhancement with some manual touch-up work to produce the image of the Alamada LE shown below.  
If you can find one of these, you are nothing short of a hero and will possess something of a unicorn in modern Omega terms.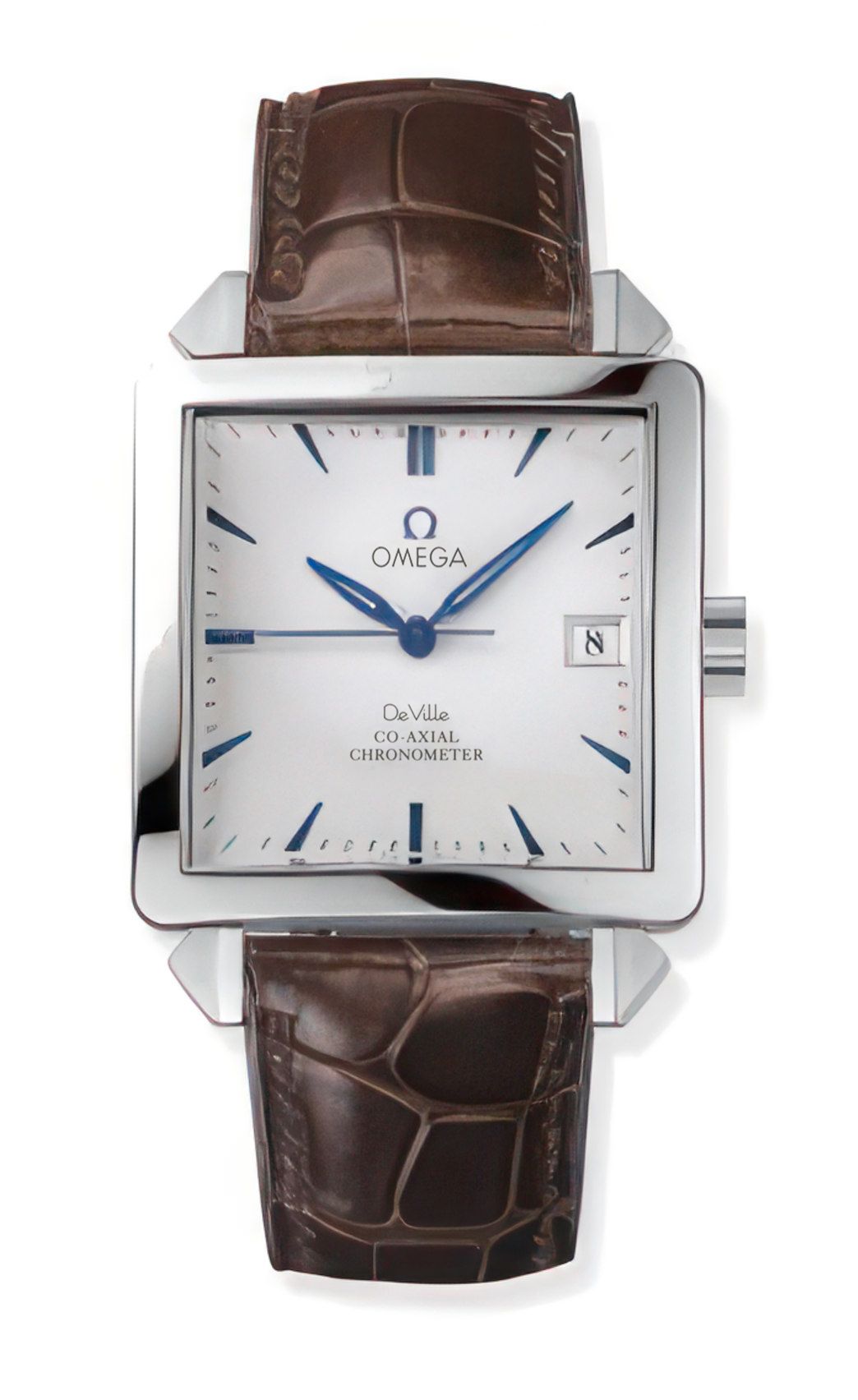 Russian Limited Editions
Both of the Russian limited edition models were released several years after the other Byzantium models close to 2010.  These watches, the silver/white dial, Ref 7802.30.32 and the black dial, Ref 7802.50.31 were produced in 150 units each, and sold primarily through Russian Omega boutiques.  While many did sell in Russia, it also appears a large number were sold into Asia, especially in Japan and China.
These two limited edition feature applied hour markers in a radial design, with radial second hashes instead of those that reach the outer edge of the square.  In this sense, the dials almost resemble a round dial painted onto a square dial.
There is a matching applied white gold Omega logo, and white gold luminous hands, with small dots of lume behind each of the applied hour markers on the outer edge.  
These watches both feature the limited edition number engraved on the case-back.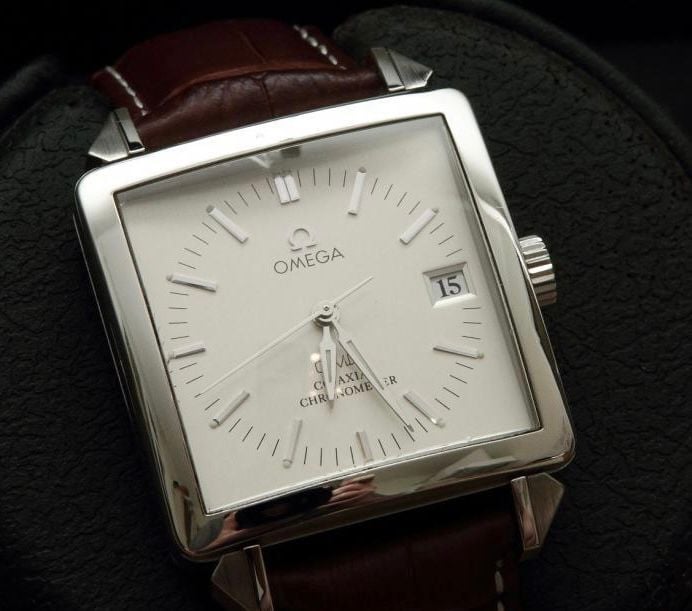 Buying
As with so many Omega models, the first decision is which model speaks to you the most?  
The classic black dial Byzantium is the easiest by far to acquire so if you're into it, a little patience will pay off with a terrific deal.  There are vastly more of these on the market than there are buyers, so waiting around for one to come up no reserve on eBay or another auction platform is the best approach.  You won't be bidding against many other people and will likely secure a very good deal, probably under $1,500.  For a vintage styled Calibre 2500 powered modern Omega, that's a hell of a deal if this watch suits you.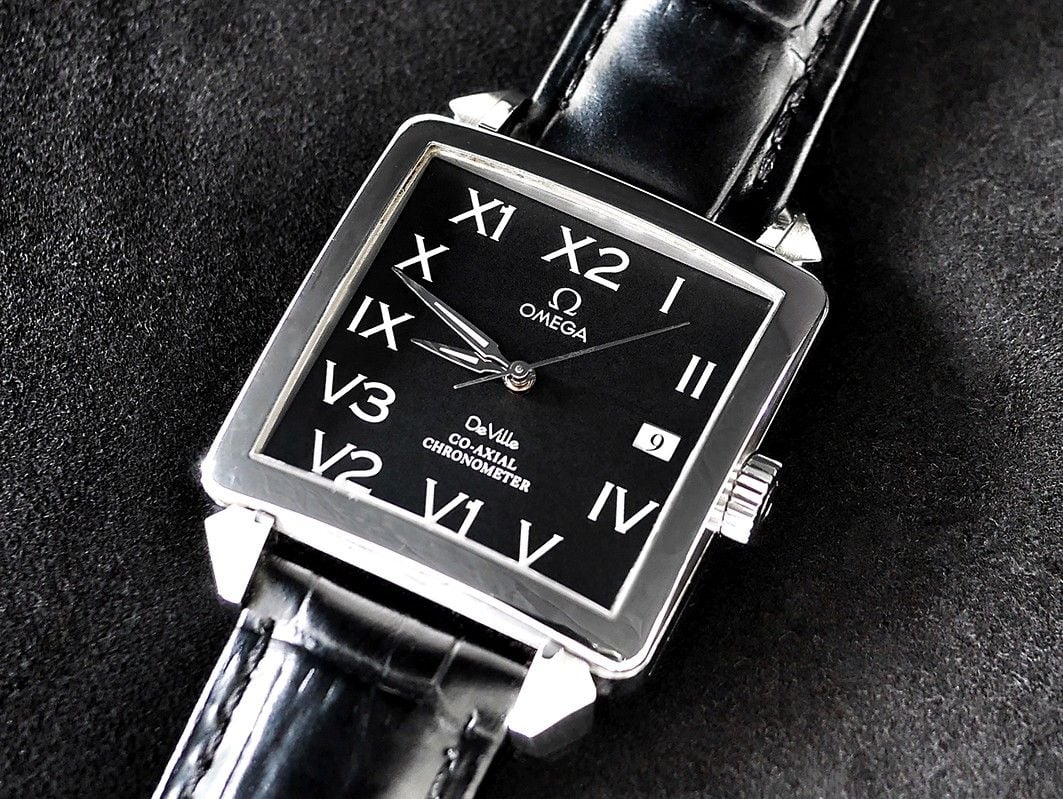 The second easiest is the 600 units limited edition vintage style model with gold dial furniture, the 7806.30.32.  These watches can be found in the west and have recently sold for around 1600 Euros in excellent condition, which is amazing value.  If you look harder, and include Japanese and Chinese sources in your search, there are even better deals to be found on these largely unknown Omega watches.  
In my personal view, these are the best watch out of the bunch to try to find.  At the price point they are changing hands for; it simply is the best modern square case Omega on the market by a wide margin.
The next degree of difficulty are the Russian limited edition models, with 300 between them you may not get to choose between the silver/white or black dial as there aren't that many available.  With the current situation in Russia, trying to locate an example there isn't a good idea so China and Japan are your best bet to find one and land it at a reasonable price.  They are very attractive watches and given the low production number, owners may not be as willing to let them go as cheaply as other versions.
The final and by far hardest is the Alamada limited edition Ref 7803.30.32 of 111 units.  Finding one of these is like finding a needle in a haystack, which is extremely unfortunate as it is in my view the most beautiful of all Byzantium models.  While this watch is a tribute to a Portuguese artist, searching Portugal for this watch turned out to be fruitless, and it is genuinely hard to know exactly where these 111 units went.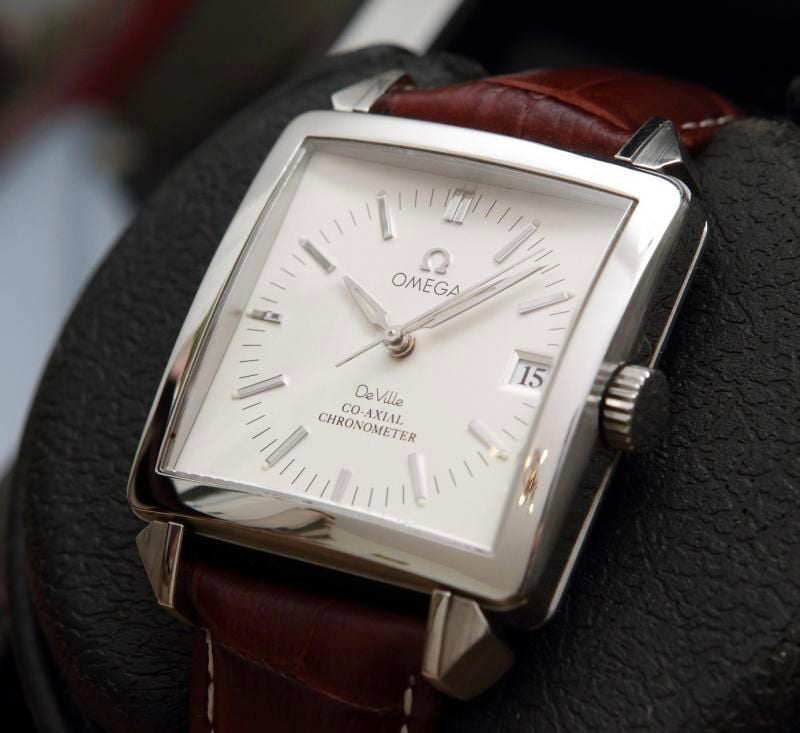 If you can find an Alamada, please take copious photographs of it and send them to us to update this article, it deserves to be seen and appreciated.
Condition wise, the case is the most important factor and any noticeable rounding of edges that should be sharp from polishing should be avoided as well as any case that looks beat up or badly scratched and dented.  These watches do have 50 meters water resistance and being on leather straps are not typically used in water anyway, so dials and hands should appear perfect.  The crystal should also be free of scratches and chips.  
Unless you are looking at one of the rarer limited editions, condition should be a priority.  The regular and 600 units LE model in particular are plentiful enough that you can definitely stand to be picky.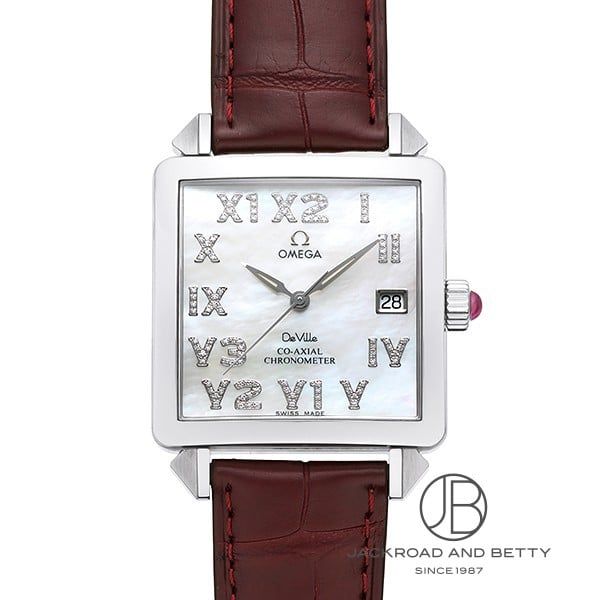 All of these watches are likely due for a service which will be a few hundred dollars from an Omega qualified independent watchmaker.  Factor this into your purchase price and enjoy the watch worry-free.
The Byzantium family of six watches is a lot deeper, more interesting, and more desirable than most people realise, with the majority of references still largely unknown in the western world.  Like Byzantium itself, these watches are a melting pot of cultures and may require learning another language or making a friend who speaks it to land the right piece.  They are however beautiful, special, and very much worth the effort.  
Discussion thread on Omegaforums can be found here: