Giant vintage Constellation tank watches on beautifully finished bracelets, bigger than even Omega's largest modern square case watches. Powered by the last in-house chronometer movement of the "Golden Era". That's what these oversize dress watches offer, and in an extremely compelling package.
Big, Beautiful, And Truly Special
I must start by saying that this is a huge watch, possibly the largest of all vintage Constellation wristwatch models.  Jumbo gets thrown around a lot and is used to describe anything from 35.5 mm up to 37 mm typically.  This is a 37 mm wide by 42 mm high case that wears VERY large on the wrist, just look below.
There is actually a second companion watch to the jumbo Ref 368.0855 which is identical but smaller in size, called the Ref 568.0023.  Normally a reference starting with a 5 like this is a ladies' size watch, but this watch is also abnormally large at 33 mm wide by 39 mm tall.  As a result, it really is a unisex watch which will look like a very large tank on a lady's wrist or like a mid-size watch on a man's wrist as can be seen below.
Both watches feature the exact same unique angular case design and come with a size appropriate intricately finished bracelet to finish off the look.  There are no compromises for the mid-size version at all, it receives a smaller movement yet is still a high-quality automatic chronometer with date and carries the same water resistance and case construction.
Both are also fitted with beautifully finished dials in a variety of interesting colors and finishes.  Even two-tone options and diamond dials are available leading to some remarkably interesting combinations.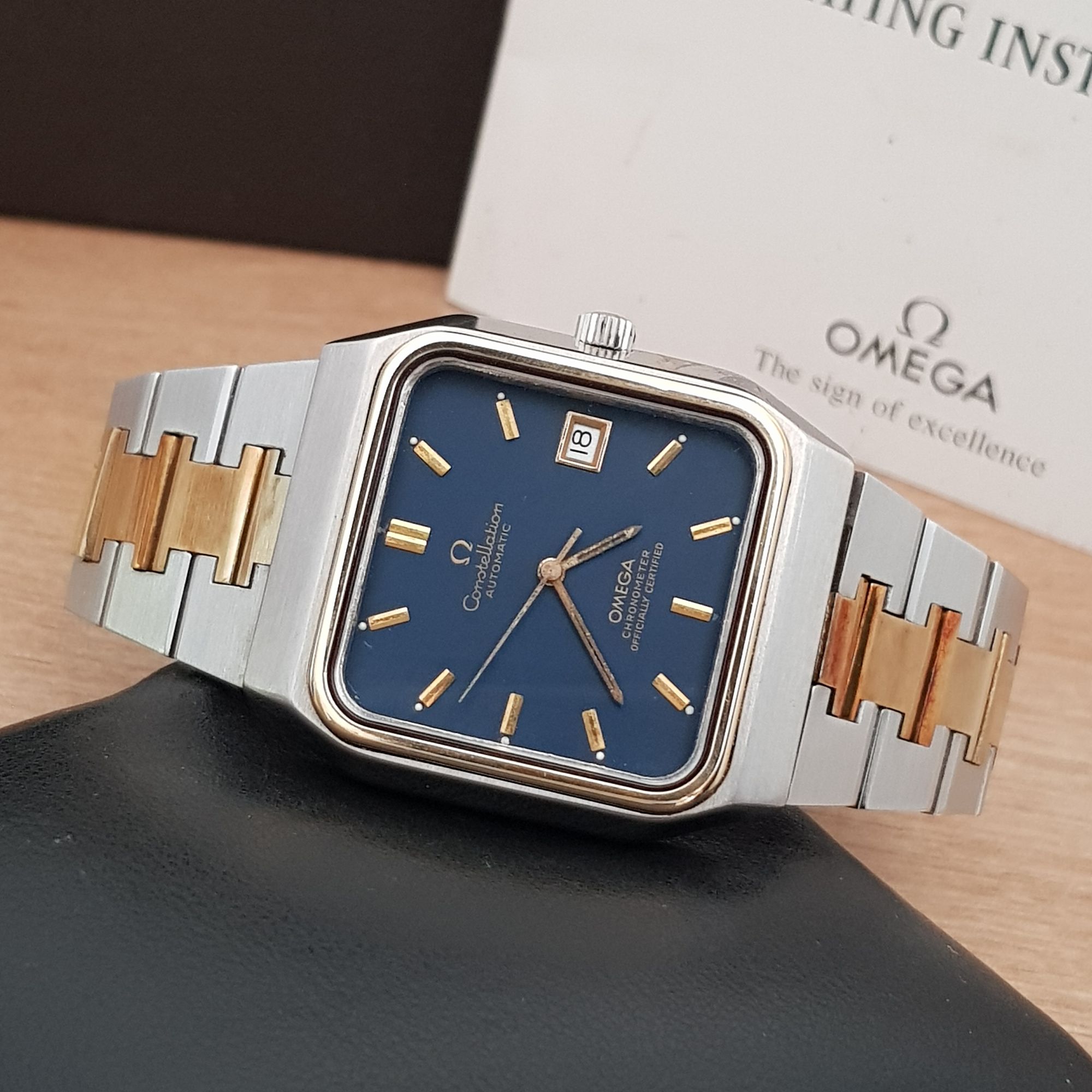 This type of watch with seamlessly integrated bracelet became quite popular in the late 1970's and into the 1980's as it was popularized by watches like the Audermars Piguet Royal Oak and Patek Philippe Nautilus.  Several Omega models of this style have become very sought-after over the years like the much-loved Jacques Mayol Seamaster 120M Plongeur de Luxe.  Despite this, these giant Constellations have languished out of the lime-light even though they come equipped with superior chronometer rated in-house automatic movements, better finishing and a larger case size.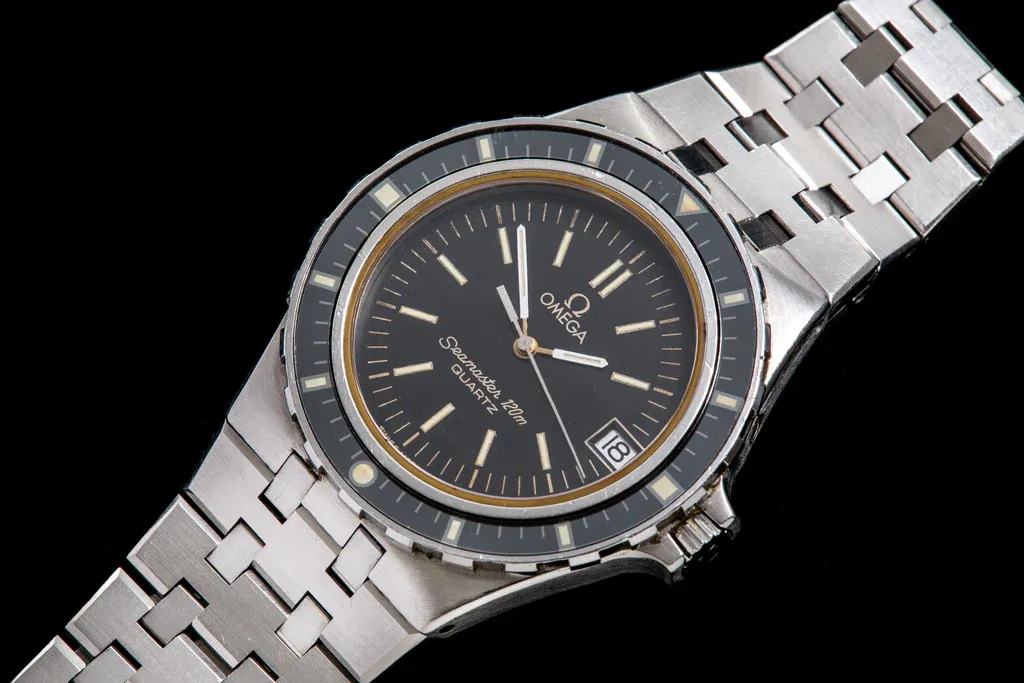 While this entire genre of high-end semi-sports watch with integrated bracelet is very much associated with and inspired by Gerald Genta and many sellers invoke his name to help sell watches, there is no direct evidence that Genta had any involvement with this Constellation.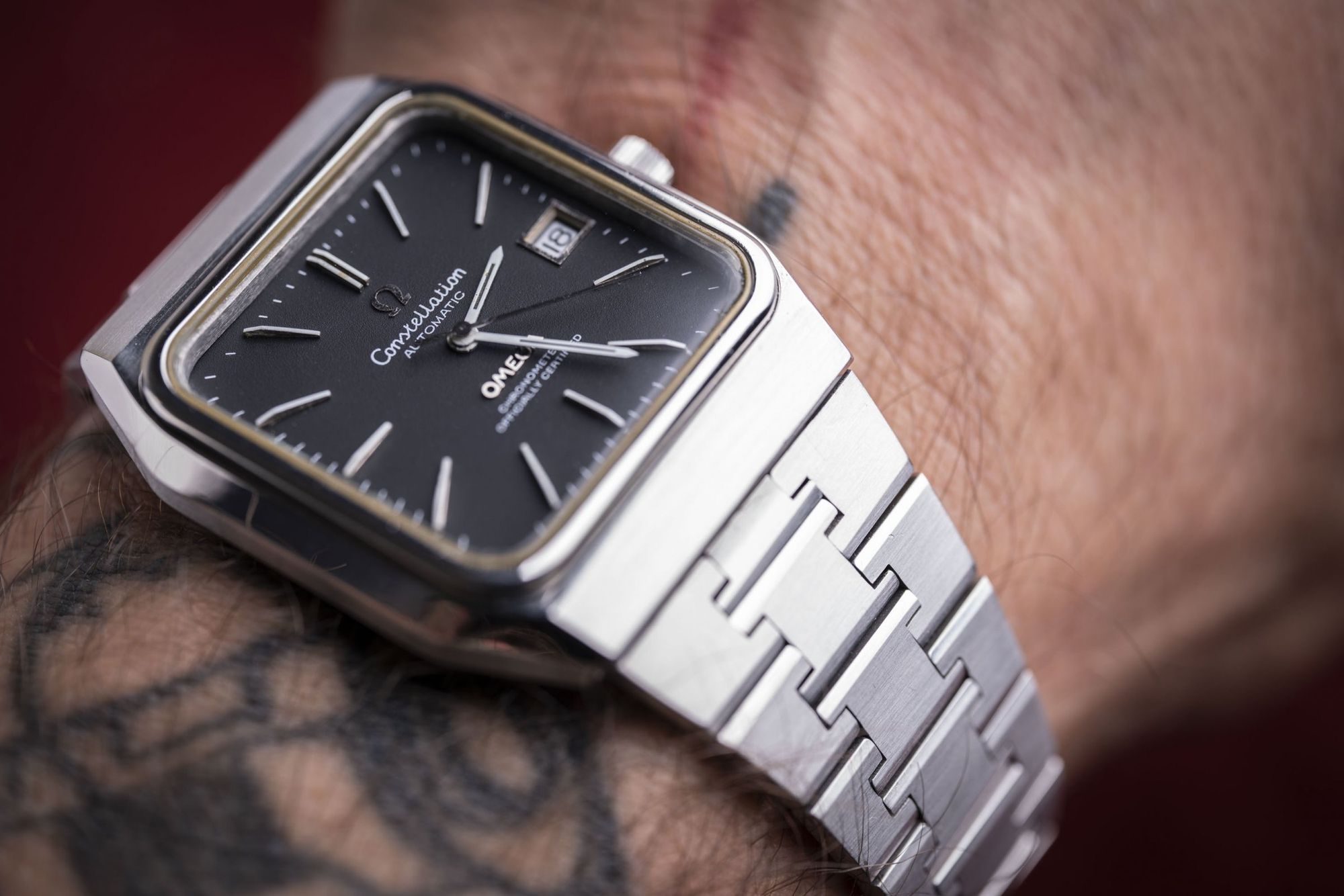 That takes nothing away from this watch however.  It is simply beautiful, expertly designed, impeccably finished, and does not need an association with a famous name to be worthy of desire.
Case & Bracelet
To give a general idea of the size, the smaller Ref 568.0023 at 33 mm wide is the same size as the modern men's size Omega De Ville Byzantium.
The even larger jumbo sized Ref 368.0855 at 37 mm wide is the same size as Omega's largest modern men's square case watch, the Omega De Ville X2 Chronograph.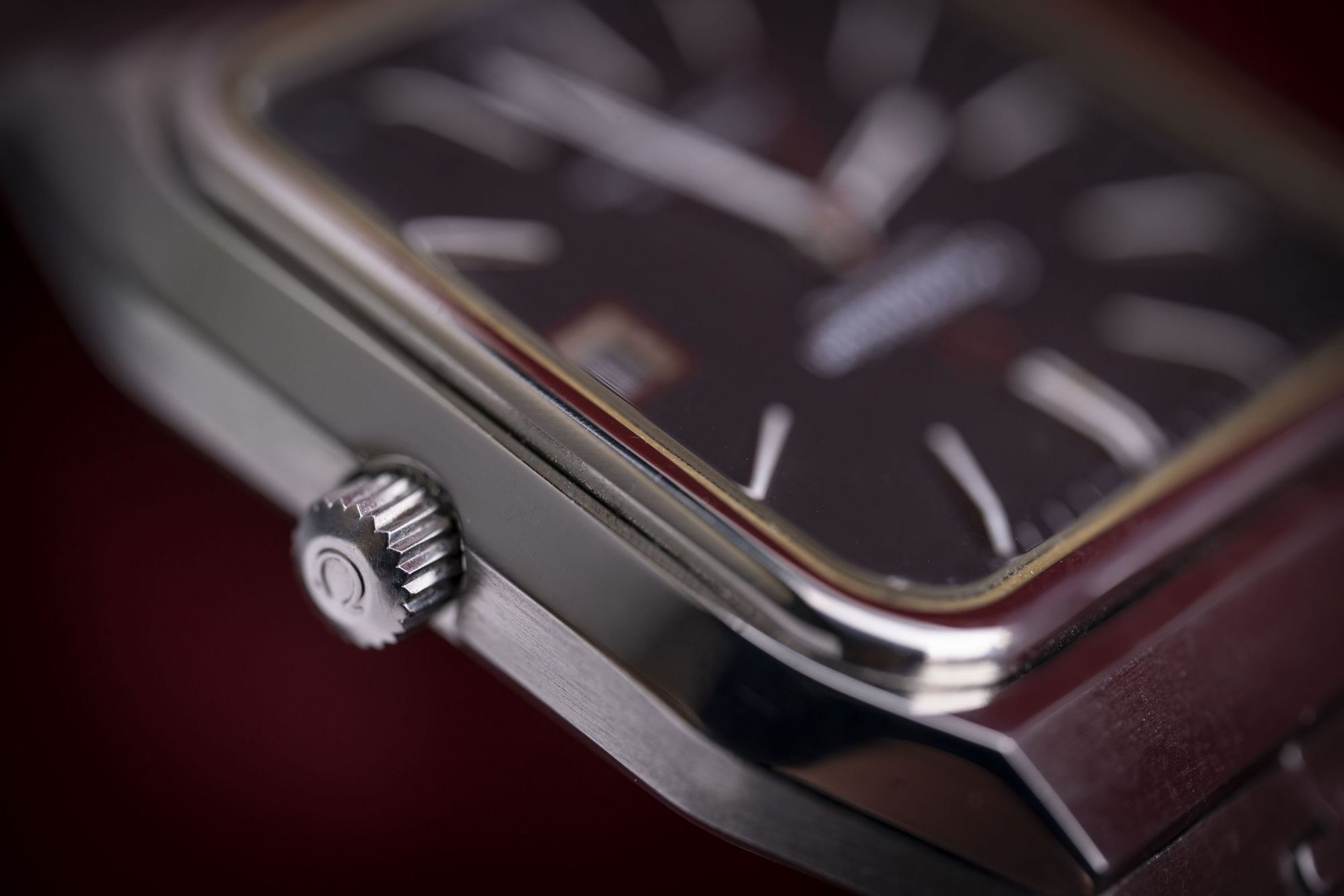 For a watch from the 1970s that is genuinely enormous, the full case width bracelet makes the watch wear even bigger on the wrist, almost like a cuff.  Quite impressive for a vintage Constellation.  As one last point of reference, take a look at this vintage Constellation compared to a full-sized 42 mm Speedmaster Pro Moonwatch below.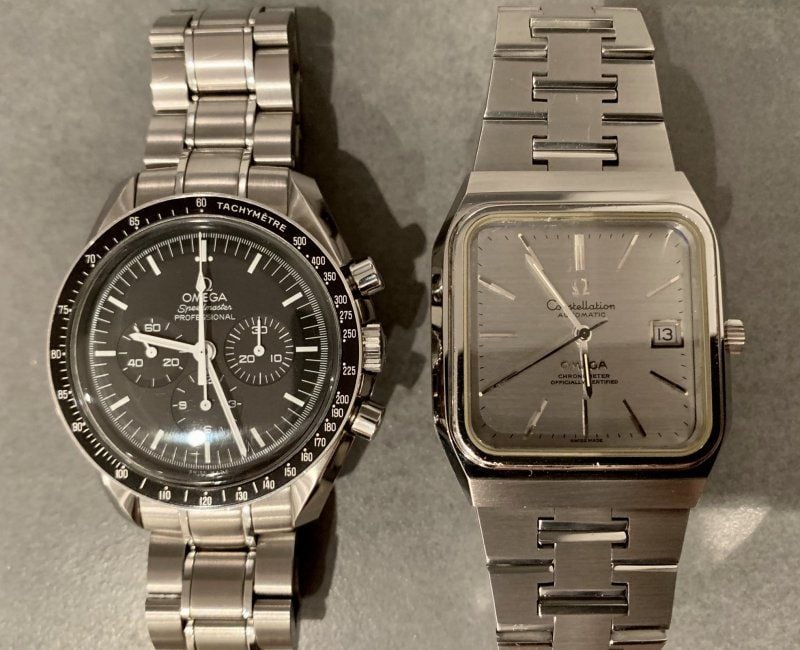 The case design itself is quite complex in design with a faceted, vaguely octagonal mid-case angling inwards towards a very pronounced bezel which protects the crystal.  A knurled crown is recessed into the case with cut-outs above and below for improved access.  The design has a combination of sharp edges and smooth curves which can make it both a bit of a dent magnet, and somewhat difficult to polish without loss of shape due to the complexity of its lines.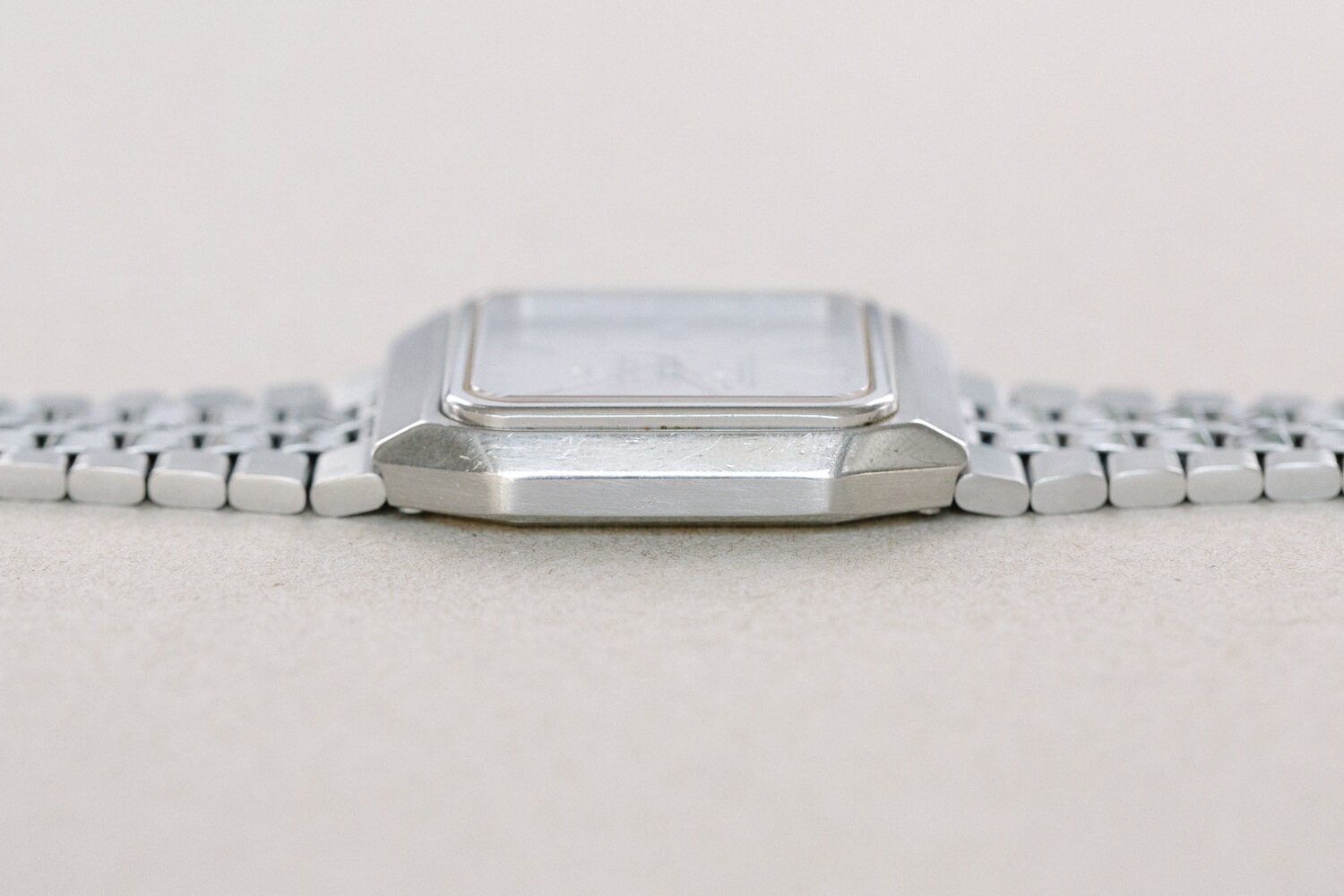 The only noteworthy difference in case shape between the 37 mm 368.0855 and the 33 mm 568.0023 is the case-back, which bulges out on the smaller watch to accommodate the thicker Calibre 685 movement.  By contrast the Calibre 1011 is significantly thinner and has the luxury of a larger mid-case overall leading to a thin case-back.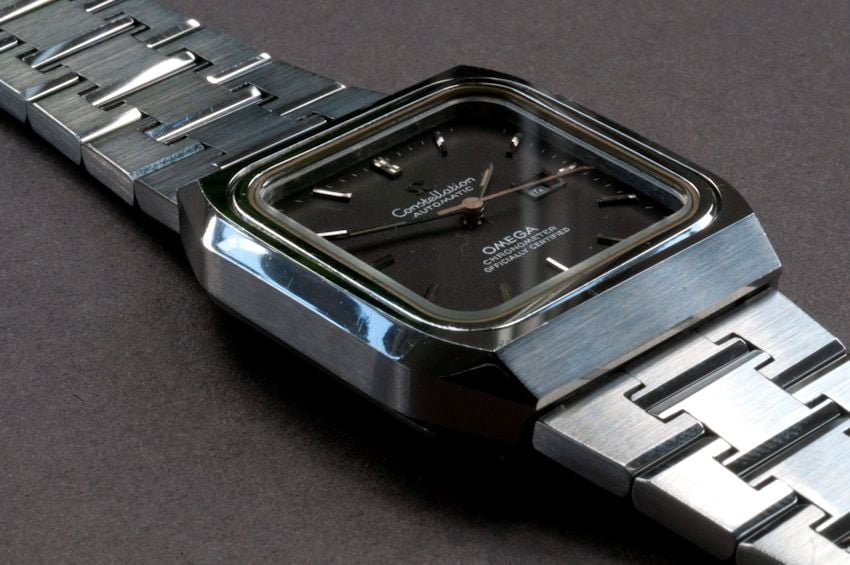 The case construction is essentially the same on both watch references with the case-back being screwed in 4 corners into the mid-case from behind.  This is similar to other odd-sized watches of the era like the Royal Oak and while it isn't as simple and trouble-free as a screw-back design, it still ensures a water resistance of 30 meters.  
As can be seen in the image below, while the reference number of the full-size version on bracelet 368.0855 is stamped on the case-back, the case number on its own or for the watch on strap is 168.0062 although they don't seem to have been sold much in that configuration.  It should also be noted that opening and re-sealing these cases is more complicated than most and should be left to a professional watchmaker.
What can also be seen above is that the bracelet is connected to a hidden internal spring-bar of sorts to create this seamless look between the case and the first link of the bracelet.  There are actually a few different bracelet designs found on these, however the standard bracelet, with "I" shaped center links and "C" shaped outer links is the most common by far in both two-tone and stainless steel.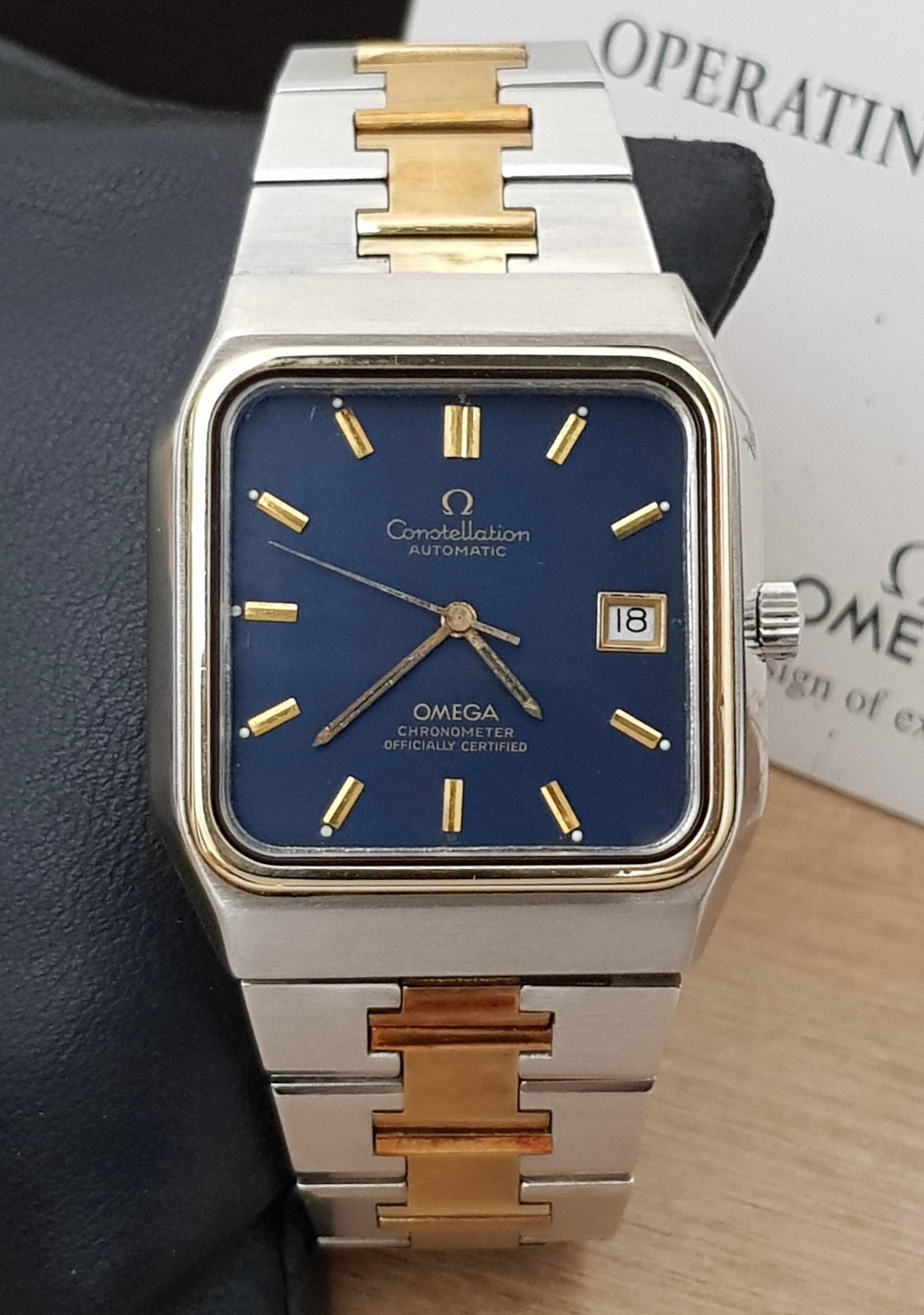 The non-bracelet equipped Ref 168.0062 version of this watch on strap can be fitted with regular spring-bars and a 20 mm wide strap, or a wider strap flaring out from 20mm.  Below is an example of how this looks on aftermarket straps.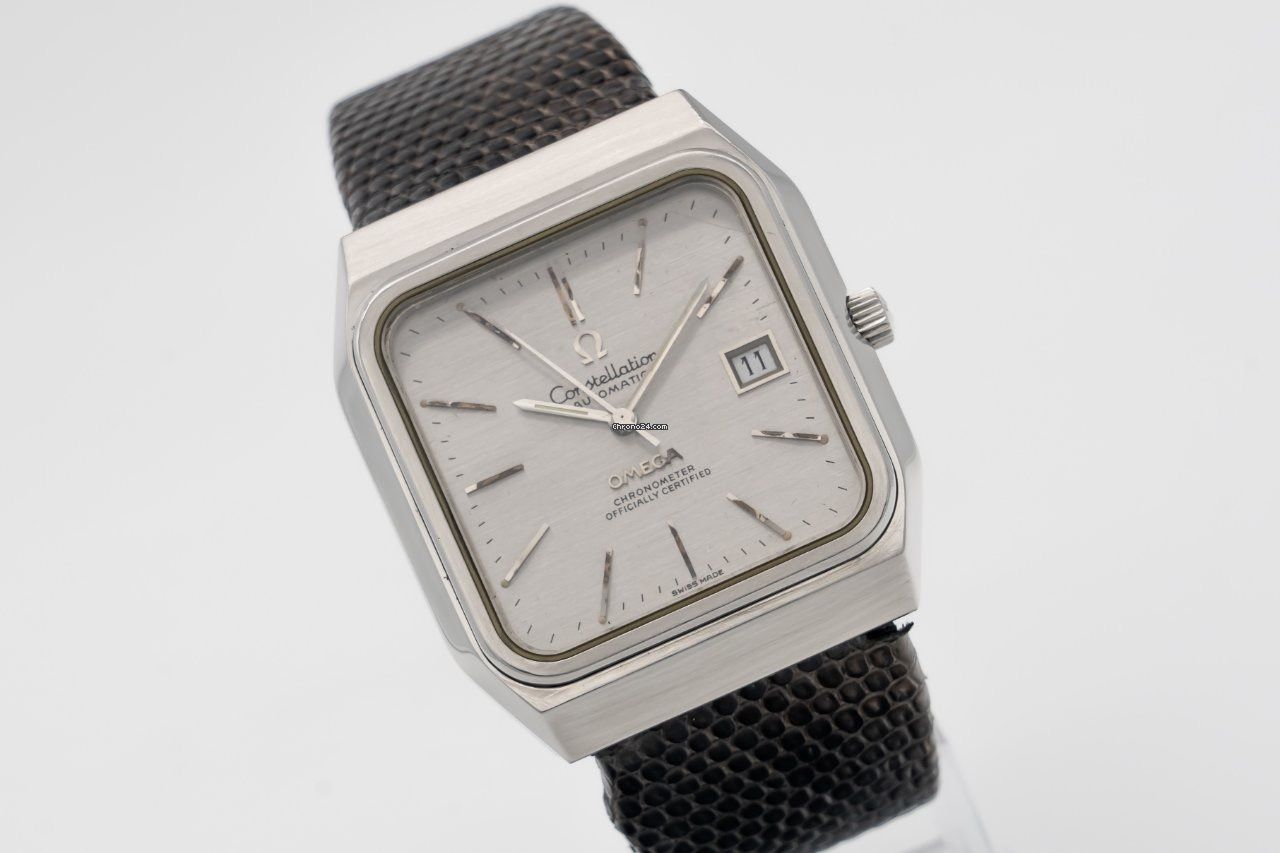 Movements
Calibre 1011 Chronometer - 368.0855
The larger 37 mm wide Constellation Ref 368.0855 is powered exclusively by the Omega Calibre 1011 automatic chronometer movement.  This movement features a 28,800 vph beat rate, hacking, and quickset date all in a package only 4.25mm thick.
This reference, and a similar sister reference the Ref 368.0858 were in fact the last Constellation models to be fitted with the in-house manufactured Calibre 1011 and represented the end of an era as the last Omega in-house chronometers of the "golden era".  Desmond Guilfoyle has written a rather excellent essay which is also worth.
As mentioned in previous articles, the general fear and misunderstanding about "The Calibre 1000 series" haunts these watches and turns people off them when the Calibre 1011 and its family is fundamentally different from the early Calibre 1000, 1001 & 1002.  These movements are distinctly different, the result of a major redesign of the early 1000 series and contain mostly new parts to correct the problems of its predecessor.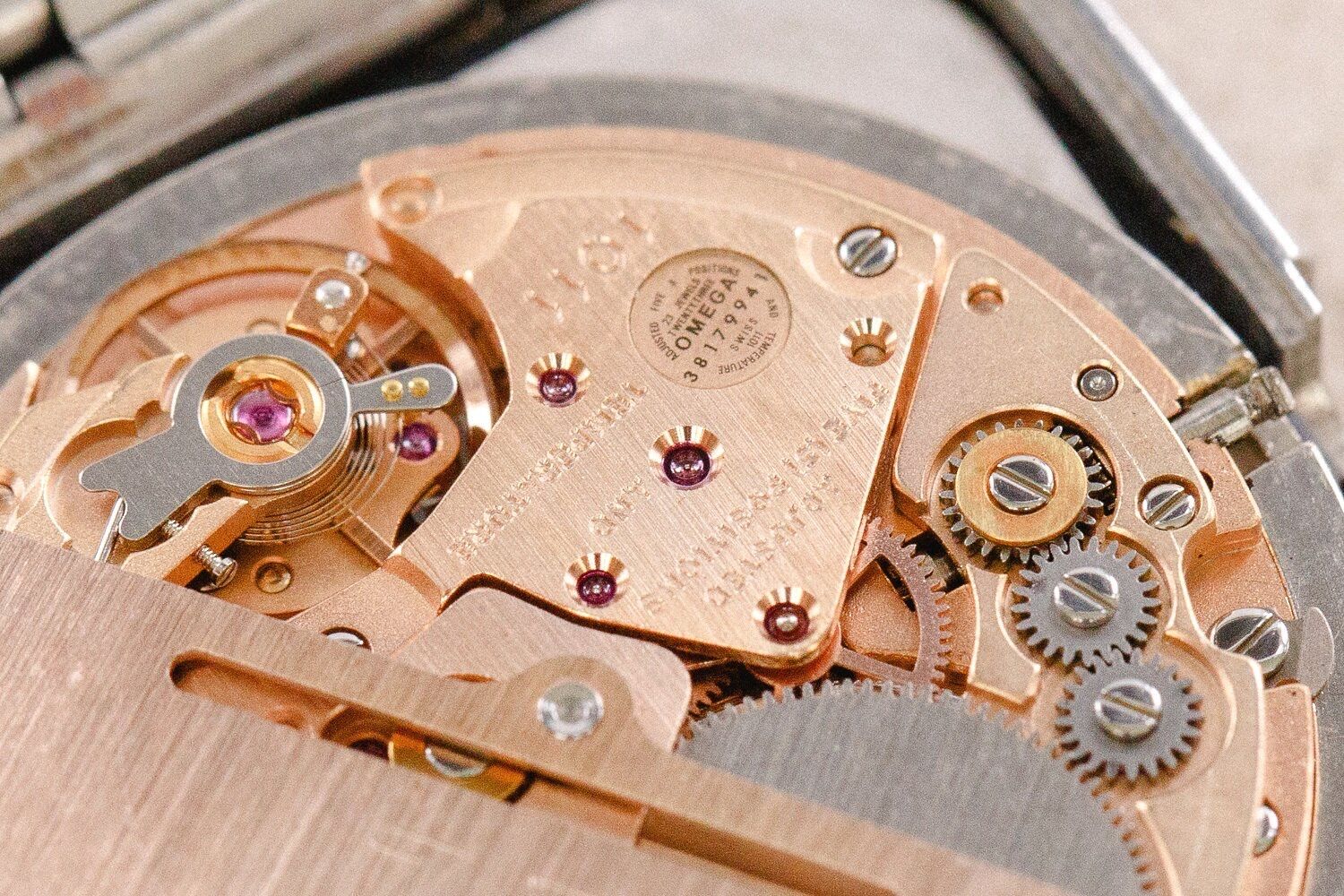 The general negativity towards these movements found in some collector communities can very much work in your favor when it comes to watches powered by this movement.  Prices tend to be softer for Calibre 1011 powered watches than for Calibre 561/564 powered pieces even though when serviced both are excellent performing movements.
If serviced by a qualified watchmaker with an Omega parts account, you can expect very good accuracy, reliability, and durability long into the future from your Calibre 1011 Constellation.
Calibre 685 Chronometer - 568.0023
The smaller 33 mm wide Constellation 568.0023 is powered by the Omega Calibre 685 chronometer movement.  The Calibre 685 is the second generation of the Calibre 68x series movements running at a higher beat rate of 21,600 vph up from 19,800 vph for the earlier calibres.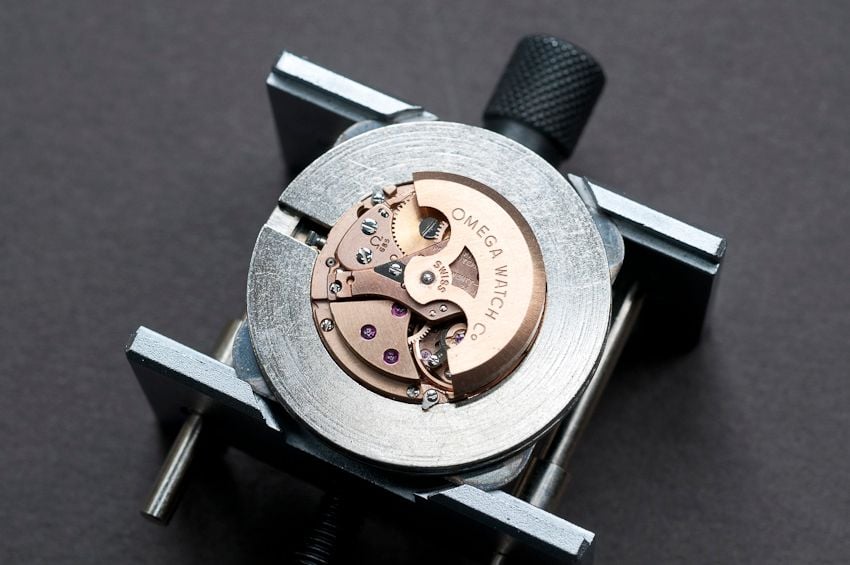 The Cal 685 features a bi-directional winding mechanism with a 40-hour power reserve, has 24 jewels and is chronometer rated, with a date function and semi-quickset mechanism.  All of this is achieved in a movement with a much smaller outer diameter of 18mm compared to the 28.4mm of the calibre 561, and only adds 0.3 mm to thickness.  The only sacrifice made for packaging is the power reserve of 40 hours, 10 shorter than the calibre 561, but still more than adequate for daily use.
It should be noted that the very small diameter of this calibre, is the reason why the dial of the 568.0023 has the date located so far inward from the edge of the dial, with an hour marker to the right of it.  This calibre and its family is designed for ladies' watches primarily but was also used in many uni-sex and unusual sized men's watches over the years, producing some very special models with excellent performance.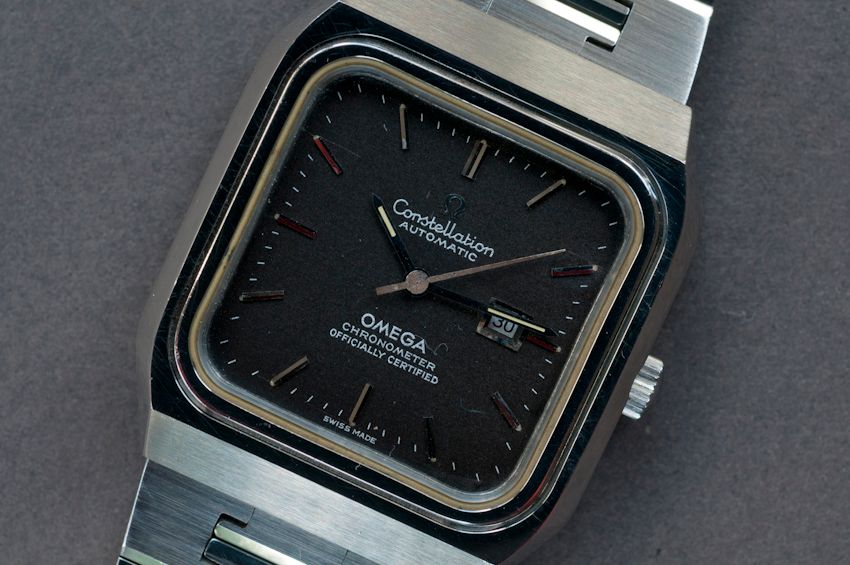 The calibre 685 is compatible with a large number of lesser related movements which can be a bit of a double-edged sword.  On one hand it means there is an exceptionally large pool of donor parts from less desirable models featuring the same movements, keeping parts costs under control for decades to come.  On the other hand, you can also find watches that have patchwork movements or incorrect replacements, so it is important to be somewhat vigilant in this respect.
If properly maintained there is no reason why a calibre 685 cannot continue to meet or exceed its original chronometer specifications.  They were a well-designed, durable, and high-quality movement which can be cared for by any watchmaker with an Omega parts account.
Variants
Being a product of the 1970's there is a bit more variety in dials, more black, brown and some blue but it should be kept in mind that these watches do not have the best of water resistance and many dials have been damaged or refinished.  As a result, there are some wild colors like vibrant reds, light blues and greens which are not original, and many original dials will experience severe patina or spiderweb like cracking of the surface.
There is also a bit of an odd mismatch in the two-tone models with some having gold elements on the case only, some having gold elements on the bracelet and some having both.  In original marketing materials, two-tone is only seen uniformly across the watch so it's hard to say whether these partial two-tone models came that way or not.  
Diamond dials are available and typically appear on blue or black dials most frequently, they are more common on the larger model than on most Constellations and tend to look quite attractive.
Jumbo 368.0855
The stainless steel examples of the 368.80855 are available in solid black, horizontally brushed silver and a brown dial which often but not always has severe patina or spidering.  
These models do exhibit a fair degree of variation in their dials as far as hour markers, the shape of the applied Omega logo, the presence of a date window surround and even applied vs painted Omega text.  Given that these models were produced over about a 5-year period in the 1970's that was fairly disruptive it could be that Omega used a few different dial suppliers during this time.
Once again, more extreme color variations tend to be repainted dials as these still didn't have that much variety.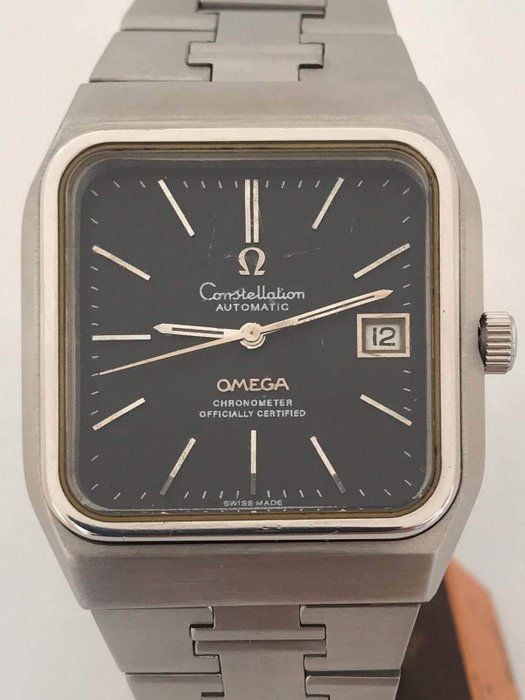 The two-tone variants, which carry the prefix DD in front of their reference number rather than ST for steel come in more different colors and styles than the plain steel models.  
In addition to silver and black, there is blue and a champaign gold color that are both fairly common.  All of the two-tone versions feature gold hour markers and hands.  
Once again there is a lot of variety seen in these dials in terms of presence and shape of date window surrounds, dial furniture shapes and even whether the Omega logo is applied or not.  Some models also omit the minutes track around the outer edge of the dial entirely for a cleaner look.
Below are two of the more exotic dial variants, the black dial with diamond hour markers, doubled at 12, 6 & 9 o'clock is relatively common with several being available in recent years.  The second example features the national symbol of Oman, with a Khanjar, the ceremonial dagger from Oman in the center of two crossed swords along with Sultan Qaboos' name in Arabic text.  Given the timeframe and the Sultan's well-known fondness for horology it isn't surprising to find examples of a flagship model like the Constellation with a custom dial such as this.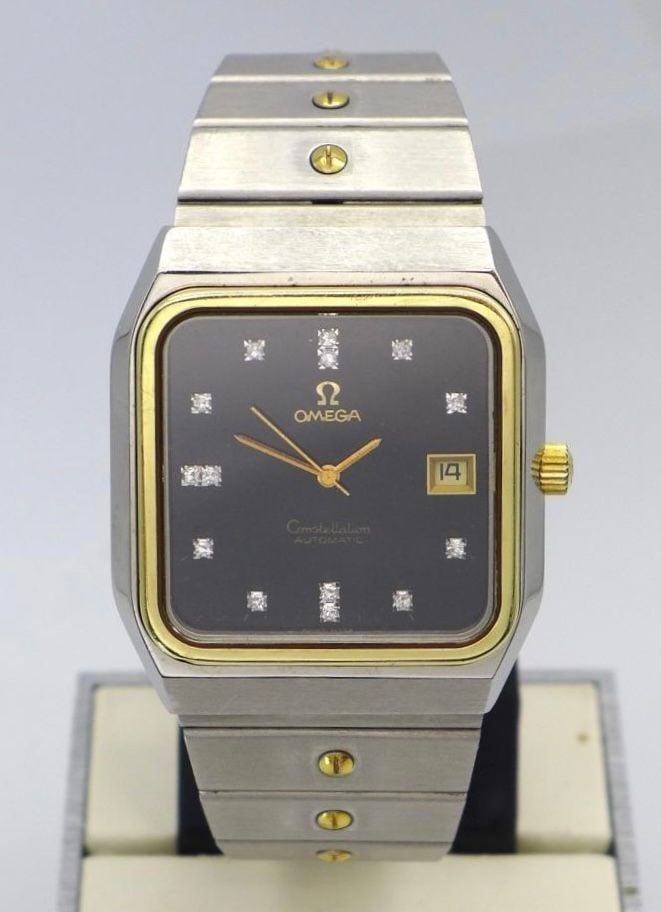 Unisex Mid-Size 568.0023
The 33 mm Mid-Sized Constellation Ref 568.0023 comes with a more limited variety of dials and metals.  There is no two-tone version available nor is there any diamond dial option or much color variety.  
There is a solid black dial with white text, and a silver horizontally brushed dial with black text.  Both dials are available in about equal amounts, but as with the full-size version there are also a lot of degraded or refinished dials around which should be avoided.  
Buying
The major decision in buying one of these Constellations is whether you go for the 37 mm wide 368.0855 or the mid-size 33 mm wide 568.0023.  For women or men with small wrists the 568.0023 is both cheaper and a more comfortable option as the larger model will be too big.  For men with medium to large wrists, either will work and look good, but the 37 mm will definitely have far more wrist presence and stand out among your other watches.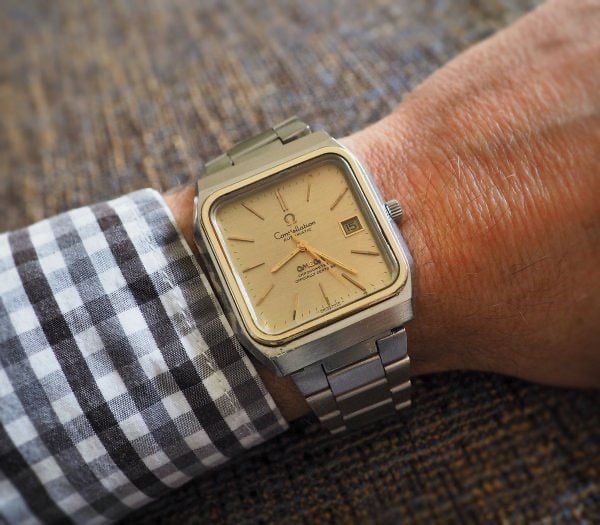 Availability wise, the larger 368.0855 is much more plentiful than the smaller 568.0023 in any condition category.  Omega produced the larger version in much greater numbers and the market reflects this.
In the case of both models condition is a very major factor.  Redials can be relatively common and should be avoided, as should badly degraded dials.  Dials that are heavily patinated or that are experiencing cracking or spidering are likely to continue degrading and in some cases can have debris flake off into the movement or interfere with the hands.  Dealers try very hard to market these dials as tropical or desirable, but the reality is that they are damaged.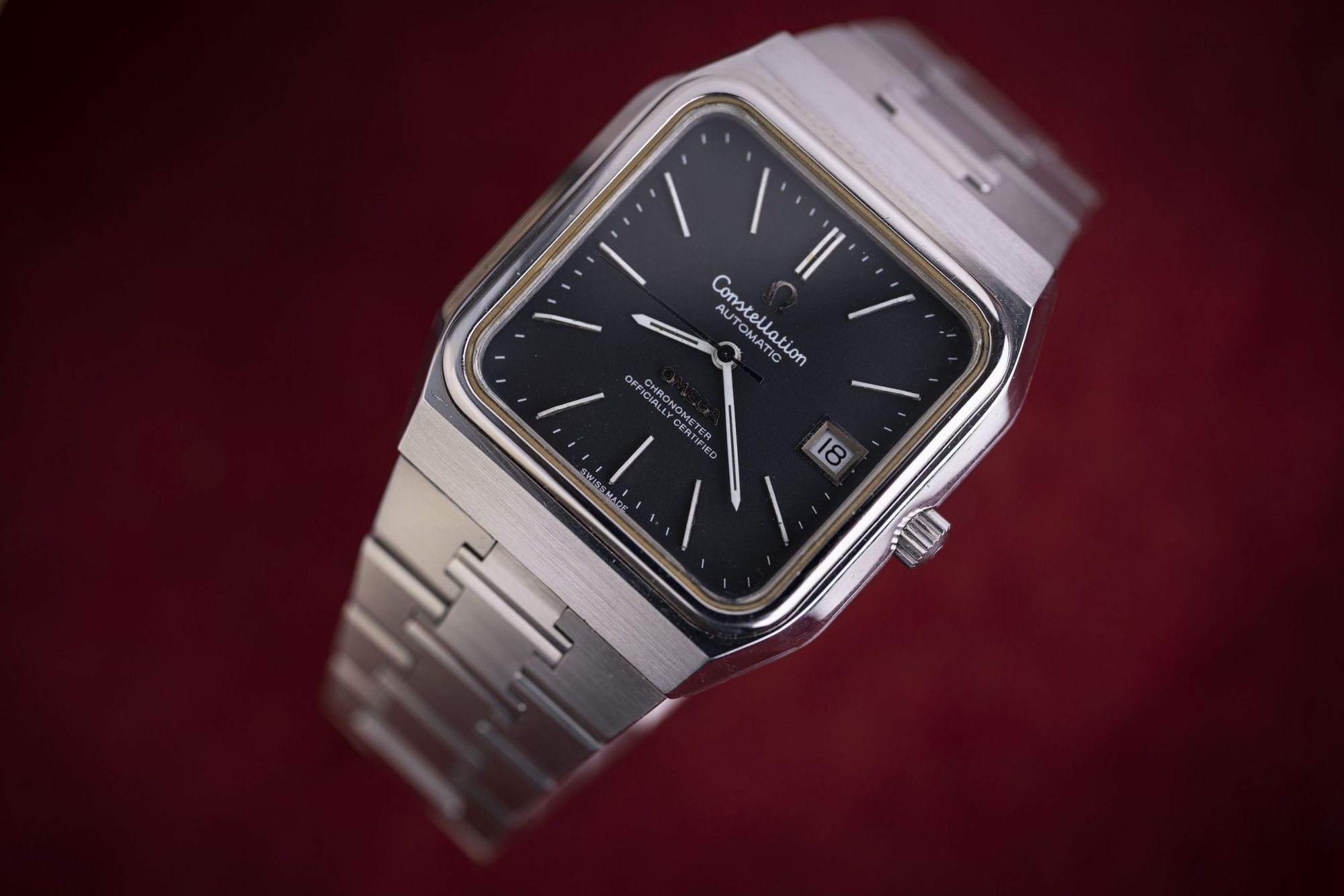 The case is the second concern, and there is a very large difference in both value and desirability between a rough, scratched up, or heavily polished case and an original case in nice condition.  When all original and sharp, these watches look terrific and will draw attention instantly, while a bad case will just look like a cheap watch that's had a hard life.
Sourcing a nice example can take a bit of time and patience.  There are typically a couple on eBay and Chrono24 at any given point of time, usually the larger version.  There are also quite a few that get listed on various forums for reasonable prices that tend to be in better condition and priced quite fairly.  These watches can come up under a lot of different search terms including "168.0062", "368.0855" & "568.0023".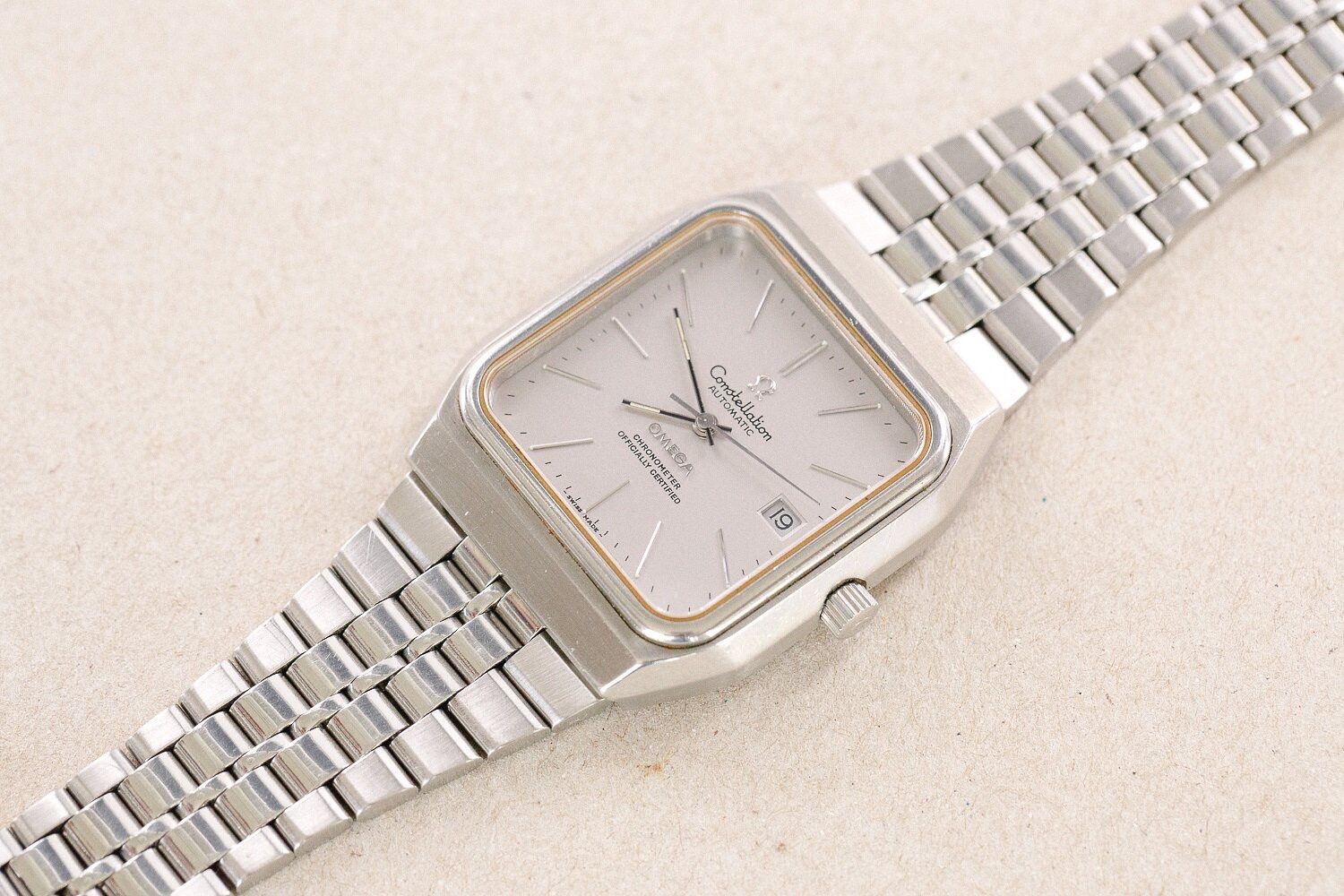 Most people cannot tell the difference between the larger and smaller version without a wrist for reference and mislabel them often, so keep in mind that the way to tell is by the date position.  The smaller 33 mm version has the date to the left of an applied hour marker at 3 o'clock, while the larger 37 mm version has the date window on the far right of the dial, taking the place of the 3 o'clock marker.
While these watches were sold globally, there does seem to be a higher-than-average concentration of them in Germany in particular with German watch forums having more discussions about them and sales listings than most English sites.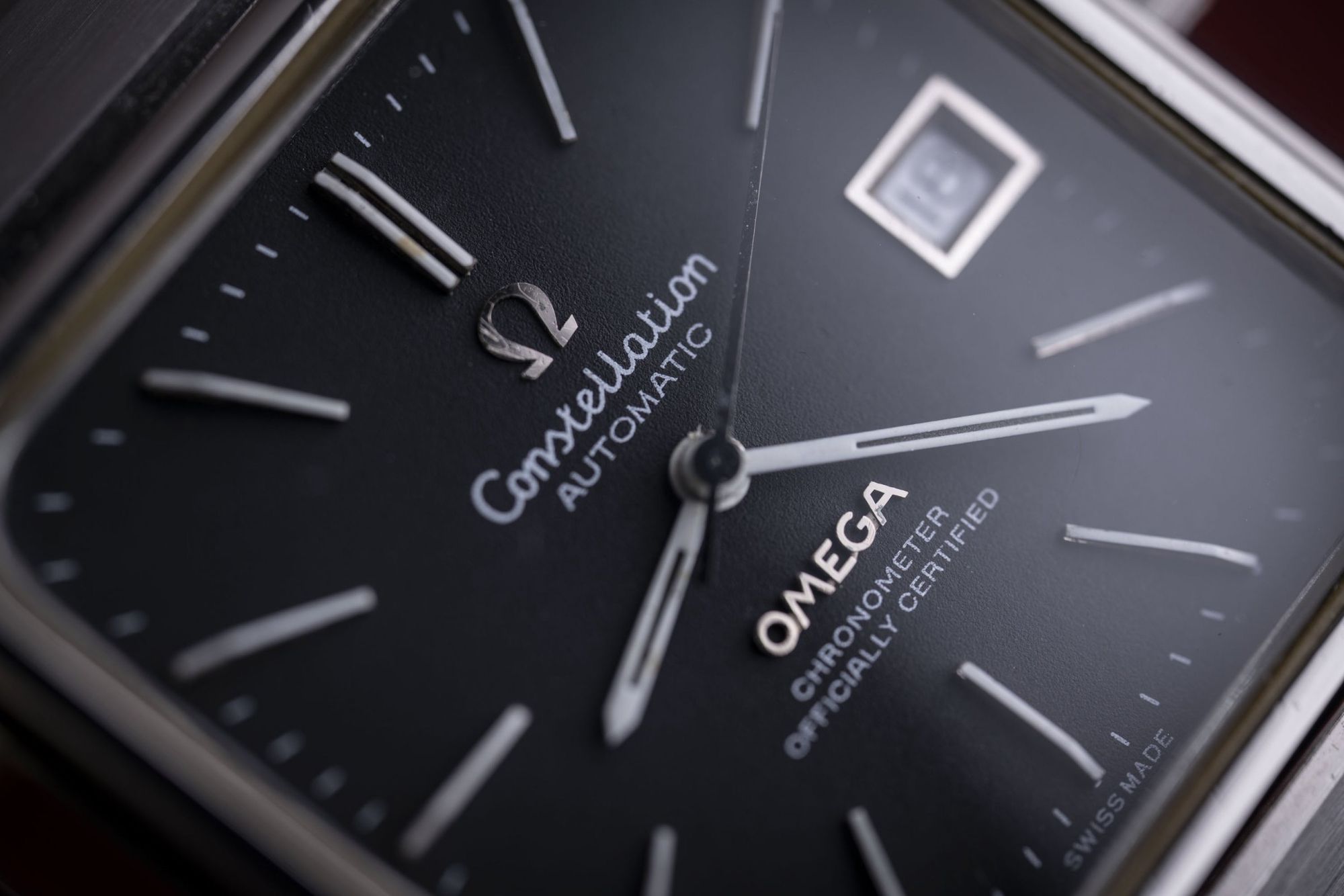 In making your purchase, factor in having the watch fully serviced not only to ensure the movement has a long life free of parts wear but also to ensure that a watchmaker has properly sealed the case and pressure tested it to keep moisture out.
Of all the vintage Omega TV dial watches, these Constellations are easily my personal favorite.  The size, significance, finishing quality and superb design set the 368.0855 & 568.0023 apart from their competitors and stablemates while their obscurity makes them available at compelling prices.  
Discussion thread on Omegaforums can be found here: