While often overshadowed by the black bezel 2254.50, the electric blue is in my view the star of the first generation Seamaster Pro family. A relic of the 90's when bright metallic colors were more popular, it is a dial design we have never seen since the end of its production.
The Star Of The Sword Hand Omegas
The electric blue isn't just a dial color, it refers to a very specific family of Seamaster Pro Sword hand models available in both titanium and steel which are not the most common, but are highly sought after by those who know them.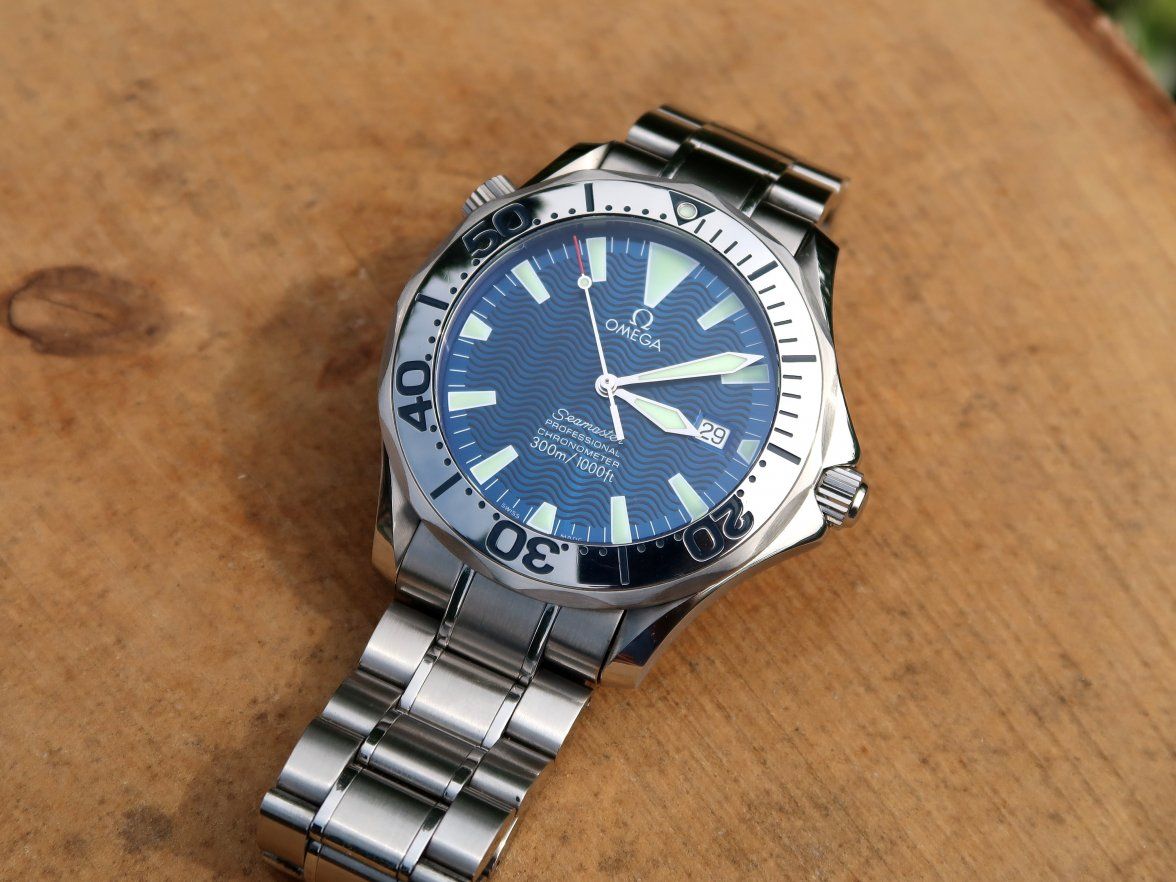 Of all the variants and colors of the famous "wave dial" found on Seamasters, the only one with its own nickname is the electric blue.  It has a remarkably special texture and metallic effect to it, dancing in the light and creating colors from a dark blue to an almost aquamarine color depending on the angle.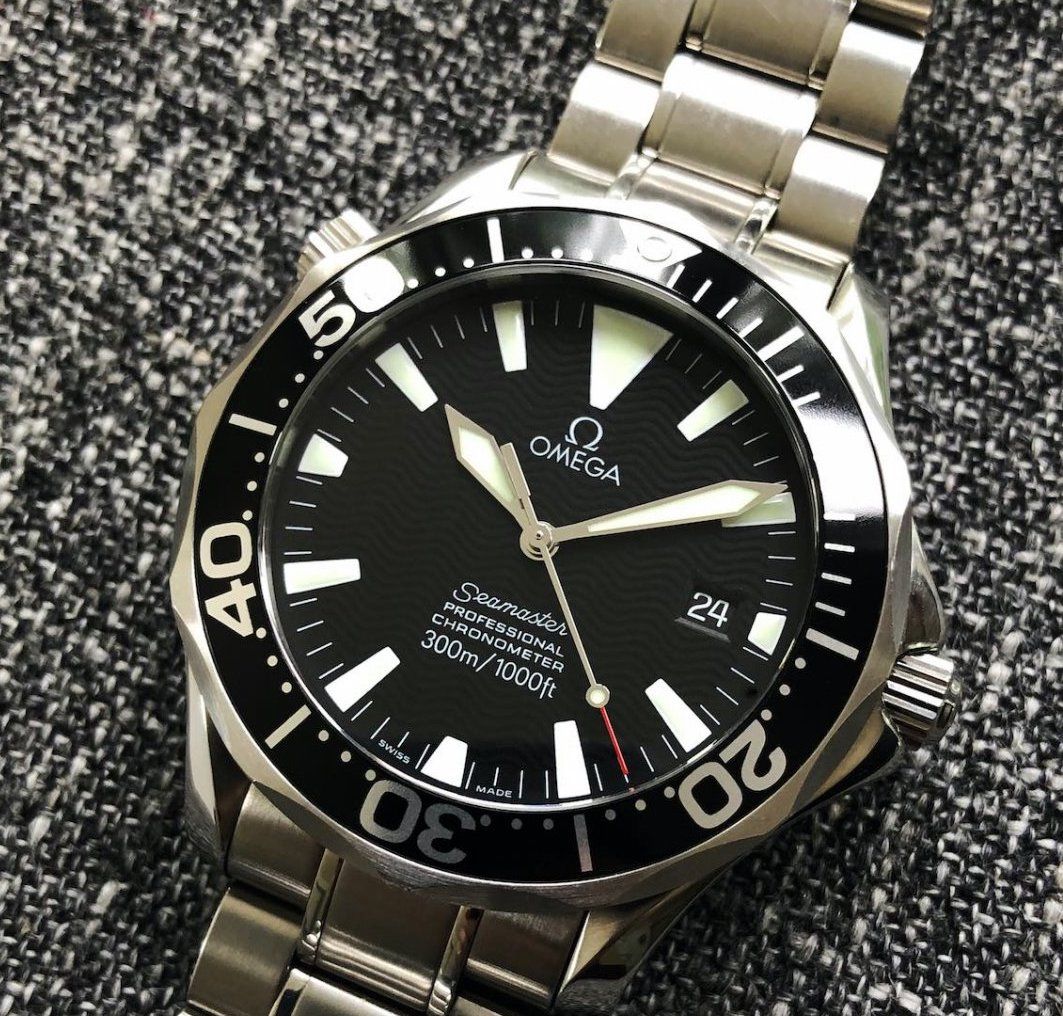 Unlike the 2254.50, these watches also feature metal bezels in matching steel or titanium, which makes them significantly more durable and resistant to damage than any painted bezel variants.  The third feather in the electric blue's cap is the fact that unlike the 2254.50, these watches include a full-sized titanium variant, which is arguably the best watch in the entire sword hand family.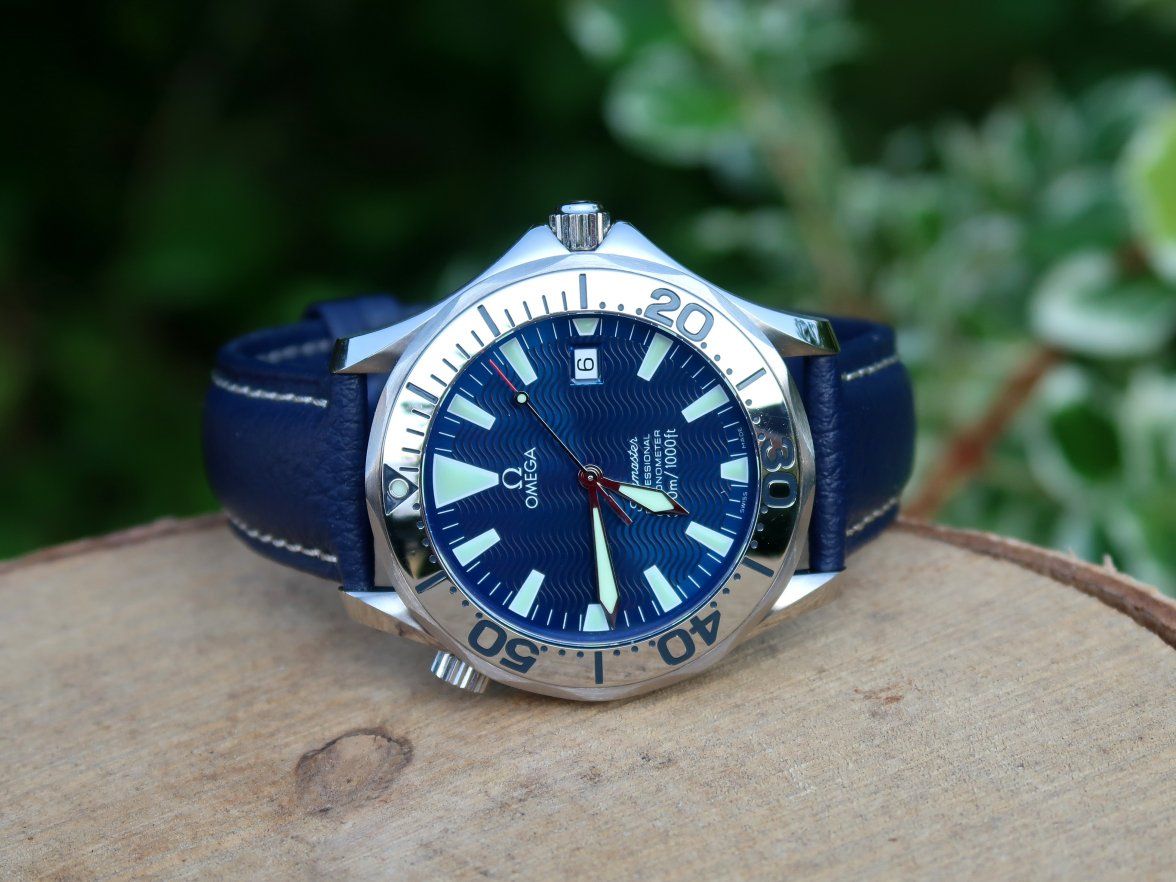 These watches were produced over a long period of time, and spawned no less than three limited editions, one for the Royal Navy Clearance Divers, one for Olympian Ian Thorpe, and one for legendary diver Jacques Mayol.  
In the years since production ended, Omega has continued to make blue dials, black dials, and a variety of other conservative shades for Seamaster Pro models.  The electric blue has never returned nor has anything even close to this, bright, vivid metallic dial been released.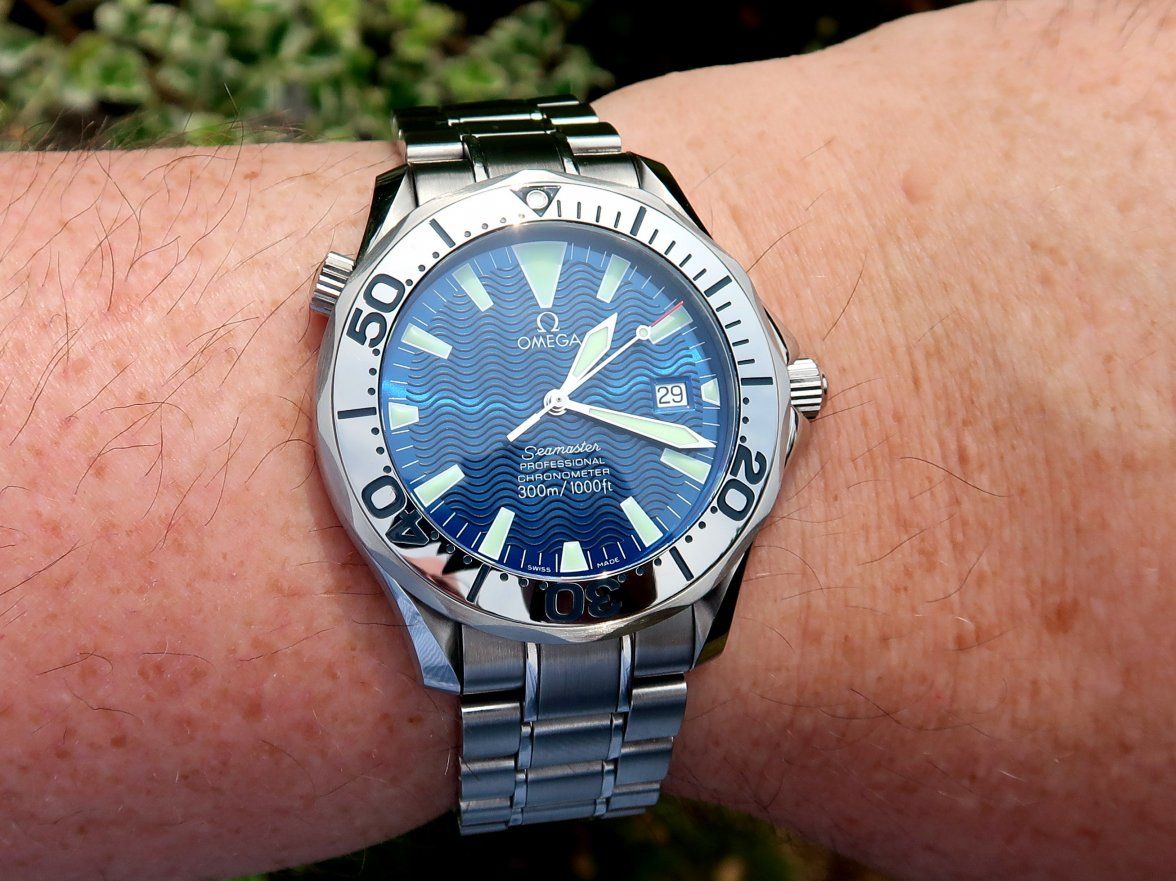 In a sense this watch is a relic of the late 90's, a time when men thought they looked cool in Oakley Eyejackets and Ed Hardy shirts, a more flamboyant and colorful era.  As someone who still owns some old Oakleys, I love the electric blue, more than any other Seamaster of this time period.  
Royal Navy Clearance Divers
Royal Navy Clearance Divers take their name from the enormous and frankly terrifying job of clearing ports and harbors of unexploded ordinance and booby-traps towards the end and after World War II.  Initially known as "Port Clearance Parties" or "P Parties", Royal Navy Clearance Divers proved extremely effective in making safe not only British ports but also those of France, Belgium, The Netherlands and Germany following the D-Day invasion.
It is hard to overstate the sheer enormous volume of ordinance that was left after the war.  That immense job of removing this lethal obstacle to international commerce may have peaked in the post-war years but it remains an ongoing and potentially endless task even today.  In 2018 the British Ministry of Defence announced that 450 explosives had been made safe or defused since 2010, an average of 60 per year, while in 2020 a fishing trawler suffered a devastating explosion after hitting ordinance just off the coast of Norfolk.
While the SBS, the SAS SFC, and other military unit limited editions are nearly all very subtle and low-key, the Royal Navy Clearance Divers chose one of the most charismatic and flashy models in the electric blue.  Their limited edition is based on the stainless steel version and carries the reference 2257.80.00 with a bespoke case-back carrying the Clearance Divers' emblem against a black background.
More information about the Royal Navy Clearance Divers can be found at the link below.

Ian Thorpe
Ian Thorpe became an Australian hero and cemented his place as one of the nation's greatest ever Olympians with an utterly dominant performance at the Sydney Olympic games in 2000.  
It really was the most perfect of timing for Ian to be at his peak during his home Olympics having grown up in Sydney.  3 gold medals, 2 silver, and three world records were set over a very full program in the pool, with every Australian watching including myself as a young man.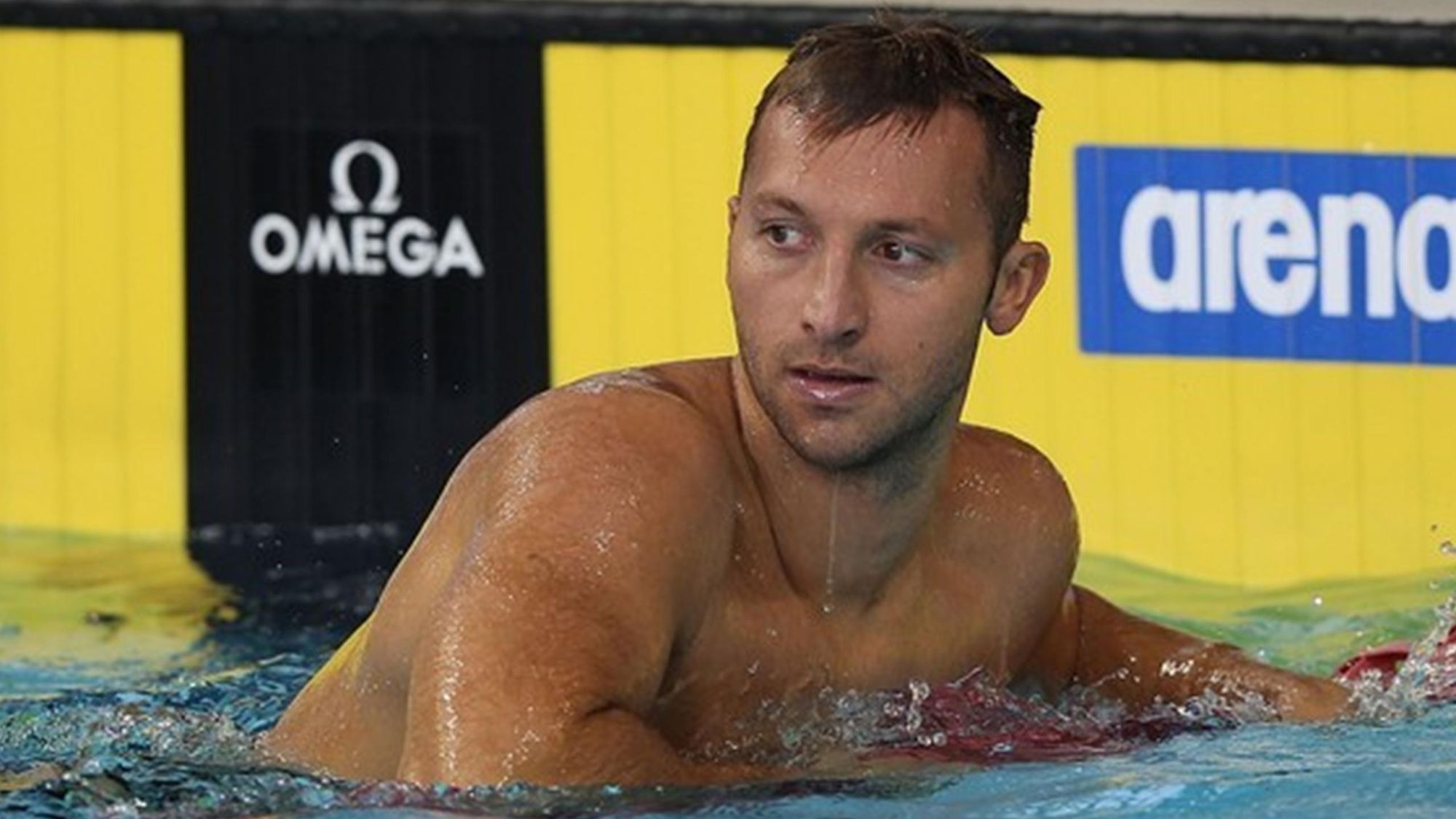 Ian received a Medal of the Order of Australia (OAM) for his achievements, and from Omega a limited edition run of 100 Seamaster Pro 300M electric blue watches with a custom case-back and its own reference of 2256.80.
At the following Olympic games in Athens, Thorpe would go on to win a further 2 gold medals along with a silver and a bronze bringing his Olympic medal tally to 9 in total.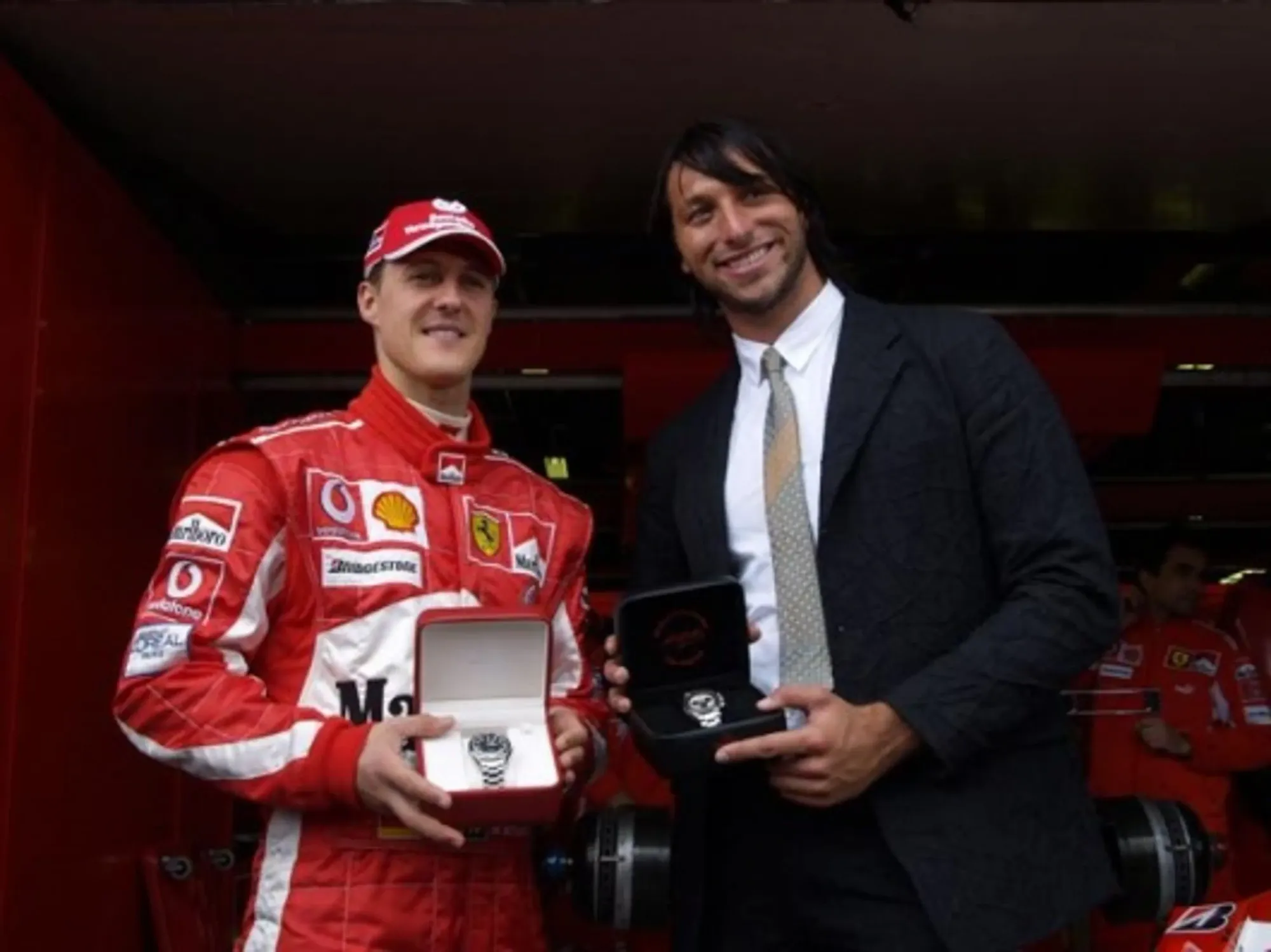 Following the Athens games in 2004, Thorpe took a break from swimming and despite two attempted comebacks in 2006 and 2011, he was never quite able to regain the perfection of form displayed in those earlier years.  He has always remained a household name in Australia, and though a young man still at only 40 years of age, is considered one of the greatest athletes to have ever come from down under.
Legendary Diver Jacques Mayol
Freediving pioneer Jacques Mayol was a highly celebrated Omega ambassador for decades, being closely associated with the brand since the very early 1980's.  Beginning with the highly sought after 396.0900 Seamaster 120M Plongeur de Luxe from 1980, Mayol wore Omega watches on multiple record-breaking dives, bringing much attention to both the brand and the sport of freediving.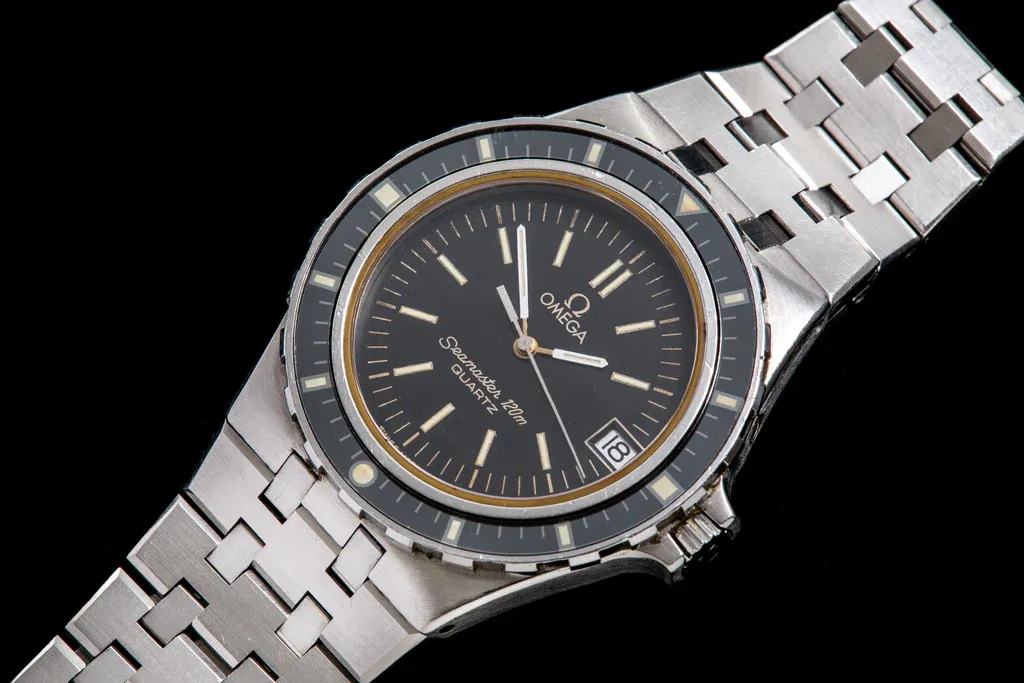 Mayol would go on to wear a wide variety of Omega's including the two-tone Seamaster Titane, Seamaster 120M and Seamaster Pro 300M.  Over the years this relationship with Omega would result in many limited-edition models, including one based on the electric blue.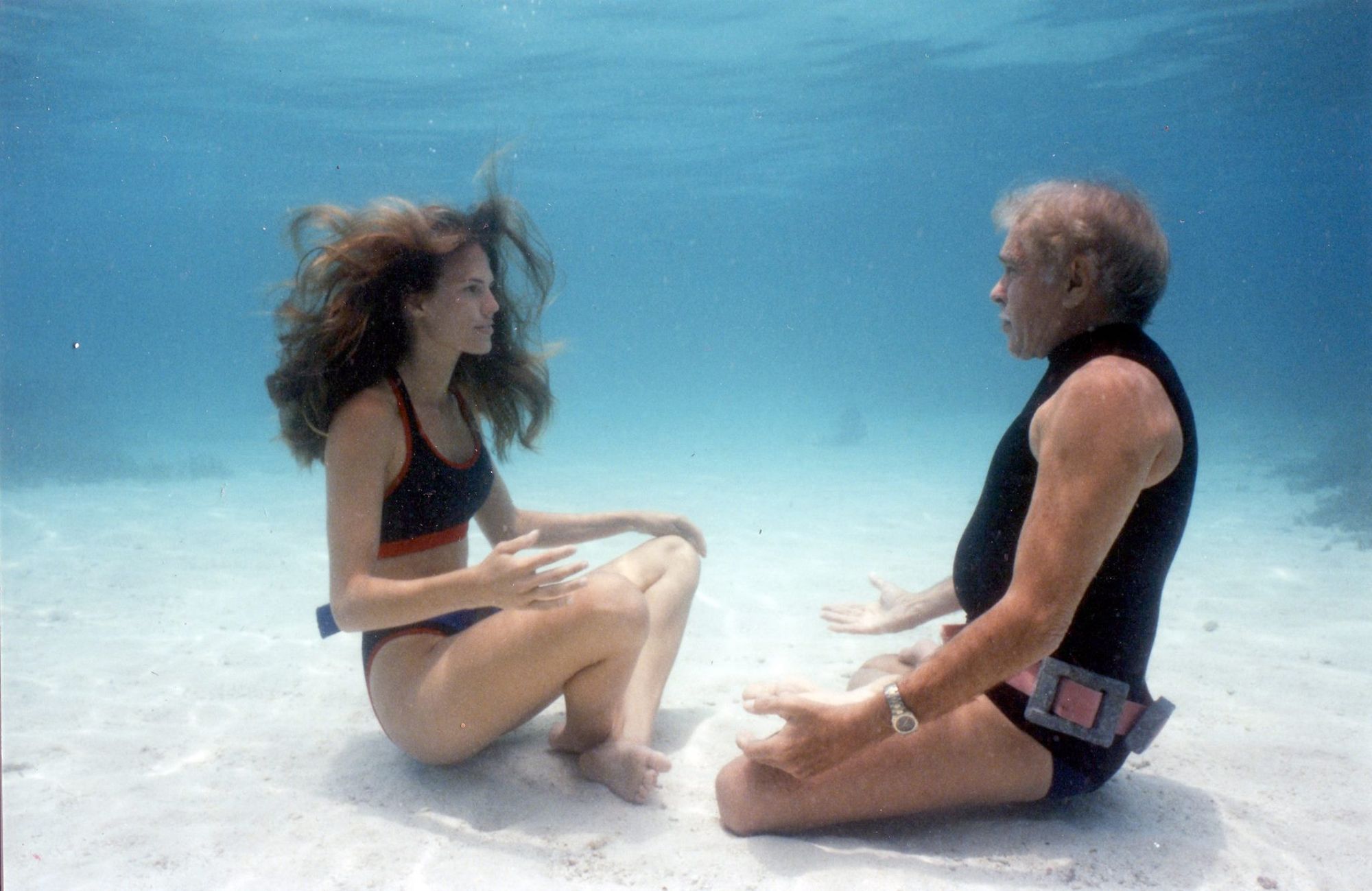 Interestingly, while both the RN Clearance Divers and Ian Thorpe opted for a full-sized steel automatic, Mayol stayed true to form in selecting a smaller case size of 36.25 mm.  This is similar to the diameter of the Plongeur de Luxe and Titane he was known to wear so it does make a lot of sense.  One difference though is the movement powering this limited edition is an automatic chronometer unlike the quartz found in many of Mayol's watch choices.
The Mayol electric blue limited edition carried the reference 2554.80, and was produced in a quite substantial run of 3,500 units.  Released in 1999, this watch was the final limited edition to bear Mayol's name and was only succeeded by the Seamaster APNEA, released after his passing.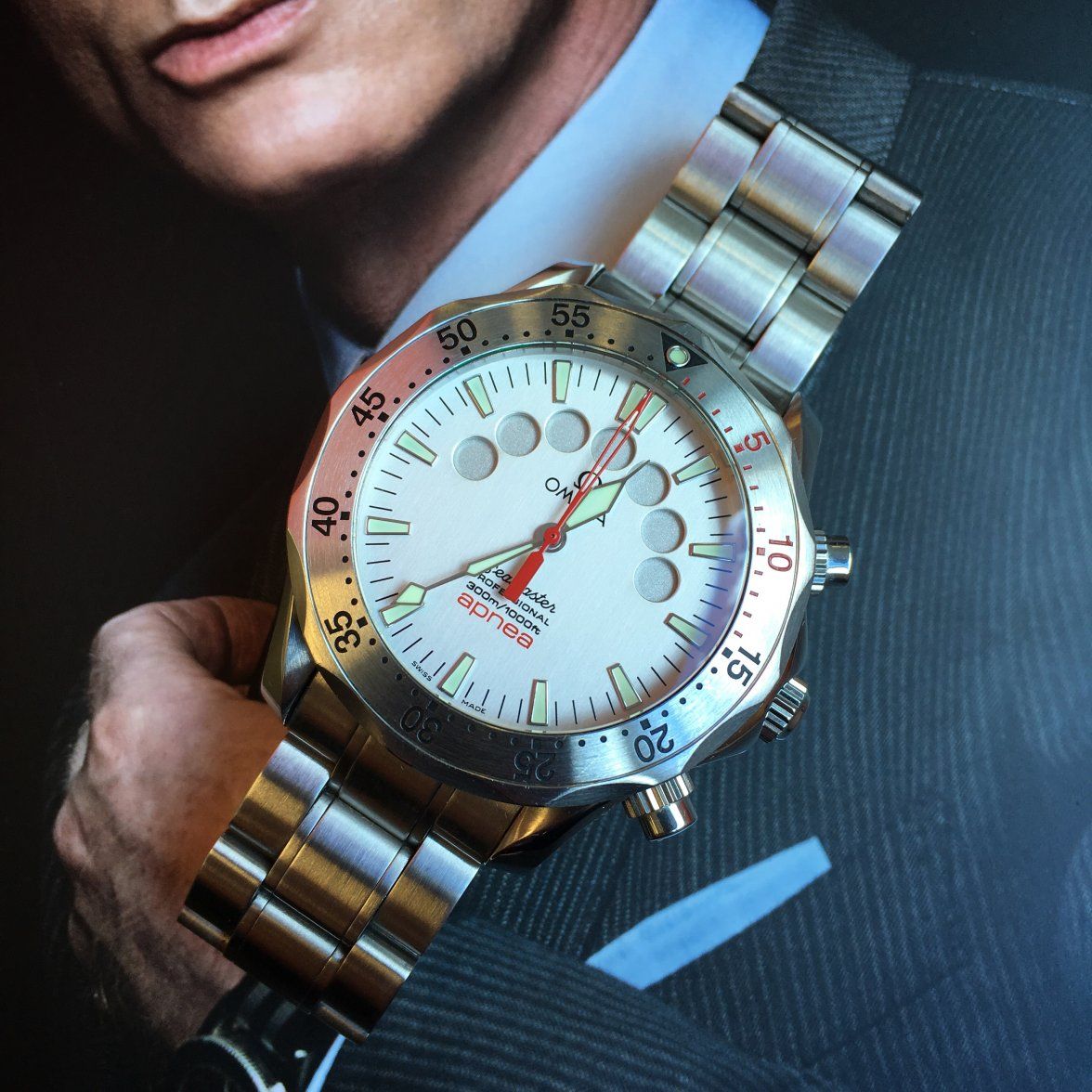 Case & Bracelet
The case of both the full-size and mid-size 2255.80 family Seamasters follow the designs set out by the Bond Seamaster 2531.80 and its mid-size version the 2551.80.  Effectively the sword hand models were a continuation and styling change of the first generation rather than a new generation in their own right.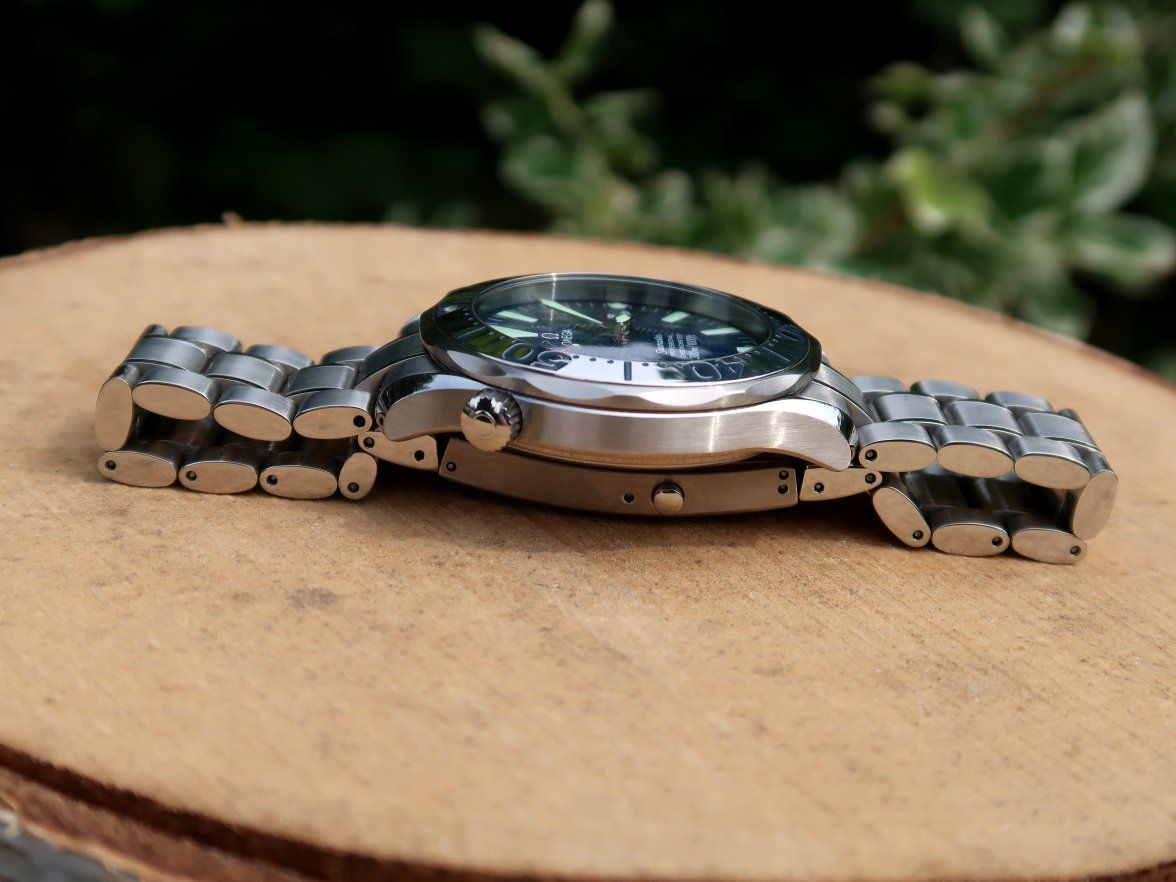 The full-size 2255.80 features a very comfortably proportioned case at 41.5 mm diameter and 12 mm thick, even with the domed crystal and 300 meters water resistance, while the smaller 2253.80 case is 36.25 mm in diameter and 11.5 mm thick.  Both cases feature the typical manually operated helium-escape valve featured on all Seamaster Pro 300M divers, and a knurled crown shrouded by pronounced crown-guards.
It should be noted that while steel is available in both quartz and automatic, as well as both mid-size and full-size, there are only two titanium models, both full-size automatics with the only option being which bracelet design is used.
The screw-in case-back features the standard wave pattern with hippocampus logo in the center on the standard series production models.  On the Royal Navy Clearance Diver limited edition, Omega fits a special display-back with the respective logo painted on the inside of the sapphire to give a durable finish.  On the Ian Thorpe limited edition (2256.80), a steel case-back features an engraving of Thorpe on the starting blocks along with the limited-edition number and the athlete's signature.  
The Jacques Mayol limited edition is minimally customised with a standard case-back featuring the limited-edition number engraved on the outer edge, and the name "Jacques Mayol 1999" engraved on the side of the mid-case.
All models in the electric blue 2255.80 family have a solid unpainted steel or titanium bezel with recessed black indices.  The steel versions feature a polished steel bezel, while the titanium models feature a very similar but concentrically brushed bezel.  These bezels are far more durable than painted aluminium bezels as they can be re-polished easily if scratched or scuffed.  Any loss of the black indices can also be resolved easily by using black sharpie and polishing off any excess which makes these bezels far more practical than the relatively fragile aluminium versions.
Unlike the 2254.50, there is also a two-tone gold & steel version of the electric blue, available only with automatic movement in both full-size, Ref 2455.80 and mid-size, Ref 2453.80.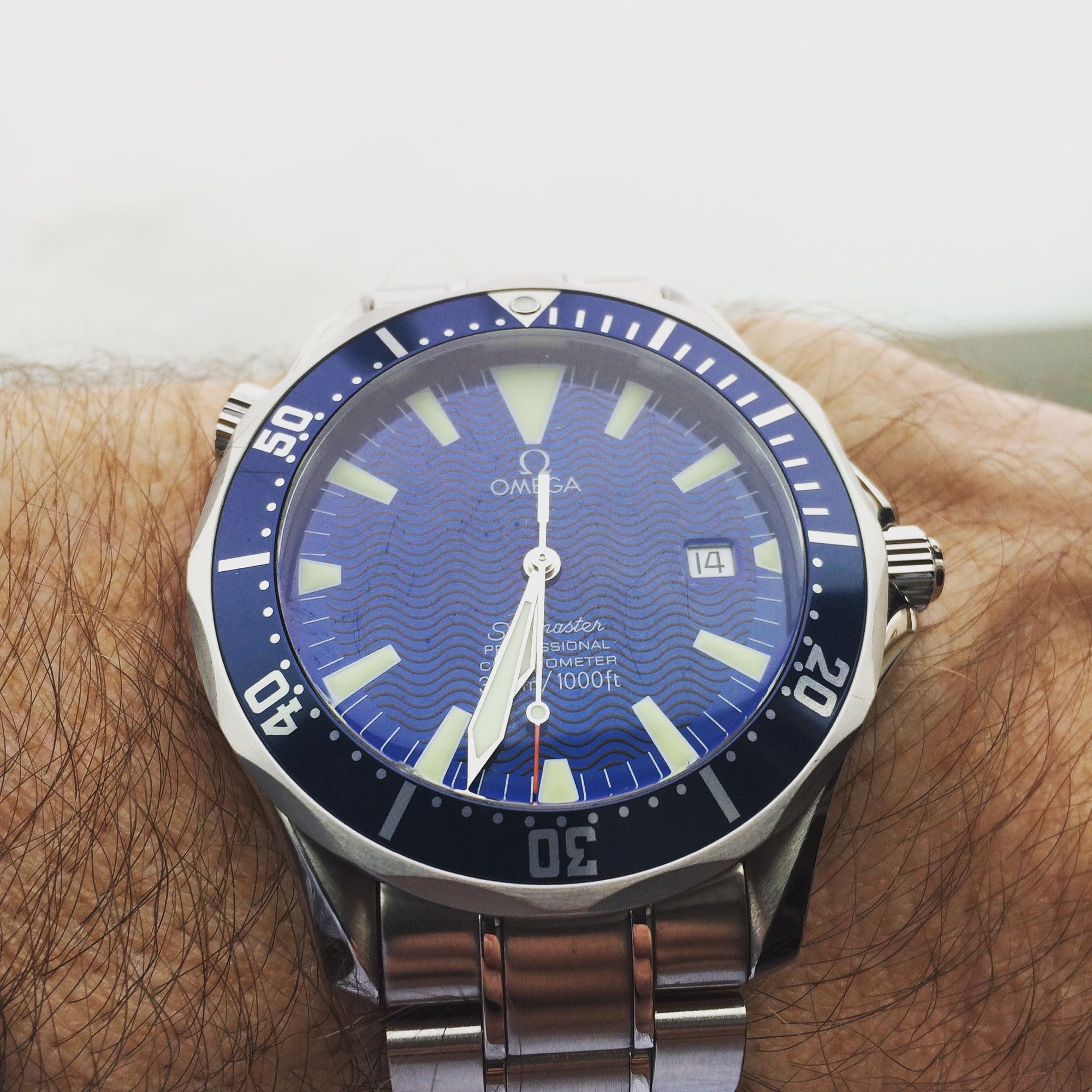 As the case design is carried over from the Bond Seamaster, any bezel from the first generation Seamaster Pro 300M of a given size will fit any other watch. This compatibility allows some interesting combinations and custom builds to be made all with Omega genuine parts, however there are also non-genuine parts that fit and must be avoided.  One particularly attractive and desirable "franken" combination is to use the blue 2531.80 bezel on the electric blue, creating a really nice all blue Seamaster.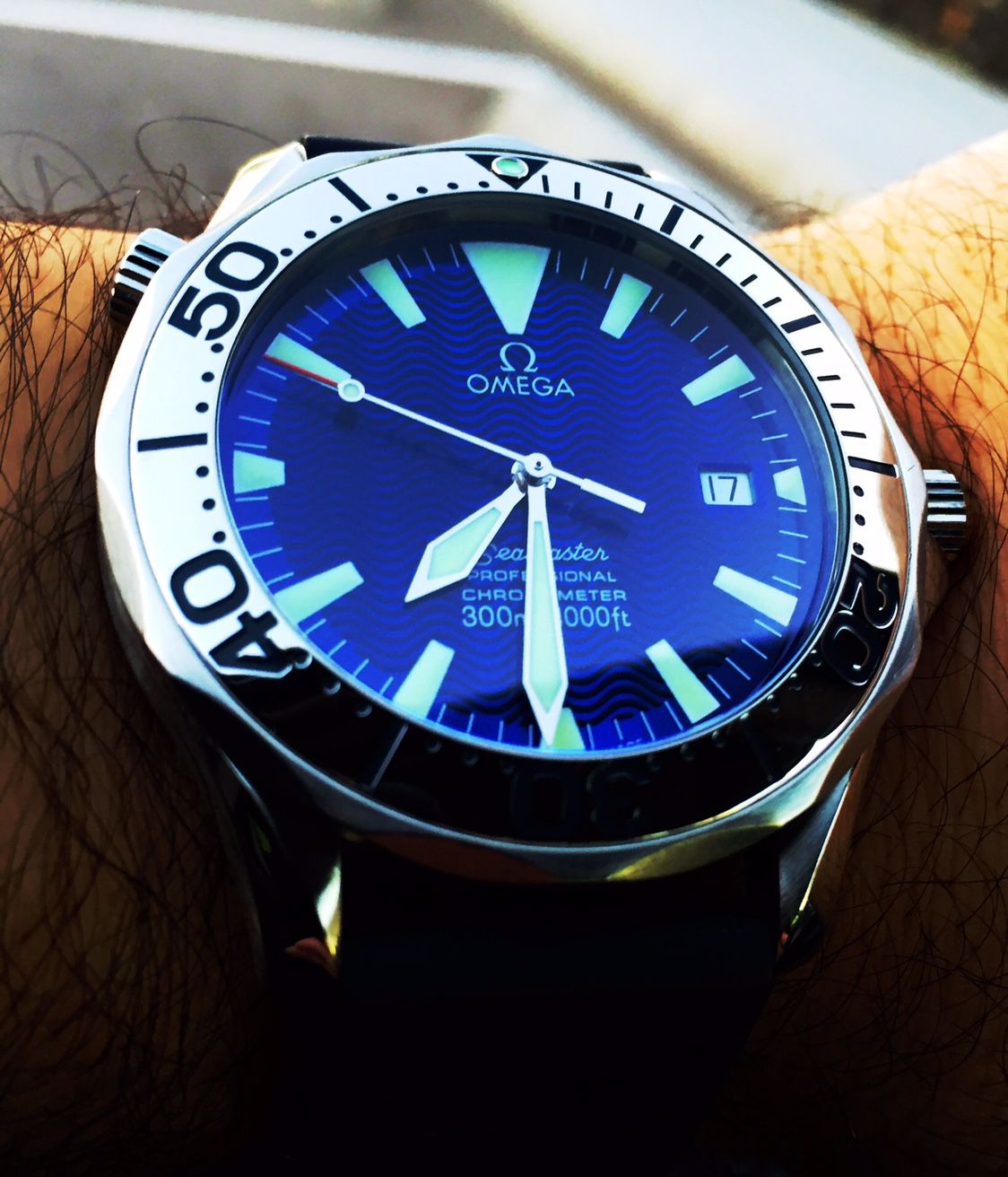 In terms of bracelets, the standard 2255.80 is fitted with the Speedmaster style bracelet, but there is also the option of a Bond bracelet with the reference 2055.80, both with a Seamaster clasp and diver's extension.  As the full-size 41.5 mm models all feature 20 mm lug width Seamaster cases, these watches are compatible with a great many other strap and bracelet options including NATO straps, Milanese mesh and vintage diver mesh.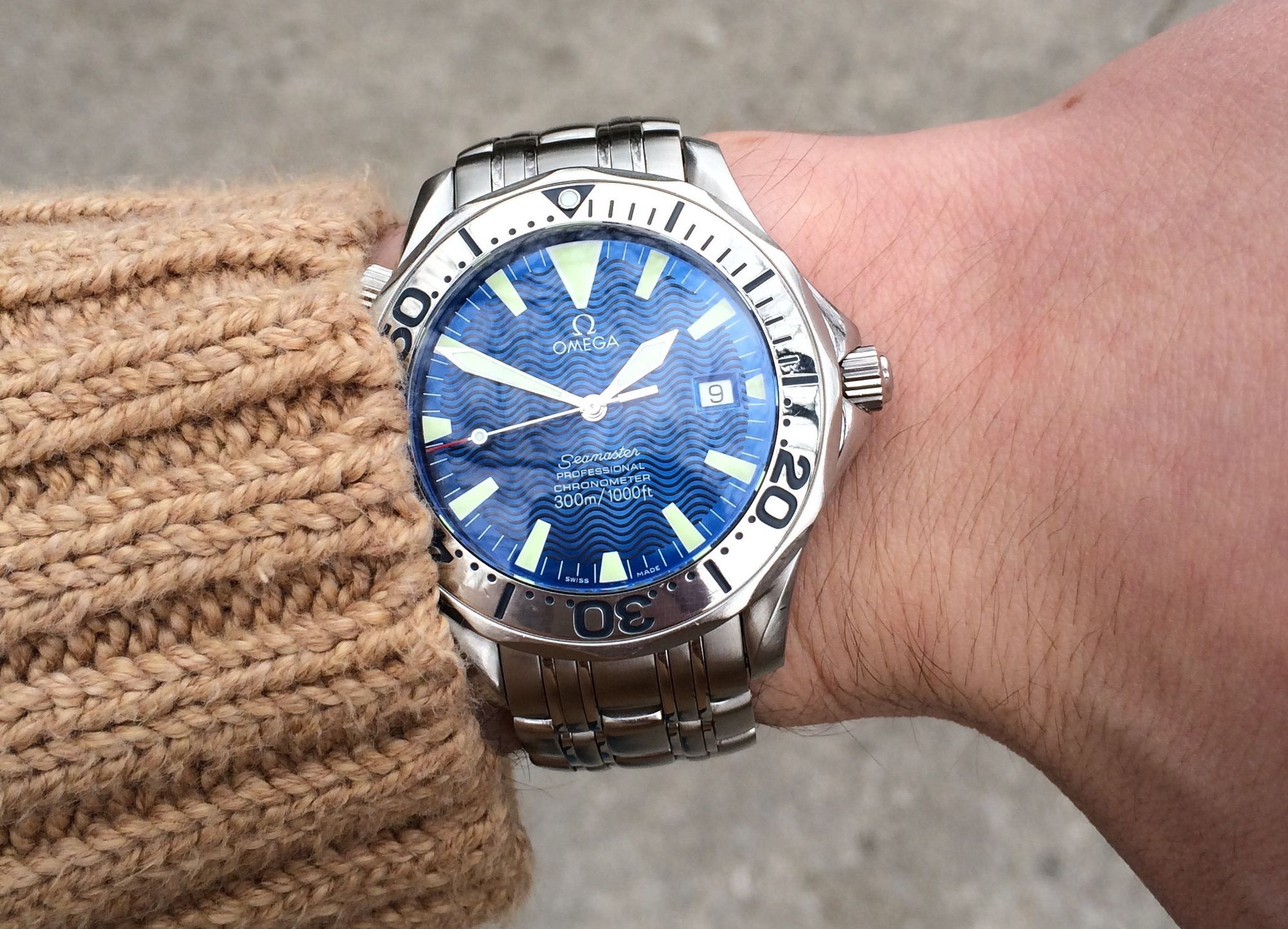 The mid-sized 36.25 mm cases have smaller 18 mm lugs and are not compatible with the full-sized bracelets.  The mid-size also does not come in titanium as Omega has never produced 18 mm bracelets in this metal.
Movement
The movement powering all mechanical variants of the 2255.80 family is the Omega Calibre 1120 chronometer, which is an excellent, durable, accurate and highly regarded movement.
This movement is the predecessor of the Co-Axial Calibre 2500 and is based on the ETA 2892-A2, with some significant modification carried out by Omega.  It oscillates at 28,800 vph, features quick-set date, hacking, and a 44-hour power reserve along with being chronometer certified.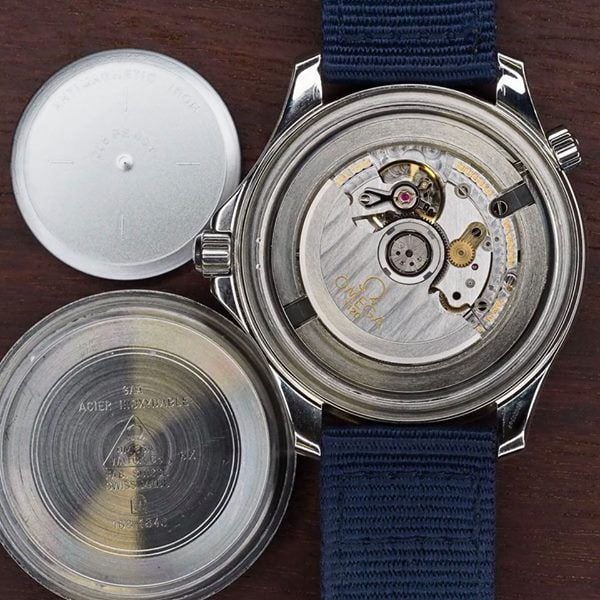 These are highly respected movements which are known for being trouble-free and performing to specification over long periods of time.  They can be serviced easily by any qualified independent watchmaker with access to an Omega parts account for less than the cost of a factory service.
At this point in their lives, all Seamaster Pro 300M Divers of the 2255.80 generation will either be due for service or well overdue.  Due to this you should factor the cost of a service into any purchase as the damage done by letting metal on metal wear occur in a watch with dry lubricants will add to your eventual maintenance costs.
The quartz versions of these Seamaster Pro models such as the 2265.80 are powered by the Omega Calibre 1538 movement.  This movement is a modern, highly accurate and reliable quartz calibre with an end-of-life indicator function, a 42-month battery life, and rhodium finishing.  Watches powered by these movements should have their battery changed by an Omega certified independent watchmaker to ensure that the movement is tested and verified to be in good order, and the case is re-sealed and pressure tested afterwards.
Variants
The electric blue family is actually one of the largest of all Seamaster Pro 300M variants with no fewer than 16 different references and 3 limited editions.  
All variants have a few things in common, the most obvious being the very special metallic blue wave dial which catches the light brilliantly in the sun or under direct lighting.  As with the black dial 2254.50, these watches have absolutely brilliant legibility, with large hour markers and easily read hands, making these watches ideal even for those with somewhat poor eyesight.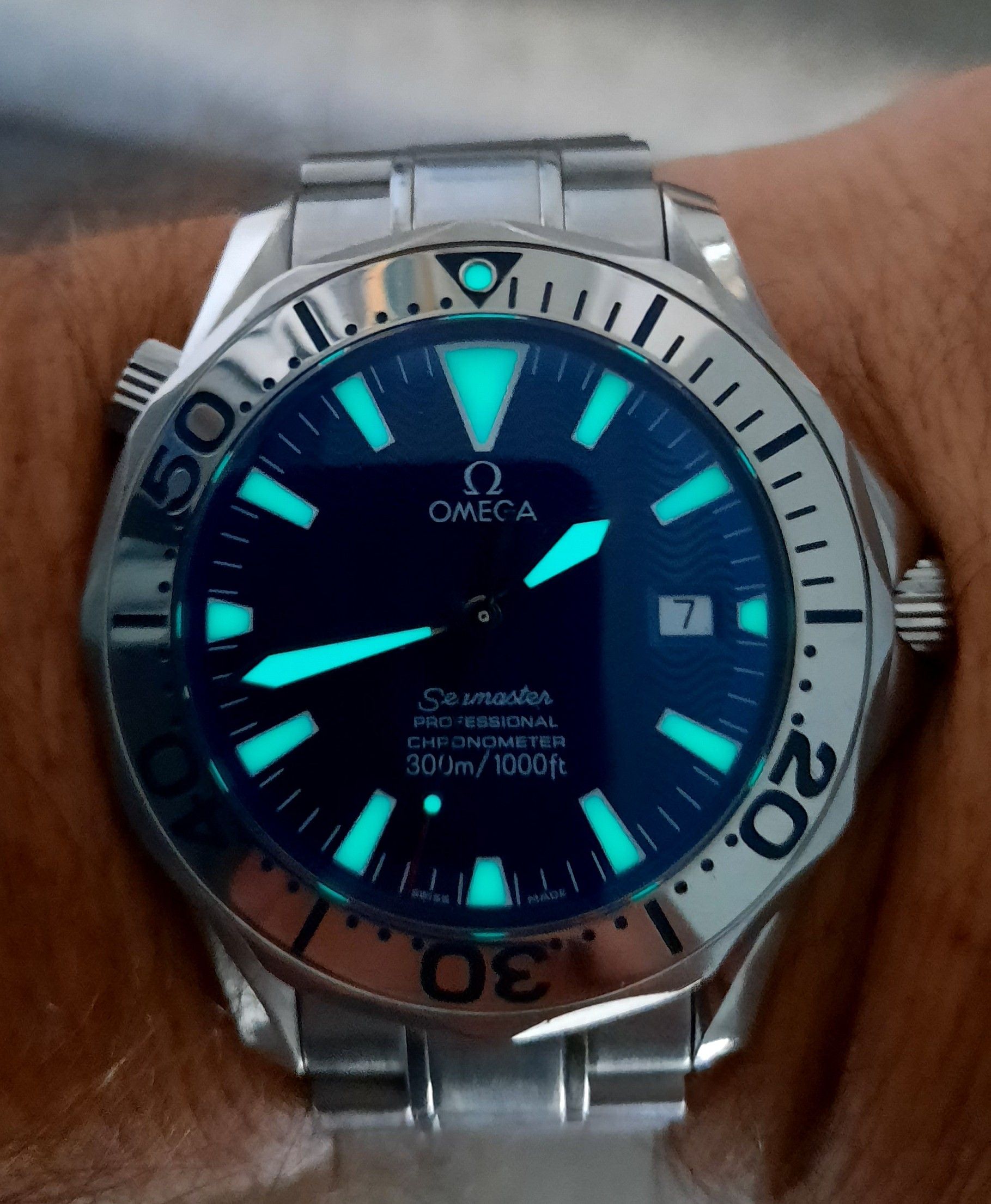 The lume on these watches at night glows like a torch, they are among the best Omega has ever made in this respect, and are genuinely eye-catching.
The added durability of the solid steel or titanium bezels, in a package already known to be extremely reliable, with some of Omega's most dependable movements make these a genuine high-point of late 90's design.
Royal Navy Clearance Divers' Limited Edition 1/150 2257.80
The Royal Navy Clearance Divers' limited edition was produced in a very small number of only 150 units, making this considerably rarer than either the SBS or SAS SFC military unit limited editions.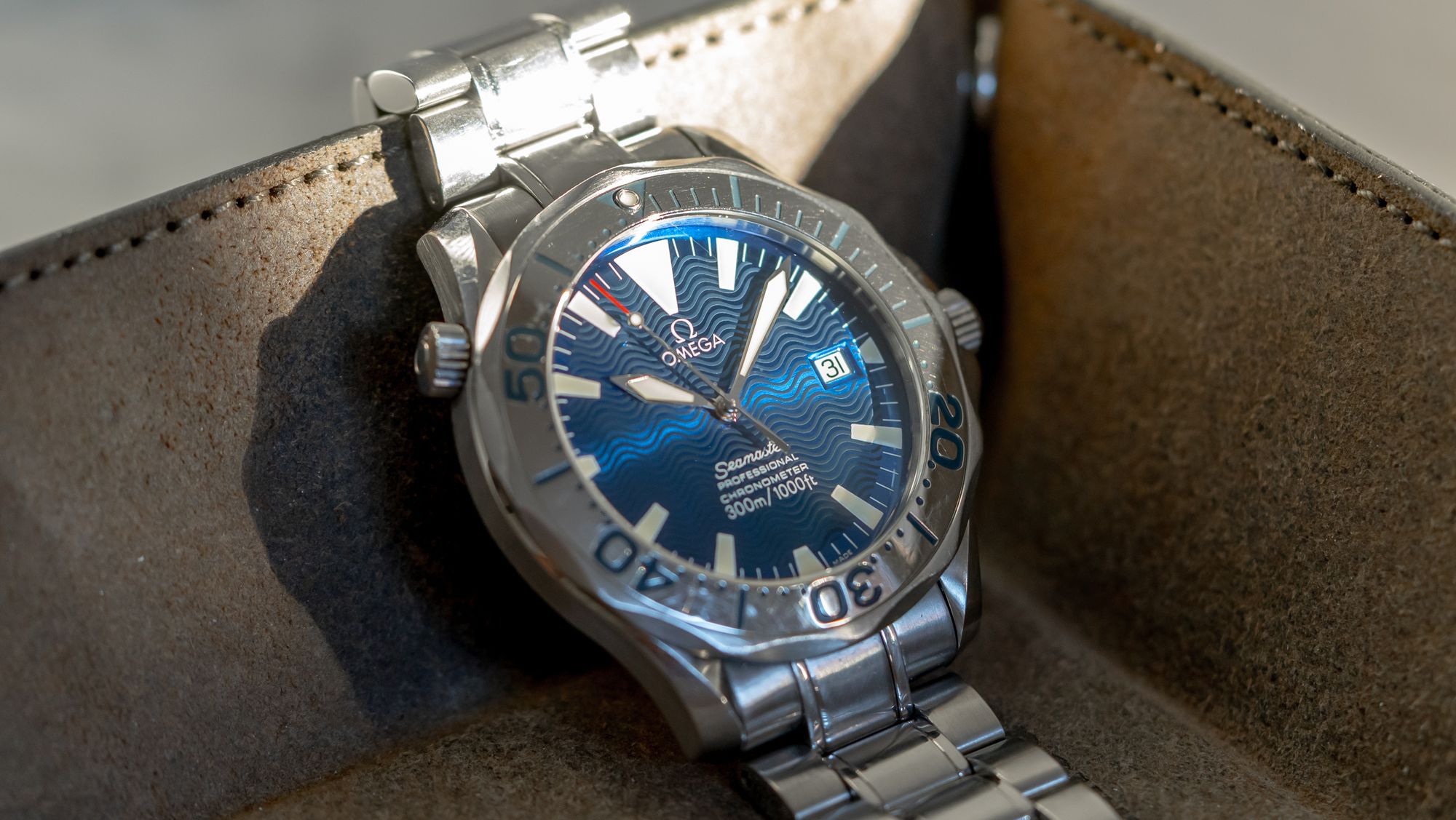 Similar to the other two, this watch features an internally painted display-back, allowing the emblem of the clearance divers to be displayed under the sapphire in the center of the case-back.  Around the outer edge is the limited-edition number out of 150 units along with the regular Seamaster Pro 300M engravings.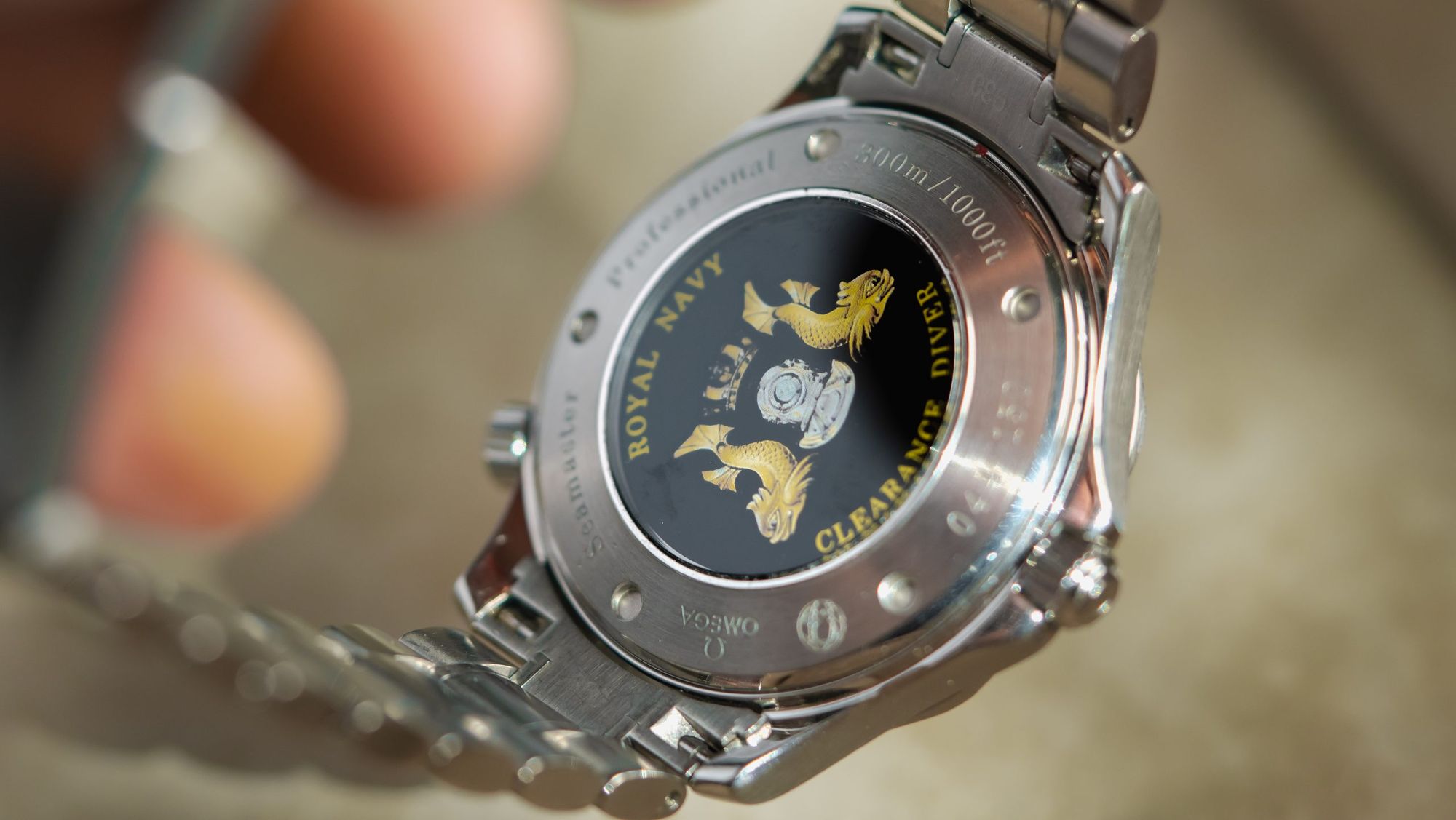 Aside from this case-back, the watch is effectively identical to the regular 2255.80 full-sized steel edition, however being quite rare and special these are genuinely hard to find and can carry quite a hefty price premium over the regular version.
For anyone seeking to collect all of the military unit limited editions, this will definitely be the most difficult of all to acquire.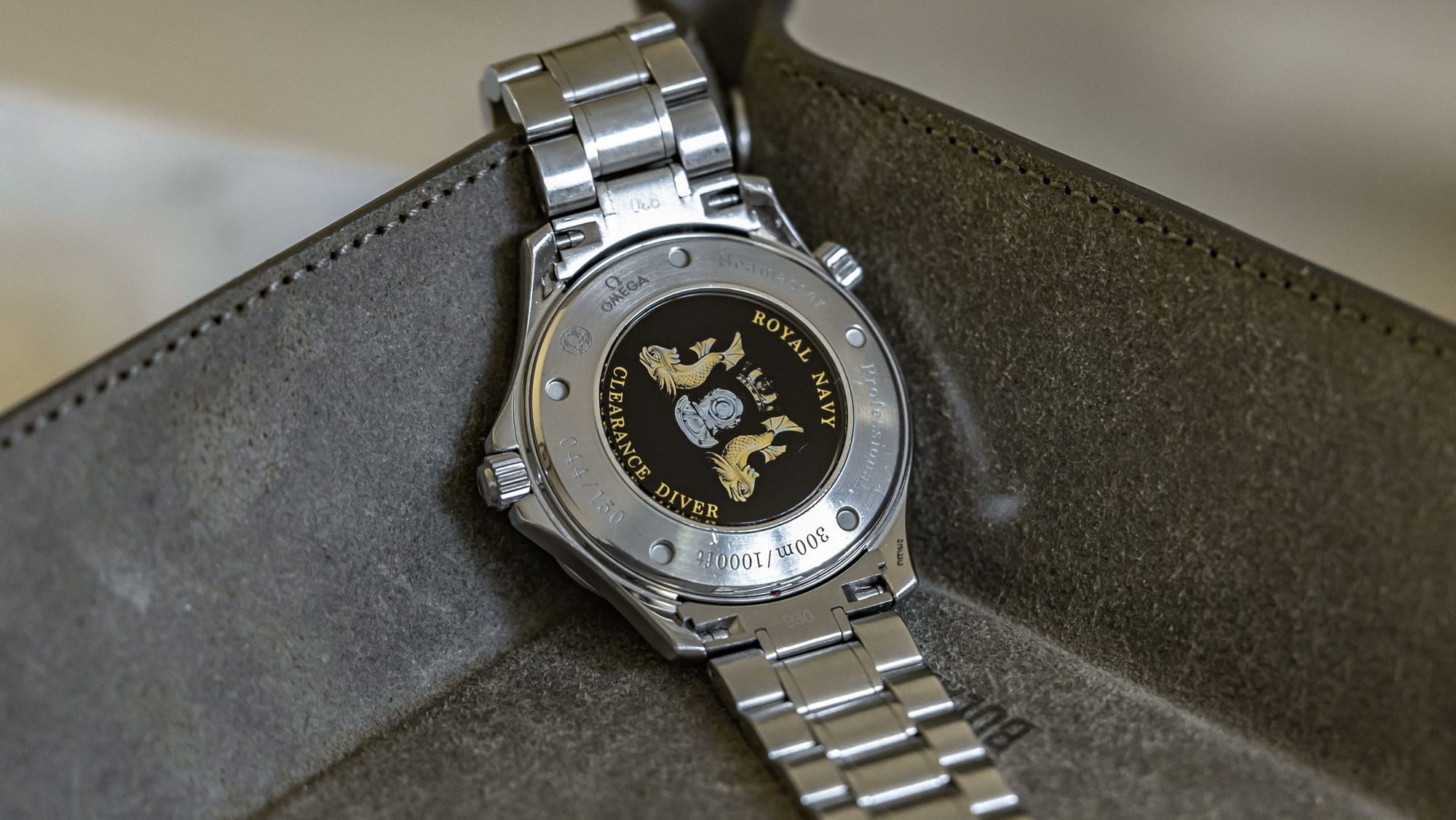 Ian Thorpe Olympic Limited Edition 1/100 2256.80
The Ian Thorpe limited edition is quite unusual in that rather than a painted sapphire display-back as most limited editions had, the Ref 2256.80 has a unique case-back made of solid steel.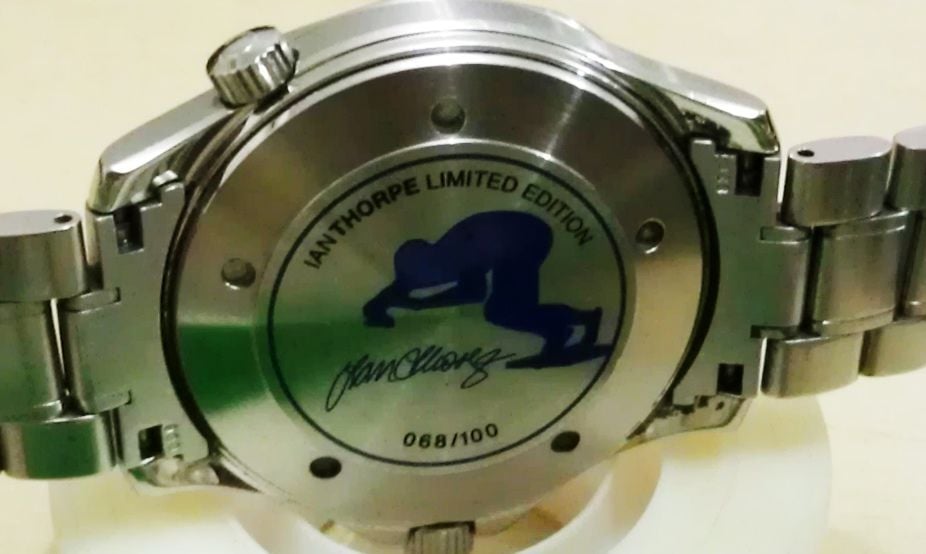 The design was created with Thorpe's participation and features a silhouette of Ian Thorpe taking off from a diving block, with "Ian Thorpe Limited Edition" engraved above, his signature adjacent to it, and the LE number out of 100 engraved at the bottom.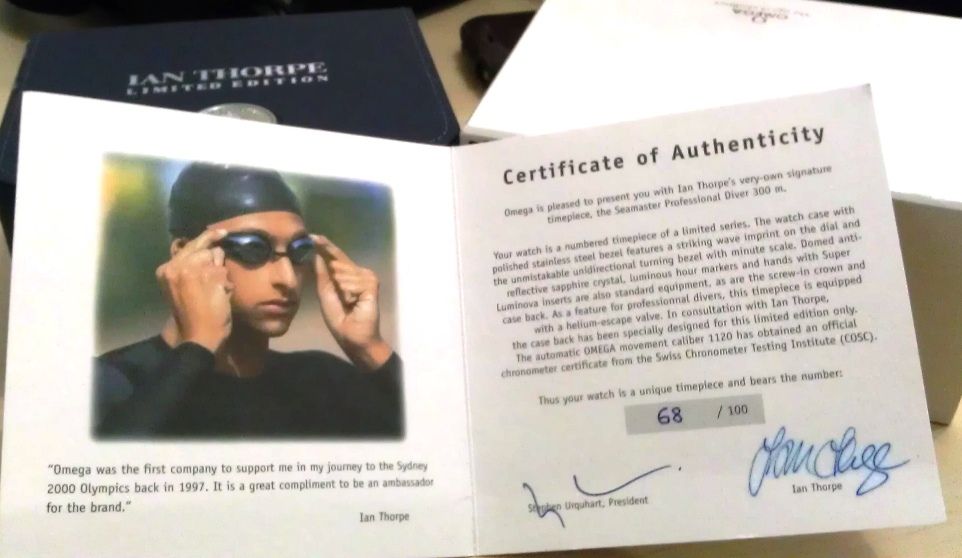 The fact that Omega went to this much trouble for a limited edition of such a relatively small number, only 100 units is quite impressive, making these watches quite rare and special.  Given that Ian's greatest fame is among Australian sports fans it is likely that the vast majority of these watches are down under, but finding one is a task that may well take quite some time.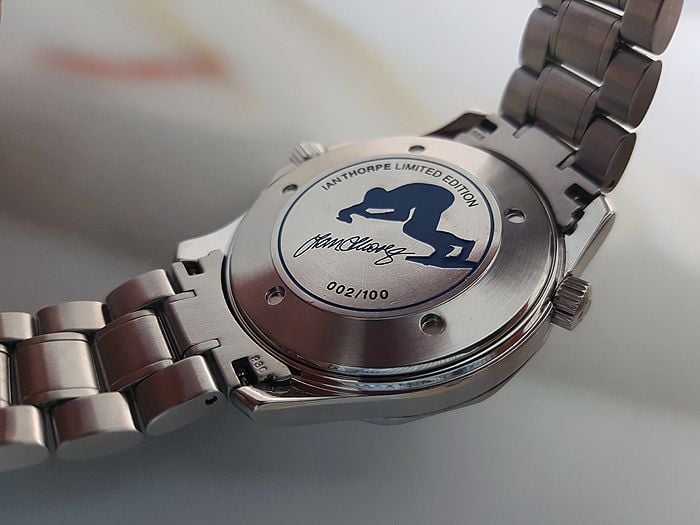 Jacques Mayol 1999 1/3500 Limited Edition 2554.80
The 1999 Jacques Mayol limited edition is slightly unusual in that it is a mid-size rather than a full-size, which alters the way Omega goes about decorating this piece.  In a very similar way to the America's Cup Seamaster Pro models, the main engraving is on the left-hand side of the mid-case, with only a standard steel case-back with the LE number engraved on the outer edge.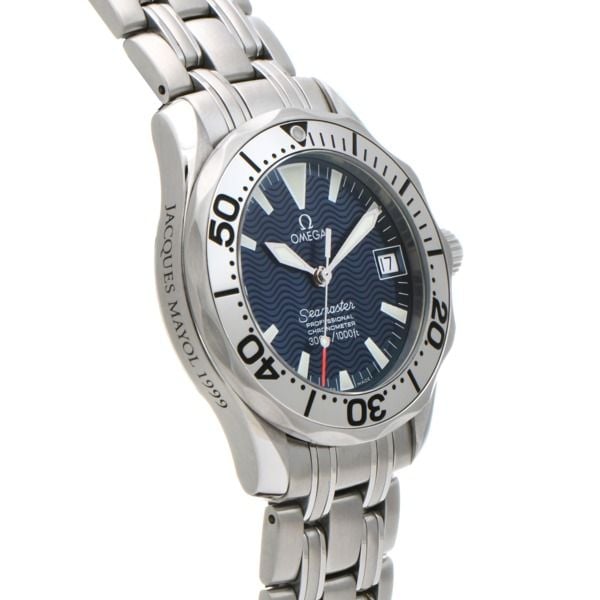 One of the reasons for this is that while Omega made a lot of limited editions using painted display-backs like the Royal Navy Clearance Diver LE, there was never a display-back available for the mid-size case size.  As a result, a custom case-back would have had to have been made specific to this watch with a production run of only 3,500 units, pushing the price up.  The approach Omega took still decorates the watch quite well without having to resort to this.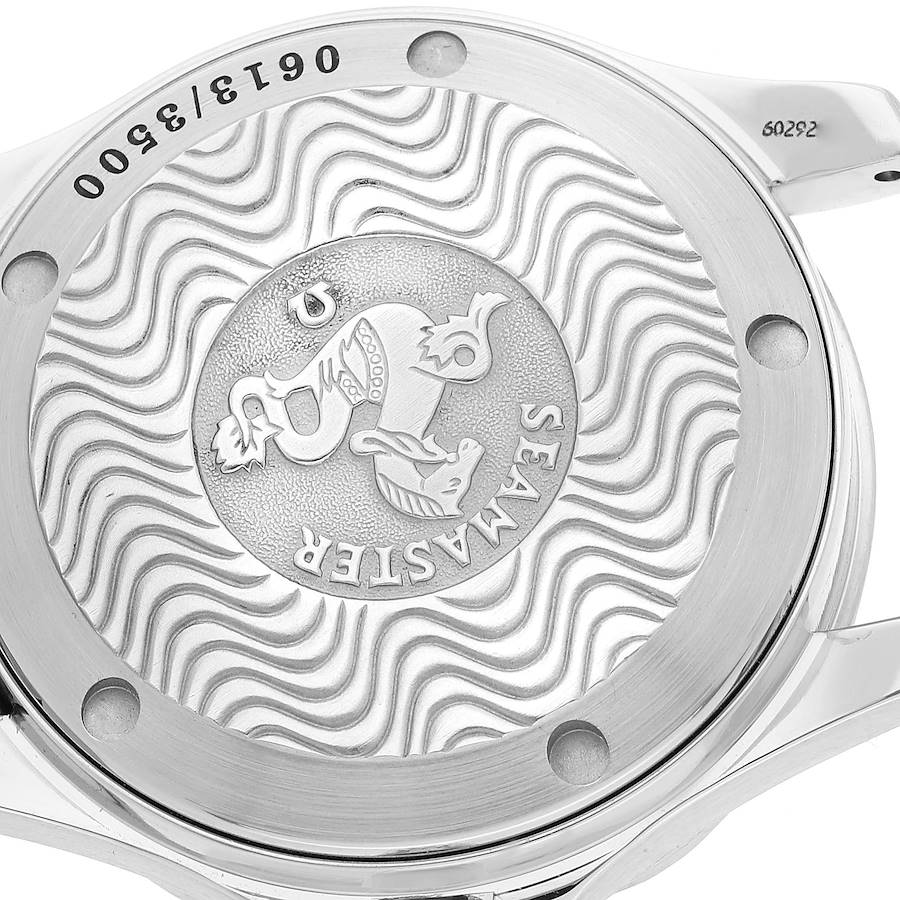 Carrying the Ref 2554.80, this limited edition was released in 1999 as the engraving on the side would suggest.  While 3,500 sounds like a large number to produce for a mid-sized limited edition, LE numbers as high as 3,431 have been seen in the wild indicating that the full number was probably produced.
Mechanical Variants
The two most common versions of the electric blue are the full-sized automatic chronometer version in stainless steel with either the Speedmaster style bracelet, Ref 2255.80, or with the Bond style bracelet less frequently, Ref 2055.80.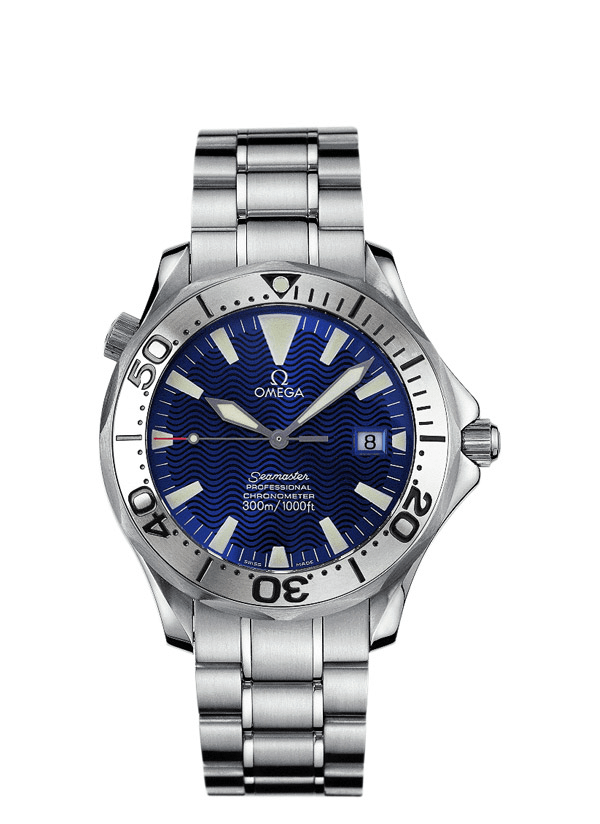 The full-sized automatic chronometer in titanium is less common than the steel for sure, featuring a brushed bezel rather than the polished bezel found on the steel version.  These titanium models come on Speedmaster style bracelet, Ref 2232.80, Bond style bracelet, Ref 2231.80, or on rubber strap, Ref 2991.80.93.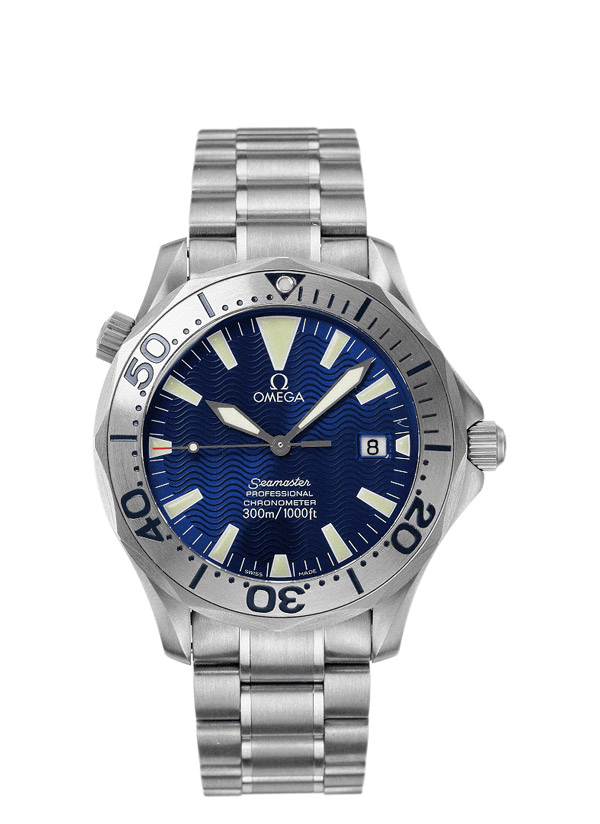 There are two 18K gold and steel two-tone versions available both with automatic chronometer movements, a full-sized, Ref 2455.80, and a mid-sized 2453.80.  Both of these feature a polished 18K solid gold bezel insert with raised indices, and gold hands to match.  It should be noted that both of these watches come only on Bond style bracelet, as the Speedmaster style bracelet has never been produced in any size with 18K gold center links.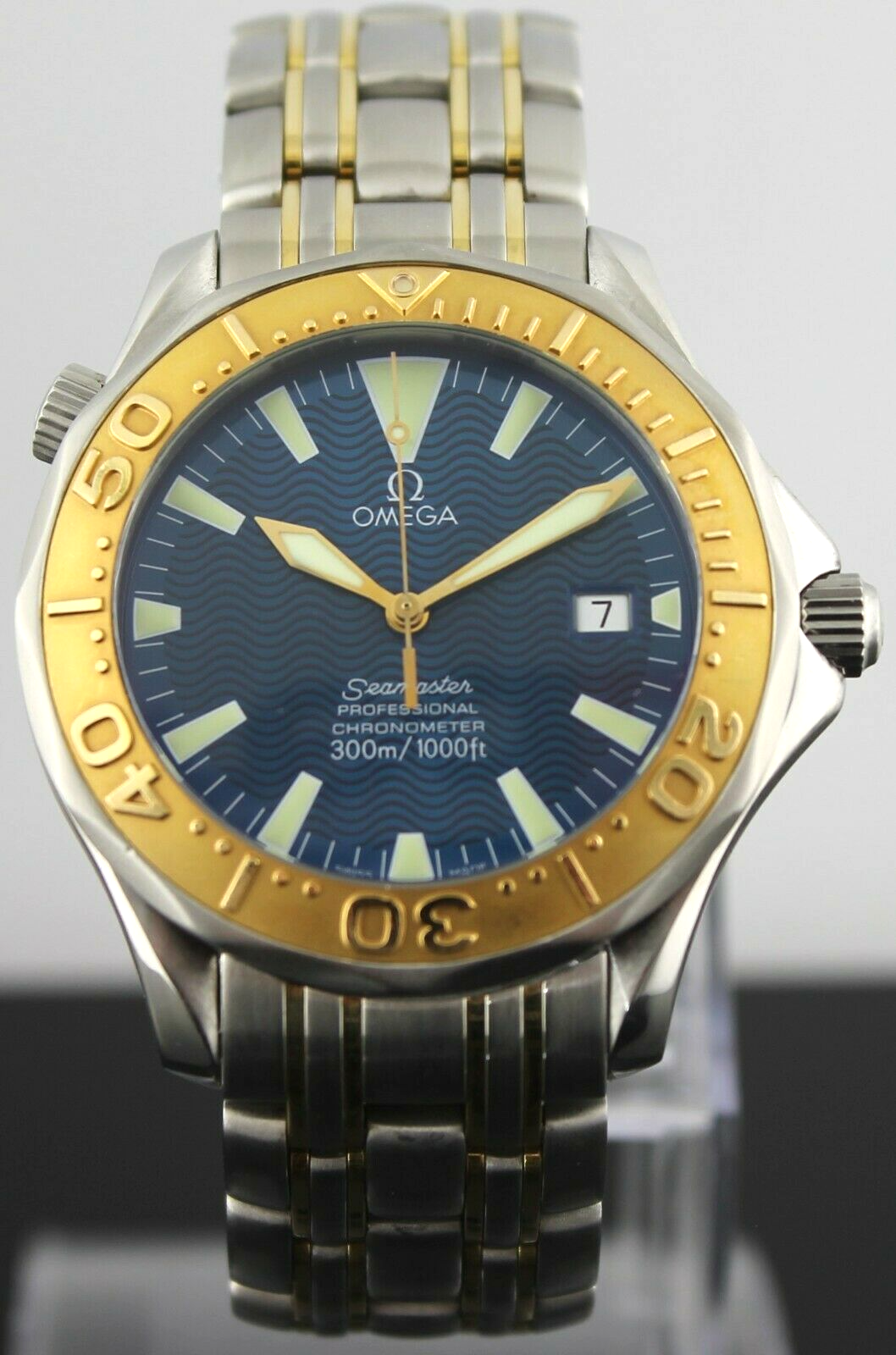 The mid-sized automatic chronometers feature the same calibre 1120 movement as the full-sized versions.  As a result of this, the 3 o'clock lume plot has to be removed to accommodate the date wheel as the movement spans the full width of the dial.  This is a good way to identify the difference between full and mid-sized automatics.  These watches are available with both Speedmaster style bracelet, Ref 2253.80, and Bond style bracelet, Ref 2053.80.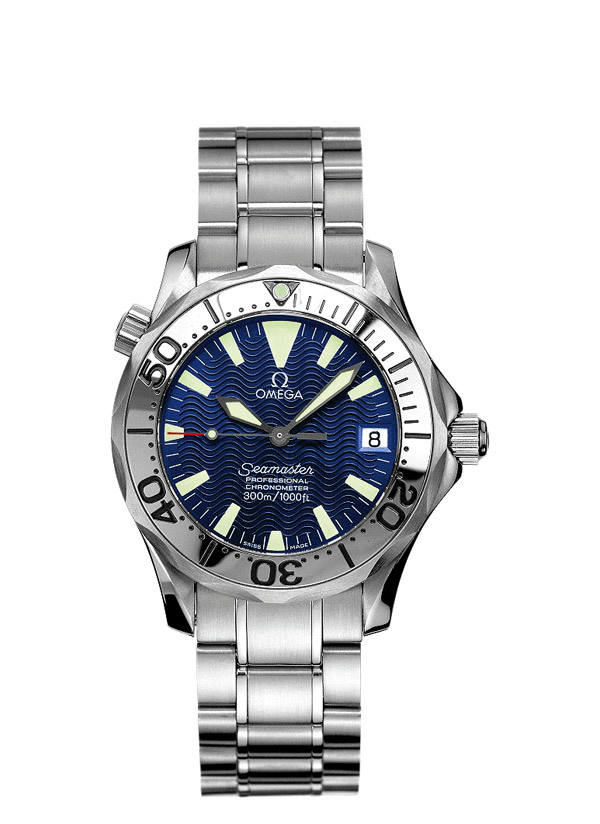 The full-sized quartz versions lack the automatic chronometer text on the dial, which is how you can identify the difference between them and the automatic versions.  Unlike the automatics, the quartz versions do not come in titanium, only in steel.  They come on a Speedmaster style bracelet, Ref 2265.80, and Bond style bracelet, Ref 2065.80.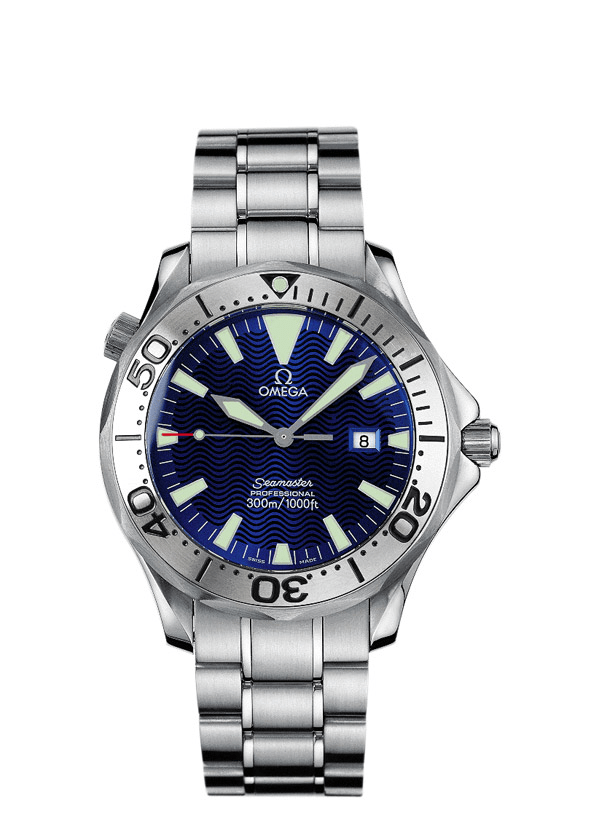 Finally, the mid-sized quartz versions of the electric blue are somewhat hard to differentiate from their larger brothers as they still have the lume plot to the right of the date window at 3 o'clock.  These watches come on Speedmaster style bracelet as Ref 2263.80, and Bond style bracelet as Ref 2063.80.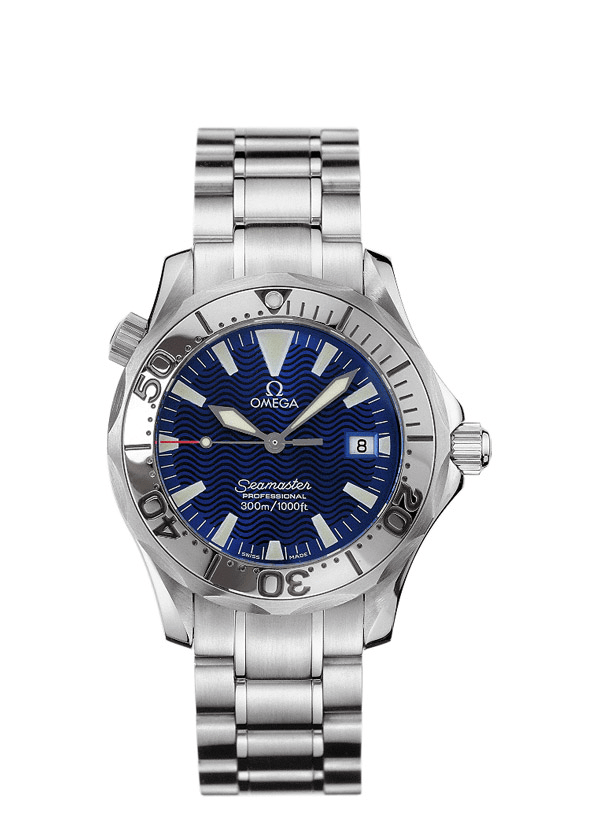 Buying
The electric blue family is quite large and diverse, but most people won't have trouble finding the model they really want.  The limited editions will appeal to some people, but for the most part it is a matter of mechanical or quartz, full-size or mid-size and if full-size and mechanical, do you want titanium.  Regarding bracelets, most people don't care which of the two bracelets are fitted at all as both are excellent, comfortable and share the same clasp design.
The good news is that at any given point in time, there are going to be plenty of examples of any non-LE version available for sale.  These watches were sold for over a decade, produced in very large numbers, and have an exceptionally high survival rate thanks to their great design and durable bezel.  They were also sold all over the world, so finding one on your local area to avoid import duty is likely to be possible.
Condition wise, these watches are known to hold up extremely well.  Water resistance is typically excellent, so there should be no signs of moisture intrusion, damage, or corrosion to dial, hands or movement.  Both the automatic and quartz movements are reliable, trouble-free designs that should perform very well.  This leaves the primary focus condition wise on case, bezel, and bracelet condition.  Any case that looks beat-up, dented, scratched badly or over-polished should be avoided, as should a similarly rough-looking bracelet.
While the bezel does not suffer from paint-loss of fading like the painted aluminium bezels, it can suffer from poor polishing which will round the edges of the indices and can be dented or bent if badly mistreated.  These bezels are only available as a complete assembly and cost several hundred so avoid any in bad condition.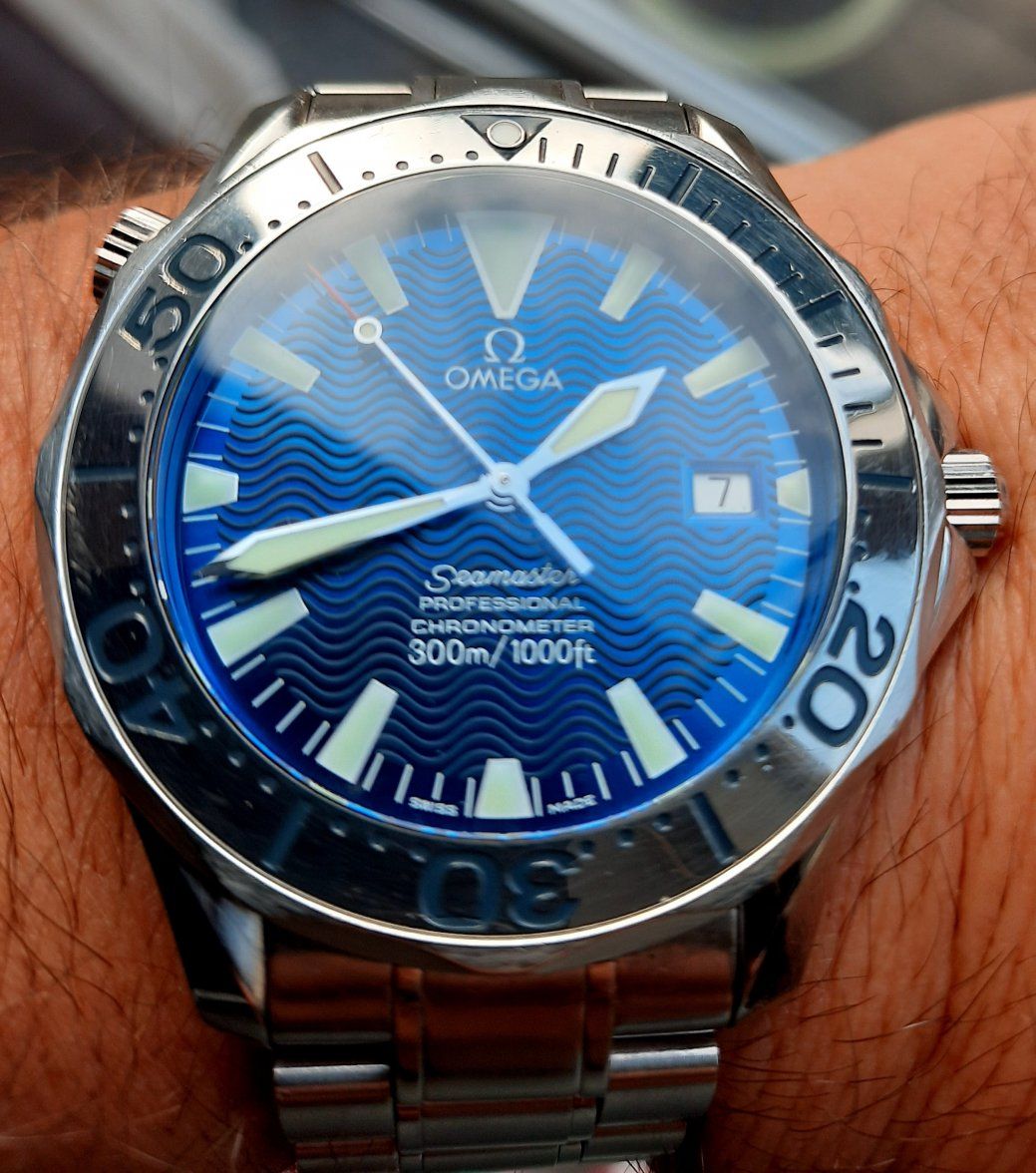 The titanium version is often the most desirable model, but also can suffer more than the steel version from ham-fisted polishing.  Any titanium model that has lost its edges should be avoided and polishing of these should be left to an expert watchmaker.
These watches are now all overdue for a service if they don't have recent papers from a credible watchmaker indicating that it has been completed recently.  It is best to use an Omega certified independent watchmaker to handle these watches as it will be far less costly for a quality job on these calibres.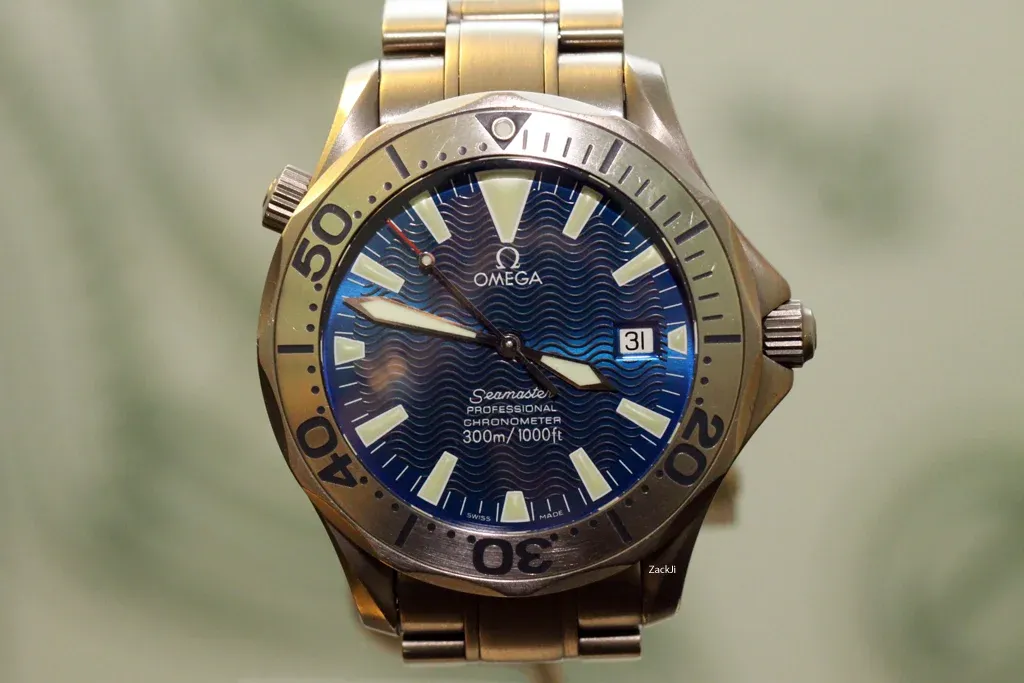 There are always going to be plenty of electric blue models in stock on Chrono24, eBay and on forums, with some of the best deals being had from no-reserve auctions.  Full-sized steel versions tend to sell at the time of writing in mid-2023 for around $2,200-2,500 with titanium versions going slightly higher and quartz or mid-sized versions going a few hundred lower.  At auction they can sell for several hundred less than these estimates at times so patience really is key to getting a good deal.
While the 2254.50 is the model most associated with the sword hands Seamasters, the electric blue models really are the lesser known pick of the litter.  Featuring a more fun design, greater durability, and titanium cases at the same price point, they are my personal pick as the best of this generation and a worthwhile starting point for any collection.
Discussion thread on Omegaforums can be found here: